Looking back at the archives, my Diwali posts has been very lame 😀 My bad. Not enough photos and description. But hey, I was busy with  my MBA as well. And I used to take plenty time to be expressive on my blog – very time consuming. Not to forget the constant "writer's block".
So, how did we celebrated Diwali this year? Not too bad 🙂 Though I wished I'd taken more photos of the food. Isn't easy when you are the host entertaining your guest. Priorities are priorities 🙂
Steps leading to Diwali involves thorough cleaning of the house. Not just any cleaning, but an overhaul. Every nook and cranny is scrubbed. It's not easy when we are alone here. The idea of having friends over to celebrate just made things so much more easier and fun 🙂
Rangoli symbolizes joy and happiness. So colorful and vibrant.
My friends have never experienced Indian food before. So it is only fair to also serve them with some familiarity. We tossed the celebration with a champagne, and snacked on some appetizers which consists of celery, carrots and cucumber cuts served with cool sour cream. On the side, some Indian savory (chips) which was a hit!
I can hardly believe baby Daniel has grown so much. He is already 4 months old now. It feels like it was just yesterday when he was born. Time flies.
Times like this, in a great company of wonderful friends, makes it easier not missing our families too much 🙂 This is one of the reasons I started blogging. To share our experiences making it in the foreign land. A far from our loved ones – people that we'd grew up and shared our life with. But in the States, the experiences thus far has been amazing. We made great friends that evidently is our family. A family away from home.
Now, onto food. No individual photos of the food. Le sigh… Anyways, if you can see from the right – my famous Chickpeas in Coconut curry, Vegetable masala in tomato gravy, Potatoes and Spinach, Chili Paneer, Pulou, Naans & Salads 🙂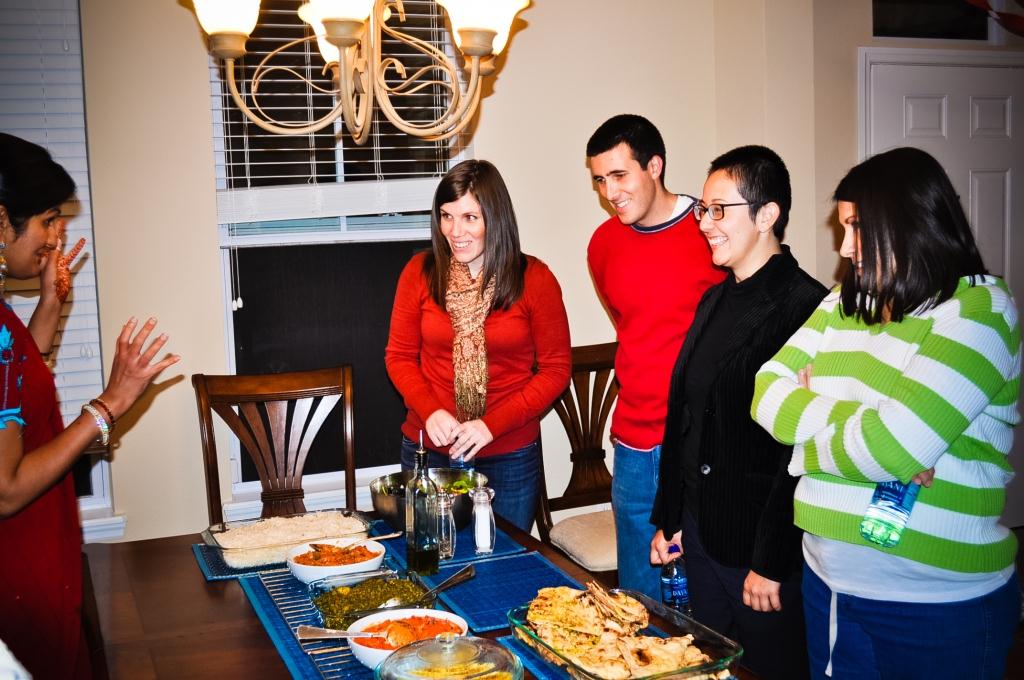 Oopps… Desserts were also not pictured. We had RasMalai and mix fruit salad. And guess what? Every one loved the food so much that takeaways were practically demanded. Who we are to refuse 😉
Giggling fact: It took me close to an hour to drape a Sari for that evening. I am getting better at this. The last attempt before this was around 2 hours. I am getting a hang of it.
Not too bad huh? OK, if you still insist to read my past lame posts on Diwali, go knock yourself out 😀 Hope you had a great Diwali – we surely did.