About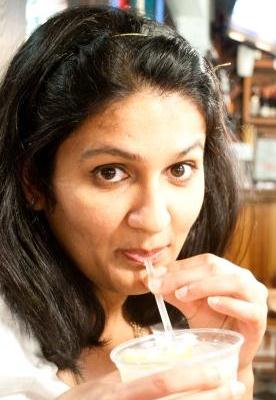 Hello, I am Kiran Srivastava. Commonly known as the Chatterbox in the family. Ten years ago, I met Tarun (the Hubby) and we instantaneously fell in love. Our life so far, has been a roller coaster ride. From Malaysia and India, we begun our journey as husband and wife to America.
I started blogging our journey since 2007 for our families back in our homelands. When we are not busy blogging, you will find me working on recipes, photography, learning web designing, indulging in occasional twittering & facebooking!
Admittedly, I am a scatter-brained, often forgetful and not willing to admit that I am over 30 years old now. I am always 29

But I love my husband, our family, life and living abroad – not that it has anything to do with Ricky Gervais's show.
Some random facts about yours truly:
Born in the land of Malaysia, truly Asia on April 6th.
3rd child of 4 in the family. I have two elder sisters and one little (brat) brother.
Completed my MBA via distance learning. It's not easy, but I did it.
Love to cook, eat and feed others.
It's been a while since I've jungle trekked.
Love traveling, swimming, cycling, reading and recipe testing.
Been caught with drama/serials/tv series bug lately. GLEE fan. Huge.
Click here to read more about me. And be sure to subscribe to us so you're notified as soon as we have had the chance to get more of our lives published. I meant, our story.
Living abroad is like a new birth to life. Learning to take baby steps all over again.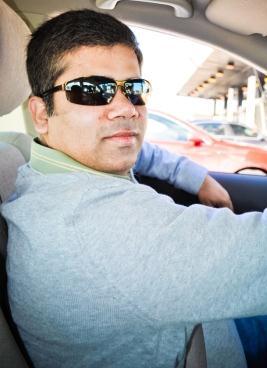 Now let's talk about the Hubby. Hi, I am Tarun Srivastava – commonly known as the baby in my family. I love chatting politics and have blogged my opinions a couple of times already. When I am not in the mood to bug Kiran, I enjoy working as a Software Architect that involves a lot of serious work.
Some random facts about me:
Born in the land of India, on March 25th.
The baby of my family ; I have one elder sister and brother.
Completed my BSC in Electrical Engineering. Hoping to enroll for Masters soon.
Love technology, games, politics, mathematics, debates etc.
Hoping to get my hands on gaming console soon. Fingers crossed!
Love long road-trips, endless reading and computer gaming.
Despise ill-written immigration policies.
Die hard fan of action & adventure movies.
OK fine, my wife wrote this all for me. I am hoping to add more facts in the future