N
ot that I don't have fun in the kitchen or something — but this week was different.
I am glad to report that this has been one of my most productive week ever — creative juices were free-flowing, I kid you not. There's something about Valentine's Day that is so motivating. I look upon it as a challenge to create delicious and unique recipes. So far, it has been a great menu:
Bubbles: Citrusy Champagne Sangria
Appetizer: Roasted Beet Salad
Entree:  Well, recipe as below 😉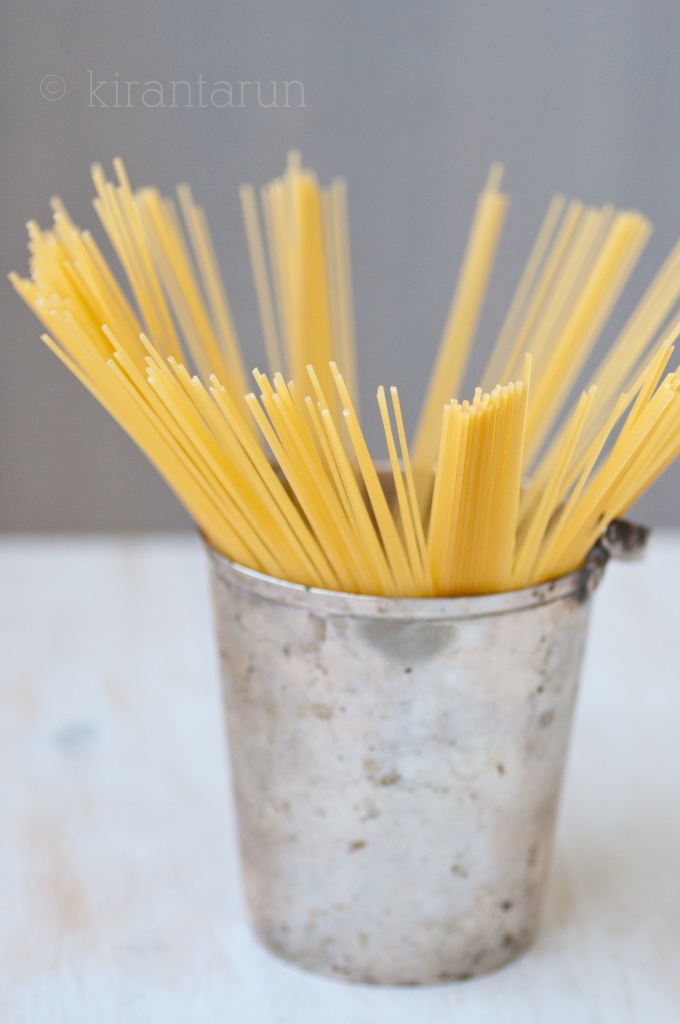 I'll let you in on a secret — the Husband literally despises pasta. Nope, I am not making this up. He plain HATES it. He complains about how bland and tasteless pasta can be sometimes. Let's face it, he's Indian and needs spices, punch and robust flavors in everything.
And I am equally stubborn, relentless and challenged to change his mind about pasta. It can be delicious, flavorful and full of potential. Just give pasta it another chance.
Popped a bottle of pomegranate juice and that's when an idea struck! A marriage between spaghetti and pomegranate juice would create a delicious palate of flavors — from sweet to tang of pomegranate juice to meaty & earthy deliciousness of portobellos — It's simple, rustic and bursting with deep colors 🙂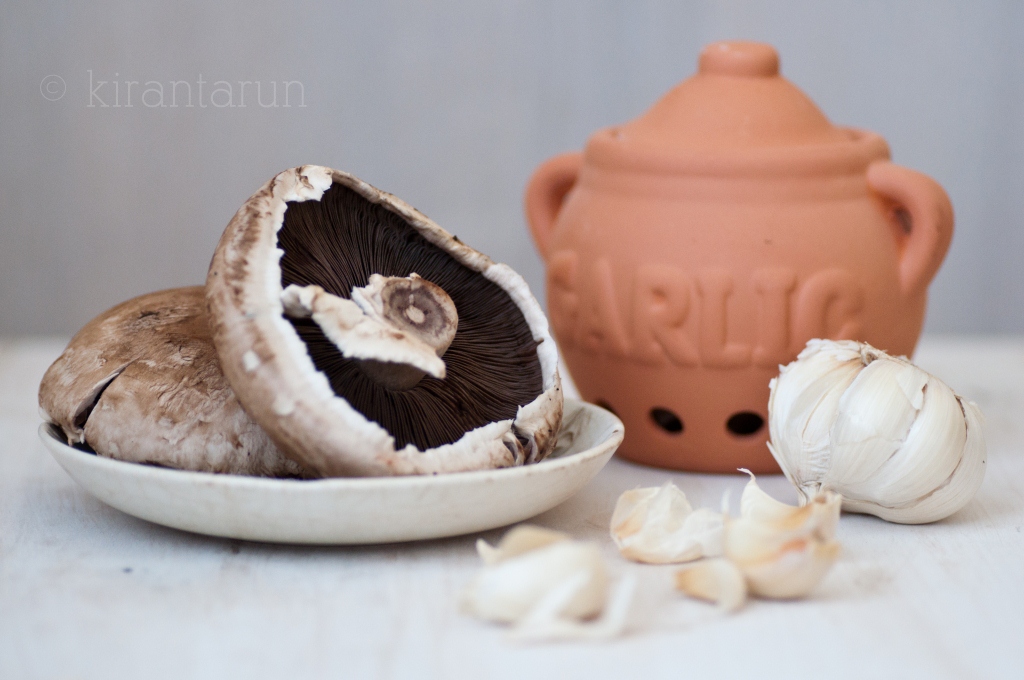 You've got to love the depth of color by infusing spaghetti with pomegranate juice — no artificiality food coloring. Initially, I thought of cooking spaghetti in a rich red wine sauce but then, there's sangria. Too much alcohol and we might not be able to enjoy desserts afterwards.
I'd happily give up booze for desserts. Heh.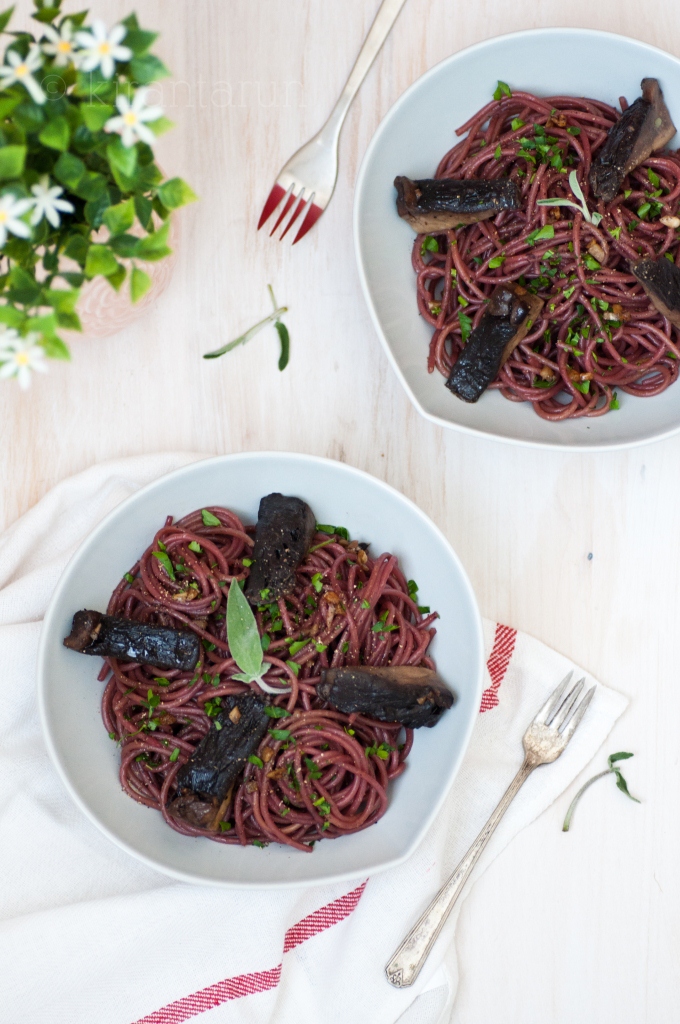 Print This Recipe
Ingredients:
8 oz whole wheat, organic pasta
5-6 cups of hot water
2 cups pomegranate juice
3 tbsp unsalted butter
2 huge portobello caps, sliced
4 small garlic, minced
1 tsp salt
5-6 sprigs of fresh sage
1/2 tsp freshly ground black pepper
2 tbsp chopped Italian parsley for garnish
Directions:
Boil a few cups of water in a pasta pot. Add 1/2 tsp salt & pasta to cook for only 5 minutes on medium-high heat. Drain pasta and wash under cold running water to stop the cooking.
Heat a non-stick skillet on medium high. Add pom juice to heat through before adding cooled pasta.
Stir pasta into pom juice, turn down the heat to medium/low and allow to gently simmer for 15 minutes. Stir every once in a while.
Once pasta is al dente or fully absorbs pom juice, drain and set aside.
In a separate skillet on medium heat, add sliced portobello & 1/2 tsp salt. Cover and allow it to steam for 2 minutes.
Setting portobello on the sides of the skillet, add butter in the center. Allow butter to completely melt.
Sprinkle minced garlic & sage leaves into the melted butter. Fry till fragrant. Do not burn.
Combine portobello with fragrant sage garlic butter. Cook through.
Remove portobello & sage garlic butter from heat. Add pasta to combine.
Serve hot or room temperature topped with freshly ground black pepper and sprinkling of Italian parsley. Dig in with a fork & a side of sangria 🙂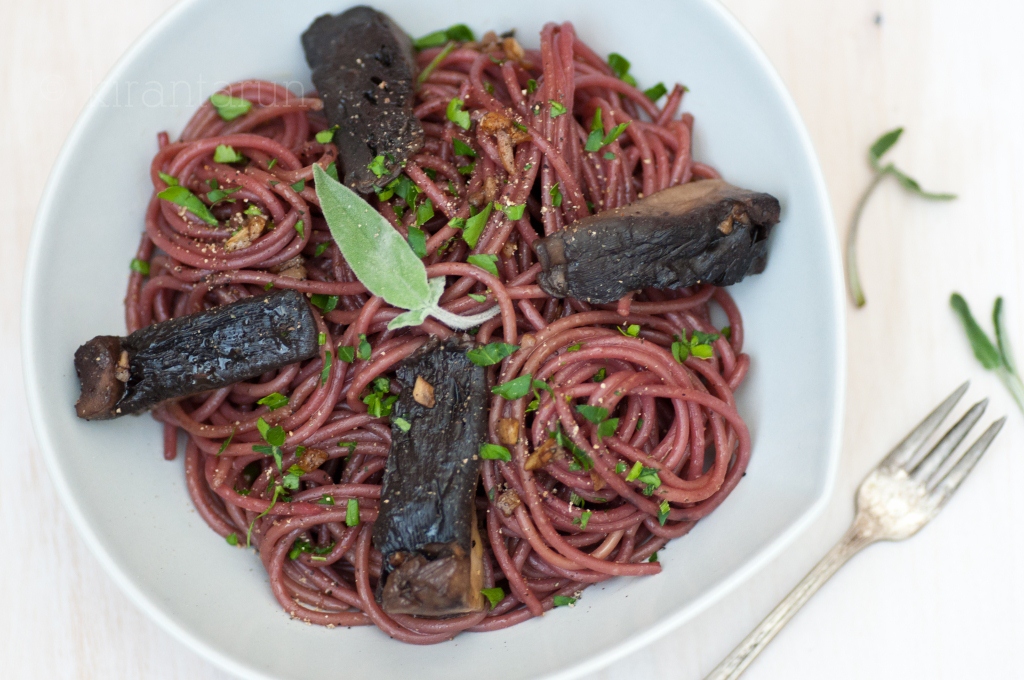 After devouring a bowl, the Husband happily went for seconds with a big smile on his face, a thumbs up sealing the approval. Mission accomplished! Wow, never knew victory was so sweet 🙂
Are you a pasta LOVER or HATER?