There's a point in everyone's life where a certain event/tragedy alters life's perspectives. You'd begin living life vicariously as though it's your final time on earth – every single day. You'd take risky decisions. You'd go on a limb to help people. And the list goes on and on.
I believe in such life altering experience, because we had one recently.
To be honest, I've zero intentions to write this post mimicking a public service announcement. But I'm sure the husband would literally laugh at the title of this post. So, naturally you'd figure out I'm the "dramatic" one in this relationship. But what seemed like a perfect day after a delicious brunch, ended in the most terrifying experience of our lives.
Well, at least to me.
Accident
Yes, we were in an accident two Sunday's ago. It was an eye-opening experience for many reasons:
We are thankful to be alive.
It wasn't a big deal accident, but we now love our car more than ever. It saved our lives.
Do not take safety belts so lightly. It did save the life and limbs of my friend sitting so close to the area impacted by the accident.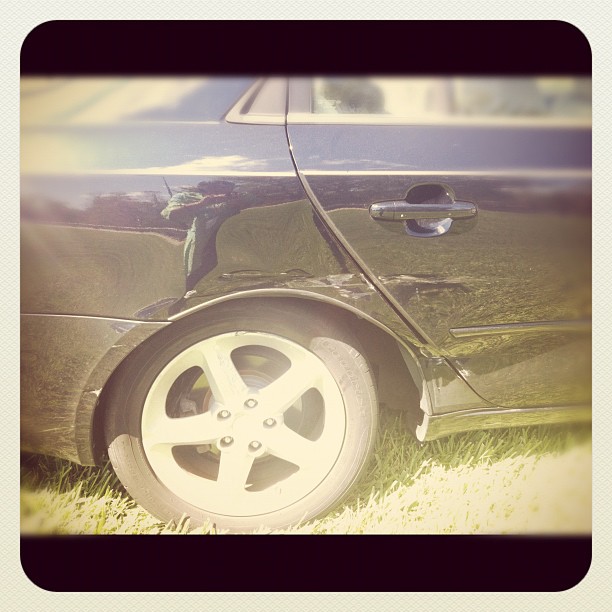 When the accident occurred, it felt surreal. We were hit so hard and fast, it was almost like a nightmare. Except this was definitely a reality.
We assured each other about our well being, but we had our friend on our minds. We didn't know how much of that impact would have gotten to her. I definitely sobbed and apologized a million times after knowing about her well being. She is fine and that's all that mattered during that fateful day.
And people, she did strapped onto a seat-belt as well. That definitely saved her life.
I would not go into much details on how and where it happened — but one thing is for sure, someone somewhere was looking after us. We cannot be more thankful to be alive.
This does seem like a small accident, but the tire took all of the hard impact. What I can tell you is definitely get a Hyundai Sonata. I am not Hyundai's brand ambassador, just a happy customer!
The car is still in for repairs, so our gracious neighbor's came to rescue. They offered us a car to use until we get ours back from the repairs. Love you, Rick & Andrea 🙂
Tell me, what's your life altering experience?