Day 2 at Nasa's Kennedy Space Center was no short of fun. The experience was just as AMAZING as Day 1.
Below was the planned agenda of the day:
Friday, April 29/ Launch: Tweetup Day 2

9:00 a.m. – Group picture beside the countdown clock

9:05 a.m. – Astronaut Ricky Arnold, STS-119 Discovery (March 15-28, 2009)

9:30 a.m. – Astronaut Leland Melvin, associate administrator for Education, NASA Headquarters, @Astro_Flow

10:00 a.m. – Daire McCabe, designer at LEGO

10:30 a.m. – Lt. Col. Patrick Barrett, 45th Weather Squadron, U.S. Air Force ~11:57 a.m. – Astronauts depart their crew quarters for Launch Pad 39A ~12:10 p.m. – Tweetup participants (assembled along the road across from the Launch Control Center) wave to the crew as they drive by in the astrovan on their way to the launch pad …..
Alas, the launch was scrubbed and NASA just announced May 16th would be Endeavour's next launch date. I am re-invited to attend and hopefully watch Endeavour soar into space 🙂
Day 2
Begun with a group photo at the count-down clock, but I missed it! Got in late from Orlando, blamed it on the traffic!!!
Astronaut Melvin talked about how we shouldn't give up our dreams. In his case, becoming an astronaut.
Our Twent (Tweet tent) was facing the count-down clock. Feeling EPIC!
It was a chilly and windy morning. We were all pumped with excitement for the launch!
In the midst of all the excitements, I managed to squeeze in a photo and short conversation with fellow Astronaut Arnold. As soon as he was made aware I am representing the people of Malaysia, he greeted me in our native language!
"Selamat Datang" & "Selamat Pagi" 🙂
– it means, "Welcome" & "Good Morning"! I was on top of the world. He told me he was based in Indonesia for a short period and visited Malaysia a couple of times. The world is seriously small, hats of to people like him who are making a difference in our lives.
TweetUp participants lined up to wave at Astronauts in the Astrovan..
The Astrovan came and made a detour! We instantaneously knew something was not right and quickly realized the launch was SCRUBBED!!!
Alas, it was a beautiful day spent with wonderful new friends. Of course some of use stayed put for a while to catch a glimpse of President Obama and to wait out the horrendous traffic.
These two love birds got engaged in front of the count-down clock. Sweet couple 🙂
In order to kill some time, I ventured into the Press Room.
Was glad to discover miniature ISS and space suit was displayed on floor.
There are 3 layers of gloves. But I only tried on the last 2.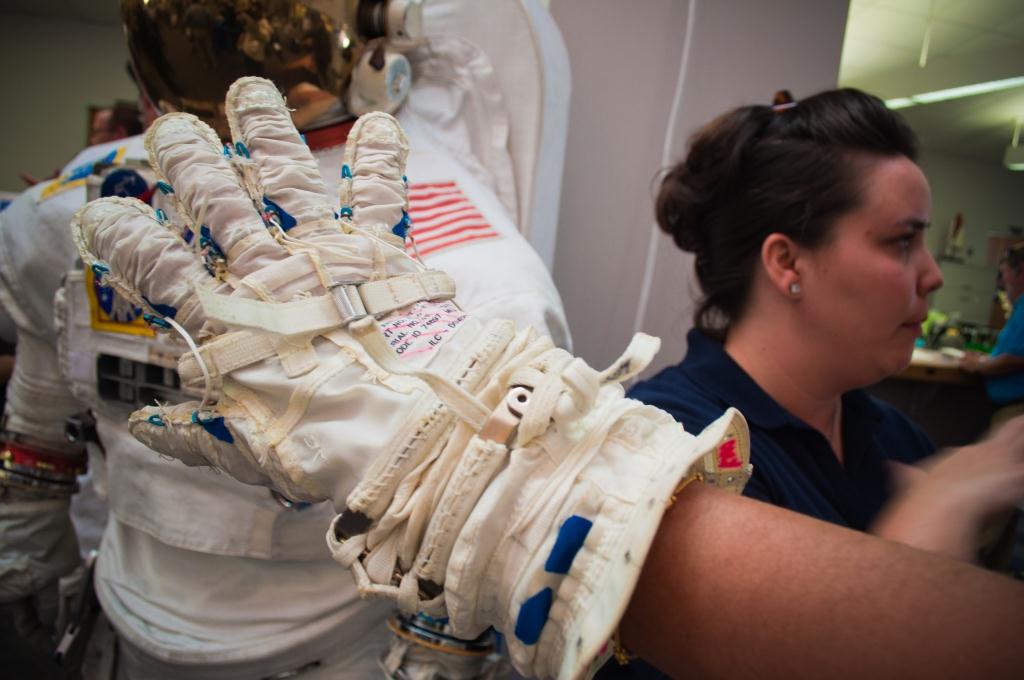 How ginormous did those gloves looked on me?!?!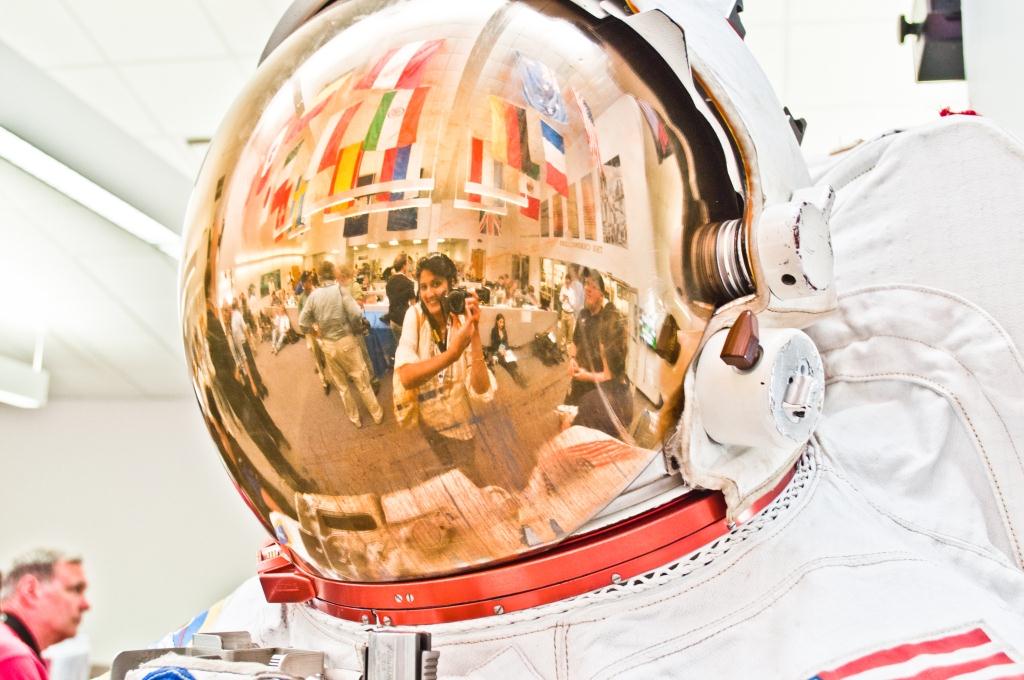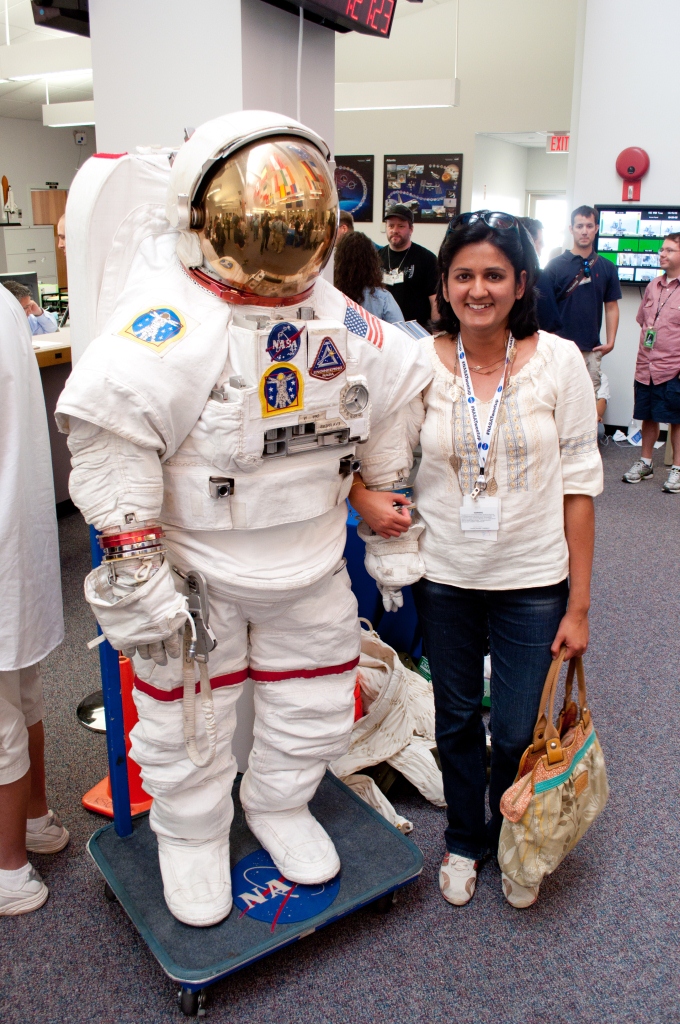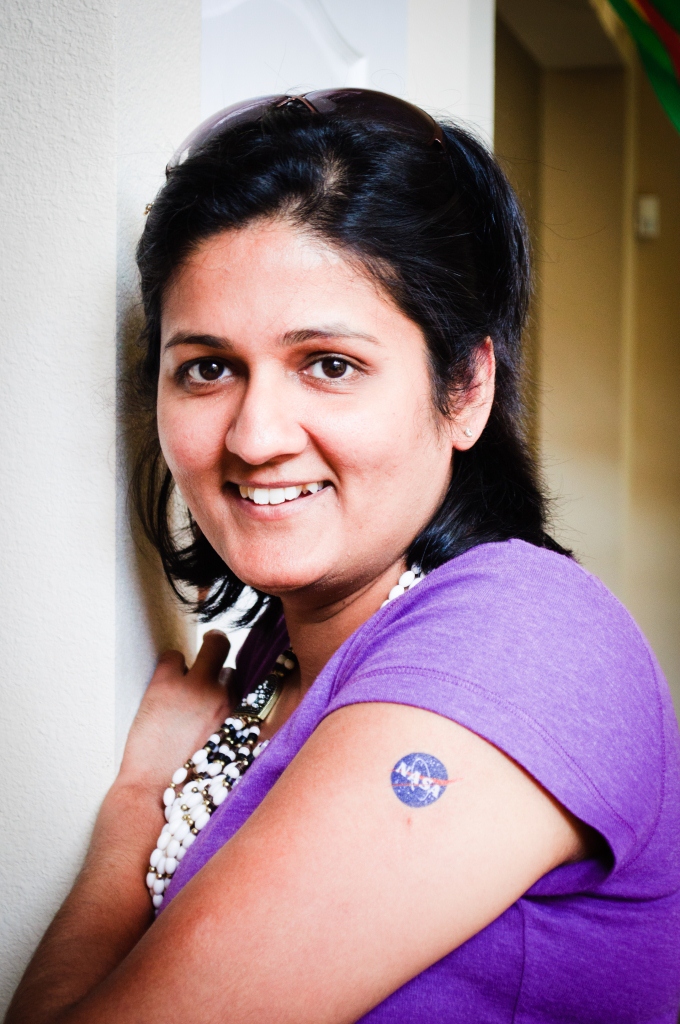 Wow! What an amazing journey it was during Nasatweetup! I got home, and immediately tattooed NASA logo on my arm. Isn't that cool? Don't scream mom, it's just a sticker 😉
I can't wait to return to the Press Site next Monday, May 16th for Shuttle Endeavour's launch reattempt @ 8:56am EDT! Join me on my journey via Twitter and Facebook 🙂