I am a little overdue with these posts – Oopss… No regrets as I have a policy – when I am surrounded with loved ones, I try to disconnect myself from blogging and such. Precious moments spent with families and friends should be treasured as much as possible 🙂
But I hope you would enjoy scrolling down the memory lane with me. Loads of pictures and cherished memories to share 🙂
***
Woke up bright and early on Christmas day after driving long hours for the last two days.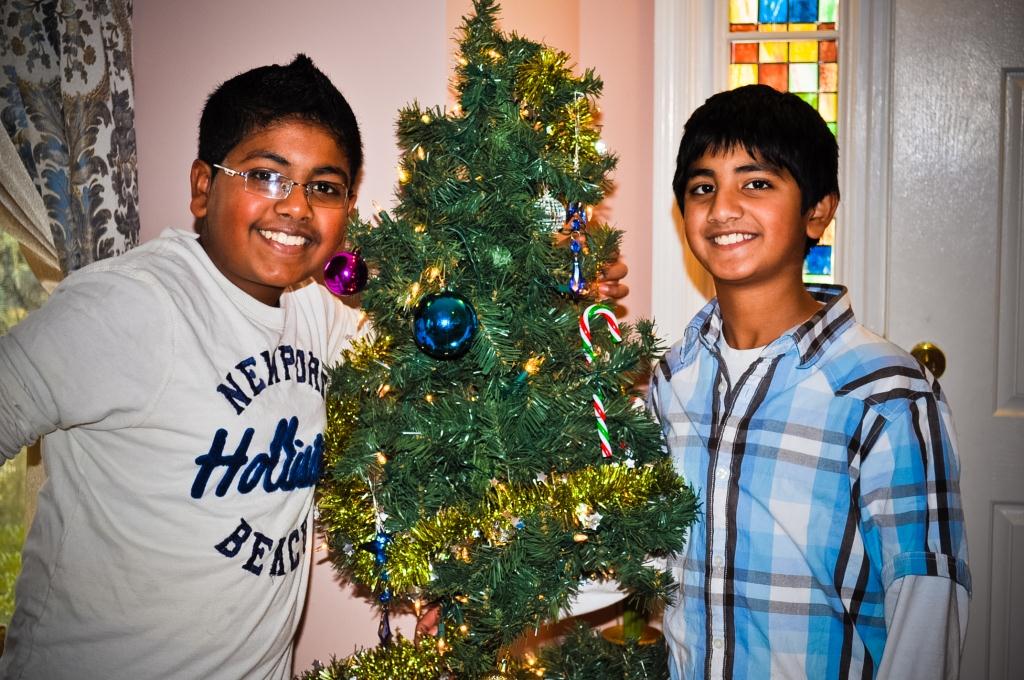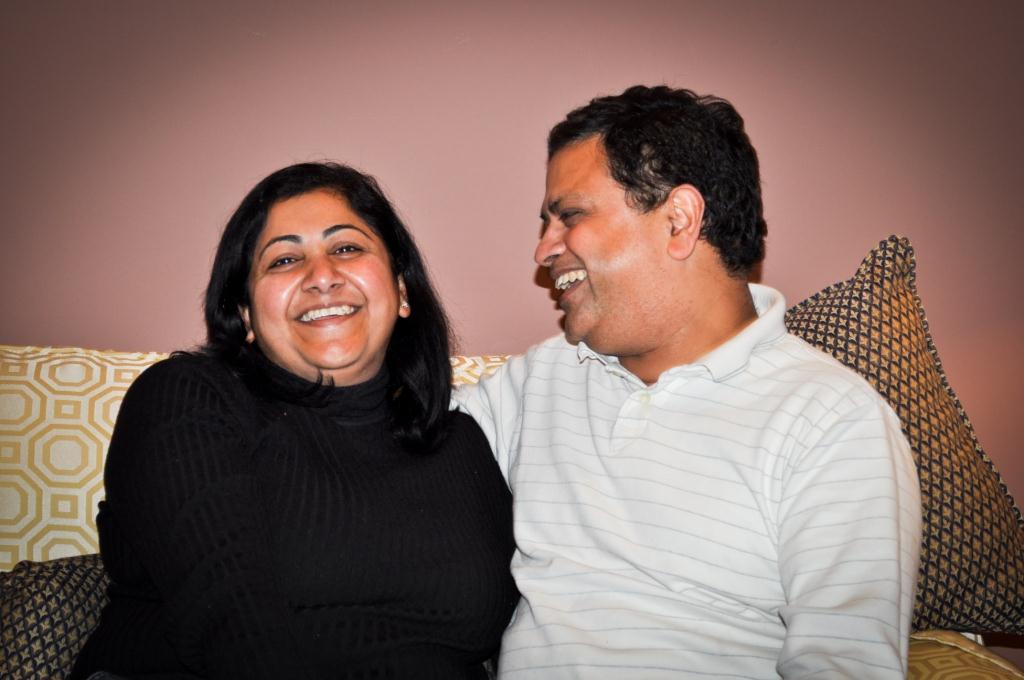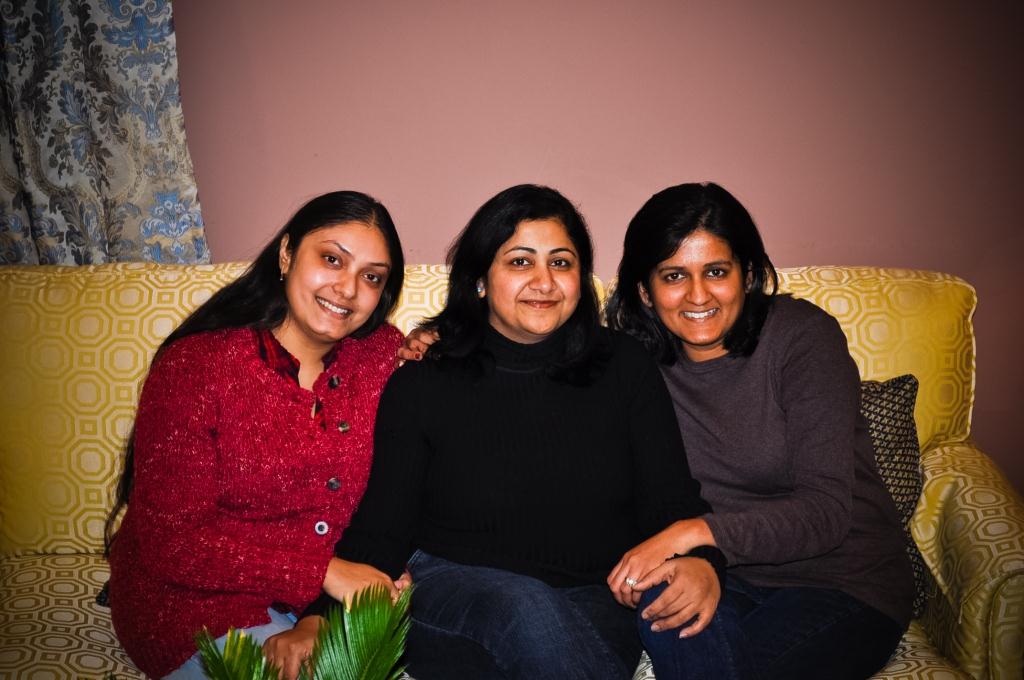 After the photo sessions and mingles with some friends, we bundled on layers to head on into the city. New York City. It was bone-chilling cold, but we wanted to visit NYC on Christmas and share in the joy 🙂
I am so bewildered by tunnels. There seemed to be many connecting New Jersey with New York City. This is Holland Tunnel – by far, the busiest tunnel I've came across.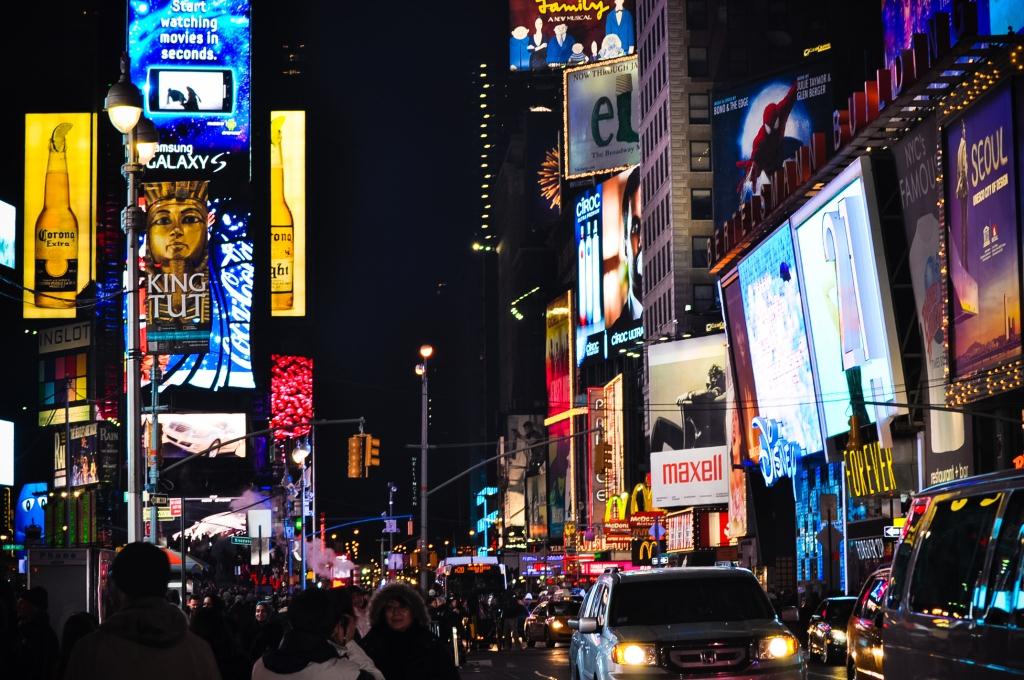 The thing that I most love about New York City is not only how colorful and vibrant the billboards are at Times Square or how envious I get whenever someone mentions its famous farmer's market, but the idea of living there someday. Seriously. There's something in the whole vibe of NYC which makes me wish I had ancestral property facing Central Park! Wishful thinking 😉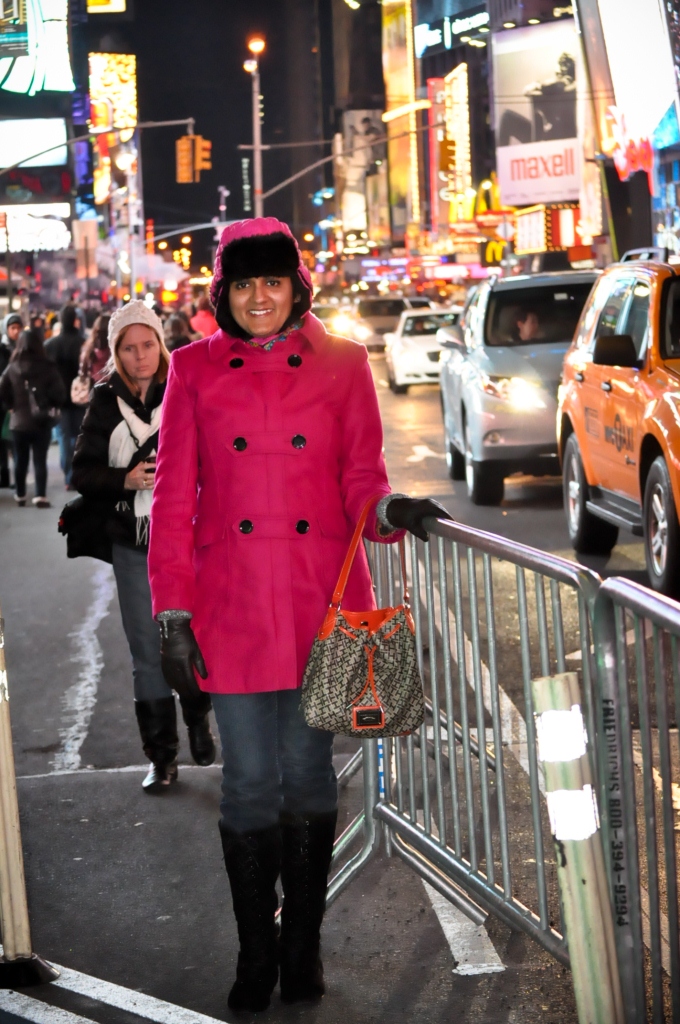 Ignore that uber pink ensemble. What was I thinking? Pink overboard 😀
Whereas, the Hubs went ahead with neutrals. Browns. Oatmeal. He looks adorable, the only thing that matters. Oh, and the obvious comfort against a chilling night. Obviously.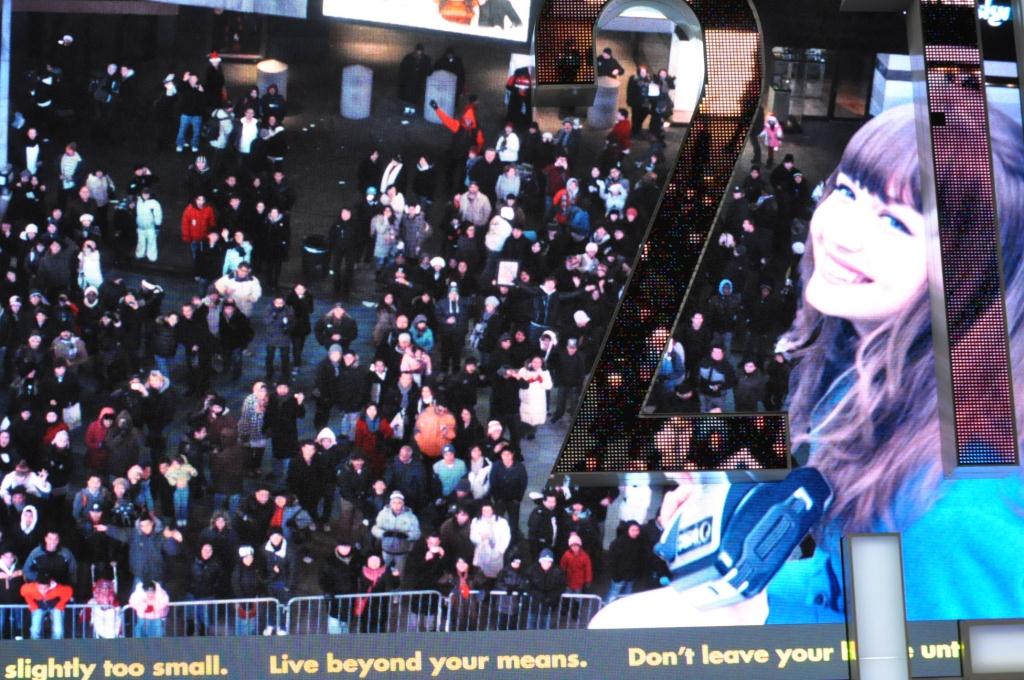 This one is for you Girlfriend! A huge Forever 21 billboard that transmits live action of people in Times Square. What a cool way to entertain customers and bystanders. Can you spot us?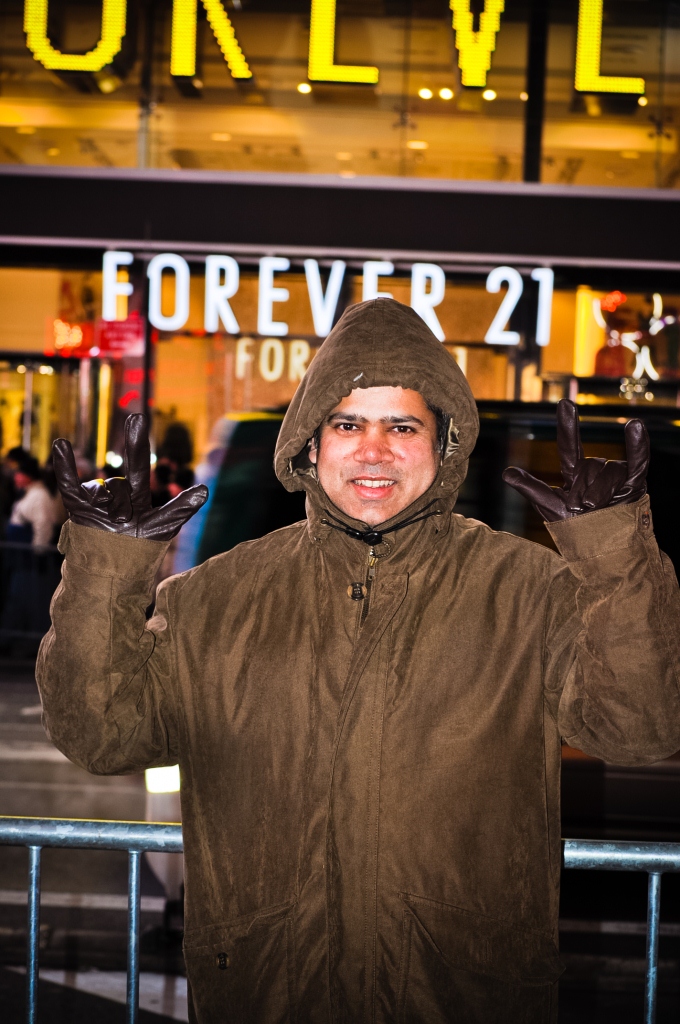 I <} you Forever, 21.
The only thing I miss about New York City are the Broadway shows. Wanted to catch Mamma Mia, alas, the tickets were SOLD OUT! I got a glimpse into what Broadway musical is all about when Spring Awakening was in town a few months ago, and I must say, live Broadway shows are interesting. It requires a lot of talent and props to ensure one doesn't get lost or bored in the whole experience. Have you watched a Broadway show before?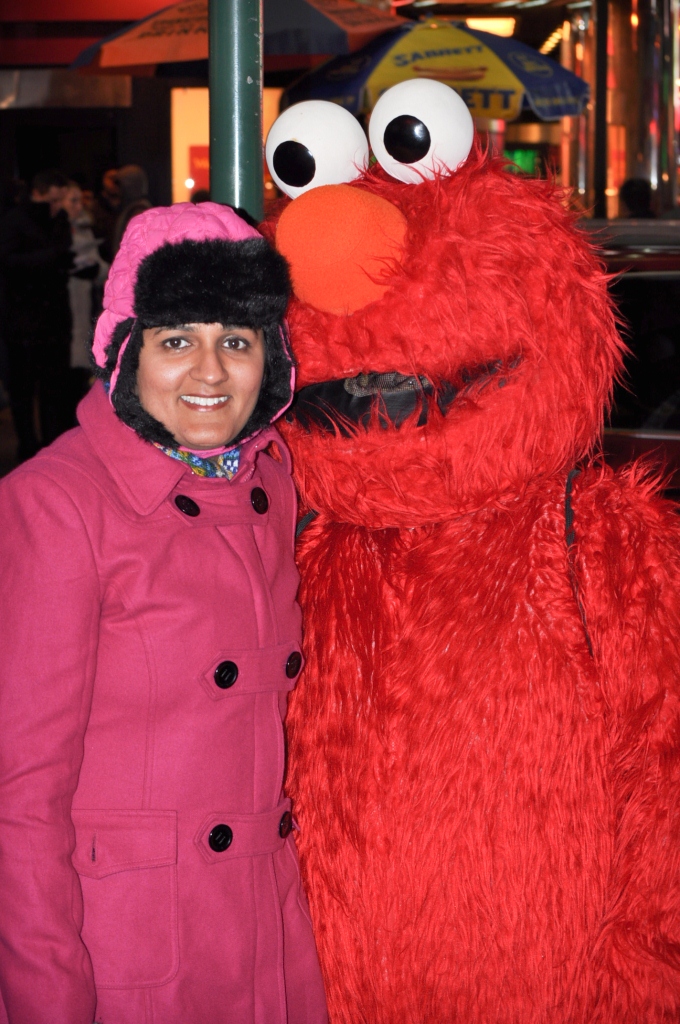 Met my long lost buddy Elmo in its uber red ensemble. Beneath those furryness, lies a character that kept whispering, "You need to pay me in cash". Hello, you are missing the moment here. There should be a "free hug" law. Sheesh.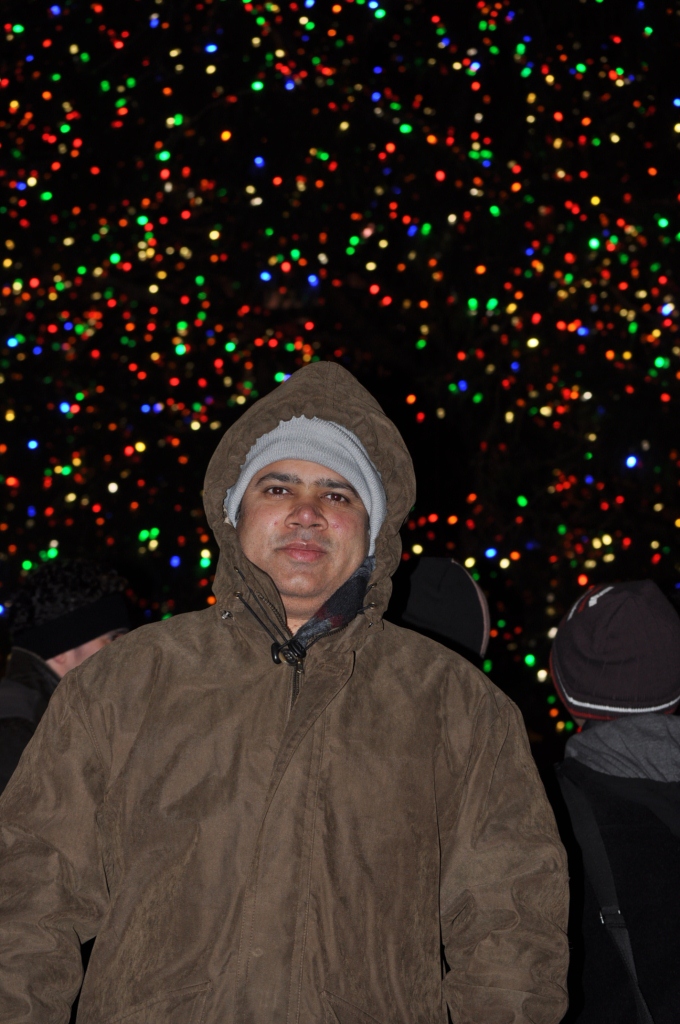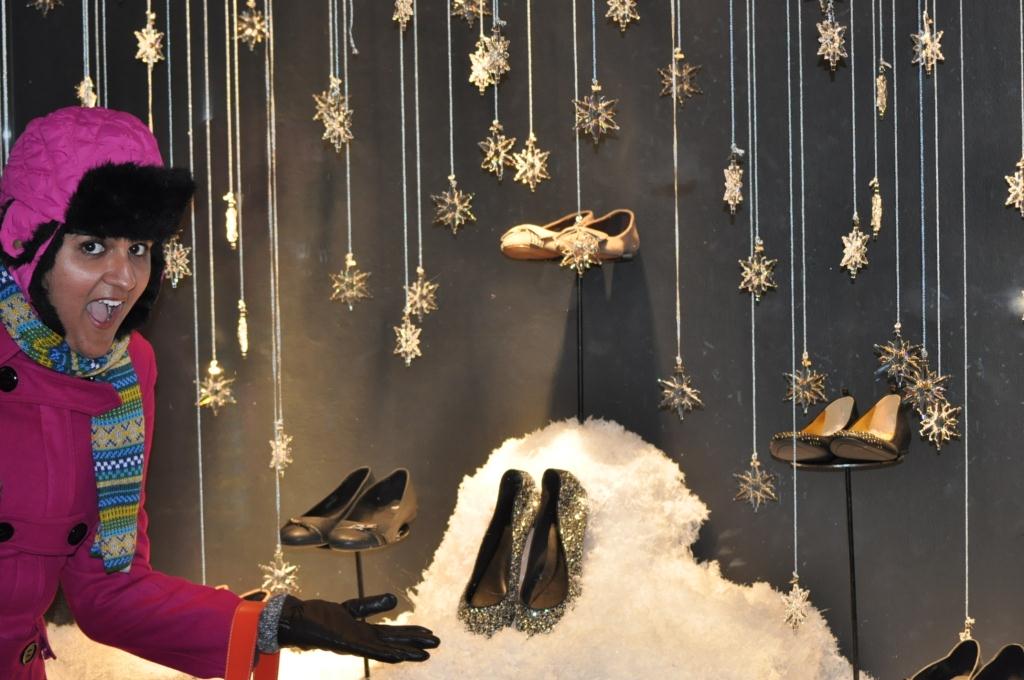 This was taken in front of a shoe boutique at Rockefeller's Plaza. Look at those sparkly and bedazzling pumps! I would imagine this as any woman's DisneyLand 😉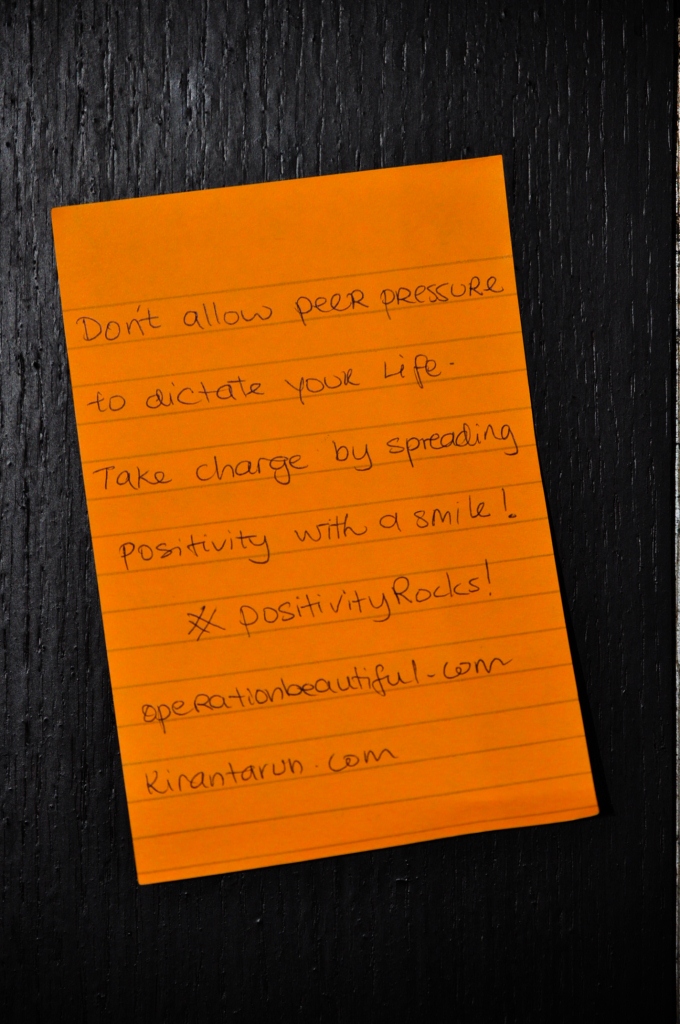 Left an Operation Beautiful note – an easy method to encourage positivity. It starts with post-its, pen and a camera (even phone camera would do). I left this note at Times Square's TGIF in the hopes of making someone smile 🙂 We had our dinner and returned home for some needed R & R. We were pretty tired with layers of clothing!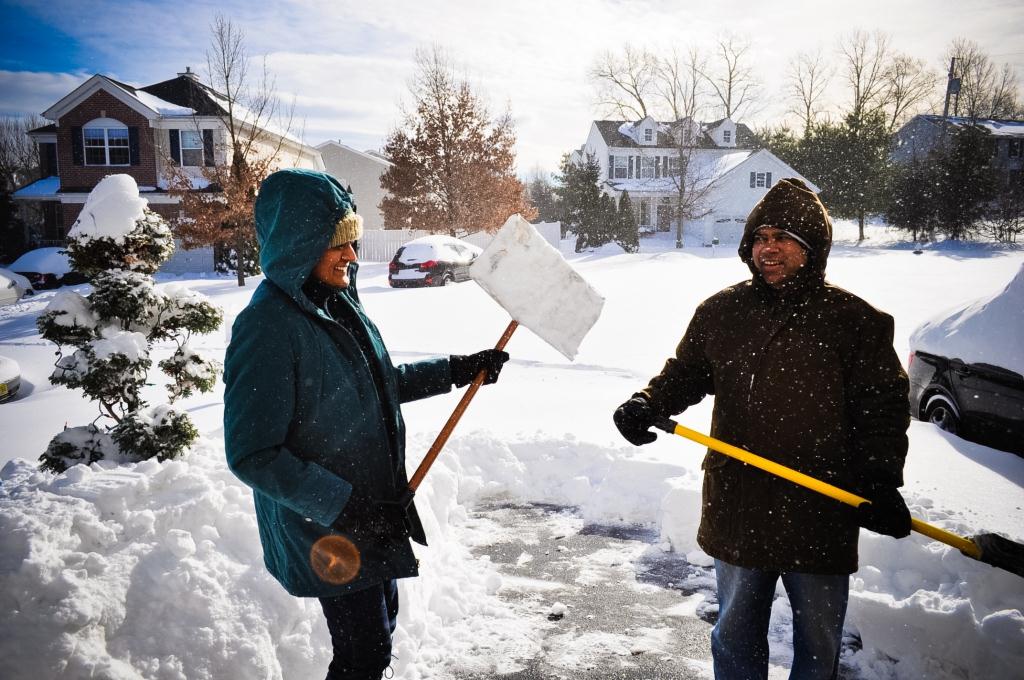 Blizzard hit the up North states for a full day! We were trapped at home and didn't want to risk driving in treacherous weather. Something that we are not used to coming from the Sunshine State. Once the wind settled, we were out to see the damage. Well, for New Jersey residents, it was a damage. For us, it was an unforgettable and beautiful experience. Tarun and I were like bunch of 9 year old's, playing and taking in the beauty of snow. This was our 1st snow experience and it was so much fun. We wanted to create a snowmen, but the snow was too dry and powdery. So we took on the next best chore:
Throwing snowballs 😉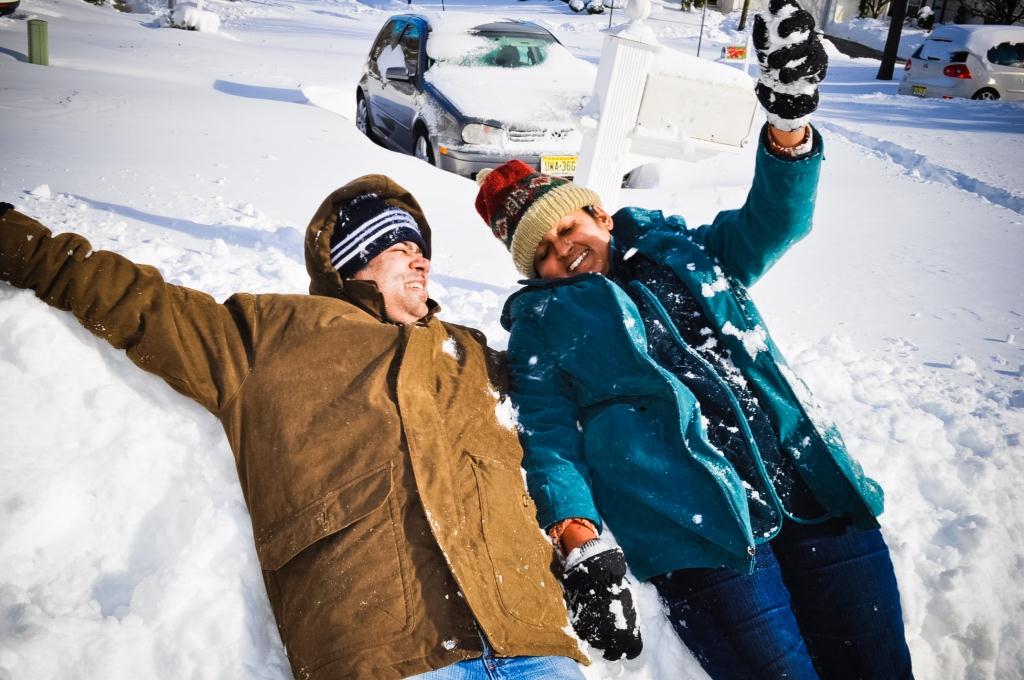 Making Snow Angels 😉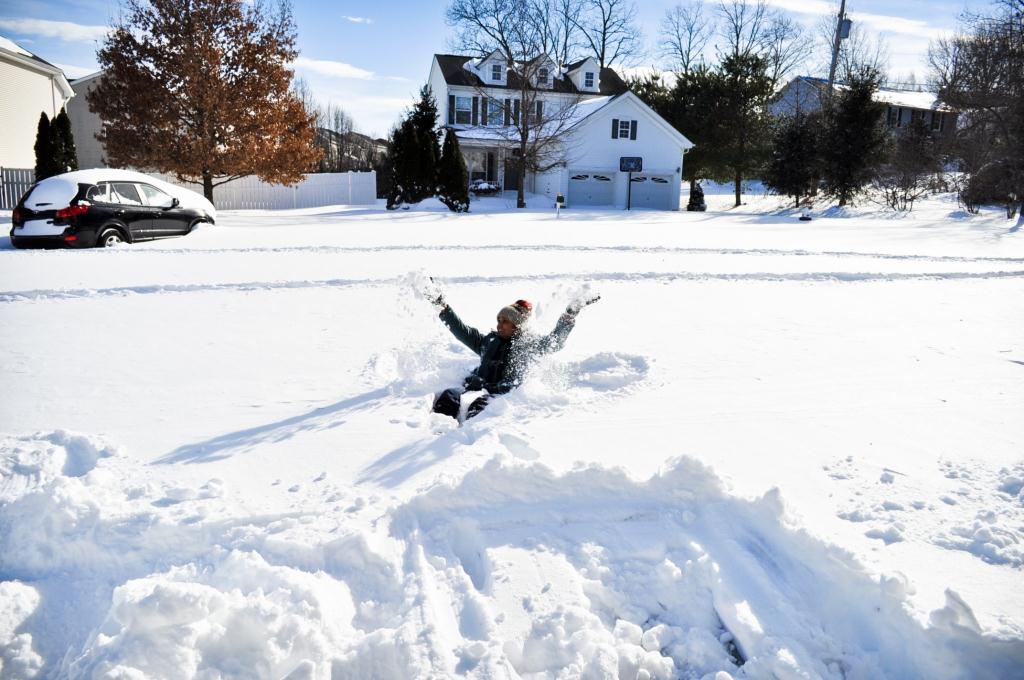 Am I a goofball or what?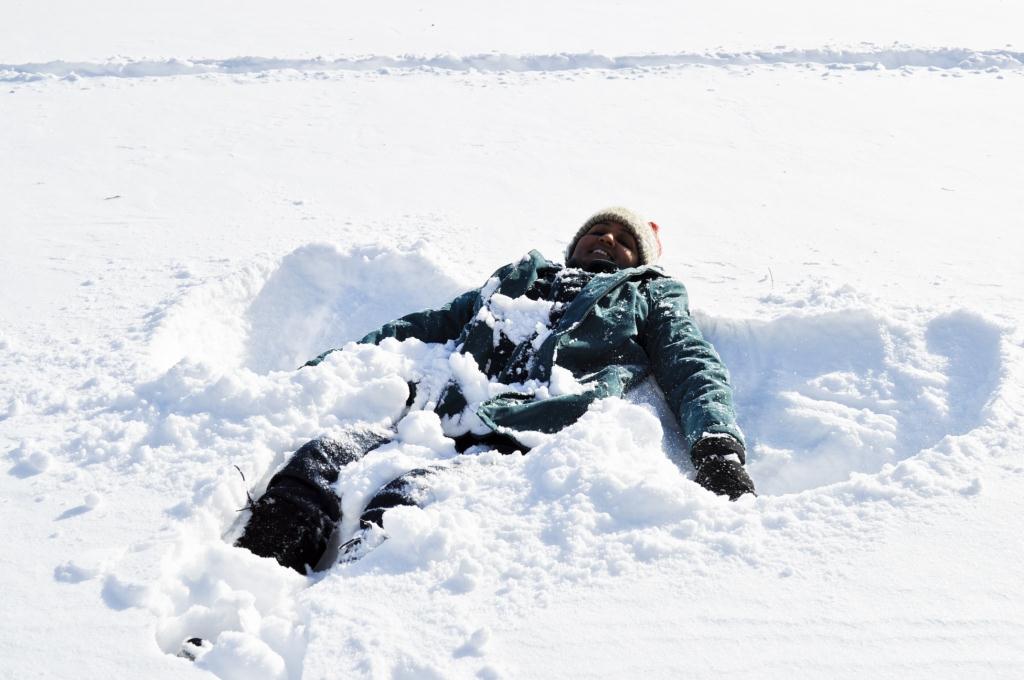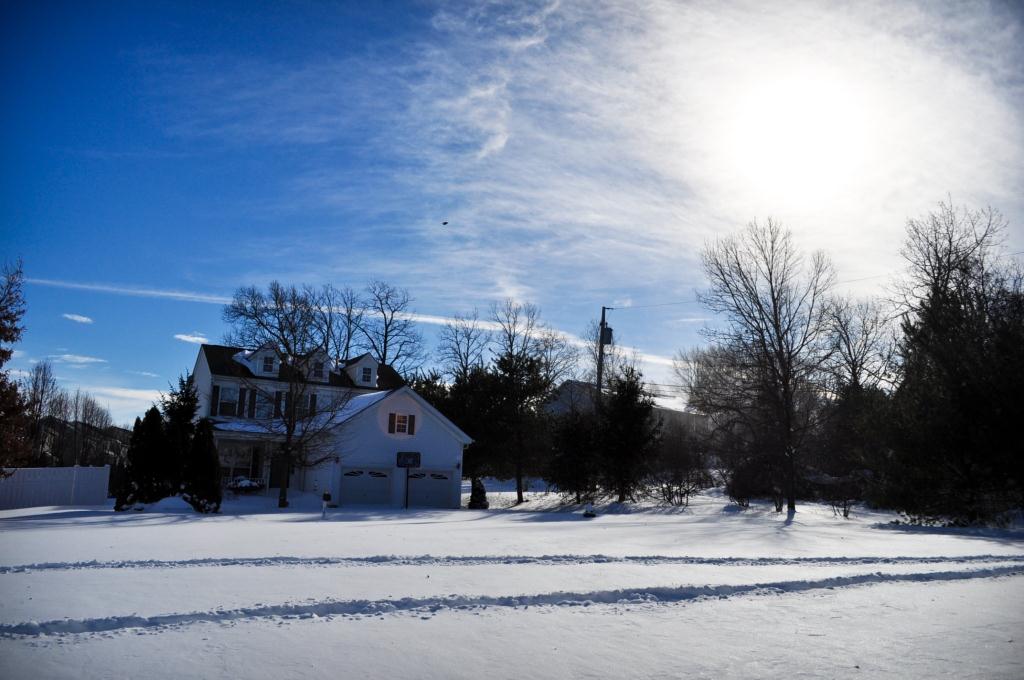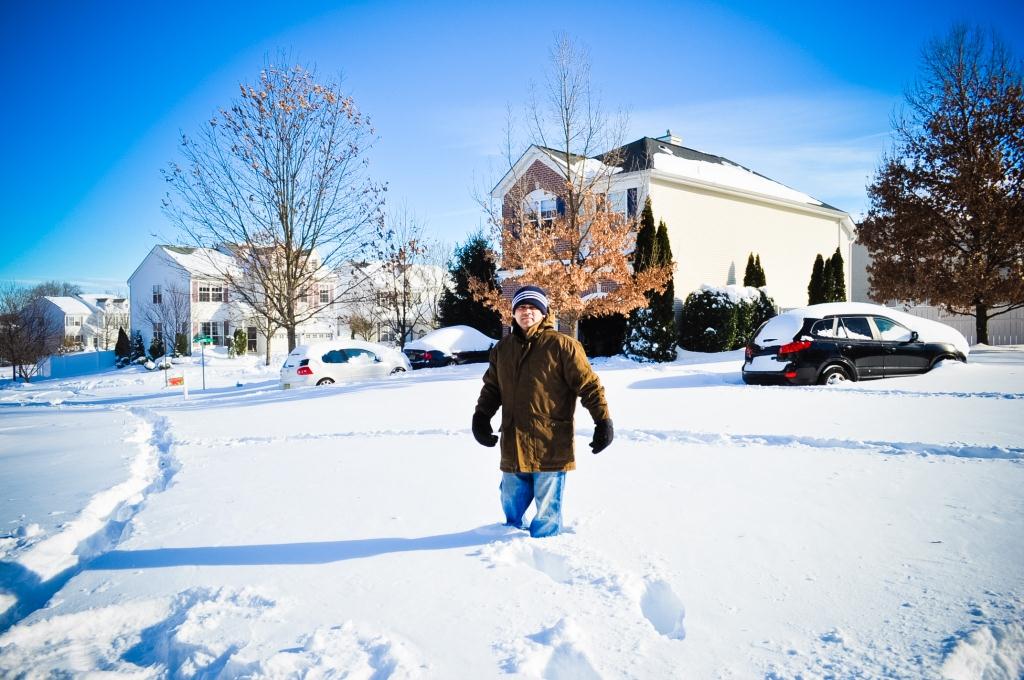 Are you kidding me? 20 inches of snow? Wahoo!!!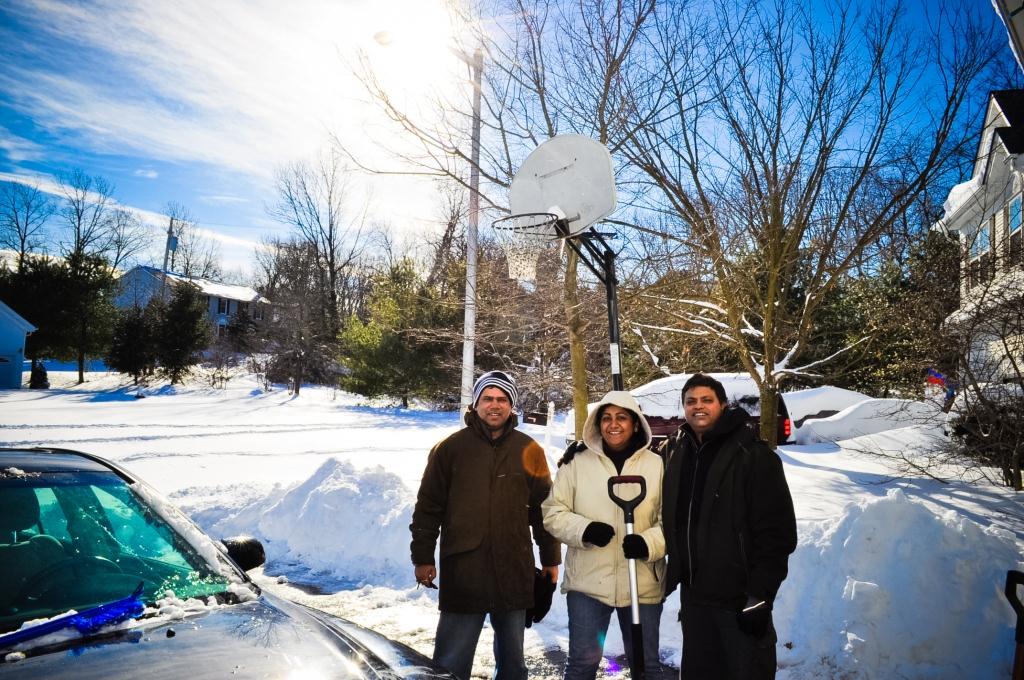 After goofing around in the snow, we got to experience snow shoveling. As much as we loved playing in the snow, shoveling is way too serious of a chore. We are thankful for our lawn-mowing in Florida. Thank you lord 🙂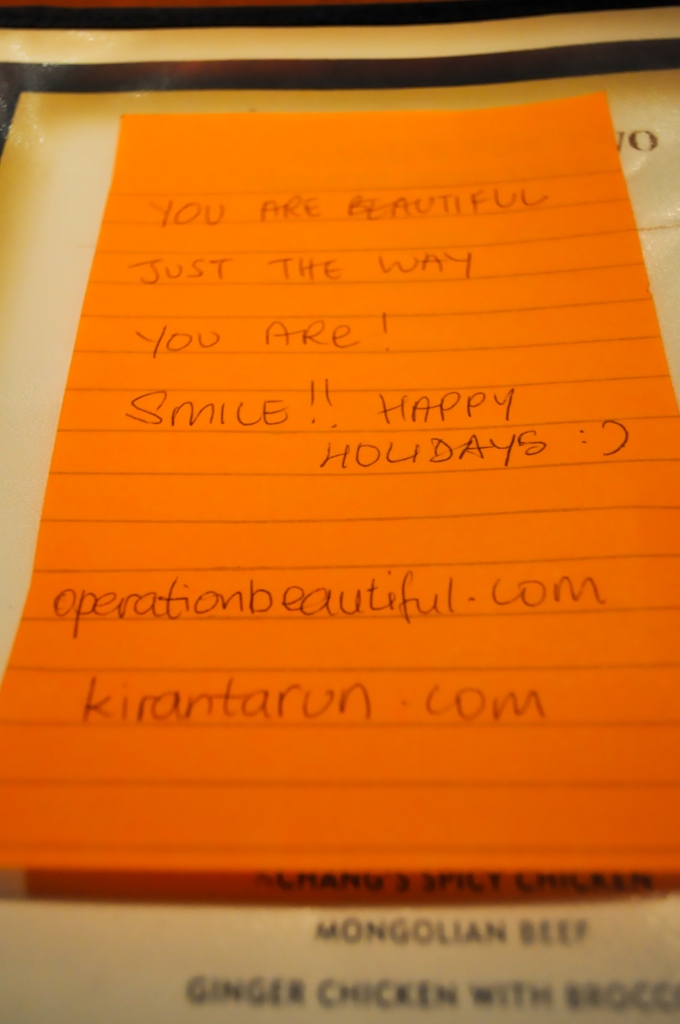 What would you prefer – A snowy or sunshine winter? I love snowy Christmas, now that we have experienced winter.