W
hat's not to love about fried rice?
There's something so comforting about enjoying fried rice. Rain or sunshine, humid or snow — it's one of those special dishes that you can make anytime of the year.
It's soul-food in my opinion.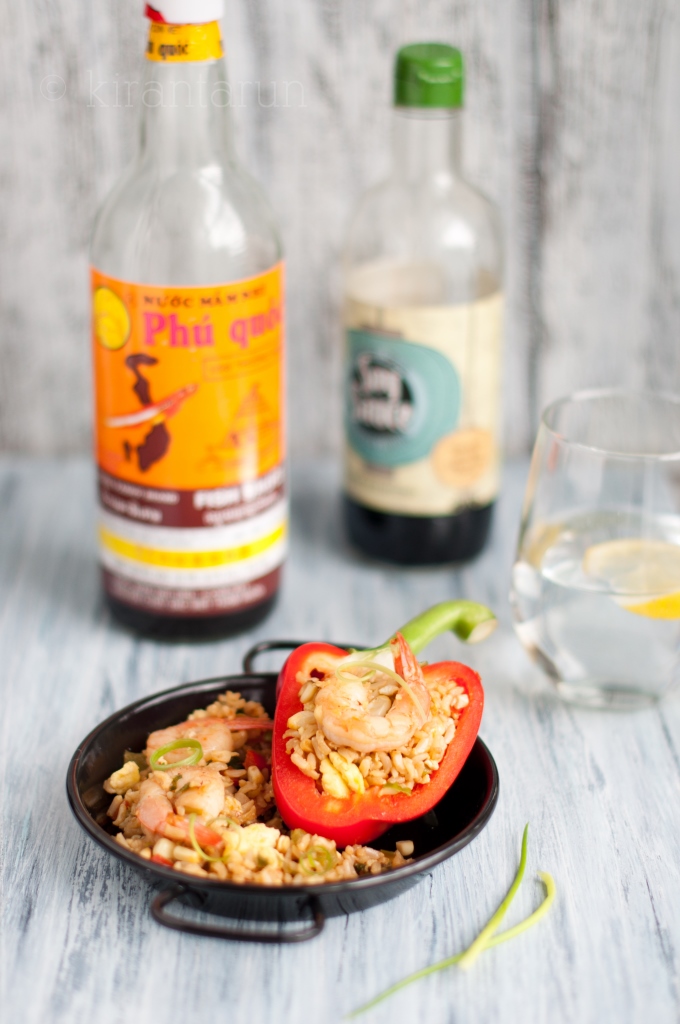 If there's one food that I might not consider sharing with anyone, that has to be fried rice. It takes a lot for me to muster enough strength to share.
Sounds like I might have admitted a huge weakness. Don't use it against me. Please?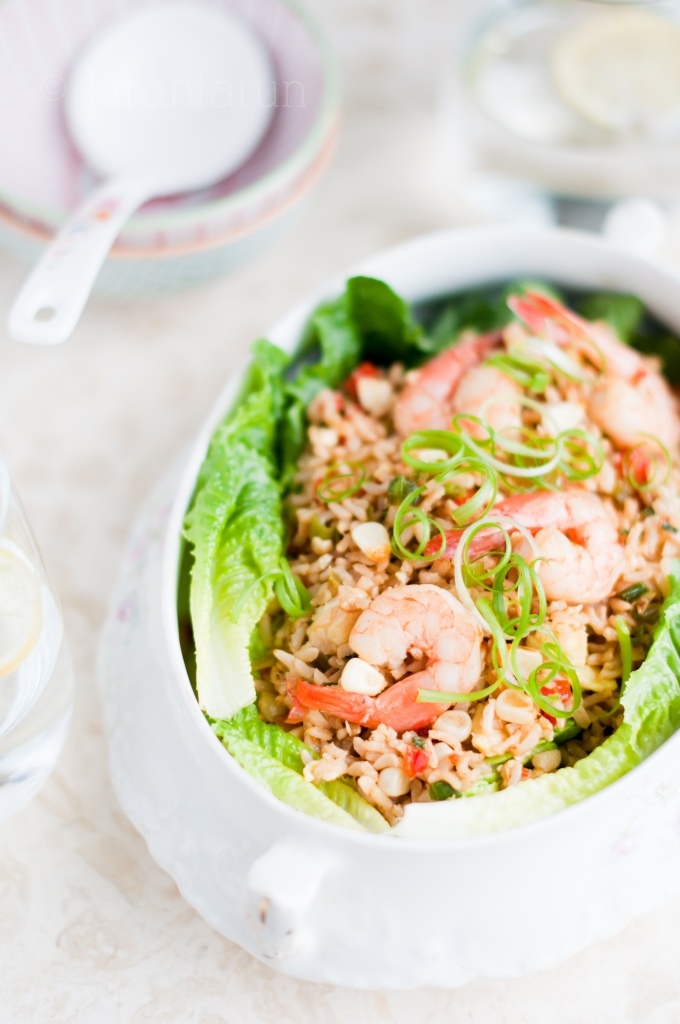 Apart from brown rice, I've tested this recipe using quinoa and regular white rice. The key to a very good fried rice is using day old rice. That just means using rice (or any grains of your choice) that is cooked a day in advance to avoid making a glob of mushy fried rice.
Trust me. You wouldn't want to eat or serve mushy fried rice.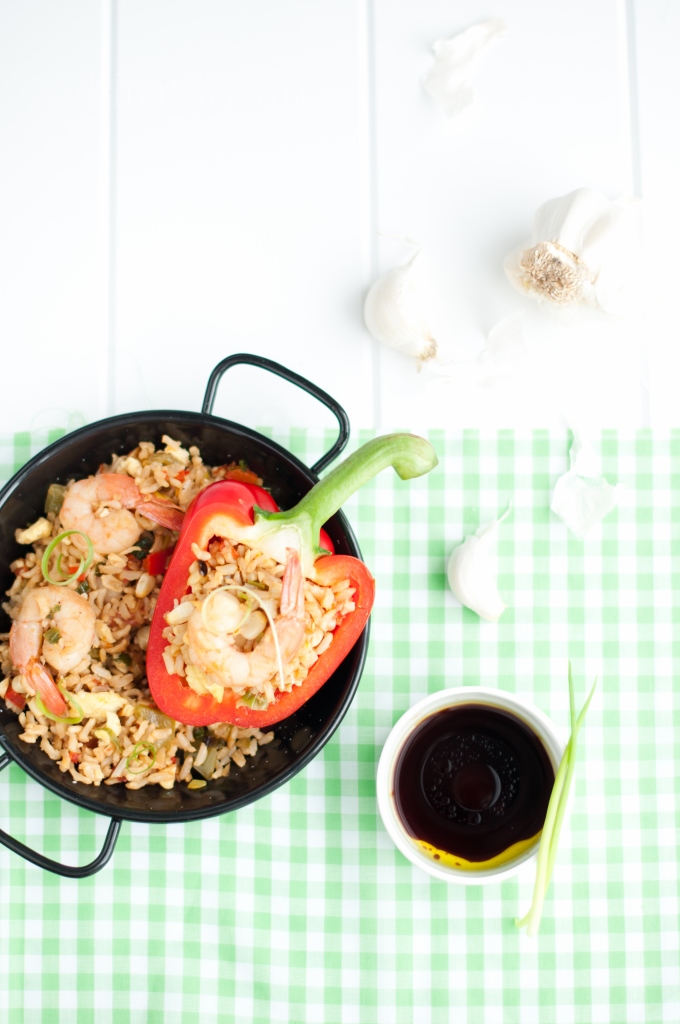 Print This Recipe
Makes 4 servings
Ingredients:
1 tbsp cooking oil
2 eggs
pinch of salt
2 tbsp cooking oil
3 cloves of garlic, minced
1/2 lbs shrimps, shelled & deveined
1 tbsp sambal oelek (chili sauce)
6 scallions, chopped (reserve some for garnish)
1/2 red & green bell pepper, diced
1/3 cup fresh corn kernels
3.5 cups cooked brown rice
1/2 tbsp toasted sesame oil
Sauce:
1 tsp brown sugar
1 tsp rice wine vinegar
1 tbsp fish sauce
2 tbsp low-sodium soy sauce
Directions:
Prepare sauce by mixing all the ingredients into a bowl. Set aside.

Heat a huge wok on high heat. In a small bowl, crack two eggs, add a pinch of salt and whisk.
Once the wok is hot, drizzle in 1 tbsp cooking oil, swirl it around and add beaten eggs. Scramble eggs for a few seconds and remove from wok. Set aside.
In the same wok, add 2 tbsp cooking oil. Add shrimps, minced garlic and sambal oelek. Stir and cook for 2 minutes.
Add chopped scallions, bell peppers and corn kernels. Stir-fry for another 2 minutes on high heat.
Throw in cooked brown rice and prepared sauce. Stir-fry until everything is combined.
Add in scrambled eggs and a drizzle of toasted sesame oil. Stir and remove to serve immediately.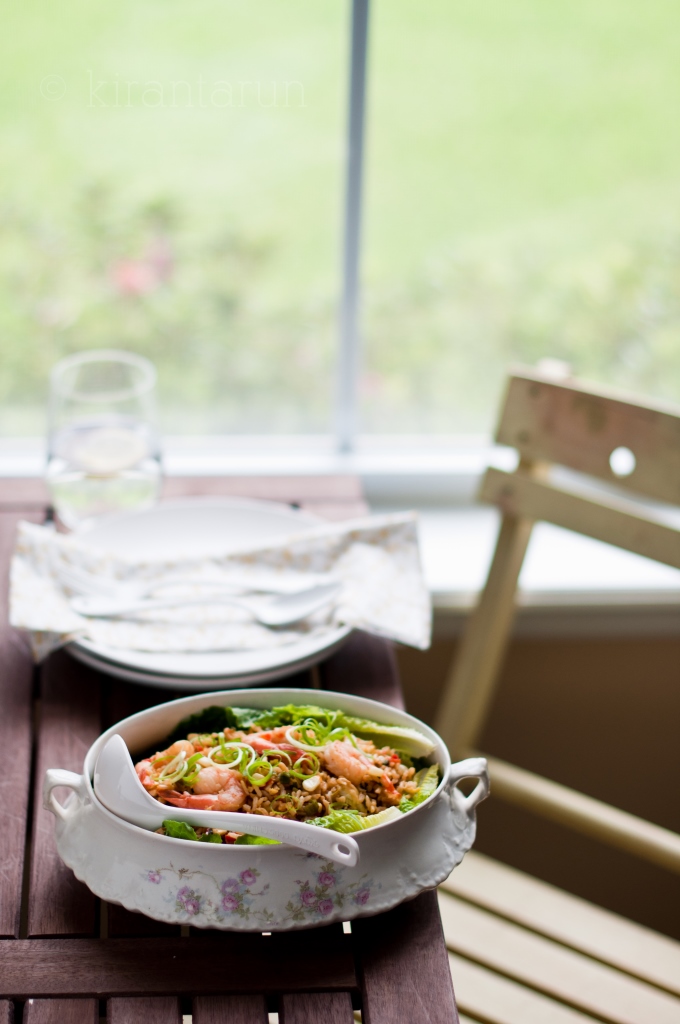 Highlight of my day and this proves how much more I love sharing my recipes with all of you:
Love it when a blog reader cooked my recipe for his date and there's a 4th date plan in the future!! I'm so proud and happy!!
Have a great day friends and thank you so much for the continued encouragements 🙂
What's your favorite: rice, brown rice, quinoa etc?