I
'm not so much of a TV person, especially these days since the TV is no longer functioning. But if I get sucked into a really good soap opera, it's hard to just walk away after watching one episode. No thanks to reruns on Youtube, I get instantaneously hooked.
Which is not good at all because I have the tendency of trying to view as much episodes as possible.
This happened to me last night, hence the lateness in blog posting today 😀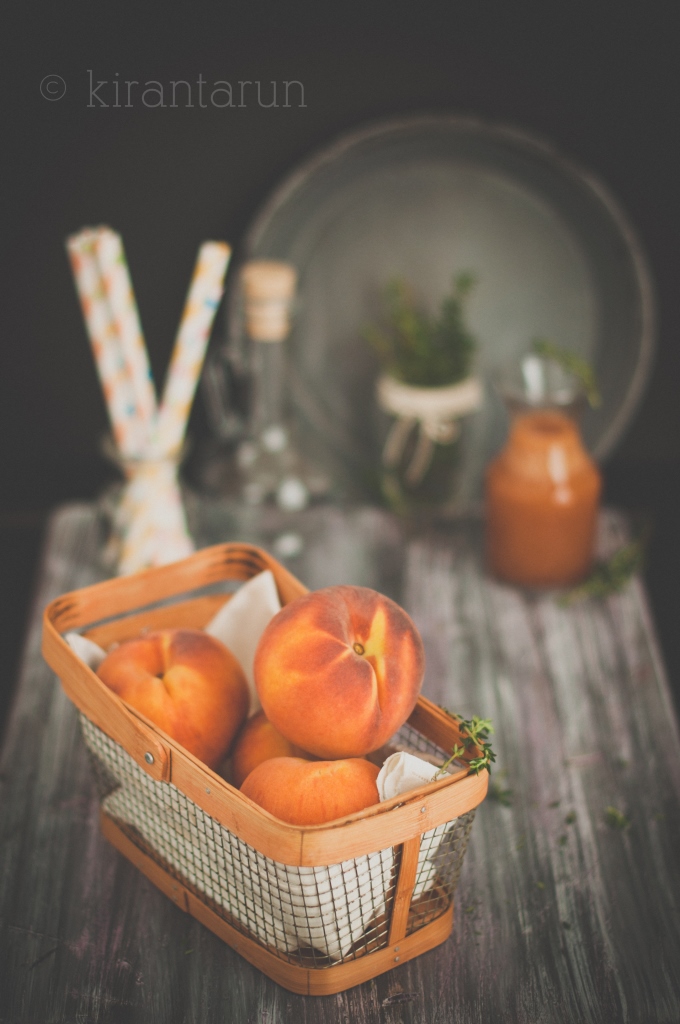 Same obsession continues with great book! I find it difficult to put down a good book in the midst of reading. Suspense, drama, action, thriller — i just need to know the next plot in the story-line, and so the flipping continues until the end or when the story-line just doesn't grab my interest anymore.
The insomniac behavior ensues and I'm left lethargic all day long without much sleep.
But do I learn any lesson and not do it anymore? Nope. I can't promise when it comes to reading a great book and living vicariously through soap operas.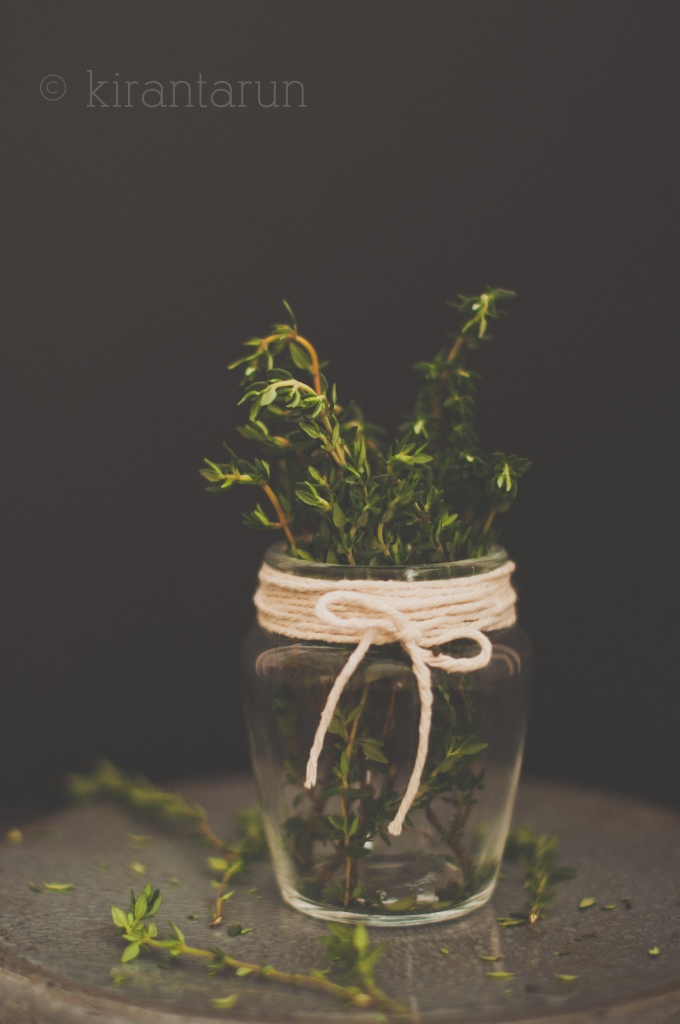 And now, let's pray the laptop lasts to help me get through the TV rut 😉
Well, at least some not-so-pristine, wrinkled peaches helped. Which by the way, is taking possession in the refrigerator. There's a whole new meaning of squatters in my life.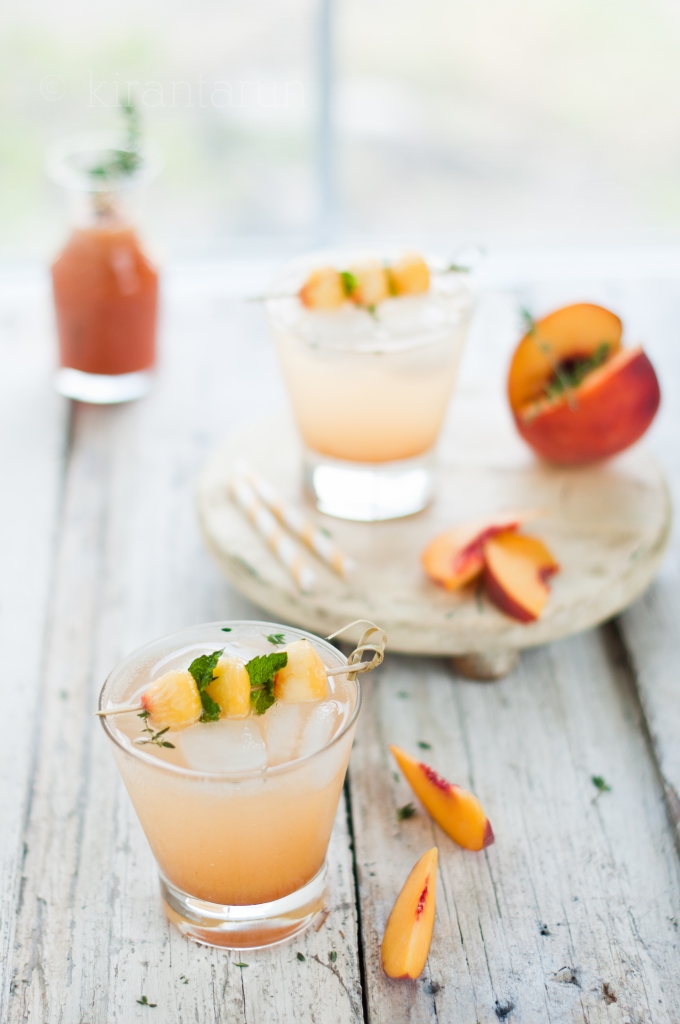 Its August, so why am I serving peach and thyme spritzers? Because rain has been ruling Floridian's lives for the past 1.5 months. Yes. Summer this year was all about rain and barely sunshine.
I'd take a fresh, peachy and summery spritzer any day, rain or shine! Or just to rid wrinkled squatters out of my refrigerator.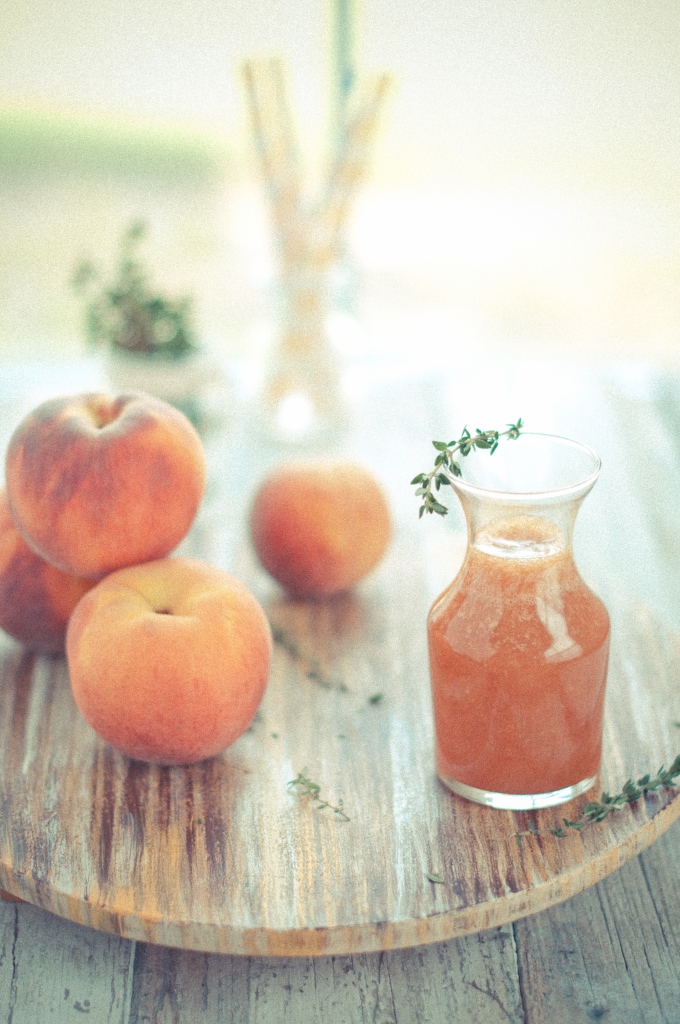 Print This Recipe
Ingredients:
To make syrup:
5 small very ripe peaches, chopped
1 cup water
1/2 cup sugar
1 tbsp lemon juice
1 sprig of fresh thyme
For spritzer:
ice cubes
chilled sparkling water
fresh peach
mint & thyme leaves
Directions:
Add chopped peaches, water and sugar into a saucepan. On a medium heat, bring everything to a gentle simmer. With a wooden spoon, mash peaches and stir every now and then until sugar dissolves and syrup thickens. Simmer for 15 minutes.
Add lemon juice and a spring of fresh thyme into syrup and simmer for 5 more minutes.
Remove syrup from heat. Drain syrup through a fine mesh strainer to remove as much liquid as possible. Do not discard pulp. Use it in breakfast smoothie or stir into a bowl of oatmeal 🙂
Cool syrup to room temperature before refrigeration.
To serve: Add a few ice cubes in a glass. Drizzle a heaping tablespoon of cooled peach & thyme syrup and top it with chilled sparkling water. Garnish with fresh peaches, mint and thyme leaves.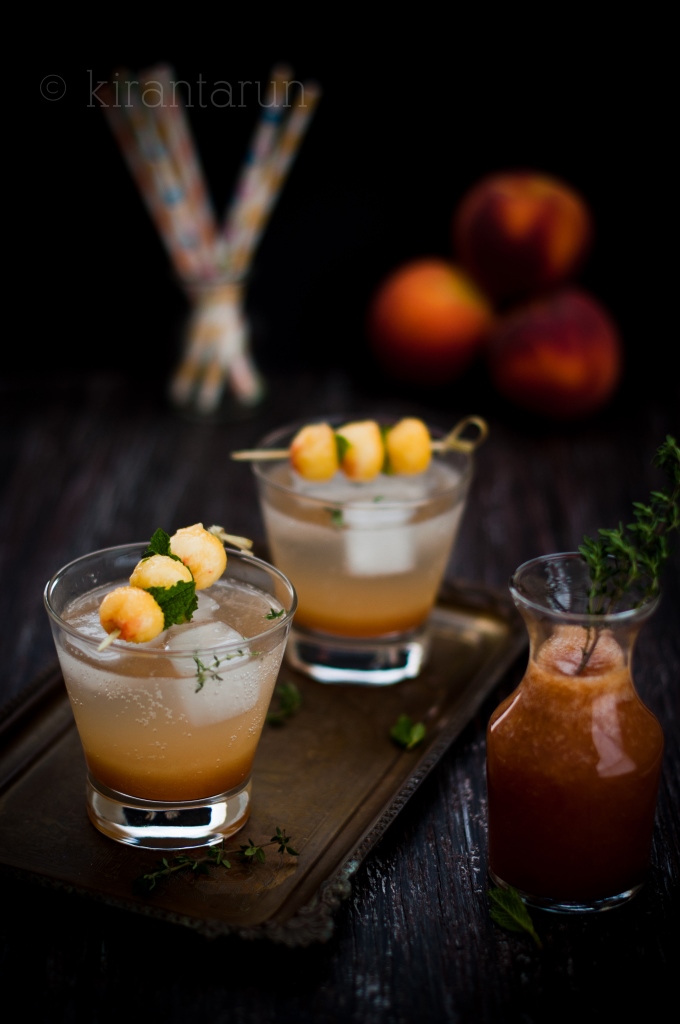 Enjoy rest of the week! Grab a good book, catch up on your favorite TV shows, dig through the refrigerator for inspiration and make the most out of summer, while we can 🙂
What are you obsessed with the most? A great soap-opera/TV show or book?