I am seriously hoping you are having a great start of the week, because it seems luck is not on my side these days.
L
ately, there has been a lot of questioning such as "
when am I giving every one a good news
".
Scratch that.
Lately, there has been a lot of talk about where are the babies in our lives?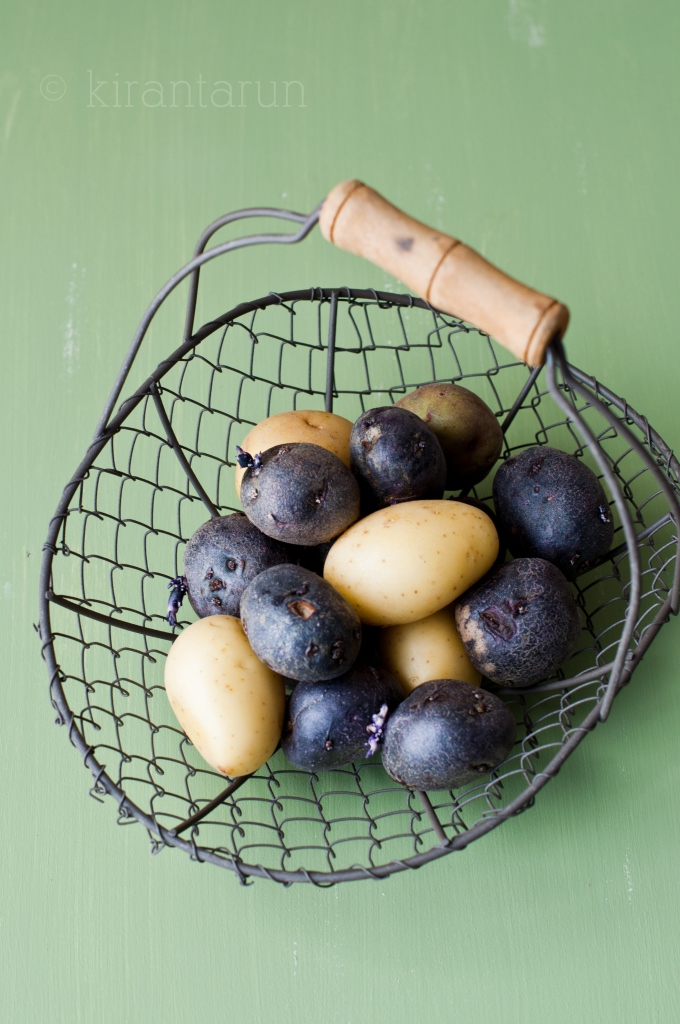 Apparently, the Husband, me and my self-proclaimed sense of humor is not enough for our families. And that pressure resulted me in ranting about baby woes not only here, but on the personal blog as well.
2 rants at 2 places in 2 days?!? The pressure is ON full speed!!! I have no issues with expectations from our families. What annoys me so much are random people, asking all this weird questions. Throwing blank stares as if they have the right to know and understand why we are still childless.
Hmmph!!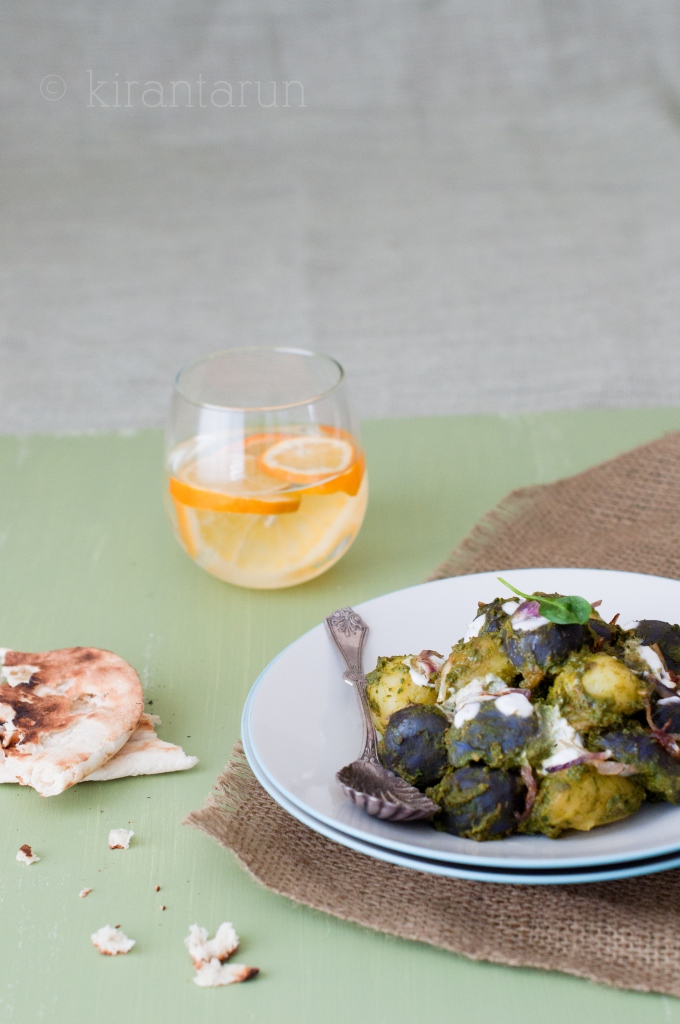 To all ladies out there sharing similar pressure in life: Know that you aren't alone in this matter. Some might just laugh at why this is such an important topic.
Perhaps they are too dumb to understand. I'm sending a silent prayer in hopes they acquire enough smartness soon. If not, how sad are they?
See, it's easy to switch the focus around, ignore the regular baby demand and continue praying for the less privileged in our lives.
It's all about refocusing, and I'm doing that with this comforting bowl of baby potatoes simmered gently in a spiced spinach gravy.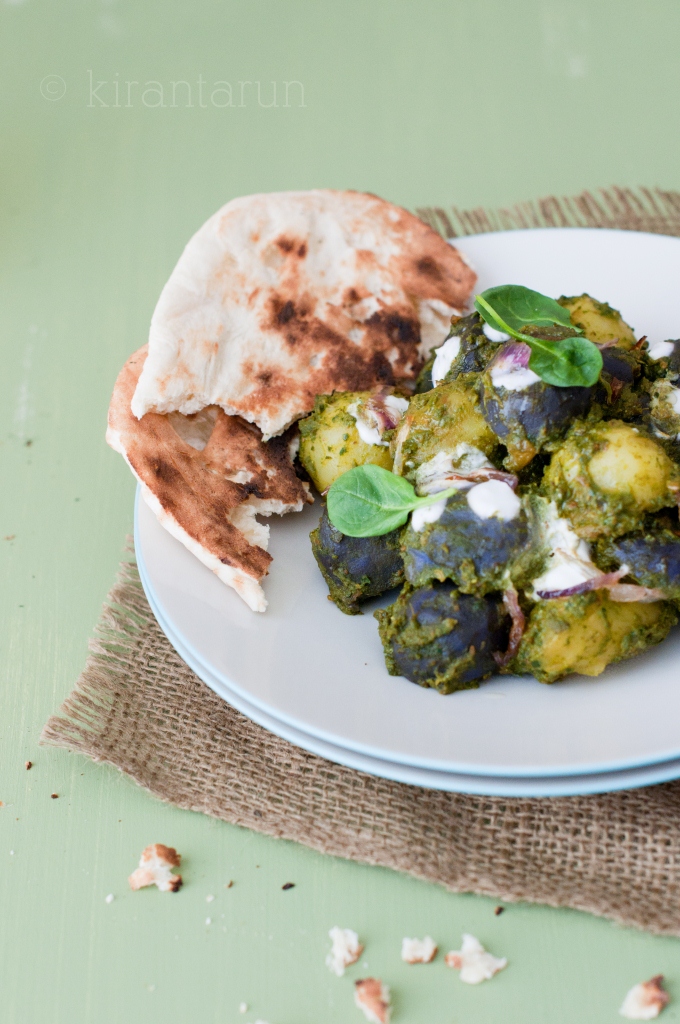 Print This Recipe
Adapted from Indian: a culinary journey of discovery by Mridula Baljekar
Serves 4
Ingredients:
12 oz baby potatoes (any color)
9 oz spinach leaves
3 tbsp cooking oil
1 large onion, finely sliced
1 green chili, finely chopped
2 tsp garlic paste
2 tsp ginger paste
1 tsp ground coriander
1/2 tsp ground cumin
1/2 tsp chili powder
1/2 tsp ground turmeric
7 oz chopped tomatoes
3 tbsp fresh thick yogurt, beaten
Directions:
Cook the potatoes in their skins in a saucepan of boiling water for 20 minutes or until fork tender.
Peel, halve or quarter potatoes according to the size.
Blanch spinach in a large saucepan of boiling salted water for 30 seconds, then drain.
Transfer blanched spinach into a blender or food processor to puree. Set aside.
Heat oil in a medium saucepan over medium heat. Add onions and cook, stirring frequently for a few minutes until well browned.
Add chili, ginger and garlic paste. Cook over low heat, stirring for 2 to 3 minutes.
Sprinkle in coriander, cumin, chili and turmeric powder and cook (stirring) for 1 minute.
Add tomatoes and juice, increase heat to medium and sprinkle in some sugar.
Cook, stirring frequently, for 5 to 6 minutes, or until tomatoes reaches a paste-like consistency.
Add peeled and cooled baby potatoes, spinach and salt. Cook stirring for 2 to 3 minutes.
Stir in fresh thick yogurt and cook for another 1 minute.
Remove from heat and serve hot with rotis, basmati rice or naans.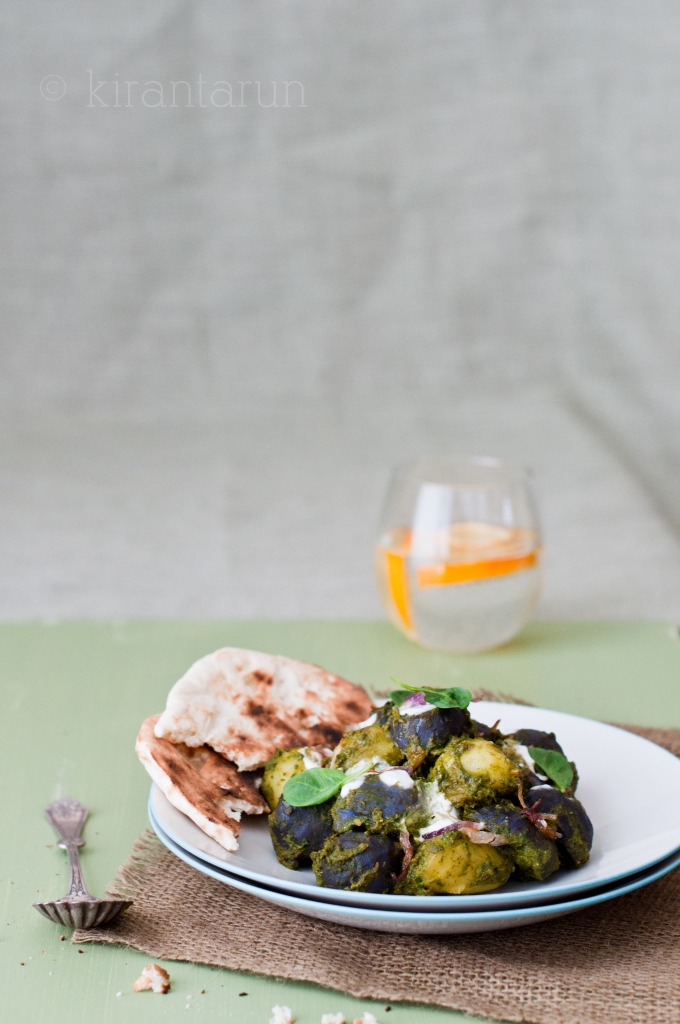 On a lighter subject: I'm one of the finalist selected by SAVEUR Magazine for it's 3rd Annual 2012 Best Food Blog award (in Best Recipe, Sweet or Savory category)!!! I appreciate your votes so much!! If you haven't vote, please consider helping me to win. Here's how to do it or click the badge on the right sidebar 🙂
Thankyousoveryverymuch…
Don't be afraid to share your woes, tell me. Who's being so nosy in your life lately?