H
appy Friday!!
Another week almost coming to an end. That simply means produce sitting in the refrigerator, awaiting to be used before I run off to LA for a few weeks.
You heard that right. I'd be in LA this time next week. And don't fret or think that I'm some sort of a cool jet-setter  It's just a personal trip to join the hubby for his work.
Nothing fancy, no event whatsoever. But I'm excited to explore many places that I didn't get to a few months ago.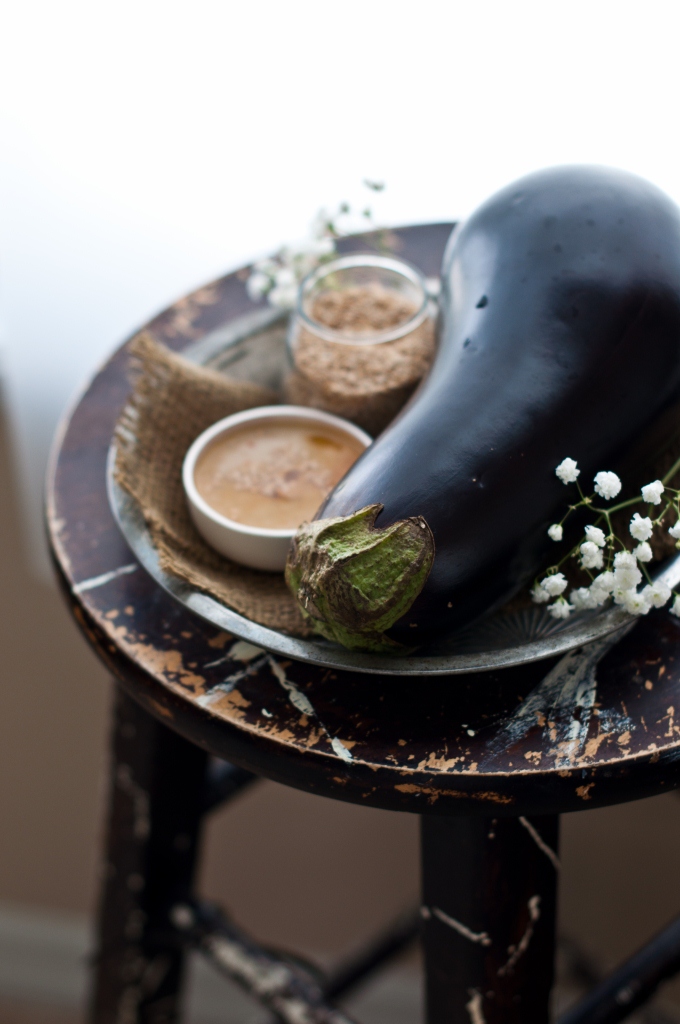 I love "deconstructing" my food. Mushy dips is just not my thing. Especially when it comes to eggplant. Don't get me wrong, I love eggplant. But if it's made mushy, I'd usually pass.
Anything crunchy or has some texture is definitely a winner in my book.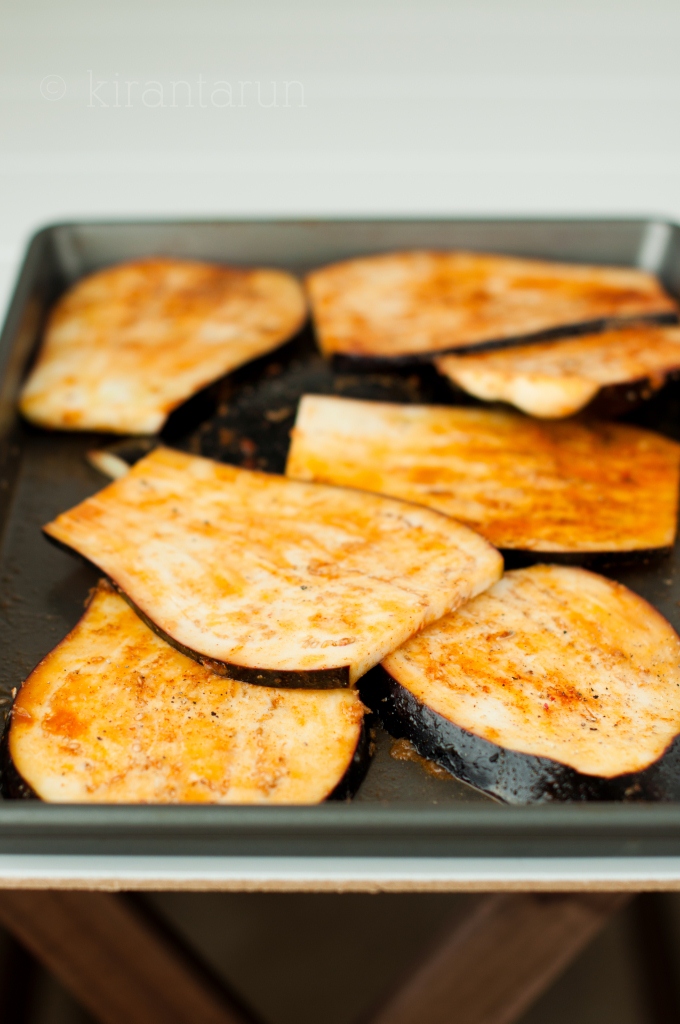 Mushiness doesn't end at eggplant. I just cannot fathom the idea of how some people love their morning cereal soggy and mushy. Apart from oatmeal, I just cannot think of eating soggy cereal.
I think it has to do with the texture. Why to mess a perfectly crunchy texture for something mushy and mealy? It's beyond me.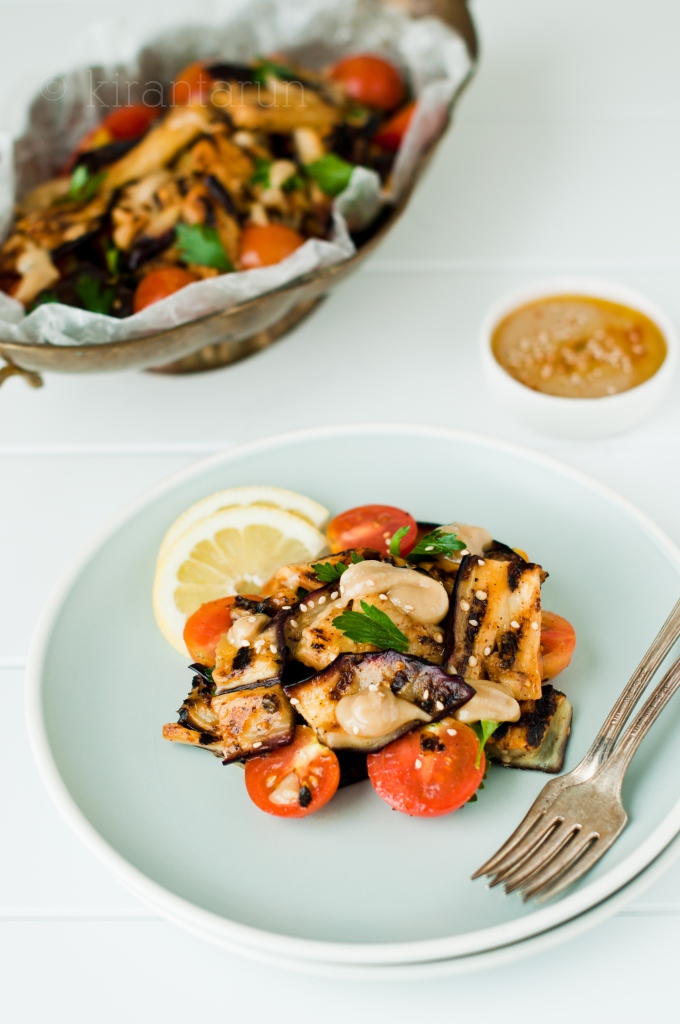 Take this eggplant for example.
The idea of broiling the heck out of it, scooping out charred eggplant flesh and pureeing it with other ingredients simply translates to mushy texture.
I'm sure the original baba ghanoush tastes amazing. The only qualm I have is the "texture".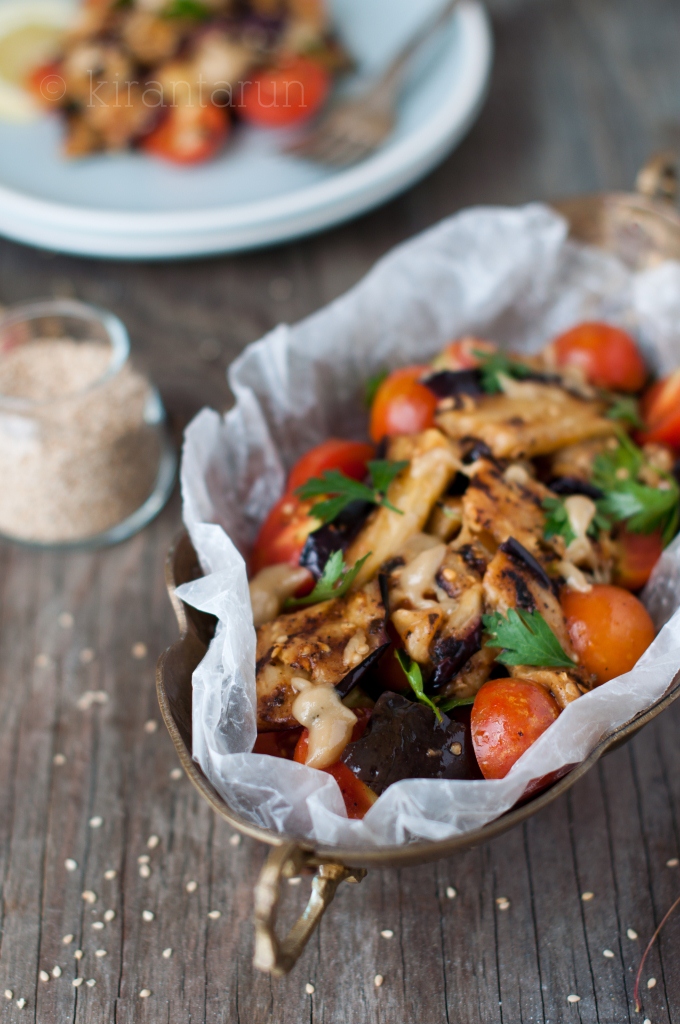 Print This Recipe
Ingredients:
1 large eggplant, sliced length-wise
1/2 lemon, juiced
3 tbsp olive oil
1 tsp cumin powder
1/2 tsp smoked paprika powder
1/2 tsp red chili powder
1 tsp minced garlic
1 cup grape heirloom tomatoes, halved
1/4 cup fresh flat leaf parsley
pinch of salt & pepper to taste
Garnish: Sesame seeds (optional)
Tahini Dressing:
1/4 cup tahini
2 tbsp lemon juice
salt & pepper to taste
3 – 4 tbsp extra virgin olive oil
Directions:
Add juice of 1/2 lemon, 1 tbsp olive oil, cumin powder, smoked paprika powder, chili powder, minced garlic, pinch of salt & pepper on a baking sheet. Stir everything to combine.
Add eggplant slices and thoroughly coat marinate.
Marinate for 15 minutes.
Heat a large non-stick grill skillet on medium high. You can use a proper grill too.
Add 2 tbsp olive oil, wait to heat, and then add slices of marinated eggplant. Do not overcrowd the pan.
Depending on the thickness of each slice, cook for at least a minute on each side.
Prepare tahini dressing in a small bowl, by combining all of the above-mentioned ingredients. Set aside.
Remove grilled eggplant onto a plate to cool slightly. Chop into bite size pieces.
In a non-reactive bowl, add halved tomatoes, chopped parsley and grilled eggplant. Lightly toss everything with tahini dressing or serve the dressing on the side.
Garnish with some sesame seeds. Bon apetito!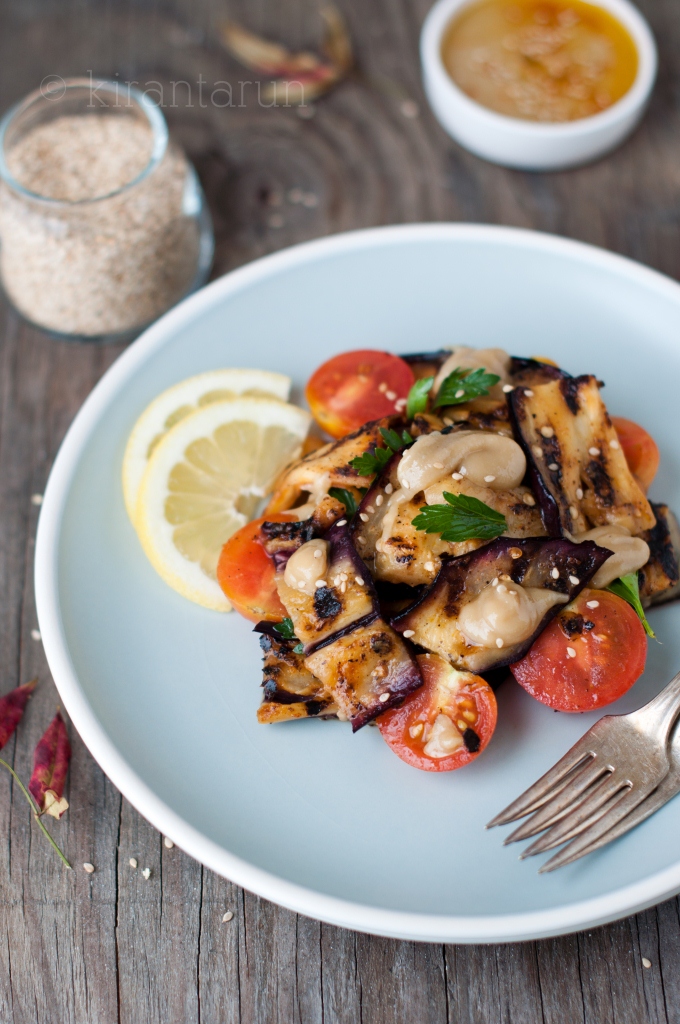 If you live in the LA vicinity and want to meat up for coffee or grub, send me an email 🙂
Are you a textural person when it comes to foods? Or fuss-free in comparison? If you are fuss-free, I'm just plain jealous 😉