G
ood morning 🙂
The coffee is hot, breakfast is ready and stomach is growling. Instead, I'd rather open up and discuss about my aversions towards sharp stinky cheeses.
It seems impossible to wrap my head around the idea of loving aged cheeses.
As a food blogger, it's my responsibility to disclose the fact that I just cannot be around strong cheeses. Especially parmesan, blue and feta cheese.
Shocking, but this is a solemn truth.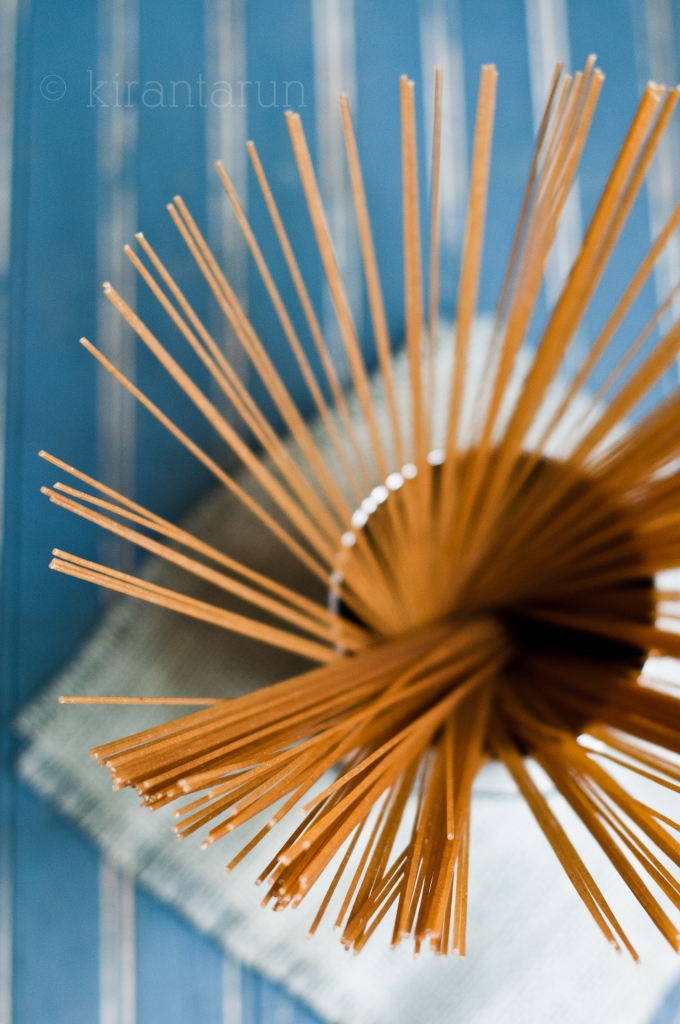 I feel like we are almost "missing" out on everyone's favorite. For example, whenever we dine out, the waiter usually offer shavings of parmesan cheese and we both would literally say this at the same time, almost mimicking the tone of frustration:
NO CHEESE, PLEASEEEEEEEEEE….
Why oh why can't we bring ourselves to love sharp cheeses as much as you do?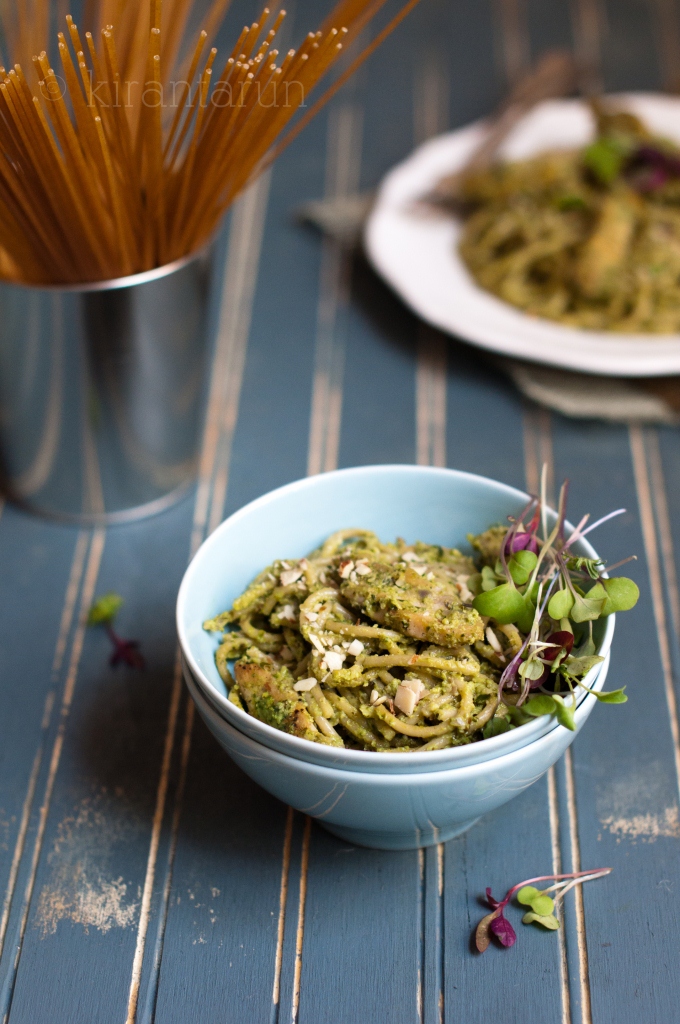 While prepping for pesto, I thought about the possibilites of using almonds to pretend it's parmesan cheese. It's an entirely different palate, but definitely served our purpose.
It's creamy, decadent and definitely tasted pesto-ish.
You've got to try this recipe to believe it 🙂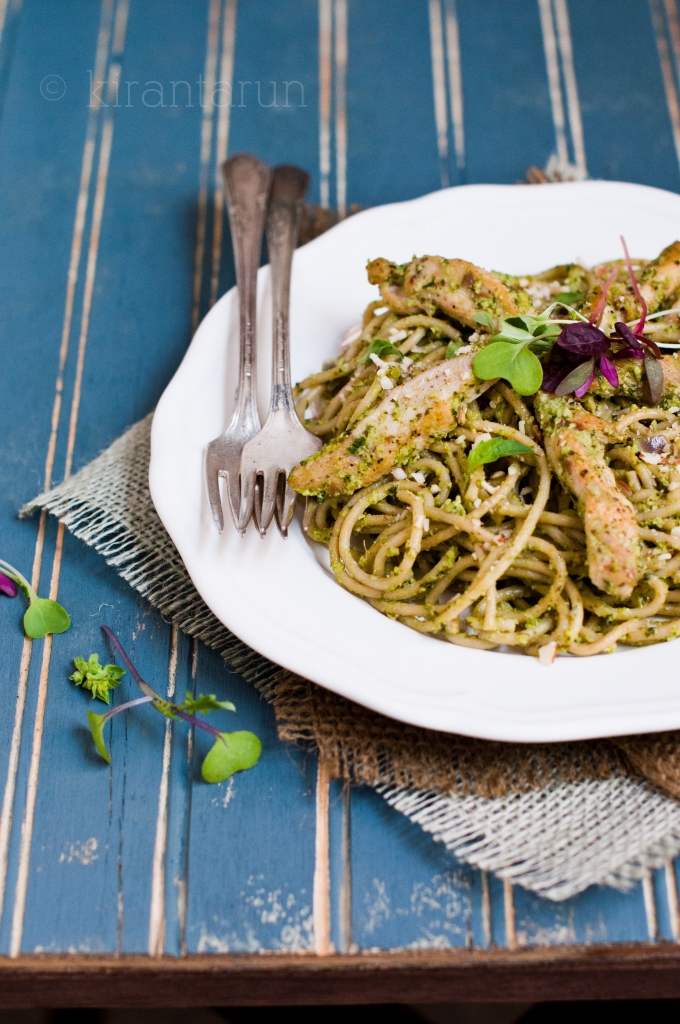 Print This Recipe
Ingredients:
8 oz whole wheat spaghetti
1 medium chicken breast, sliced on an angle
2 pinches of salt + black pepper
1/3 cup raw almonds, soaked in hot water
3 cloves garlic
1.5 cup packed fresh basil leaves
4 tbsp extra virgin olive oil
1/2 tsp lemon zest
2 tbsp lemon juice
3/4 cup chicken broth/pasta water
1/4 cup cream
Directions:
Cook spaghetti as per instructions with some boiling, salted water. Drain al-dente spaghetti. Set aside.
Soak raw almonds in some hot water for a minimum of 30 minutes.
In a blender or food processor, add soaked raw almonds, basil leaves, cloves of garlic, a pinch of salt and black pepper. Drizzle in two tablespoons of olive oil and pulse until smooth. Add more olive oil (if needed) for a smoother pesto texture.
In a separate bowl, add sliced chicken breast and sprinkle it with some salt and black pepper.
Heat a large non-stick skillet on medium-high. Add two tablespoons of olive oil. Once oil is heated, add chicken slices and cook for a few minutes on each side until slightly browned and cooked through. Drain meat on a paper towel.
In the same non-stick skillet on medium heat, add pesto, chicken broth and cream. Stir everything to combine and thicken.
Return cooked spaghetti and sliced chicken into the skillet. Stir to coat it all with pesto cream.
Sprinkle lemon zest and juice. Stir everything to combine and taste for seasonings.
Serve immediately topped with chopped almonds and fresh micro greens.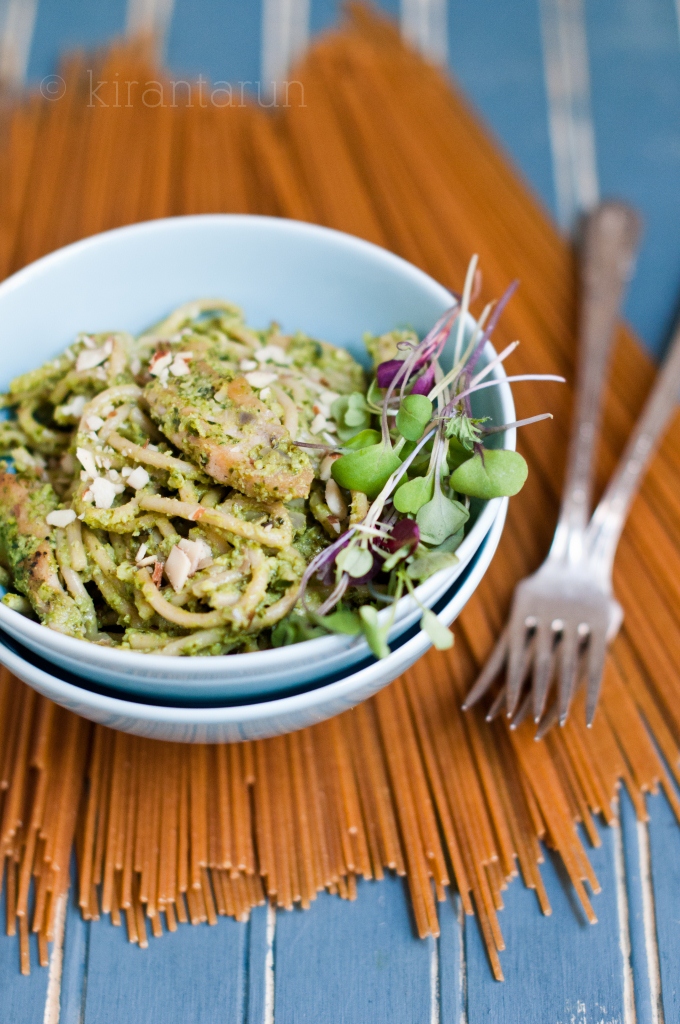 Occasionally,  we do indulge in regular cheeses such as paneer, mozarella, monterey jack, swiss and anything that isn't aged for too long or has stuff growing in 'em.
Are you a huge fan of CHEESE? What's your favorite? I've yet to try goat milk cheese. Wish me luck 😉