… sigh! I've been missing those Korean/Japanese/Cantonese drama series back home. It all started with much convincing from my friends back in 2003 🙂 Many of you would know what I am talking about. I just couldn't resist writing a post on it. I recalled Winter Sonata during a phone conversation with my friend (Ms Suze) recently. The more we chatted about it, memories of this celluloid love story rush through my being. I could hear faint voices in my head, begging for attention, "Kiran..Kiran.. are you there? Hello? Ooiii!"
{I snapped back to reality!!!}
… ahem.. oh god! I redialed Suze's number, but the connection went busy. I would try again later. Now as I am writing this post, I realized, the later was 3 hours ago! OMG! Suze, please have mercy on me!
Anyways…
Winter Sonata, a Korean directional, is a great love story, coupled with interesting twists and memorable acting from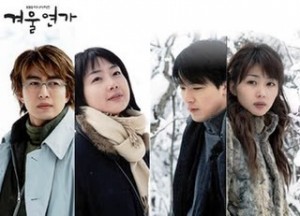 the main casts. Some of you might find it surprising, but this movie has a similarity to Bollywood serials. Don't worry, not the length and endless die-alive-die again scenes, but just 20 episodes of great love story. Though I find it a little draggy in the first few episodes, it gained momentum thereafter and I was hooked! I couldn't wait to complete the entire episodes. Just was way too curious to know how the plot ended. It was like re-enacting writings of Danielle Steele. This is by far one of the shortest tv show review I've ever came across. I won't write much, instead get yourself hooked to Winter Sonata and tell me, did you cry? 😉
I would fall off my chair due to a burst of excitement if I don't reveal this quicker – Winter Sonata does offer some beautiful medley's! 🙂 or should I say, Original Sound Track. Yes, believe it or not! Bollywood serials had a rival after all to compete against 😉 You might find this fact a little dubious, but I was only
...Ekta Kapoor, why do you have to include those horrendously loud background music in all of your serials? Can any one please explain this phenomena?
introduced to Kyunki Saas and the rest of Indian serials by my mother in law in 2007! 🙂 It was not televised in Malaysia till I married. But it's never to late to catch-on with these great Indian serials. Though I prefer watching the 1st few years of productions. These days, the plots are running thin and the background score can be very irritating. I loved watching Kyunki Saas first year episodes. I've given up since, coupled with my Korean serials. Thanks to YouTube, I might find time to re-indulge in my old habits. Wait till mom finds out, she would freak out! 😀
On a separate note, Speakbindas.com interviewed me about Chatterbox. You can read the full interview here. What do you think of my interview?