T
here's been a lot of traveling recently. Every week, to be precise. Flights on early Friday morning and returning on Monday. This routine has been going on for a month now.
Summer came and went, but the refrigerator had some reminisce of it.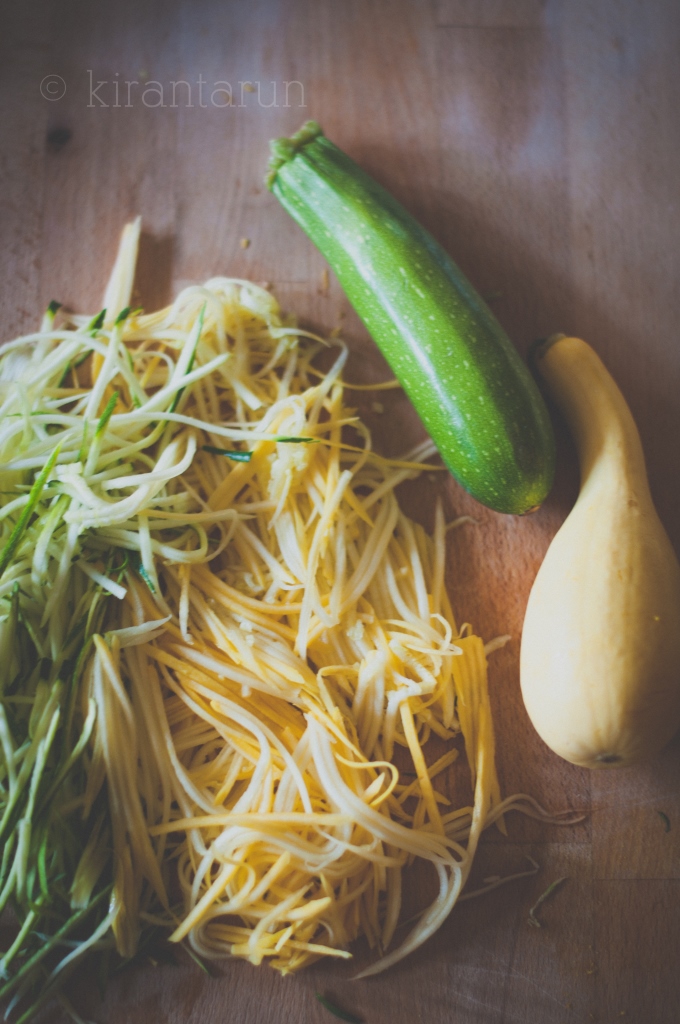 Let's talk about flying experiences.
It takes a lot for me to prepare for travels. Not the packing bit, but the medications. I'm always preparing for worse when it comes to air travel. Vertigo and I don't get along. At the moment, its not a huge flight deterrent. So I'm learning to cope with it.
But when it triggers, the sensation is something I would never wish onto my enemies — if I had any 😉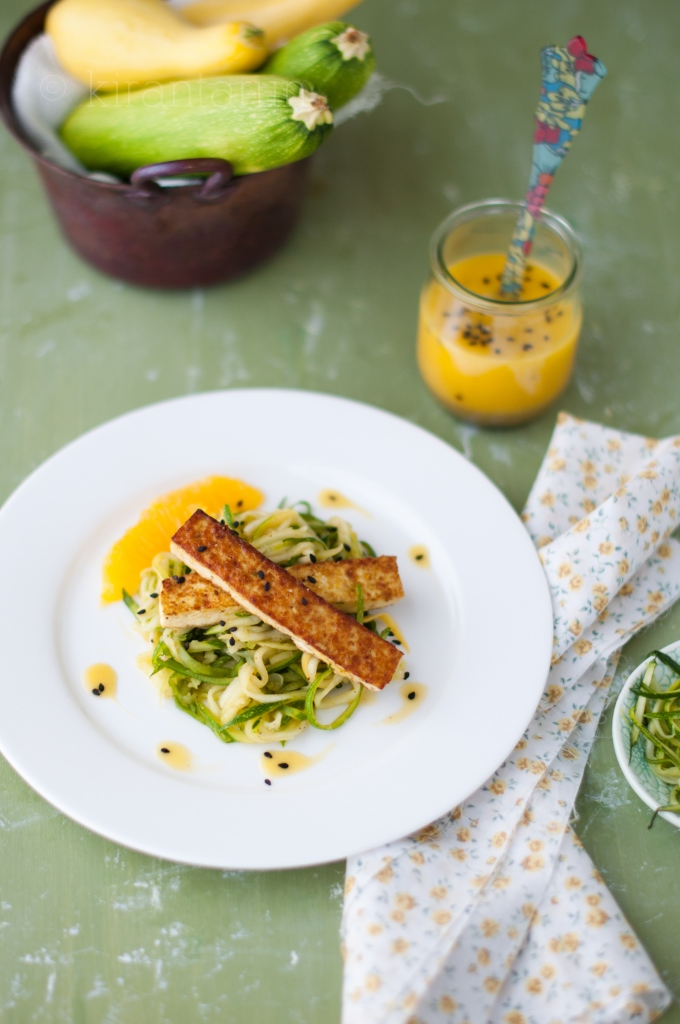 Did I mention how much I loathe flying? Not because of vertigo or packing, more for the amount of time wasted to be in the airport. Though I'm glad to report I've mastered the skills at the security clearance.
Laptop, shoes, jacket and medications — everything gets into the bins. Pockets are emptied, and everything after that is just a cake-walk.
Still don't get it why people are so uptight about airport security. They are after all just doing their job.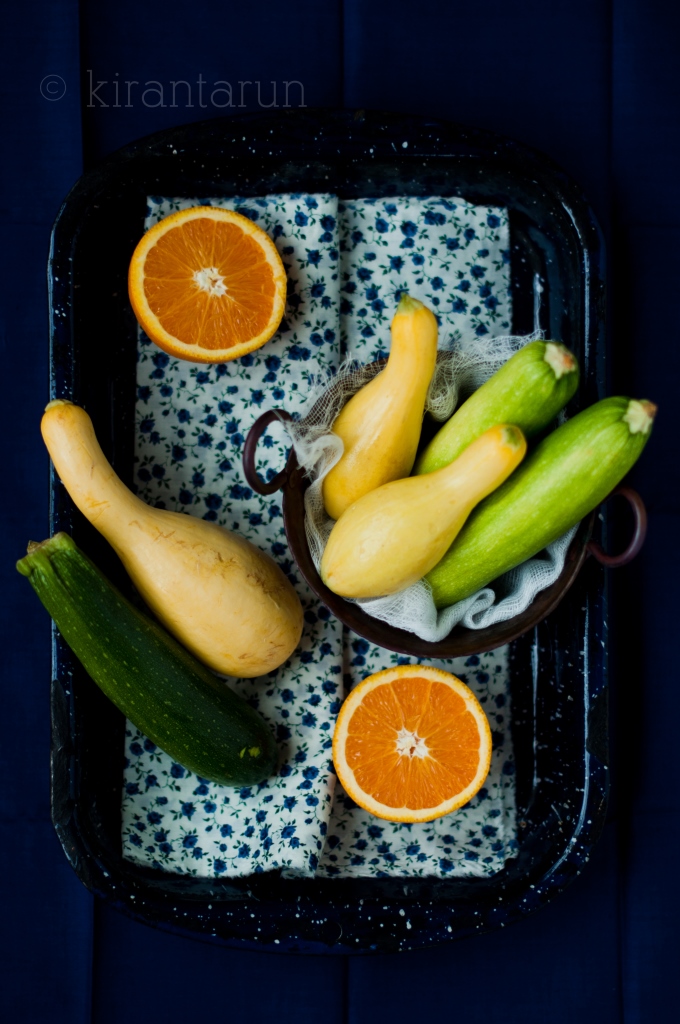 And so, the boarding begins and you'd think I'd stop complaining at this point. Nope, thanks to all of the annoying recent travels. Why is boarding an airplane such a chore?
People tend to hog the walkway even after stowing away their belongings! There's a long bee-line of people anxiously awaiting to get to their seat.
Sigh. There's lesser respect for others these days. I'm just going to bury my worldly frustrations into this salad. Enough said for the day.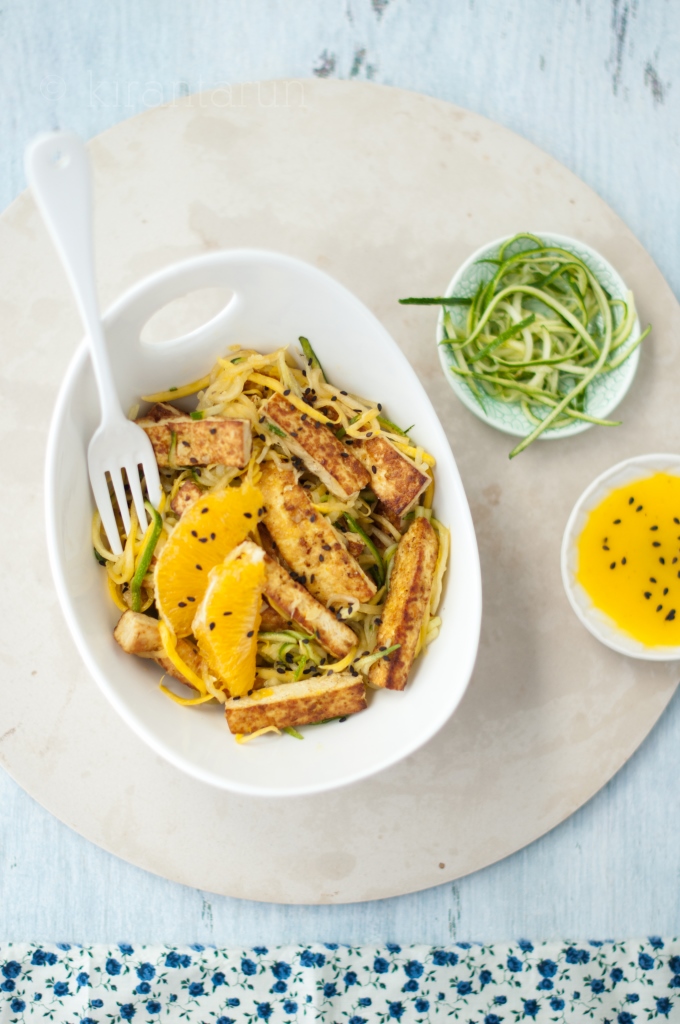 Print This Recipe
Ingredients:
2 zucchini + 1 yellow squash, shredded
pinch of salt
1 firm tofu, pressed and sliced lengthwise
1/4 tsp black pepper
1/2 tsp orange zest
3 tbsp tamari/soy sauce
2 tsp curry powder
3 tbsp orange juice
2 tbsp extra virgin olive oil
Dressing:
1/4 cup orange juice
1 tsp ginger, finely minced
2 tbsp extra virgin olive oil
1/4 tsp salt
1/4 tsp black pepper
Garnish: orange segments, toasted sesame oil and black sesame seeds
Directions:
Line a colander with some paper towel. Add shredded zucchini and squash with a pinch of salt. Mix to combine and allow to drain for 10 minutes to remove excess moisture. Wring out shredded vegetables and set aside.
In a bowl, combine sliced tofu with black pepper, orange zest, soy sauce, curry powder and orange juice. Marinate for 15 minutes.
Prepare salad dressing by combining all the ingredients into a jar. Secure the lid and shake vigorously to combine.
Heat a nonstick skillet on medium high. Add 1 tbsp of oil and once it begins to smoke, gently add marinated tofu slices. Pan fry for 1 to 2 minutes on each side or until lightly browned and crisped. Drain crisped tofu on paper towel. Add another tablespoon of oil and pan fry another batch of tofu.
To plate, combine all ingredients, drizzle with a little toasted sesame oil, garnished with sesame seeds and orange segments. If you prefer a layered (non-soggy) salad, begin by plating shredded vegetables. Top it with pan fried curried tofu, drizzle on some dressing and garnish with fresh orange segments, a few drops of sesame oil and sesame seeds.
Enjoy!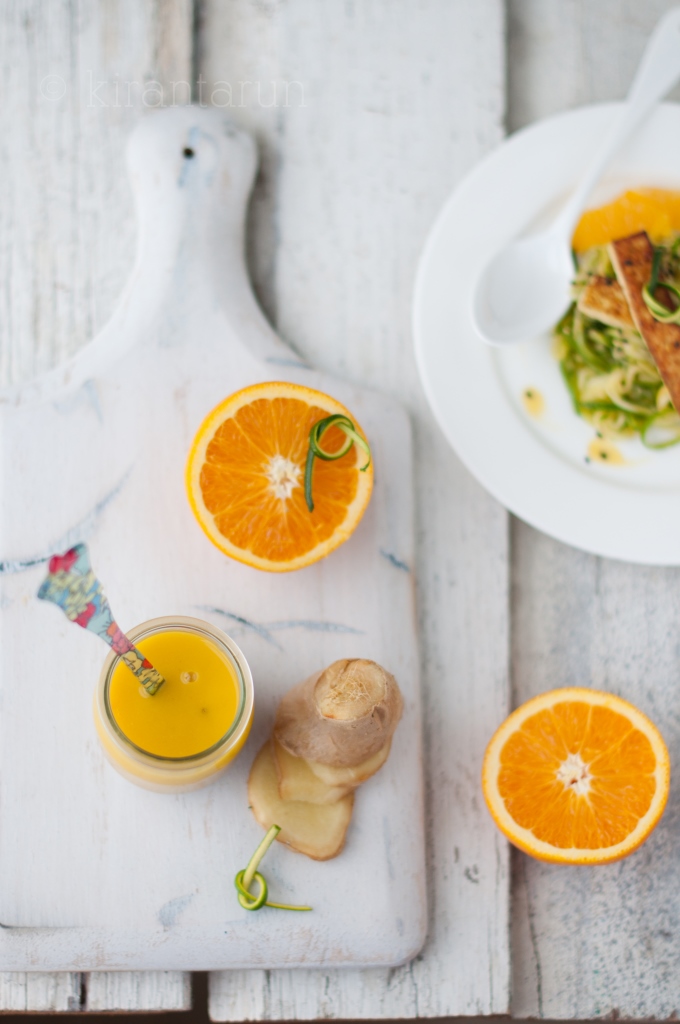 Hope your week is off to a great start. Mine is going to be well-spent by clearing out summer and slowly introducing autumn back into our life. Slowly but surely.
Are you a frequent-flyer? Any flying frustrations? Vent it out, appropriately 😉