Hey y'all..
Firstly, the Hurricane Irene devastation clearly has impacted so many people. Our thoughts and prayers are with each and every one of you during this trying times.
…
I have a simple and satisfying stir fry recipe to share with you today. There are days where I sit and scratch my head for inspiration. Developing recipes aren't hard. But there are times where I want to simply toss in that, and stir in this, sprinkle a few of that and dump the whole thing. You know the drift. No measuring limbo whatsoever. Just a plain ole' lazing cooking day.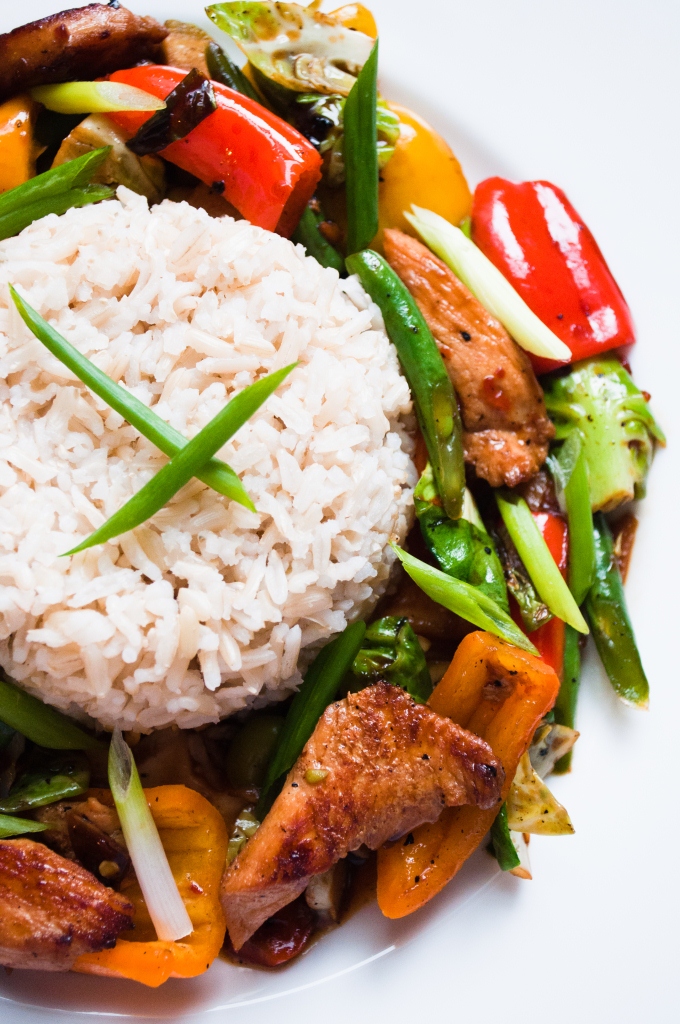 We grew up exposed to Chinese cuisine at a very early age. Have I told you I have a Chinese aunt? Well, thanks to her we've been fed tofu, wok stir fry creations, fermented bean curd, claypot & noodle varieties well for years. In my opinion, Asian recipes are a great way to introduce veggies to the kids. That's how we learned eating vegetables during my childhood. I've never turned away from vegetables ever since. Except if you boil the heck out of a veggie. That's equivalent to a capital punishment.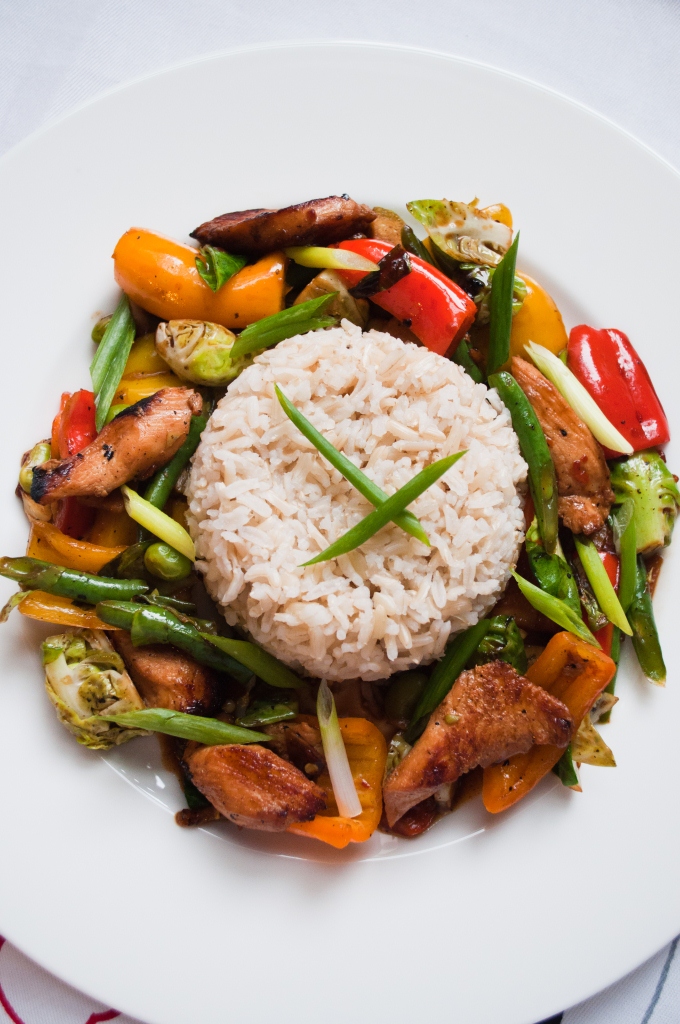 Best part about this recipe? Pairing chicken with any favorite vegetables of your choice. I even threw in some edamame for good measure. I didn't need to, but it was sitting in the freezer begging for use attention. Love the crunch it gave. See, I told you its a "throw-in-whatever-ingredients-you-have-on-hand" type of recipe.


Print This Recipe
Ingredients:
For marinate
4 ounce of boneless, skinless chicken breasts – chopped to bite size
1 tbsp low sodium light soy sauce
1/2 tbsp low sodium dark soy sauce
1/2 tsp black pepper
For sauce
1/2 tbsp low sodium dark soy sauce
2 tbsp oyster sauce
1 tbsp Chinese rice/cooking wine
1/2 tbsp cornstarch
Main ingredients
2 cups vegetables of choice (green beans, colorful bell peppers, brussel sprouts and edamame)
3 tbsp cooking oil
1 tbsp ginger, thinly sliced
1 tbsp garlic, finely minced
1/2 tbsp red pepper flakes
salt and pepper to taste*
2 sprigs of green onions for garnish
Directions:
It is important to note that all ingredients should be prepped in advance, ready for cooking. Stir-frying on high heat requires constant stirring to fully cook the ingredients and avoid burning, ultimately achieving crispness.
Marinate chicken breasts with light & dark soy sauce and black pepper for 30 minutes (min) in the refrigerator.
Heat a wok on medium to high. As soon as smoke appears, drizzle in oil. Once oil is hot, add a few pieces of marinated chicken. Avoid overcrowding wok. Searing meat would take a total of 5 minutes or so.
Remove meat and continue searing more meat until all is done.
Add a little more oil in the same wok and throw in green beans. Stir-fry on medium to high for a few minutes, stirring occasionally to avoid burning.
Prepare sauce by combining dark soy sauce, oyster sauce, cooking wine and cornstarch in a small bowl. Set aside for later.
As soon as beans are a little al dente, add the rest of vegetables and continue stir frying on a medium to high heat.
Throw in ginger, garlic and red pepper flakes. Continue stir frying.
Add sauce and seared chicken breasts. Stir fry for a minute.
Serve hot with a sprinkling of green onions for garnish alongside a bowl of freshly steamed brown rice.
* Sodium is present in soy, oyster and rice cooking wine/sauce. Salt only if its necessary.
After adding asparagus, do not overcook it. A little al dente, retains the color and taste. Bon appetite!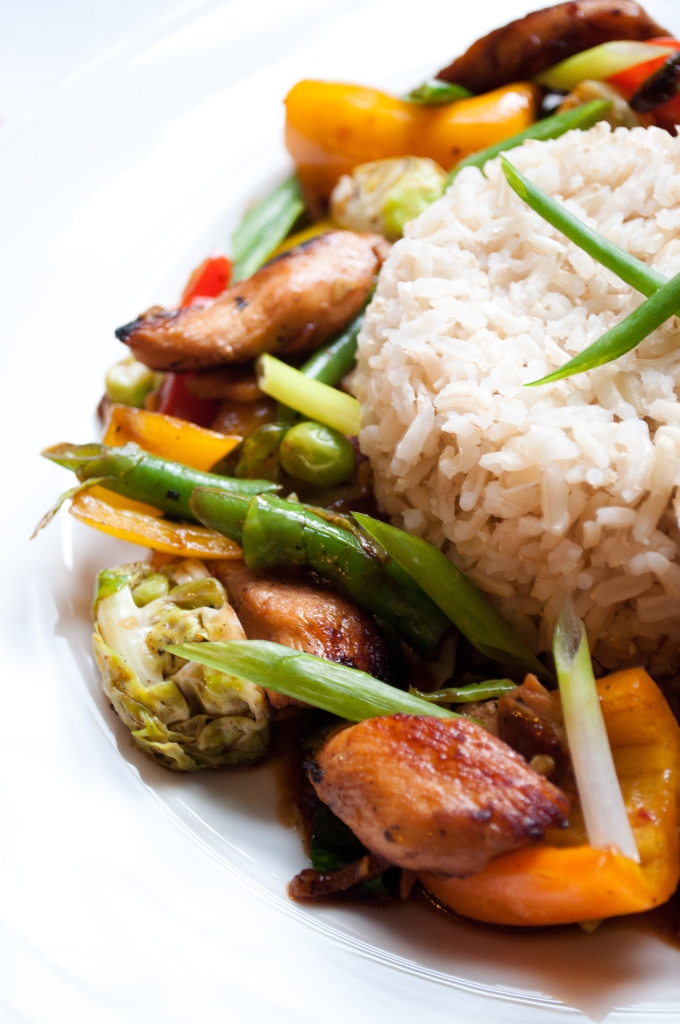 Have you grew up learning and tasting different cuisine?