W
oo! It' Friday, the 13th!! Anyone has particular myths/beliefs to share about this day?
I would start off by saying, holy it's NOT mango season and yet I have a mango recipe for you today. Why?
Because I love the Husband so much, including his craze over mangoes. Every small happiness is the key to a successful marriage.
Free advice are very hard to come by these days. Take it.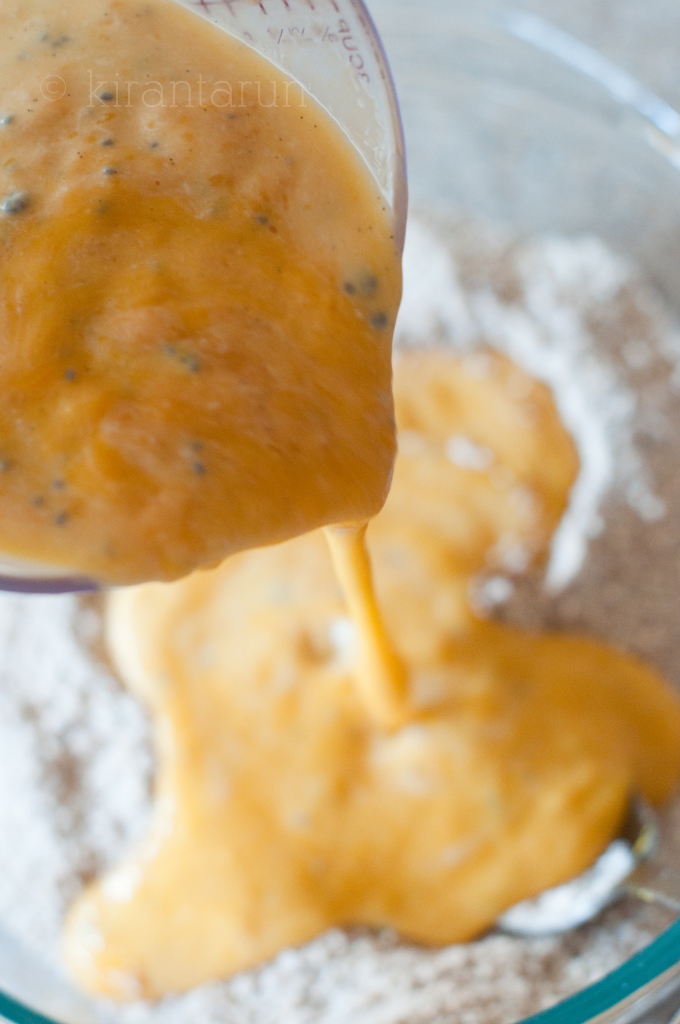 While Alphonso mangoes thrives oh so very sweetly in India during summer, we aren't that lucky to get it here in Florida. So we make do with whatever mangoes we can get our hands on.
The key is to avoid using green mangoes at any cost. If you can't find the yellow ones, keep looking. It's not worth making this hot cakes with sour or bitter mangoes.
The key is sweetness.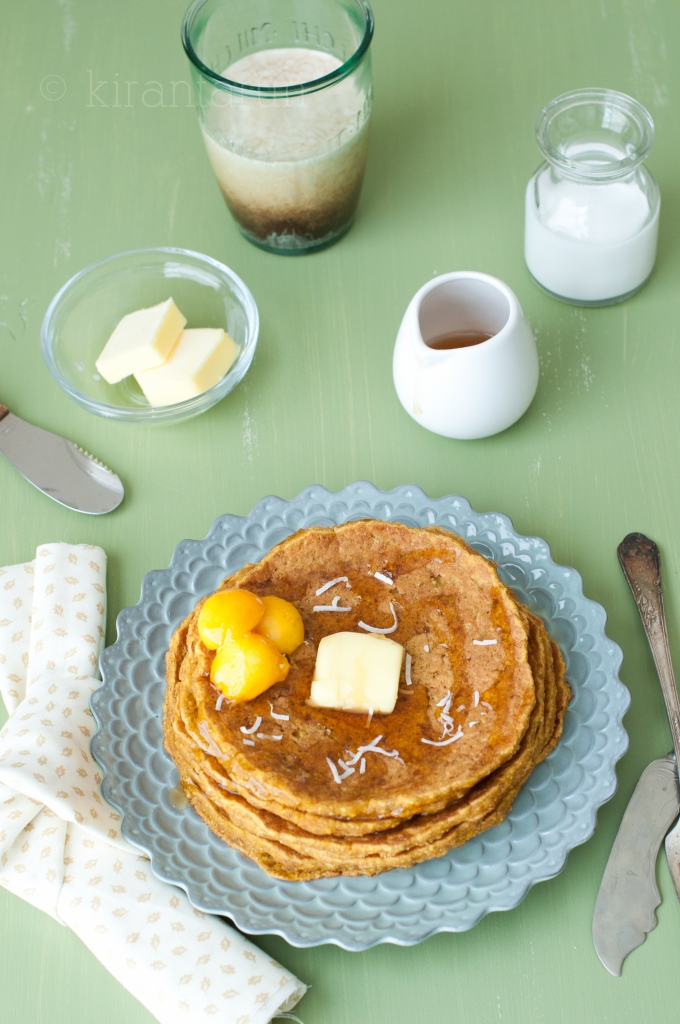 We were at an ethnic Indian food store when the Husband spotted cases filled with mangoes.
The next thing I know, we paid for a case of unseasonable mangoes. And this was not the hard part.
The toughest days followed the Husband's agonizing gaze looking to see if the mangoes have ripened enough, that could potentially risk our date night.
Yeah, people. He is very serious about mangoes. And if you are like him, then go get some fresh ripe mangoes and make this hot cakes to apologize for ruining a future date night.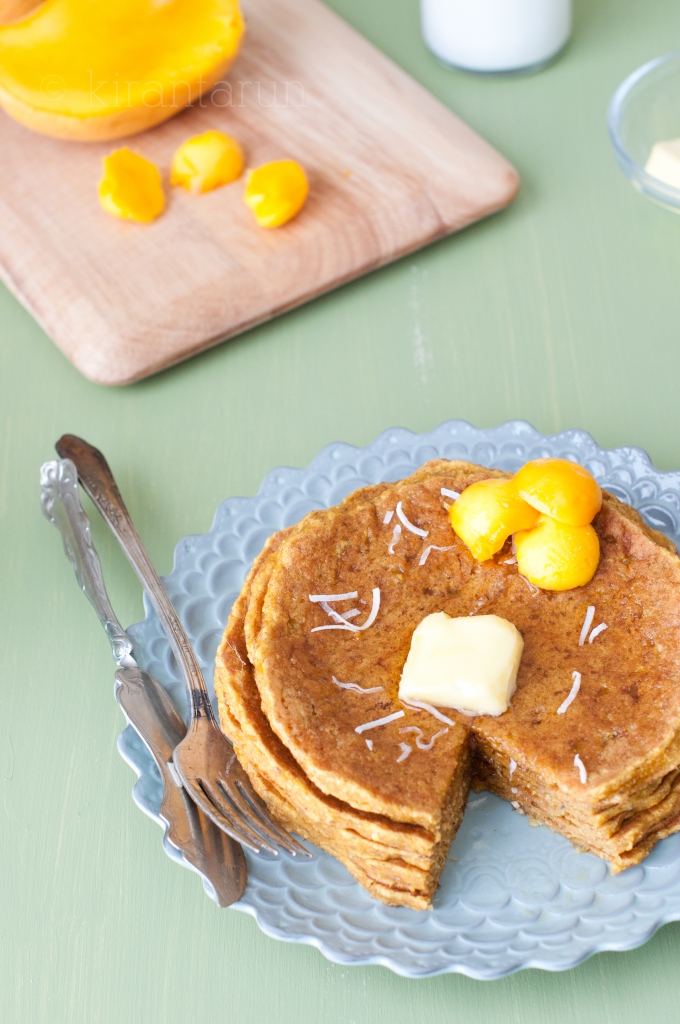 Print This Recipe
Ingredients:
Makes 12 hot cakes
Dry ingredients
1 cup whole wheat flour
1/2 cup fine coconut flakes/flour
1/2 tsp salt
1/2 tsp baking soda
1 tsp baking powder
2 tbsp ground flax meal
Wet ingredients
1.5 cup fresh mango puree
1 heap tbsp butter, melted
1 egg
3/4 cup whole milk
1/2 tbsp chia seeds
1 tsp vanilla extract
Directions:
Mix all dry ingredients in a bowl. Keep it aside.
In another bowl, add all wet ingredients and leave it to soak for a few minutes.
Pour wet ingredients into dry ingredients. Using a spoon, mix batter until just incorporated. Do not over-mix.
Set batter aside for a few minutes while griddle or nonstick skillet heats on medium.
Grease pan, spoon 2 tbsp of batter on hot griddle. Spread the batter using back of spoon to form cakes.
Cook each sides for 1 to 2 minutes or until batter is cooked through.
Serve hot topped with fresh mango slices, coconut, butter, maple syrup etc…. use your imagination 🙂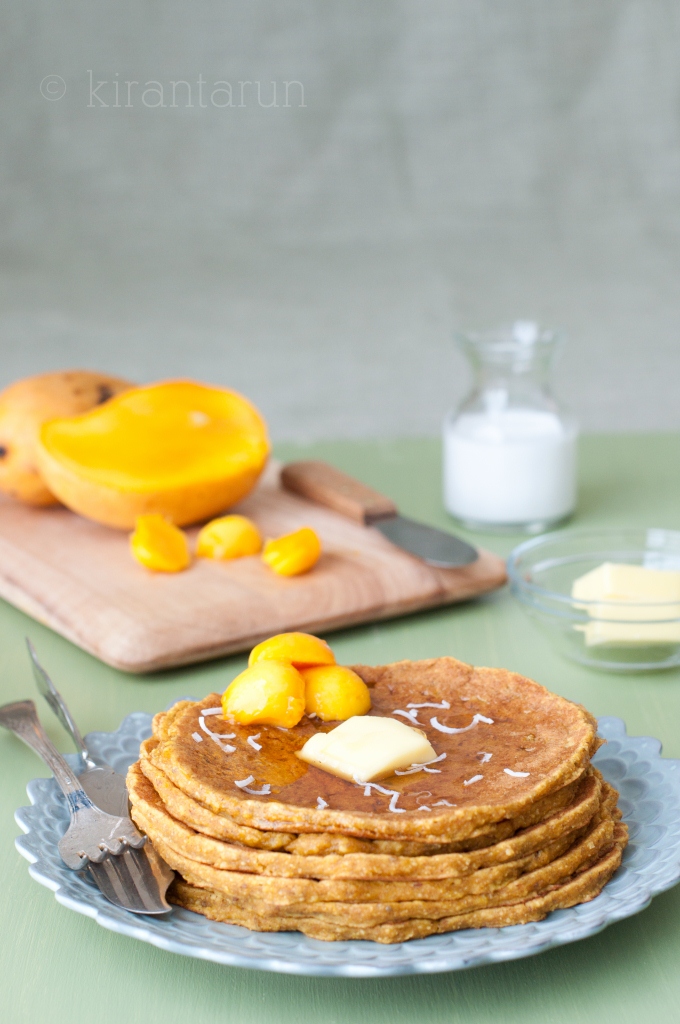 Off to avenge by going on a lunch date with my BFF — don't worry, the Husband would be left sulking at home without his beloved mangoes.
How much do you love tropical fruits? What are your favorite seasonal fruit "must-haves"?