Y
eah, I know. Salad on a Friday?!?
Am I kidding you? Nope.
But this salad is just as delicious and appealing – girl scout's promise.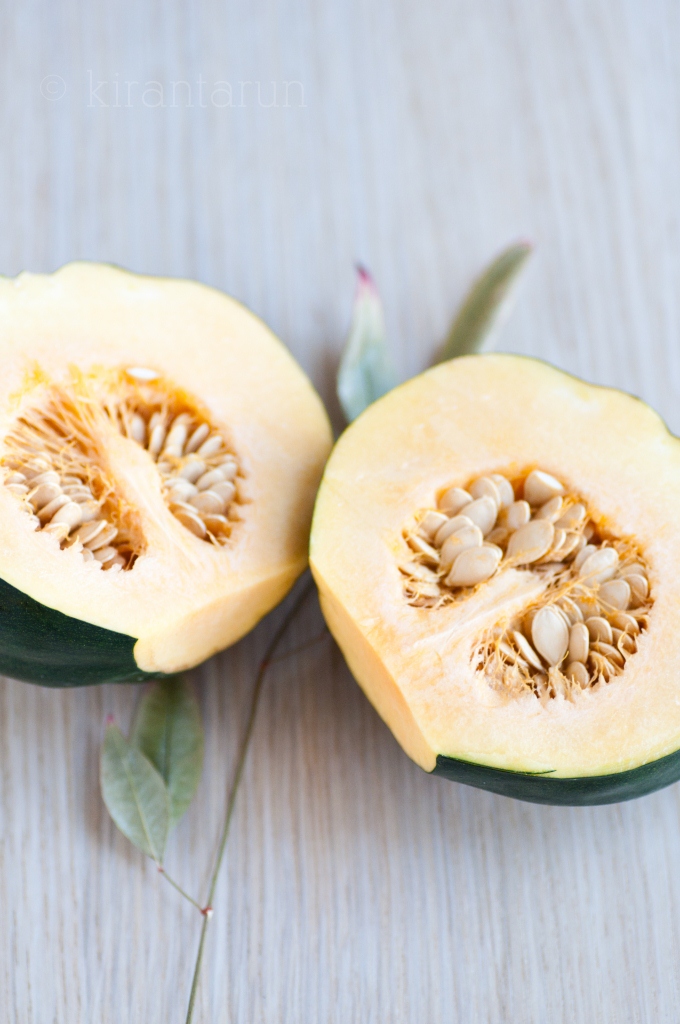 Sneaking in cold salads during winter is sorta like having ice cream in freezing temperatures.
I am fine with ice cream. All through winter.
As for salad? Not too much 🙁
The idea of eating soups with cold salad sort of unappealing, no?
Not if it's a warm salad. I'd say, "bring 'em on!"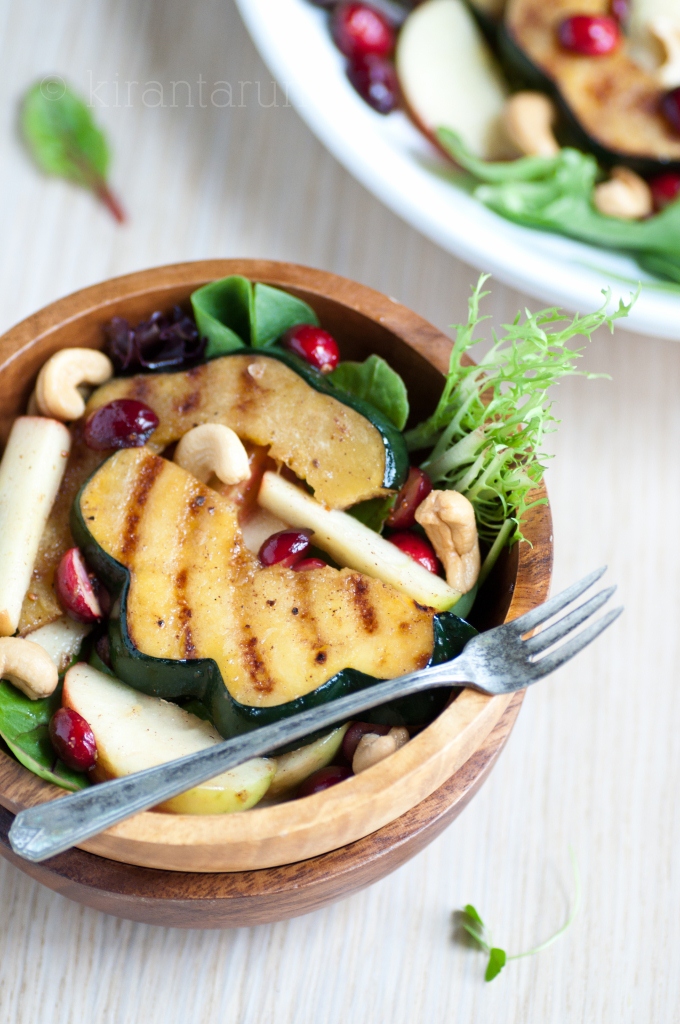 Of course, winter or otherwise, there should always be an excuse to fire up the grill, crack open a squash, sprinkle on some herbs and grilled the heck out of it.
And the end result is a platter of warm salad to accompany hot soups and a fireplace.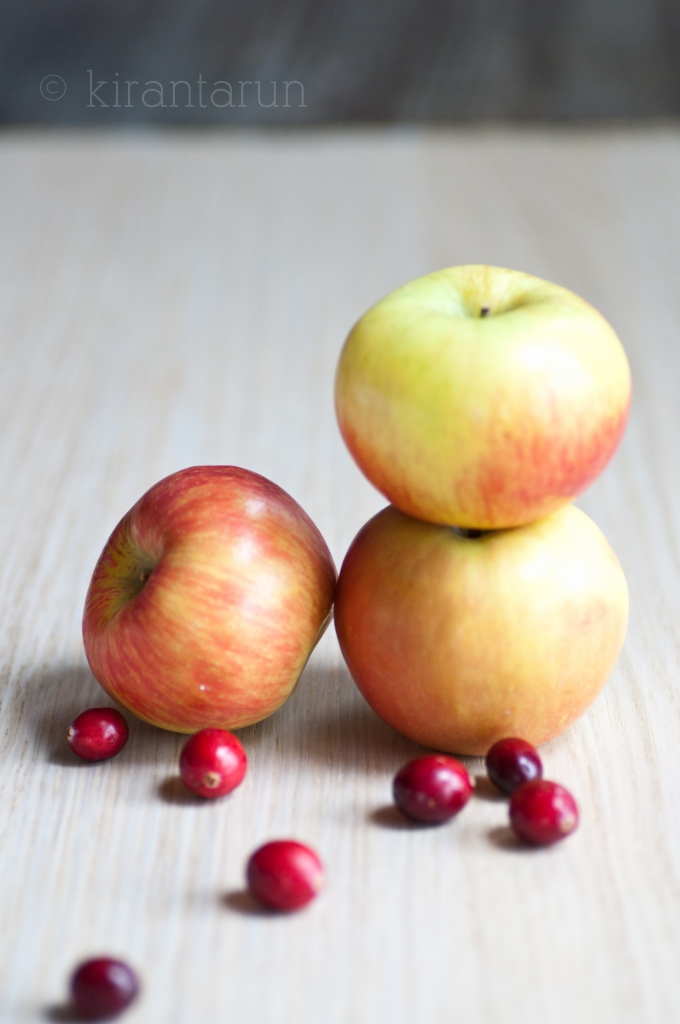 We can't deny the crisp and crunch factor either. I mean, a wilted salad is fine but would be absolutely delicious with a crunch from apples, cashews and tartness from cranberries.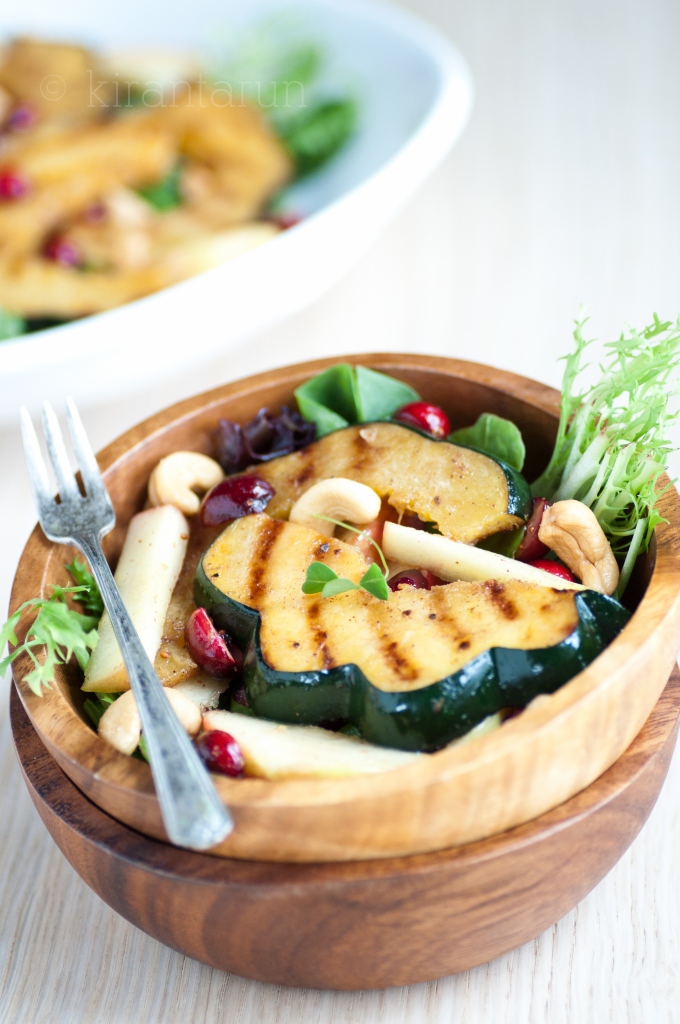 Print This Recipe
Ingredients:
1 small acorn squash
2/3 cup of halved fresh cranberries
1 heaping tbsp honey
2 tsp all spice (cinnamon, nutmeg & clove powder)
1 tsp salt
2 tsp brown sugar
2 tbsp evoo
some cooking spray
3 handfuls of spring mix or fresh greens of choice
2 small honeycrisps or apple of choice
1 tbsp fresh lemon juice
a handful of raw toasted cashews for garnish
Directions:
Add honey and halved cranberries in a bowl. Toss and allow to macerate for at least 30 minutes.
Meantime, slice the bottom of acorn squash for stability. Then halve it. Scoop out the seeds and slice 1/2 inch thick, diagonally.
Toss acorn squash slices with all spice, salt, brown sugar and extra virgin olive oil.
Heat a griddle or grill on medium-high and add non-stick cooking spray. Line marinated acorn squash and cook for 4 minutes on each side.
Slice apples and add lemon juice to prevent browning.
In a fancy platter, spread out a layer of greens of choice. I used spring mix.
Add grilled acorn squash, sliced honeycrips, cranberries and toasted cashews for crunch.
Toss & serve it as a warm appetizer for the holidays 🙂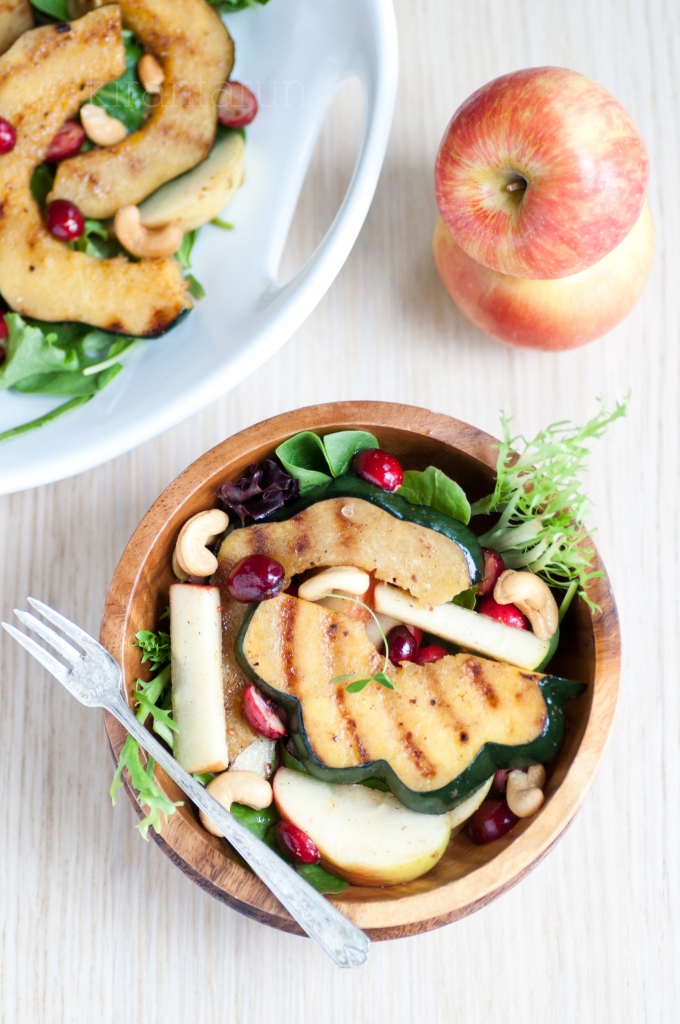 Here's hoping your holiday festivities is filled with laughter, colors, warmth and a decent amount of indulgence 🙂
What are your favorite winter salads?