H
ello Friends!
How is it November already? By the time its 5 pm, darkness looms and there's no mood to do anything productive at all. Including packing.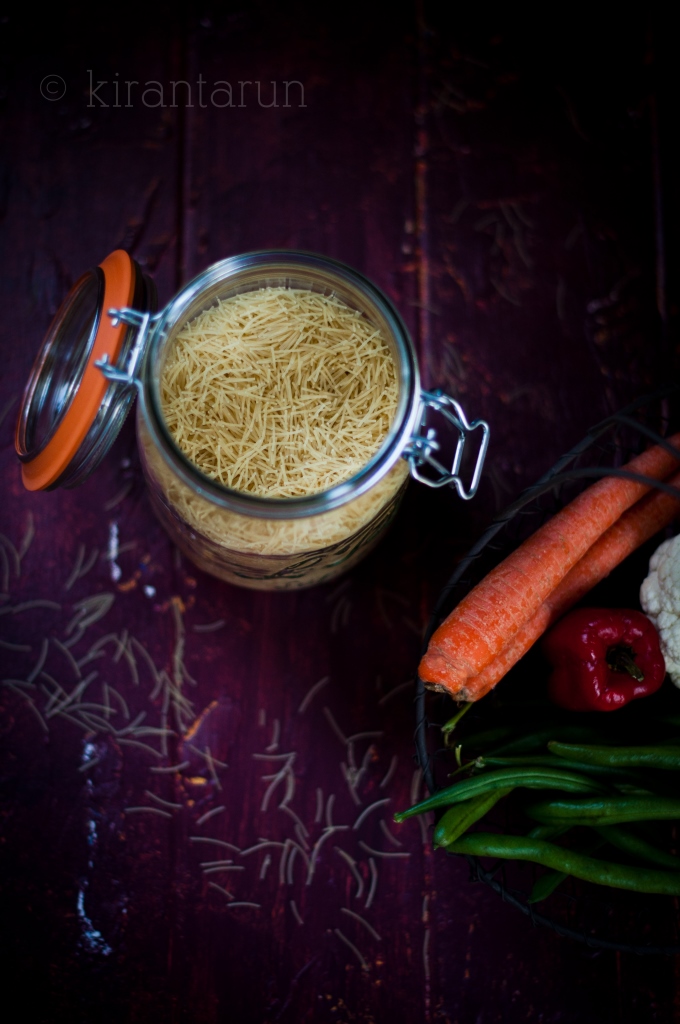 Traveling lightly has to be one of the biggest challenges that I'm always facing. I'm in awe with guys who travel so lightly. Ask the Husband and he'll agree.
It takes mere 30 minutes to do his packing, but for me, it takes a full 1 day of planning and packing, and then repacking just so I can fit everything in one tiny carry-on suitcase and a HUGE handbag.
Yeah, I'm that girl that loves a huge handbag which can fit everything that TSA allows. Or just a place where I can toss everything after struggling to close a small carry-on.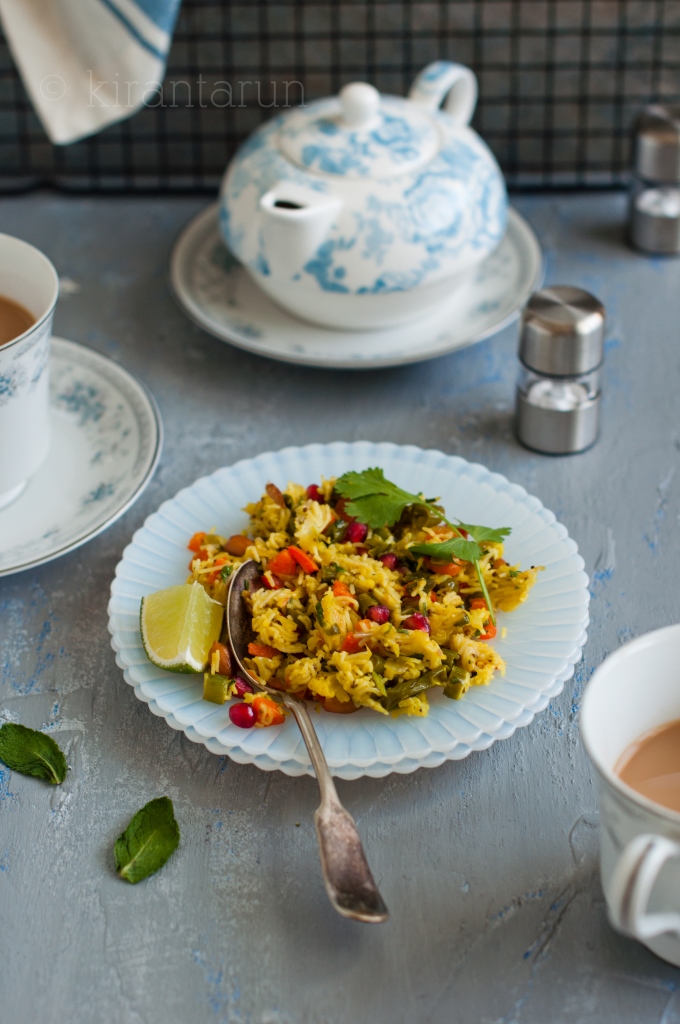 Packing day is a huge chore for me, so I almost always need a good breakfast that would keep my belly and me happy for a few hours. Because let's face it, packing is BORING. All the more excuse to seek comfort in foods.
Poha does that to me, all the time. Chai too!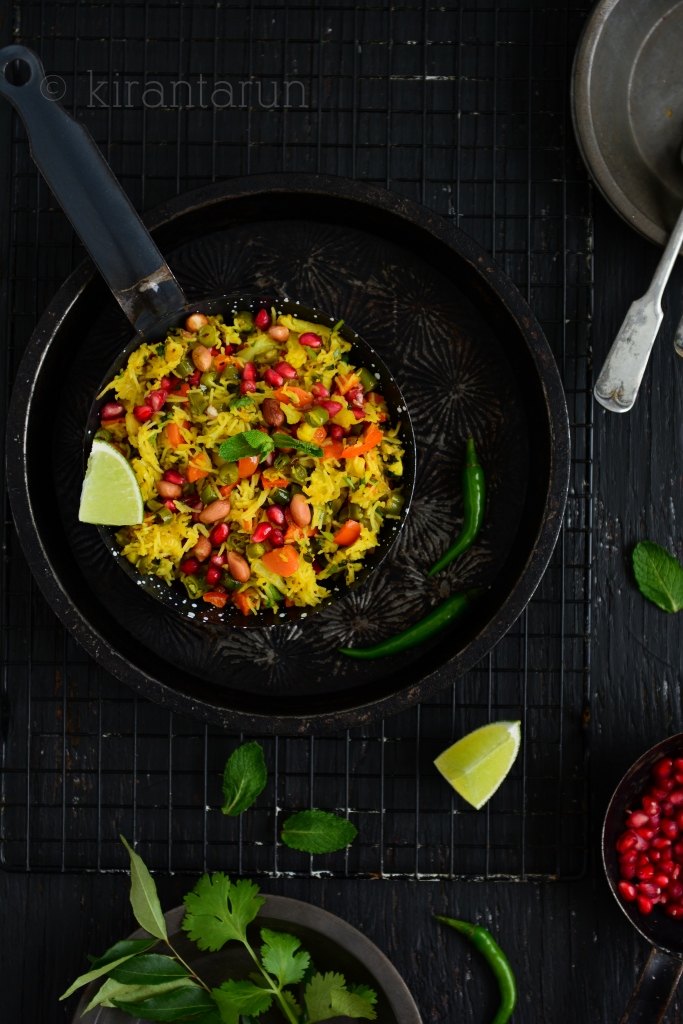 Print This Recipe
Serves 4
Ingredients:
2 heaping cups of cooked vermicelli
3 tbsp cooking oil
1.5 tsp mustard seeds
1/8 tsp hing (asafoetida powder)
3/4 tsp turmeric powder
2 green chilies, slited
10 curry leaves
2 inch ginger, minced
1 medium onion, chopped
2 heaping cups of cauliflower, finely chopped
1 heaping cup of green beans, finely diced
1 carrot, finely chopped
1 bell pepper, finely chopped
2 tsp salt
1/2 tsp black pepper
2 tsp lime juice
garnishes: 4 tbsp toasted peanuts, 4 tbsp pomegranate seeds and 4 tbsp finely minced fresh coriander leaves.
Directions:
Prepare vermicelli as per instructions on the package and set aside to drain once cooked. Do not overcook. Allow it to be a little al-dente.
Heat a large skillet on medium-high. Drizzle in some cooking oil and wait to heat before adding mustard seeds. Wait until seeds pop or sputter before adding hing, turmeric powder, chilies, curry leaves and minced ginger. Cook for 30 seconds before adding chopped onions.
Cook onions until translucent. Add finely chopped cauliflower and green beans. Stir to combine and cook for 5 to 7 minutes, covered. Stir a few times in between before adding chopped carrots. Cook for 2 minutes before throwing in chopped bell peppers.
Lower the heat to medium and sprinkle on some salt, black pepper and lime juice. Stir to combine and cook for another 2 minutes before adding cooked vermicelli.
Stir everything to combine and cook for another 2 minutes. Remove from heat and serve immediately, garnished with toasted peanuts, pomegranate seeds and minced coriander leaves. Hot masala chai is the best accompaniment.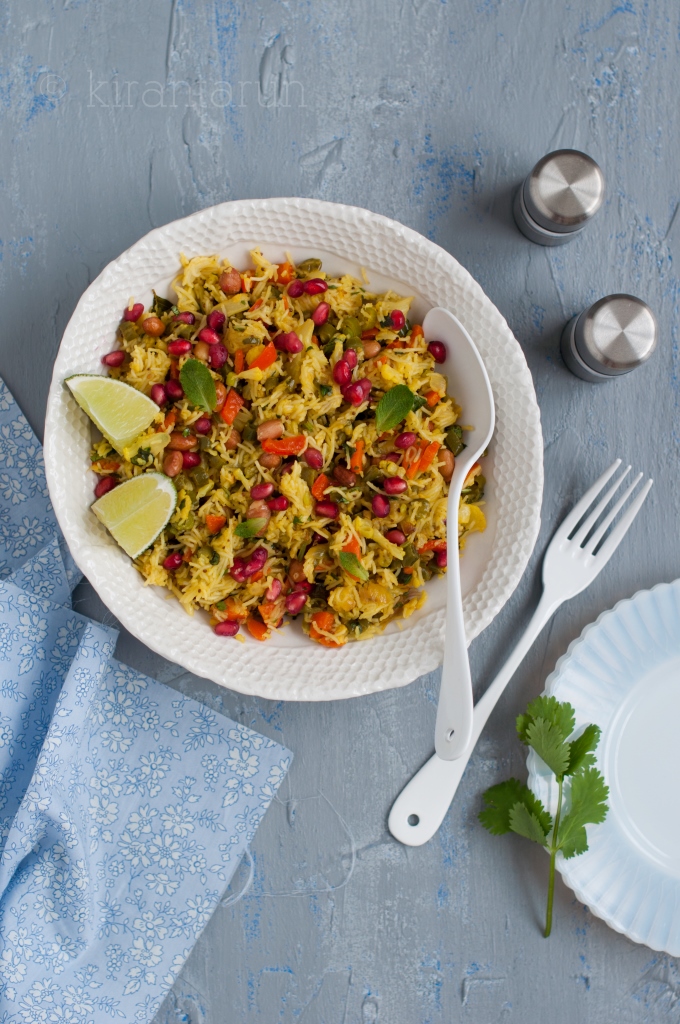 Off to unpack, which is another chore that is absolutely time consuming and BORING. Perhaps an excuse to fix me a plate of poha and a mug of hot chai? The mere thought of it already makes me and my belly happy 🙂
What gets you through a HATED/BORING chore?