H
owdy!!
I don't know what to crib about? Whether on the fact that fall is so fast upon us, or the political debates on every news channel these days?
Either way, I'm more than ready for a cup of pumpkin spice latte. Oh, don't tell me you are not one of those people hogging Starbucks for this flavor every fall?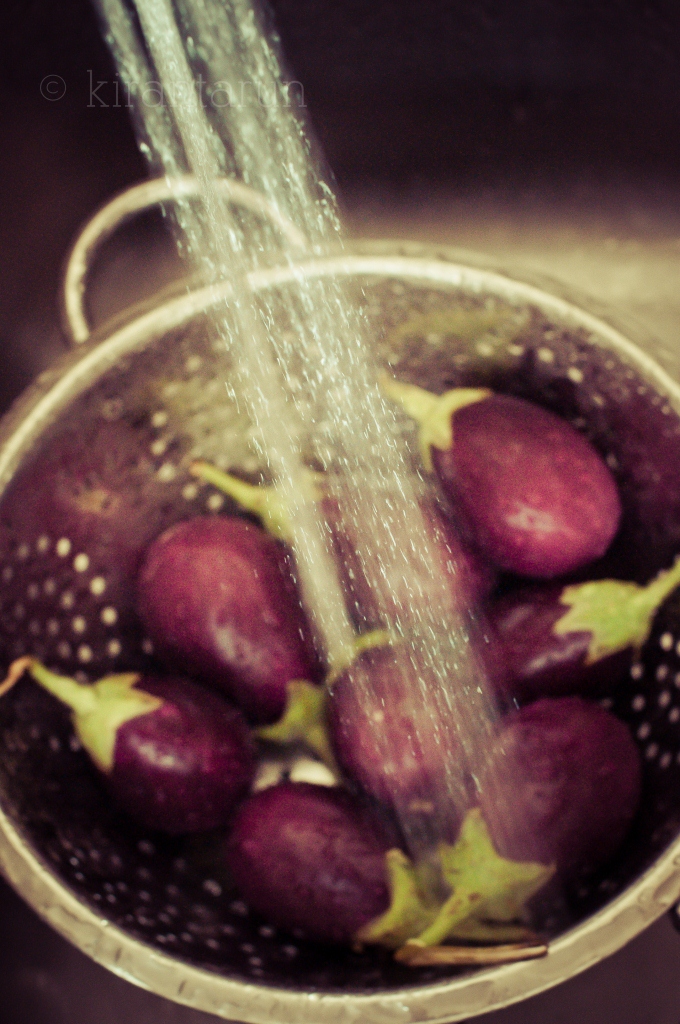 Anywaaaaays…
Since there isn't any pumpkin popping up anytime soon (thank goodness!), let's talk about or eat eggplant today.
Growing up, I loathed even at the idea of eating eggplant. And don't tell me you loved eating it when you were an itty-bitty kid. Because that would just sound, well, finicky in my opinion.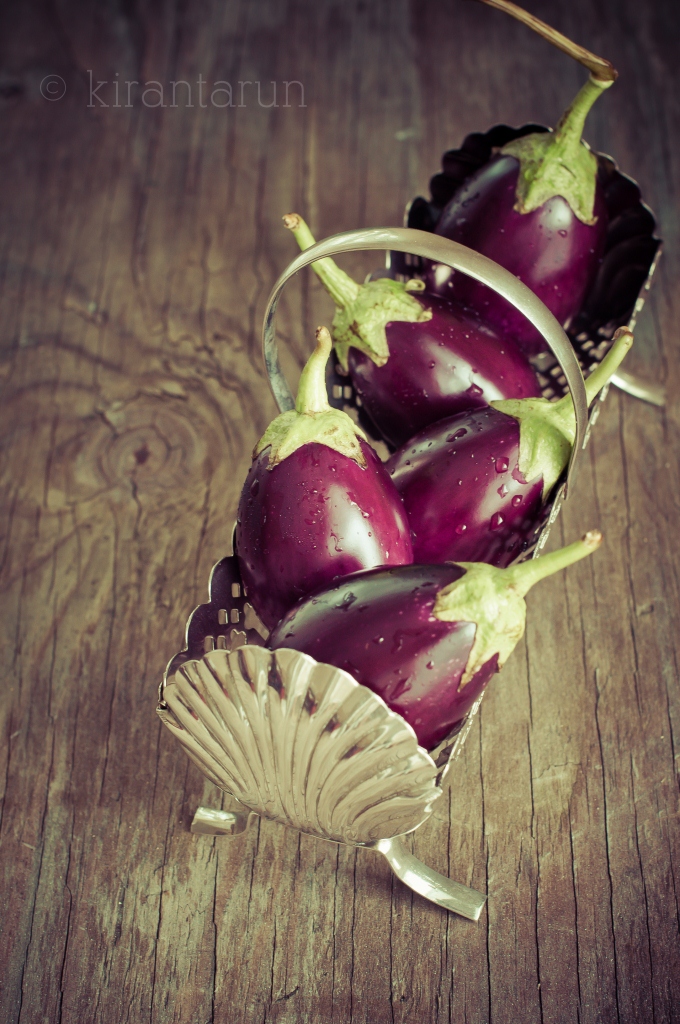 But my mom had some tricks under her sleeve.
Well, literally.
She used eggplant in curries, tomato sauces and soups just to get me eating. I found my liking in curries and never stopped devouring eggplants ever since.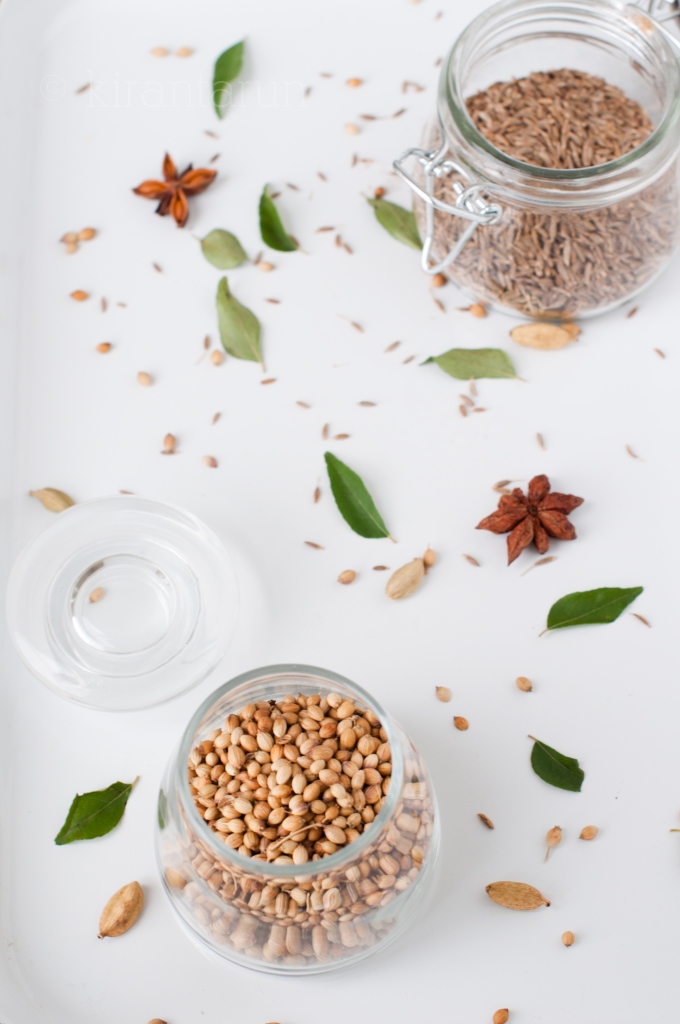 Ok, so I developed the taste for curries at a very tender age. Which Indian wouldn't? Curries are chock-full of flavor, I could just slurp on it all day long provided the weather beckons it as well.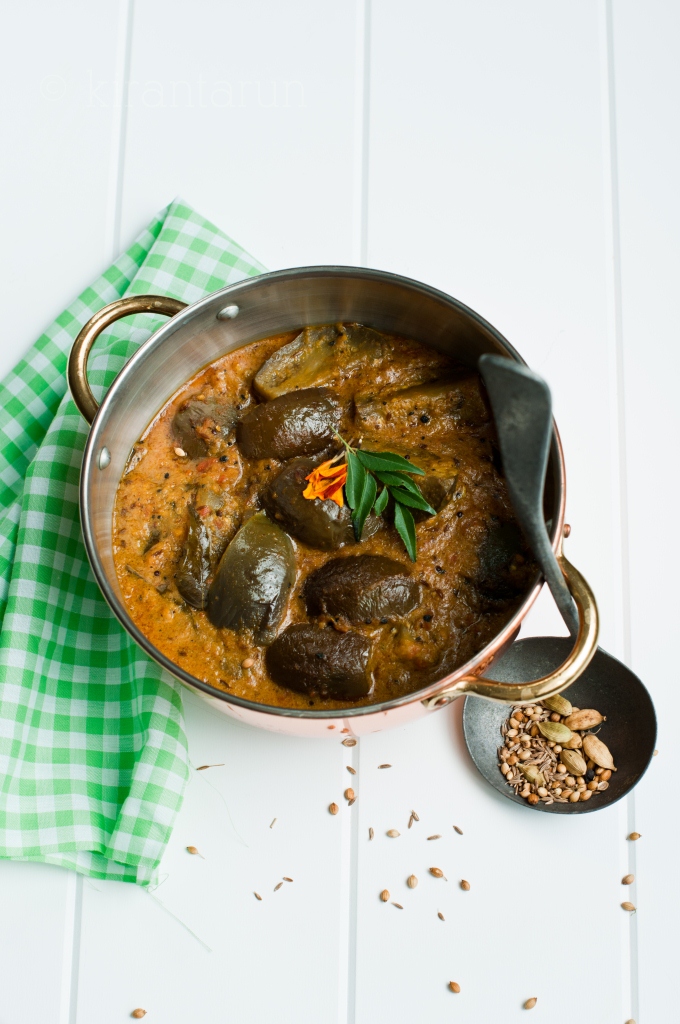 The notion that curries are, well, difficult to make is definitely not the case. If your pantry is equipped with some basic spices, you can easily whip up a pot of steaming homemade curry in no time.
Make this simple yummy recipe and let me know how easy it is to whip up curry — I'm crossing my fingers this challenge would not backfire on me.
Mmmm…. well, let's throw in crossed toes as well just to be on the safer side 😉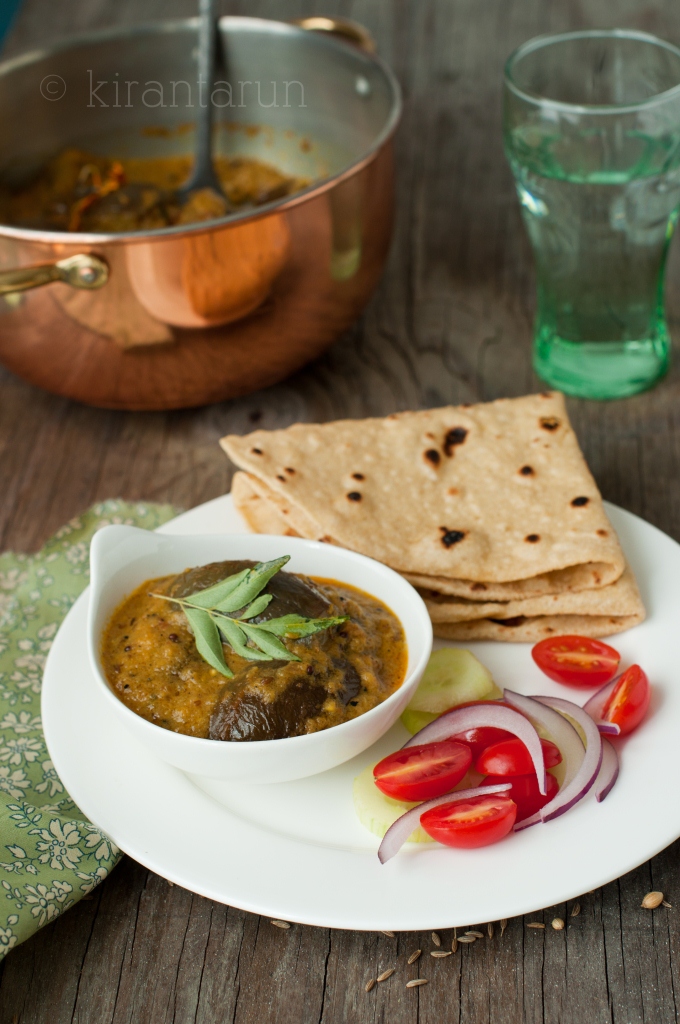 Print This Recipe
Ingredients:
8 – 10 baby eggplants, quartered
2 cups water, boiled
pinch of salt
1 medium red onion, chopped
3 garlic cloves
1/2 tbsp ginger
3 – 4 green chilies
1 large tomato, chopped
2 tsp coconut oil
1 small star anise
1/2 tsp cumin seeds
1/2 tsp mustard seeds
8 – 10 fresh curry leaves
1/2 tsp turmeric powder
1/2 cup coconut milk
1/4 cup hot water
1/2 tsp salt
Spice powder – dry roast 1 tsp whole cumin seeds, coriander seeds and 1/2 tsp cardamom seeds. Cool and finely grind into powder.
Directions:
In a medium saucepan with boiling water, add quartered eggplants and pinch of salt. Boil eggplants until half-cooked or for 2 minutes.
Blend red onion, garlic cloves, ginger and green chilies and tomato into a smooth paste.
Heat a large non-stick saucepan on medium. Once pan is hot, add coconut oil. Sprinkle in cumin seeds, mustard seeds, star anise, fresh curry leaves and turmeric powder. Fry until fragrant for 30 seconds.
Add blended onion + tomato paste and fry for at least 10 to 12 minutes or until oil begins separating.
Sprinkle in fresh spice powder and fry for a few more minutes until fragrant.
Add half-cooked eggplants, coconut milk, salt and hot water. Stir to combine and cook covered for 15 minutes or until oil separates and eggplants are fully cooked.
Serve hot with chapati/brown rice, with a cool and refreshing side salad.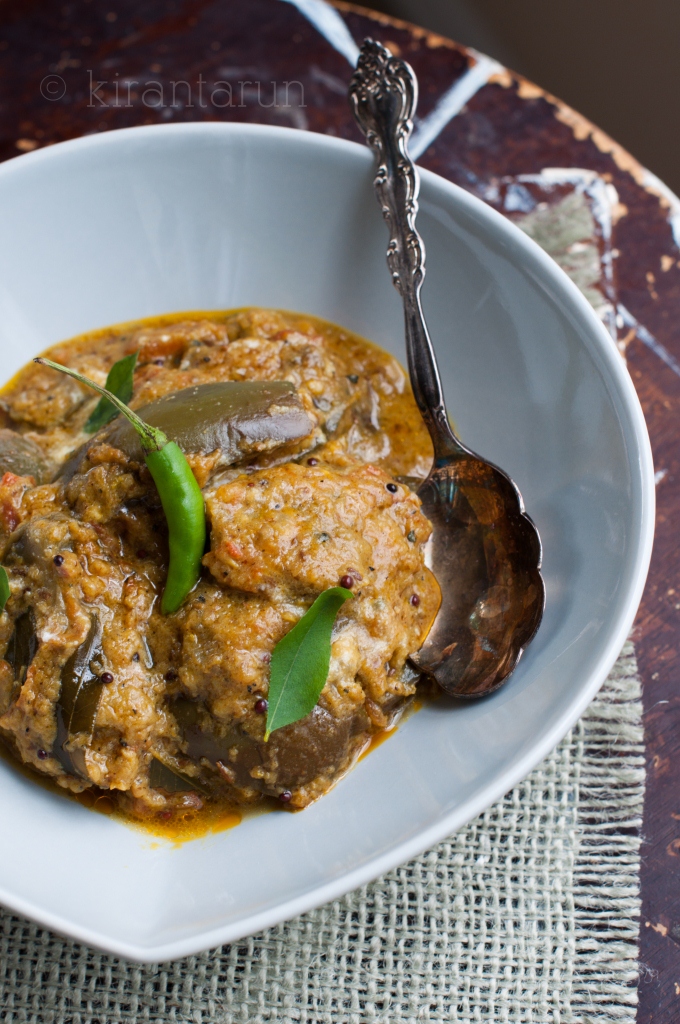 Off to play catch-up on our DVR, including a few hours worth of The Big Bang Theory.
Yeah, priorities.
Love or hate curry? What's your favorite curry and TV show? Curry + TV? A great combo in my opinion 😉