H
appy Friday <3
I hope you are having more fun, now that weekend is here for many.
It's the reverse for me because this weekend is gonna be all about chores. I hate chores so much, it's loathing.
And I am hoping, it's not only me? The worst is doing laundry and emptying the dishwasher.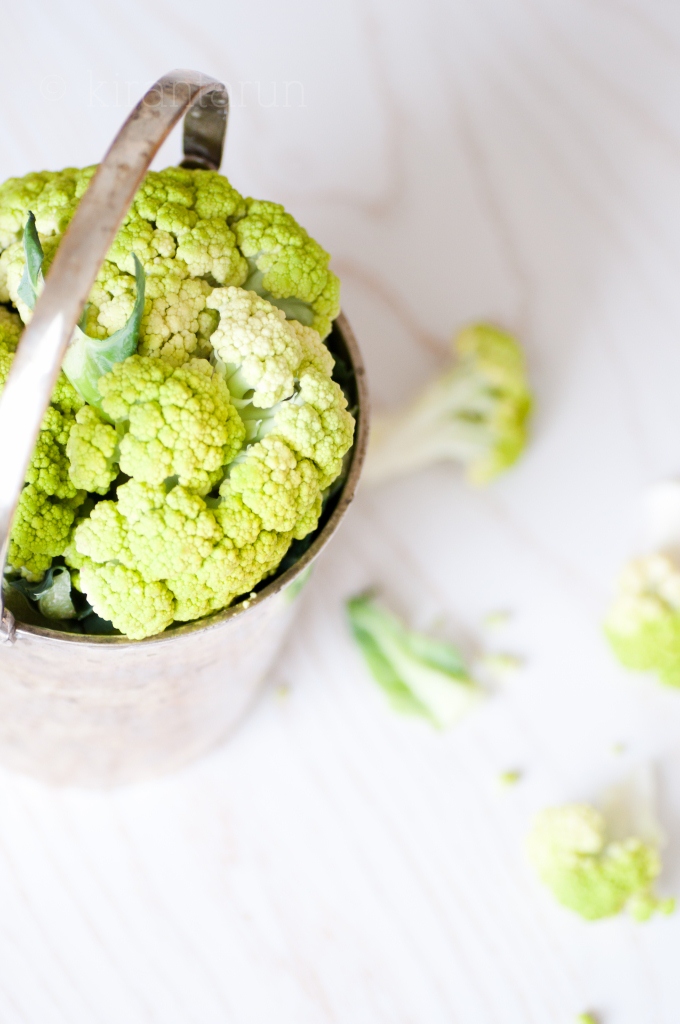 Some days, I am super productive. You won't find me sitting around aimlessly, doing nothing. But there are days where I almost wish to curl up in a ball and just watch reruns of my favorite sitcom.
It's a sitcom about 6 people, paleontology, fashion & more. Can you guess?
I think I gave away too many tips. Huh, generosity fails me all the time.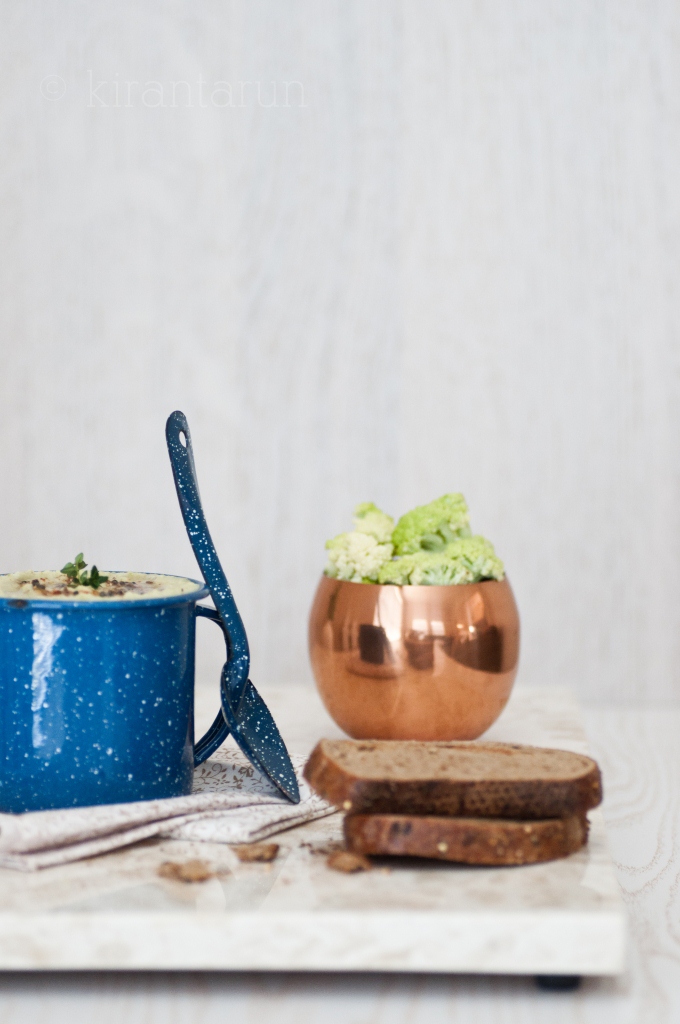 So in order to fullfil the "curling into a ball" requirement, rustling up simple & comforting foods is almost a necessity.
Take this soup for an example. Throw in some chopped broccoflower and whole head of garlic to roast in the oven.
Watch an episode of your favorite tv show.
Hit pause, get your booty into the kitchen and finish preparing this soup.
Throw a few slices of whole wheat bread in the toaster, whirl up soup into a blender, sprinkle on necessary spices and lunch is served!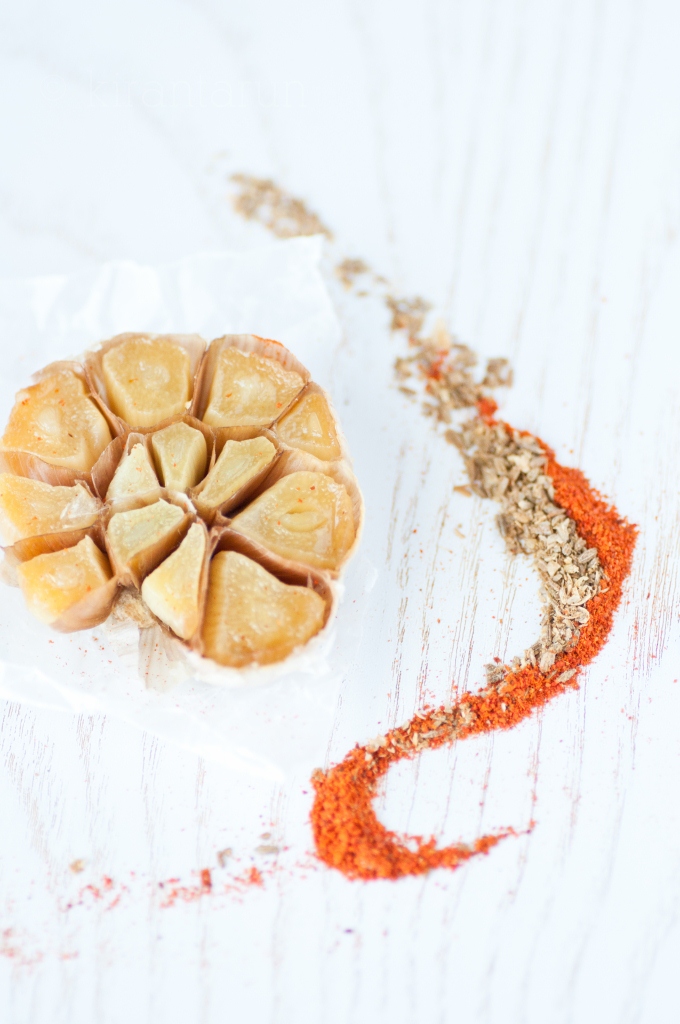 Now, the only excuse NOT to make a simple lunch like this has only one explanation — lazyness. Or the need for a maid.
Well, I'd love to believe we all need a maid in our lives. Half of the time spent is cleaning the kitchen.
Before, during and after.
My hands are begging for serious attention.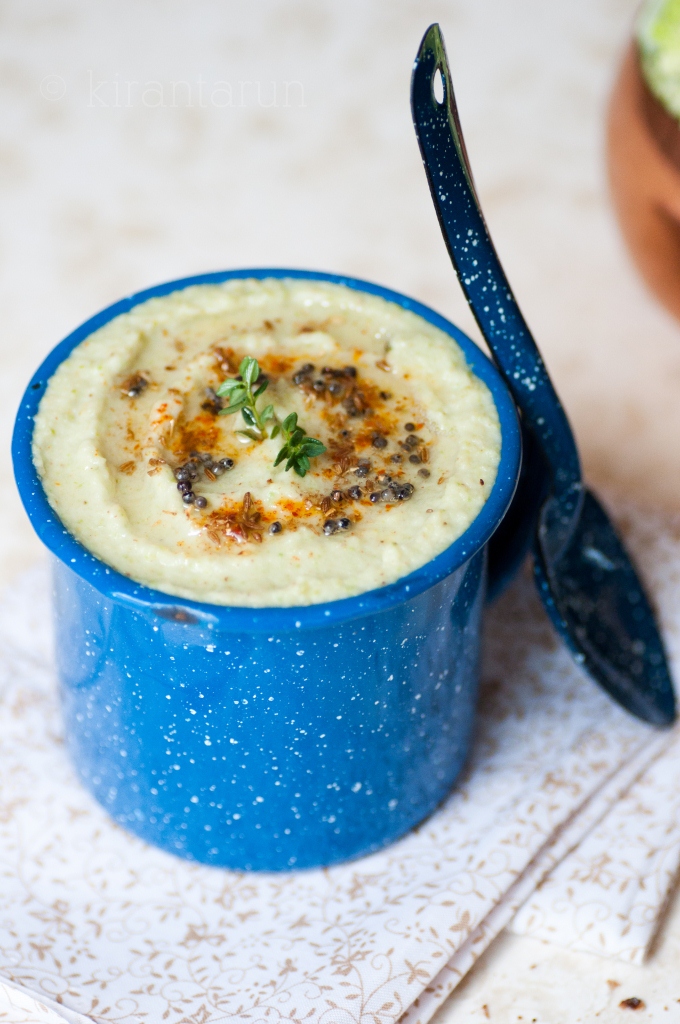 Print This Recipe
Ingredients:
1 medium head of broccoflower, cauliflower or broccoli – chopped
1 head of garlic, halved
1 tsp salt
2.5 tbsp coconut oil
1.5 to 2 cups of coconut milk
1/2 tsp mustard seeds
1/2 tsp coriander powder
1/2 tsp cumin powder
1/2 tsp chili powder
optional: a squeeze of lemon juice.
Directions:
Preheat oven to 350F. Line a baking sheet with foil.
Place halved whole garlic head in another small piece of foil. Drizzle some coconut oil and a pinch of salt. Wrap foil.
In a bowl, add chopped broccoflower, some coconut oil + salt. Mix to coat and dump it all in the prepared foil on baking sheet.
Place garlic foil in the same baking sheet (corner) to roast with broccoflower for 30 minutes.
Remove broccoflower to cool. Continue roasting garlic for additional 20 minutes.
Allow broccoflower and garlic to cool before blending.
Add 2 tbsp of roasted garlic + roasted broccoflower + coconut milk into a blender. Blend until smooth.
Top cream of roasted broccoflower & garlic soup with tempered spices & lemon juice, before serving.
Optional: Add lemon juice if needed.
For tempering spices:
In a small nonstick pan, heat remaining coconut oil on medium low. Add mustard seed and allow to sputter for a minute.
Remove pan from heat, add coriander, cumin and chili powder.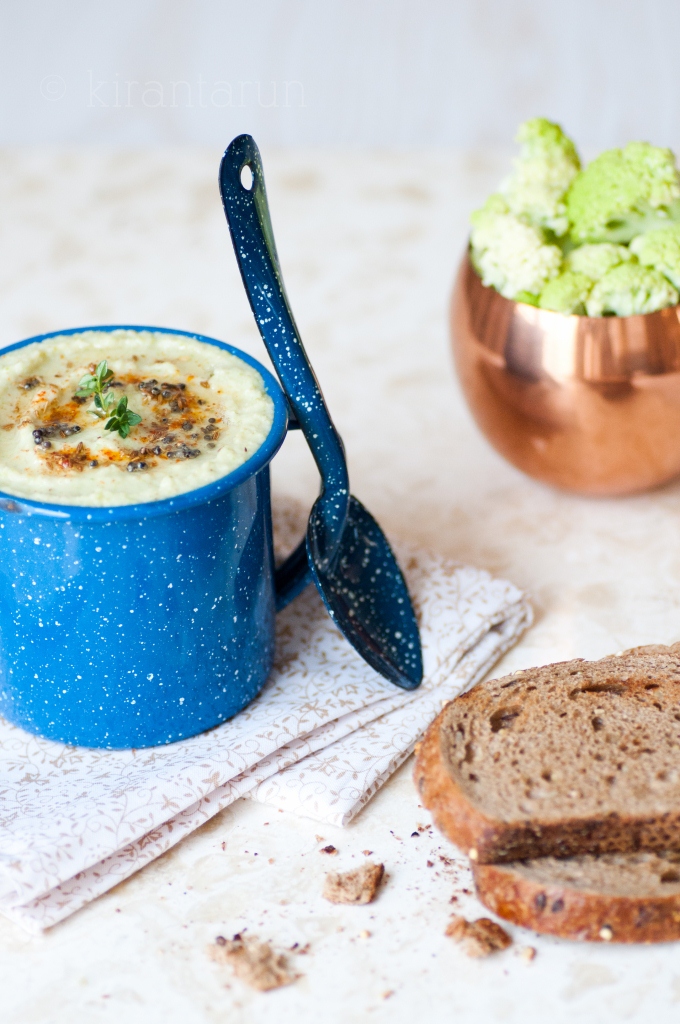 Off to continue sulking as the weekend is looming and the chances of escaping chores seems nearly impossible now 🙁
What is your favorite tv show and which chore(s) do you dislike the most?