Yields about 30 to 36 servings — Recipe adapted from Food Network Kitchen
Ingredients:
Macaron shells
1 + 3/4 cups of confectioners sugar
1 cup almond flour/meal
3 large egg whites, at room temperature
1/4 tsp cream of tartar
pinch of salt
1/4 cup superfine sugar
1/2 vanilla bean pod, seeds scraped or 1/2 tsp vanilla extract
Vanilla bean buttercream
1/2 cup (or 1 stick) of unsalted butter, softened at room temperature
1/2 cup confectioners sugar
1/2 vanilla bean pod, seeds scraped or 1/2 tsp vanilla extract
Directions:
Line 3 baking sheets with parchment. Set aside.
Add confectioner sugar and almond flour into a food processor. Process for a minute. Remove and sift into a large bowl using a fine-mesh sieve. Discard any coarse almond flour that didn't pass through the sieve. You'd want to end up with fine powdered sugar-almond flour.
In a very clean stand mixer fitted with a whisk, beat egg whites, cream of tartar and salt on medium speed until frothy. Increase speed to medium high and gradually add the superfine sugar. Beat until stiff and shiny, between 4 to 5 minutes. Fold in vanilla bean seeds or extract.
Transfer meringue into the bowl with sugar-almond flour mixture. Fold, turn and scrap down the bowl, until the batter is completely incorporated, smooth and falls off the spatula in a thin flat ribbon. It took me between 35 to 40 folds, a good 2 to 3 minutes.
Transfer macaron batter into a pastry bag fitted with a 1/4 inch round tip. Holding the bag vertically and close to baking sheet, pipe 1+1/4 inch circles with enough space to allow batter spreading.
For each baking sheet, firmly tap the sheets twice against a flat surface or counter to release any air bubbles.
Preheat oven to 300F.
Allow the piped macaron batter to sit at room temperature until the tops are no longer sticky to touch, between 15 minutes to 1 hour, depending on the humidity. It took me an hour, living in Florida, with the AC turned down to the coolest setting. Bbrrr…
Slip an extra baking sheet under the first batch of piped macarons. Bake until cookies are shiny and rise 1/8 inch to form a "foot", between 15 to 20 minutes. Transfer baking sheet with cookies to a rack to cool completely.Repeat the whole baking process for using double baking sheet for each batch.
While macarons bake, make vanilla bean buttercream by adding all the ingredients into a stand mixer bowl, fitted with a paddle.
With the mixer on low, and gradually increasing it to medium, beat until you get a smooth buttercream. Remove into a pipping bag fitted with a smaller round tip. Set into the refrigerator to cool while macarons bakes and cool completely.
Peel macaron cookies off the parchments and sandwich with a thin layer of vanilla bean buttercream filling. Pipe a large dollop of buttercream on one side and sandwich with another cookie. Apply a gentle pressure while sandwiching.
Refrigerate sandwiched macarons for a few hours, preferably overnight. Leave out of refrigerator for a minimum of 30 minutes before devouring 😀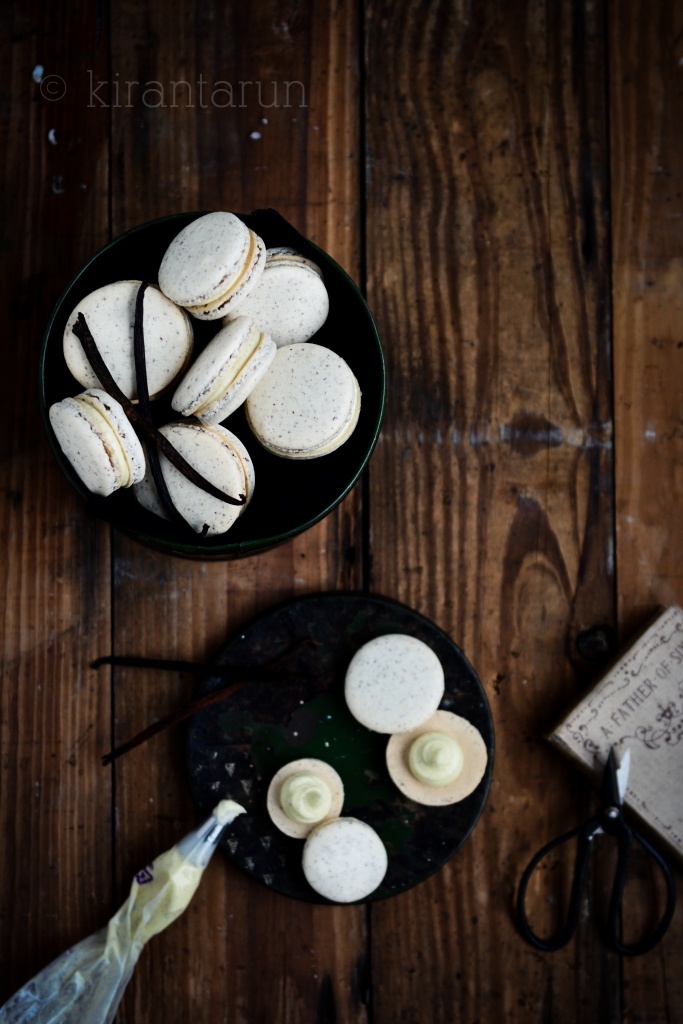 Macarons can be intimidating. But don't give up. If you really want to successfully bake macarons, you've got to strap on a lot of patience and leave the eagerness somewhere else. Preferably, out of the kitchen!
And if humidity threatens, crank up the AC. It truly helped me this time.
Have you tried baking macarons? What are your favorite sandwich cookie recipes?