H
i.
There's a war waging against me. And it's called, technology. Couldn't publish this post in the morning. The Internet and blog, both were down. Perfect coincidence. Not only did technology failed me, but I failed as well. Allow me to narrate an extremely short story. More like Charlie Chaplin's version, but without humor or graphics.
Title : Mishaps – a day in a life with yours truly.
Woke up this morning.
Feeling great.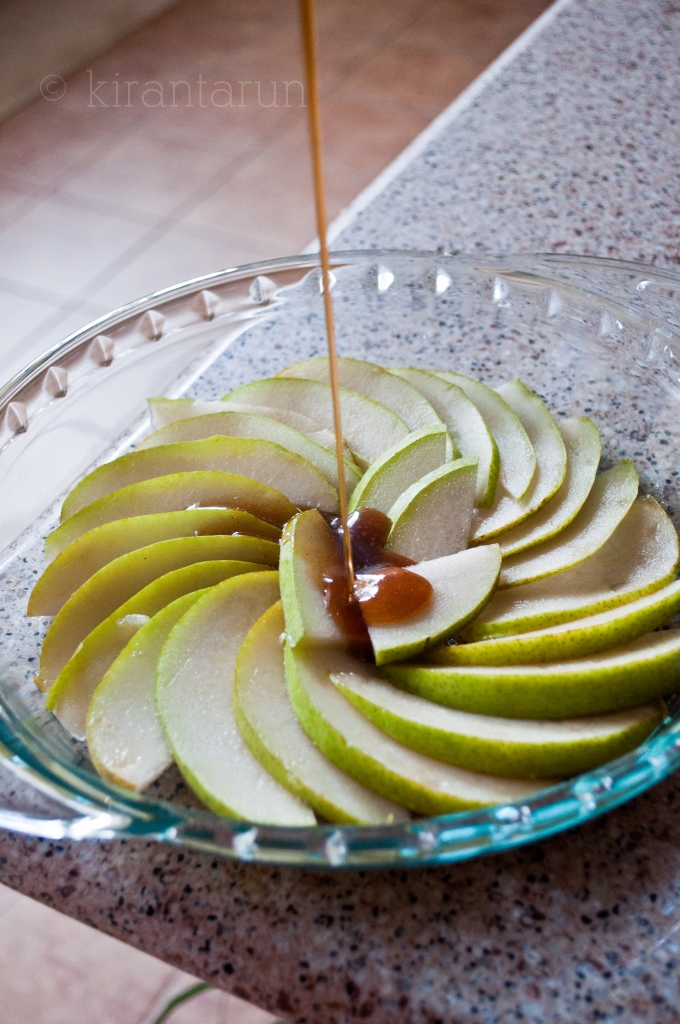 Did some laundry.
Stretches.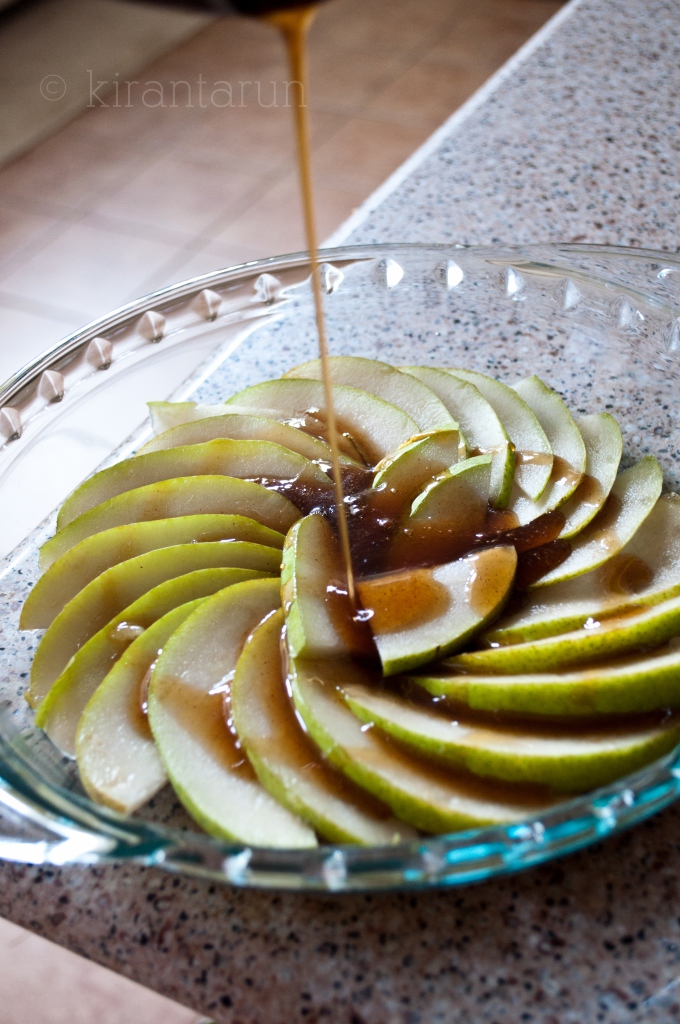 Made breakfast.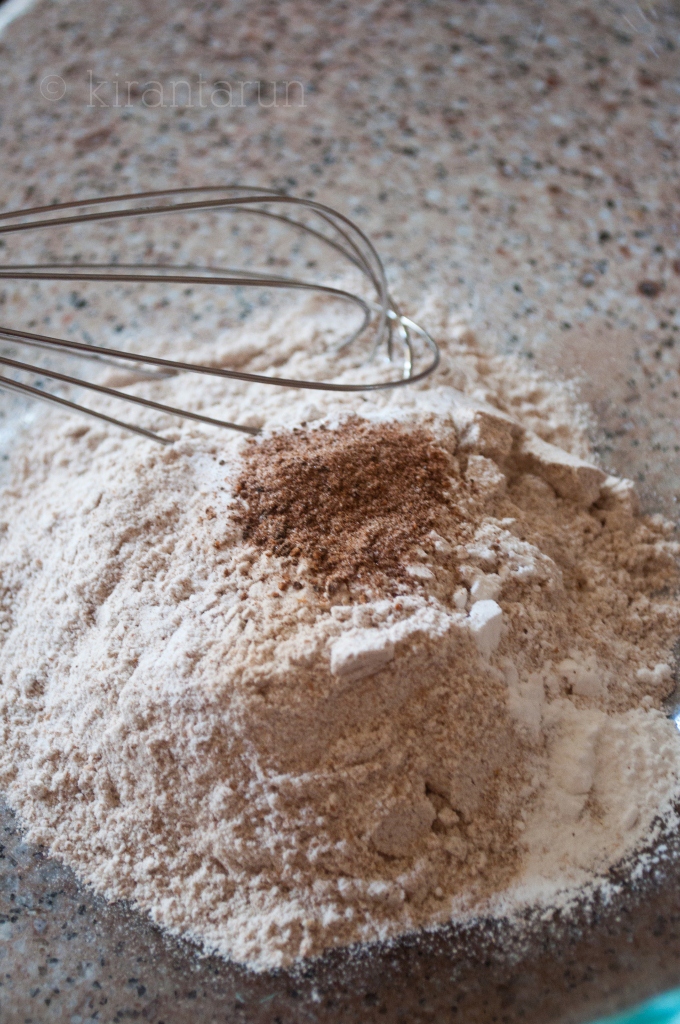 Breakfast was ruined. Spilled all over kitchen floor.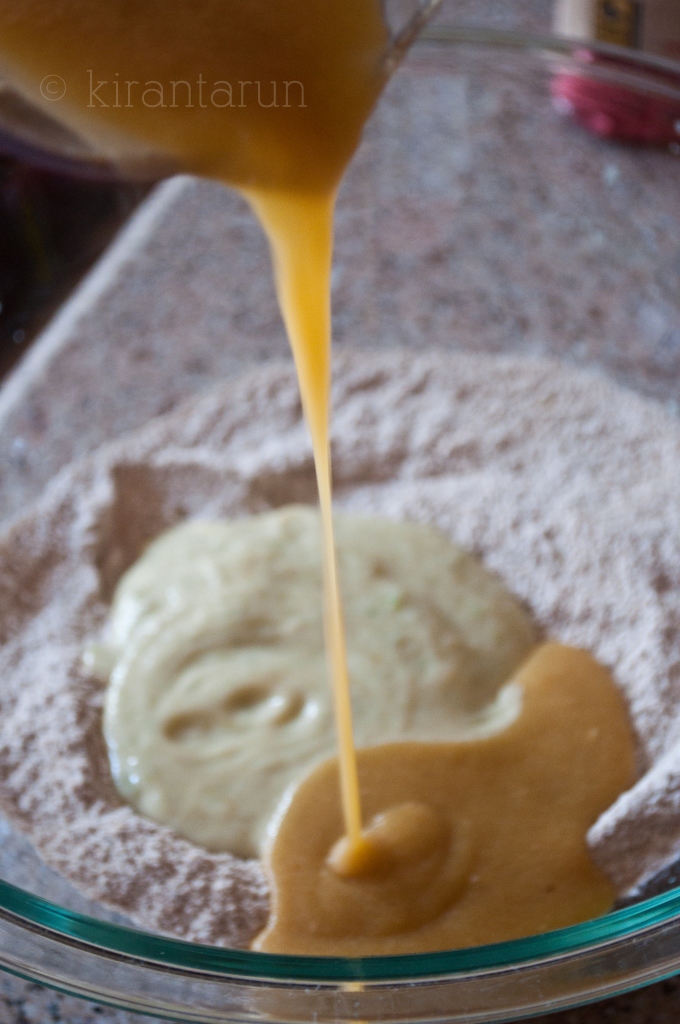 Emotions ran high.
Feeling funked.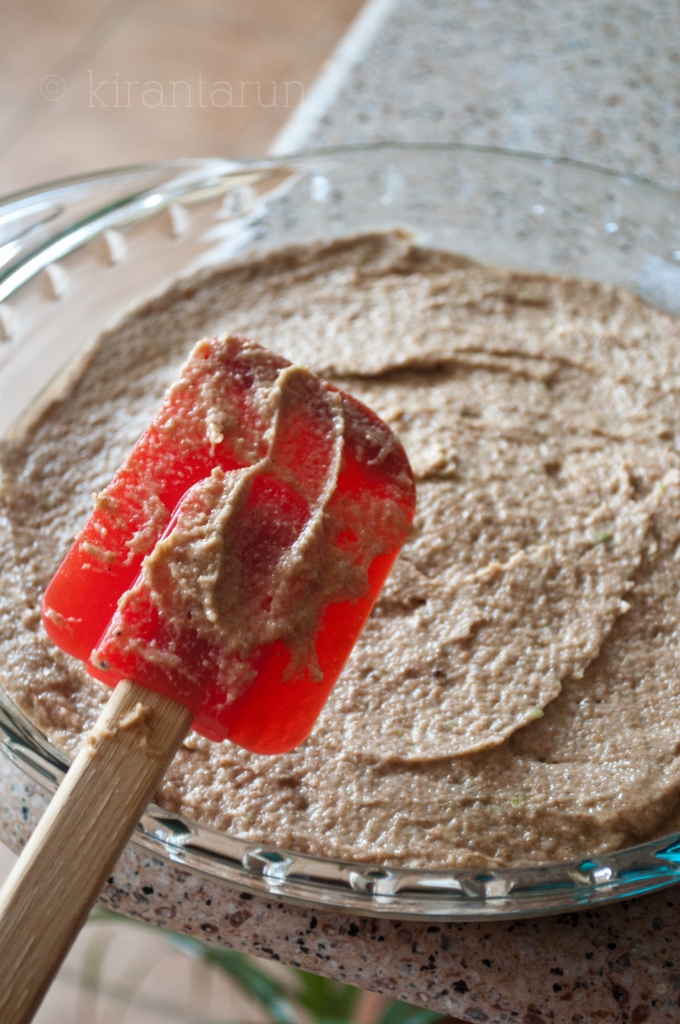 Got ready. Started coffee.
Peeked into the refrigerator for inspiration.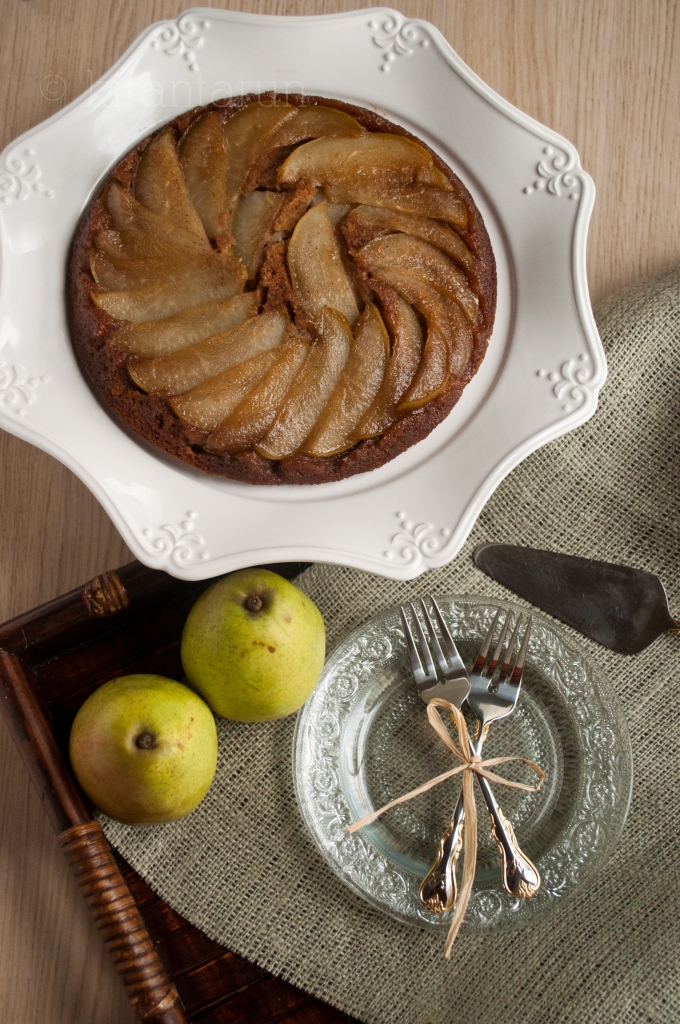 Saw this cake.
Mouth-watering.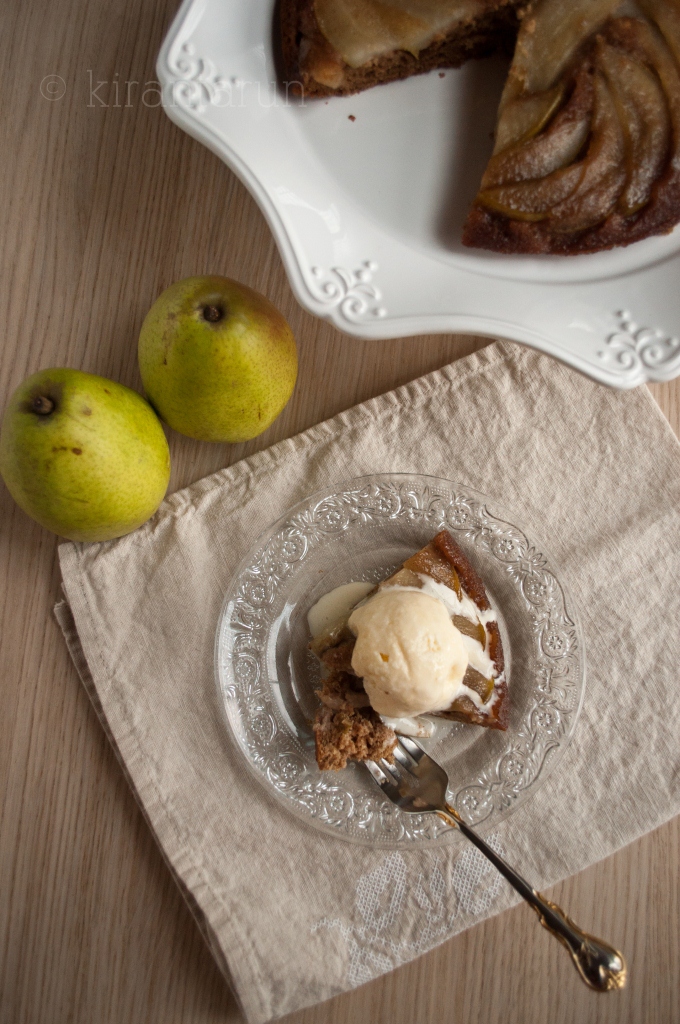 Grabbed a fork and digged in.
You should too 🙂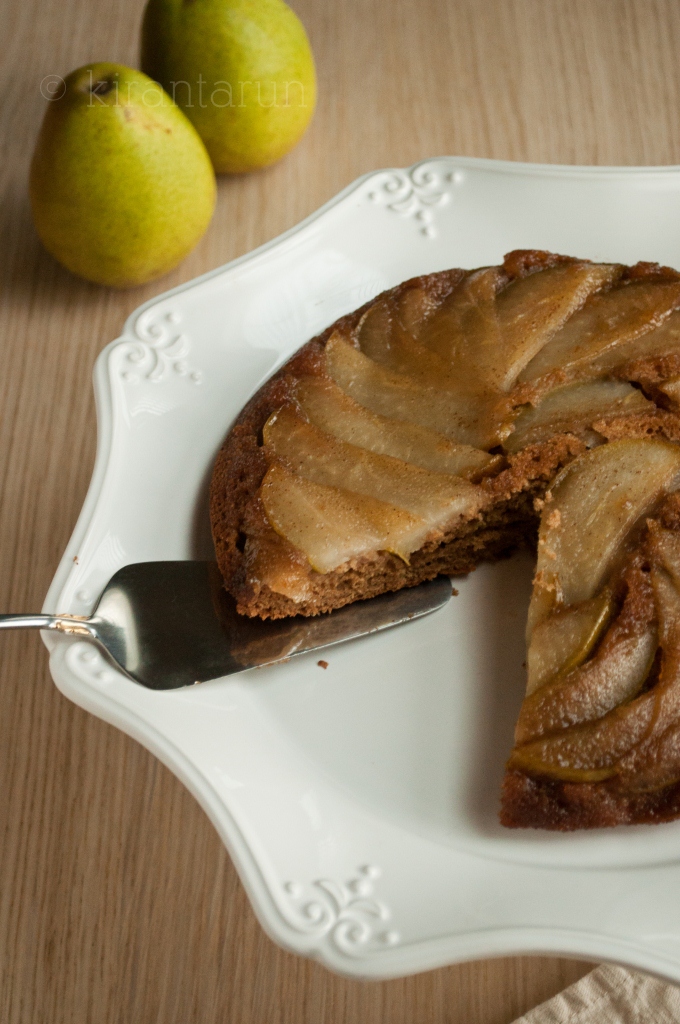 Print This Recipe
(Dry) Ingredients:
1.5 large Anjou pear, thinly sliced
2 tbsp lemon juice
1 cup whole wheat flour
1/2 tsp baking powder
3/4 tsp baking soda
1 tsp pumpkin pie spice
pinch of salt
1/3 cup light brown sugar
1/2 stick butter
1 tsp vanilla extract
1 egg
1/2 anjou pear puree (sliced and blended in a spice blender till smooth)
Light caramel sauce
1/2 cup light brown sugar
4 tbsp water
1 tsp cinnamon powder
Preheat oven to 350 F & lightly butter or spray a pie dish with non-stick cooking spray.
Arrange pear slices decoratively (or nonchalantly) in a pie dish.
To make light caramel sauce – heat a non-stick pan on low. Add light brown sugar & water.
Stir and allow to bubble for a few minutes. If sugar crystals form around the pan, brush some water to loosen.
Once the color of sauce turns amber/dark and thickens, remove pan from heat and add cinnamon powder.
Drizzle light caramel sauce over sliced pear.
Sieve dry ingredients in a bowl.
In a separate bowl, stir and combine wet ingredients.
Add wet ingredients into dry ingredients and mix till incorporated. Do not over mix the batter.
Pour thick cake batter onto sliced pears. Using a spatula, spread cake batter evenly over pears.
Bake at 350 F for 40 minutes. Once baked, cool for 5 minutes and invert the cake on a cake platter.
Allow to cool completely and serve with a dollop of fresh whipped cream of in my case, scoops of vanilla ice cream 🙂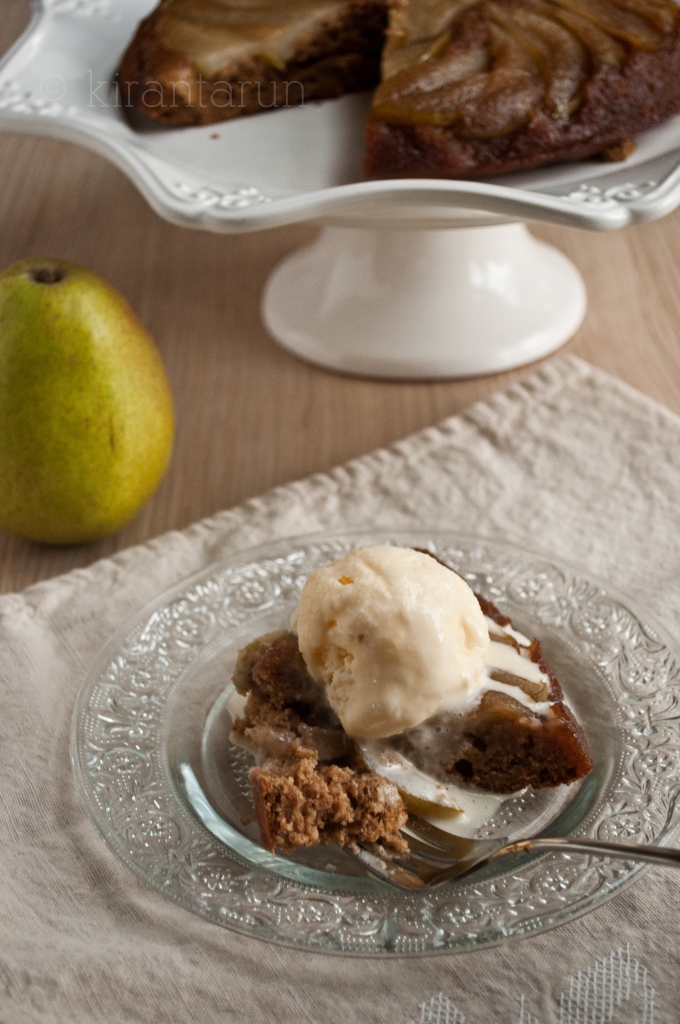 Now if you were wondering what happened to the mess in the kitchen, please don't bother. Just send help 😀
I can't be the only one with kitchen mishaps, spill your beans. Any recent kitchen mishaps that you endured? Send me some smiles, please 🙂