H
i friends!
Omelette's are pretty much the easiest and satisfying meal to prepare while recovering from a nasty jet-lag. Boring or regular omelette's aside, the idea of combining a gourmet selection of mushrooms spikes my enthusiasm.
There's no secret that I'm easily amused. Even by mushrooms.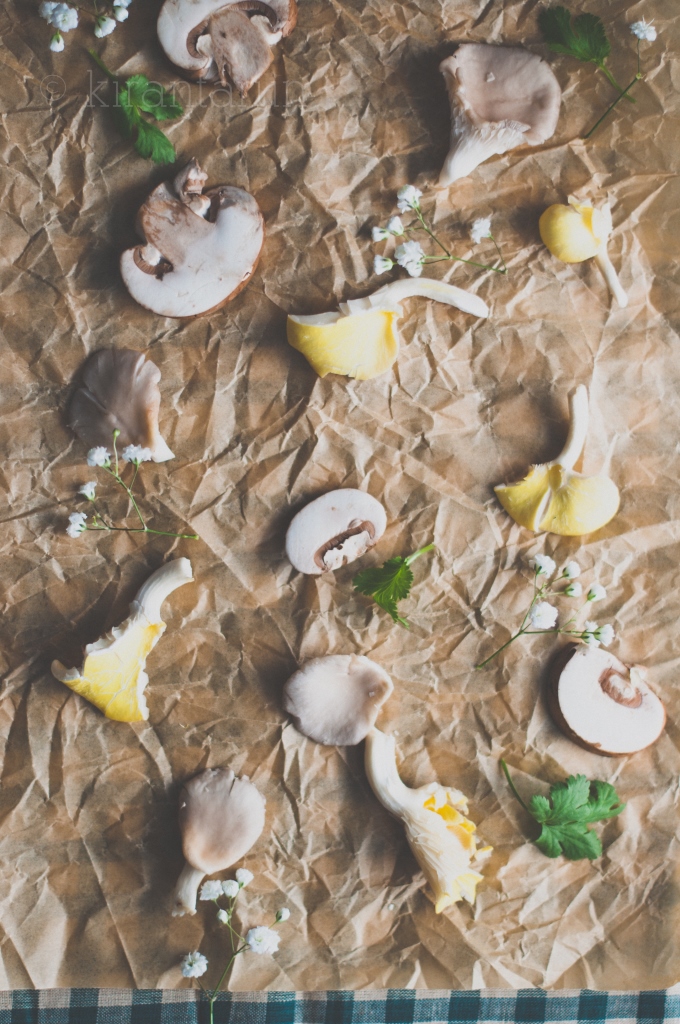 Aside from amusement by ingredients, let's just say breakfast is my favorite time of the day. Which brings us to the next topic: sharing food. Without a doubt, I'm quite generous when it comes to "food sharing". But don't expect that to happen during breakfast.
I can't even bring myself to imagine sharing this omelette with anyone. Sorry. You'd just have to rustle one up for yourself.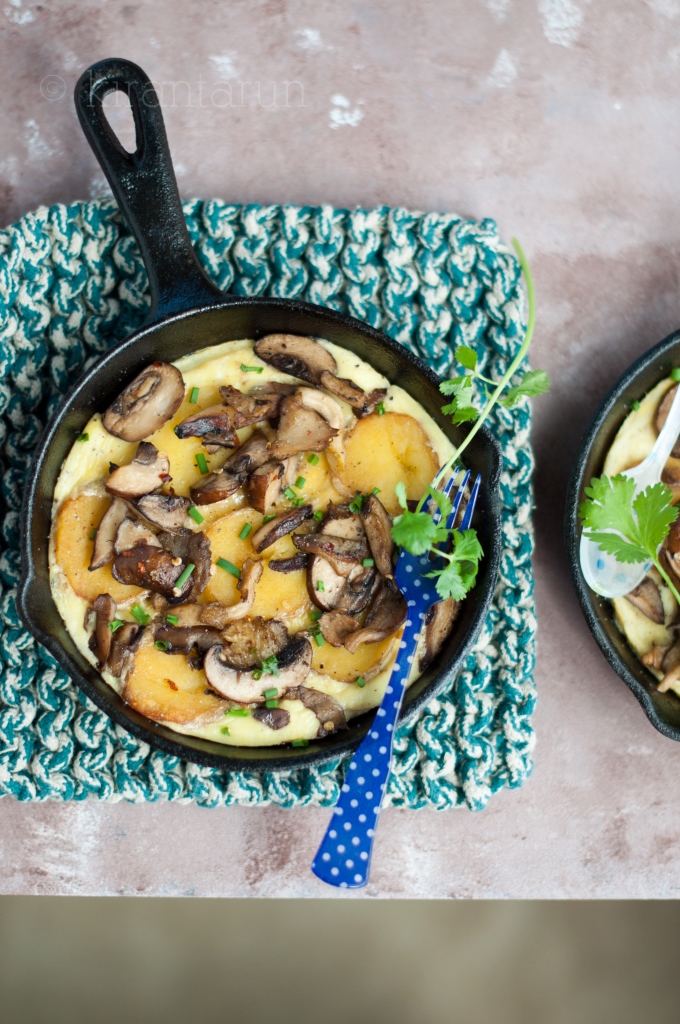 And then tell me all about it. Oh, and please don't share. Else, REGRET would be the word of the day. You wouldn't want that, huh?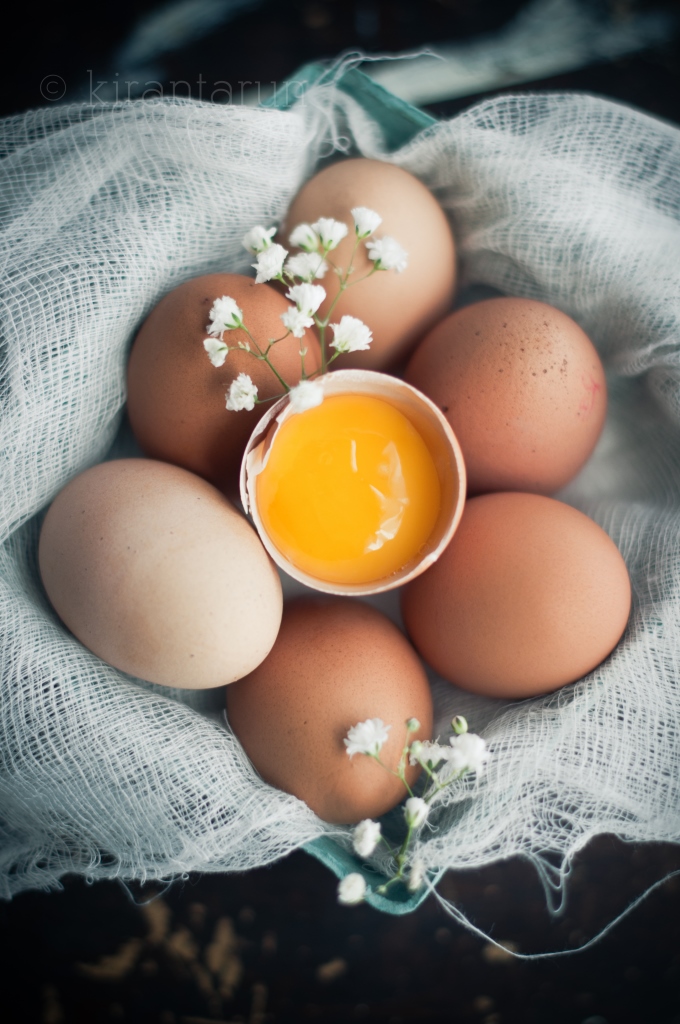 Print This Recipe
Makes 2 servings
Ingredients:
2 whole eggs
3 egg whites
2 tbsp cream
1/4 tsp salt
1/4 tsp black pepper
1 medium potato, par-boiled, peeled and thinly sliced
4 oz assorted sliced mushrooms (baby bella, shiitake, oyster etc)
1/4 tsp red pepper flakes
pinch of salt & black pepper
1 tbsp olive oil
1 tbsp butter
2 tsp truffle flavored oil
2 tsp chives, chopped
assorted baby lettuce greens and herbs (optional)
Directions:
Preheat oven to 350F. Line a large baking sheet with 2 small cast iron skillets. Lightly grease the skillets.
Heat a non-stick skillet on medium-high. Add 1 tbsp of olive oil and 1 tbsp of butter, wait for butter to melt before adding thinly sliced potatoes. Cook each side for 1 minute or until lightly browned. Remove potatoes to drain on paper towels.
In the same skillet with leftover fat, add sliced mushrooms. Season with a pinch of salt and black pepper. Stir and cook for 4 to 5 minutes.
In a bowl, lightly whisk eggs with cream, 1 tsp chopped chives, salt and black pepper. Set aside.
Return potatoes into the same skillet as mushrooms. Drizzle in truffle flavored oil and red pepper flakes. Cook for another 1 minute.
Divide egg batter between two skillets. Top it with truffled mushrooms and potatoes. Baked for 8 to 10 minutes or until eggs are puffed and golden on the edges.
Serve it atop assorted baby lettuce greens and fresh herbs. Garnish with 1 tsp chopped chives.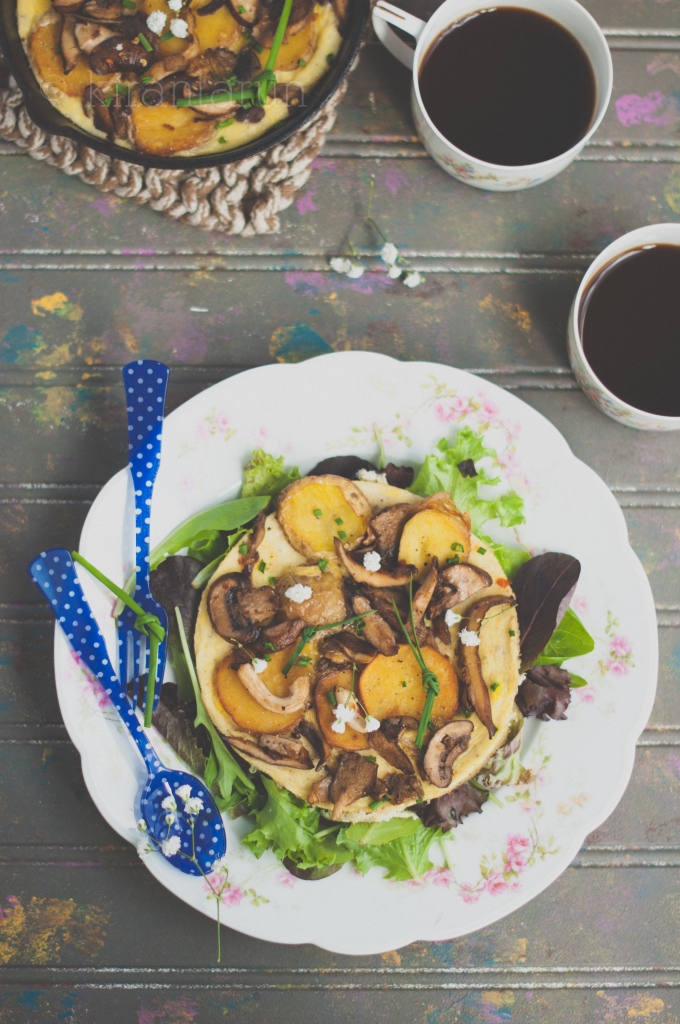 Glad we could have a chat on omelette today. And for those who are celebrating — Happy Lunar New Year to you and your loved ones 🙂
What's your favorite method of enjoying eggs? Omelette? Sunny side up? Poached? Scrambled? … Do you share food as easily?