H
ello!!!
I'm out from a short hiatus. It's been a very refreshing and much needed break. And boy, we had a fun one for sure. There's nothing like a Big Fat Indian Wedding fun!!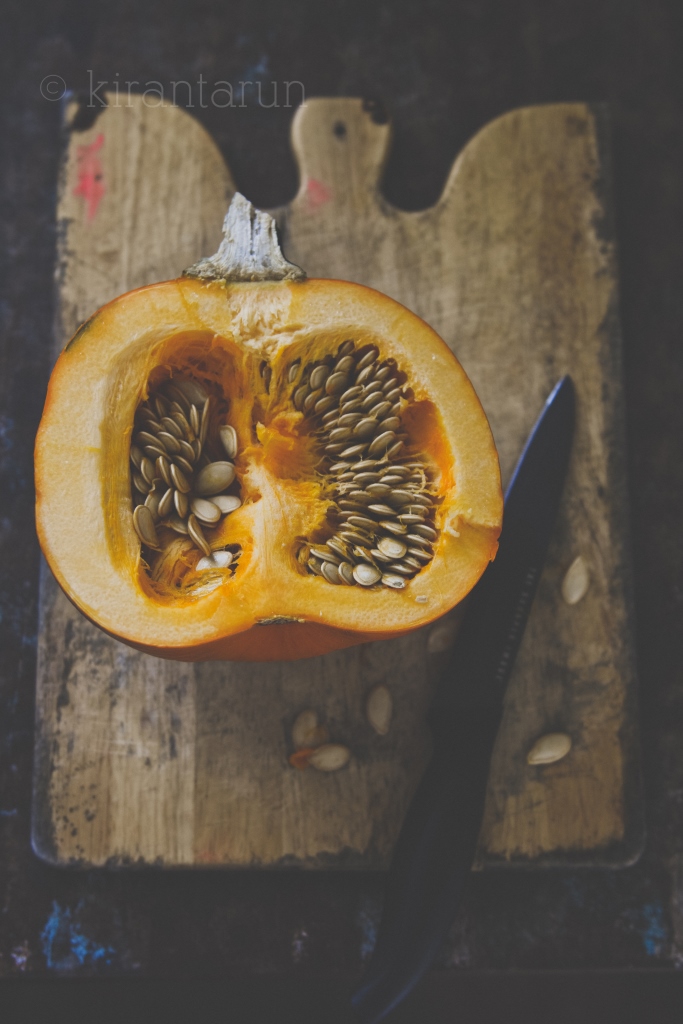 Catching a cold, fever and cough was inevitable with all the traveling and lack of sleep. A pot of hot soup simmered with delicate spices is what we are all craving at the moment.
Let's just say, light and comforting food is what we all need after days of heavy and delicious feast.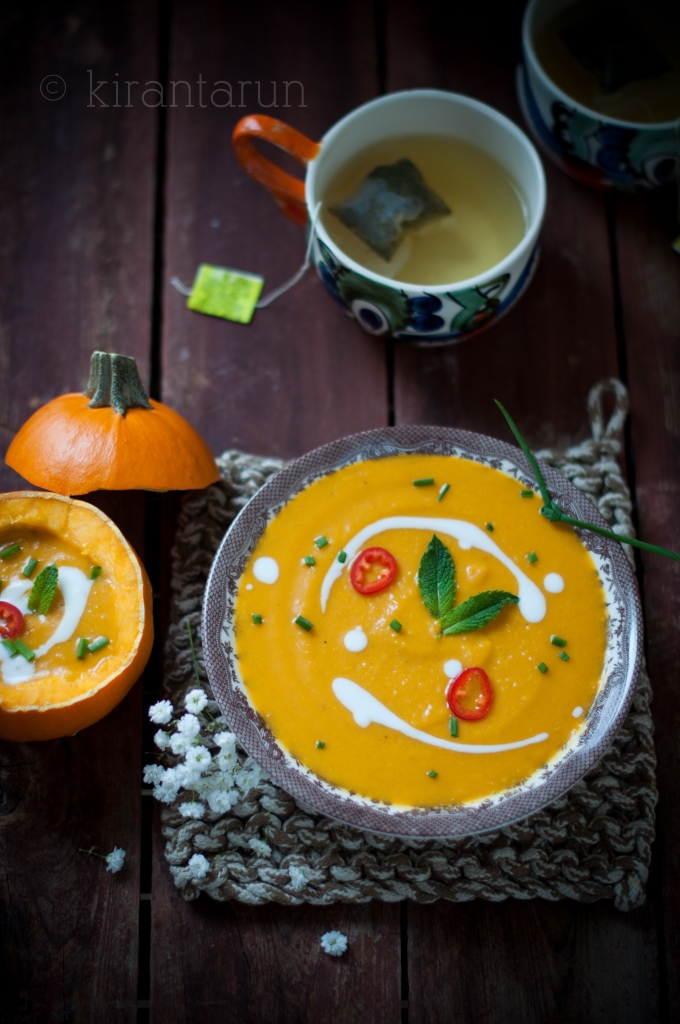 To cut the story short: we are still traveling but with excess baggage that includes falling ill. Dreaming for a huge bowl of this pumpkin soup.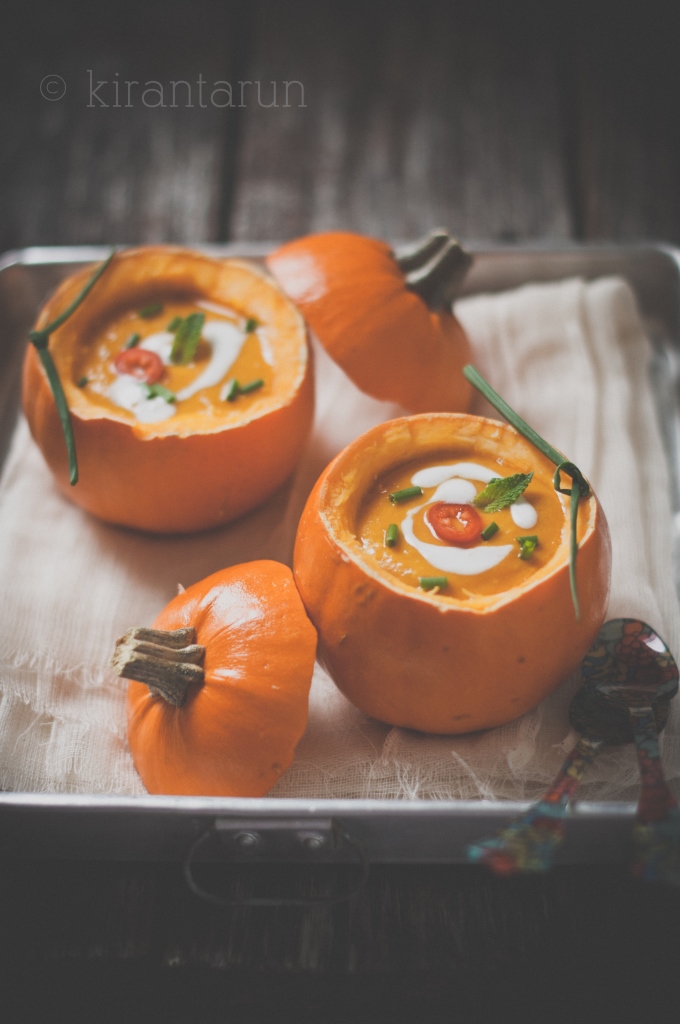 Print This Recipe
Ingredients:
1 small sweet pumpkin — halved and roasted at 400F for 30 minutes
2 tbsp coconut oil
1 shallot, minced
1/2 tsp turmeric powder
2 tsp garlic paste
1 tsp ginger paste
2 heaping tbsp lemongrass puree
1/2 cup thick coconut milk
1.5 cups of roasted pumpkin puree
1.5 cups vegetable broth
Homemade red curry paste:
2 Thai red chilies
1.5 tbsp tomato puree
1 tsp ground coriander
2 tsp fish sauce
1/2 tsp ground white pepper
1/2 tsp red pepper flakes
1/2 tsp salt
1 tbsp sugar
Directions:
Scoop out cooled roasted pumpkin flesh. Puree in a food processor until smooth. Measure 1.5 cups and keep aside.
Heat a large saucepan on medium. Add all ingredients for homemade red curry paste into a bowl. Stir to combine.
Add coconut oil and minced shallot. Fry for 2 minutes or until fragrant.
Sprinkle in turmeric powder, garlic and ginger paste. Cook for another minute before adding lemongrass puree and homemade red curry paste. Stir and cook lemongrass and red curry paste until fragrant.
Add roasted pumpkin puree and stir to combine. Drizzle in coconut milk and vegetable broth. Stir to combine, bring soup to a boil and gently simmer for 10 minutes.
Serve soup hot with a drizzle of coconut milk and garnish with mint leaves, chives and red chilies.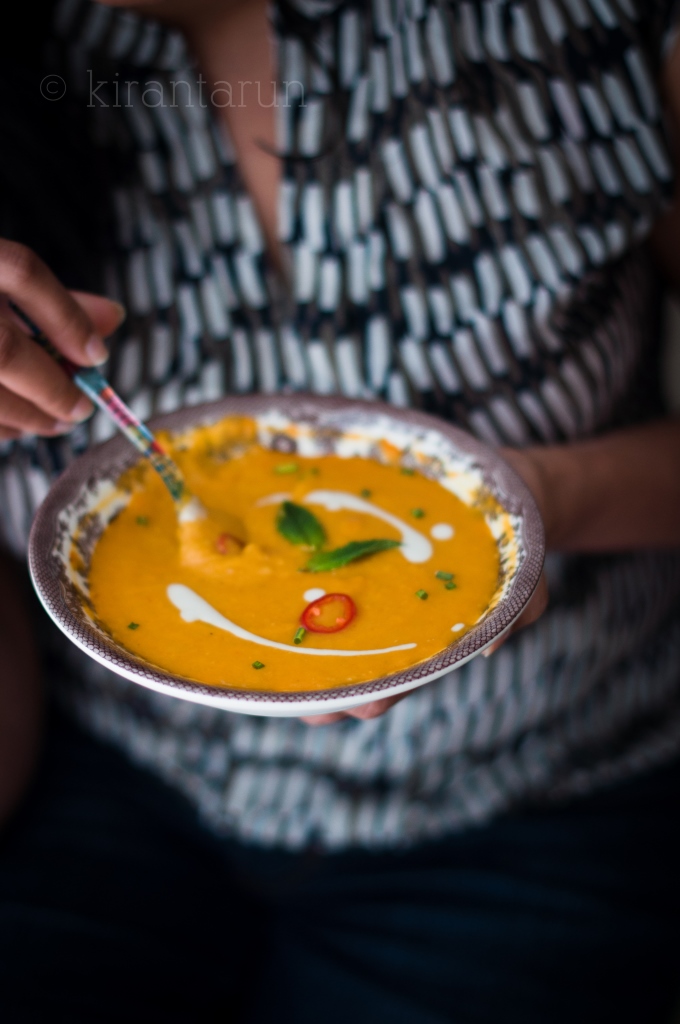 Off to tend to the Husband's cold, fever and cough. Have a great week ahead and keep warm 🙂
What's your comfort food on a very chilly day?