Serves 4
Ingredients:
3 tbsp cooking oil
400 gm of chicken, boneless & skinless
4 cloves of garlic, sliced
2 to 3 fresh red chilies, sliced & seeded
1 tbsp oyster sauce*
1 tbsp soy sauce
2 tsp dark soy sauce
2 tsp fish sauce
1 tsp sugar
1.5 cup of thai basil leaves, loosely packed
Serving suggestions:
steamed jasmine rice
fried eggs
Directions:
Add garlic and chilies into a large mortar and pestle. Pound until it forms a grainy paste. Set aside.
In a bowl, add all the sauces. Stir to combine and set aside.
I didn't buy minced chicken. So, I just added chicken pieces into a food processor and coarsely pulsed for a few seconds.
Heat a large wok or non-stick pan on medium. Once heated, add oil and quickly add chili garlic paste.
Fry until paste is fragrant, between 1 to 2 minutes. Avoid burning this paste. Burnt garlic is ewww.
Increase heat to medium-high, add minced chicken and stir fry for 2 minutes. Keep stir frying while adding the sauce mix.
Increase the heat to high and stir fry for 2 more minutes. Add thai basil and stir fry for 20 seconds before removing the wok from heat.
Serve immediately on a bed of freshly steamed jasmine rice and fried eggs. Enjoy!
*note: adjust seasonings accordingly. each sauces have certain amount of sodium.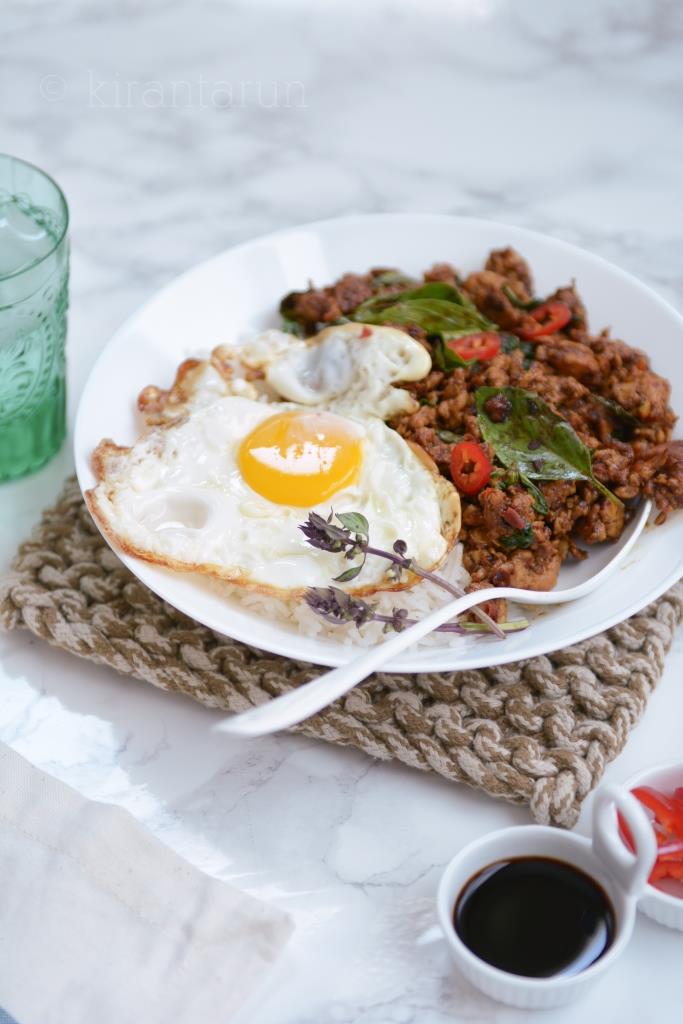 Off to browse Pinterest and allow the music in the background to cloud the fact that there's dirty laundry that still needs my attention.
Or I'll just have lunch.
Priorities.
Have you tried Thai basil?