F
oodie connects every one to cuisines from around the world. Including for someone like me, hailing from Malaysia with a diverse culture and ethnicity. The best advantage of traveling or settling abroad is discovering a wealth of knowledge in the food industry. Or in my own words:
pigging out with an excuse to try something new
😉
Albeit living in the States for the last 5 years, there are abundance more to taste and learn from the culinary world. I've came across many recipes and menus about mysterious ingredients. Being a foodie, I owe it to myself and my taste-buds to finally try one of this ingredient on today's lunch menu. Here's hoping that my experiment wouldn't go to waste.
Enter BALSAMIC Vinegar.
What is Balsamic Vinegar?
Traditional balsamic vinegar is produced from the juice of just-harvested white grapes (typically, Trebbiano grapes) boiled down to approximately 30% of the original volume to create a concentrate or must, which is then fermented with a slow aging process which concentrates the flavours. The flavour intensifies over the years, with the vinegar being stored in wooden casks, becoming sweet, viscous and very concentrated – Source.
How can I use Balsamic Vinegar?
There are many ways to incorporate balsamic vinegar in your daily meals. My experiment was a simple balsamic massaged spinach with grilled peach salad. Upon researching on balsamic, I concocted this simple recipe as a way to help me ease into tasting this mysterious ingredient. For a first timer, simple and clean palate is the way to go.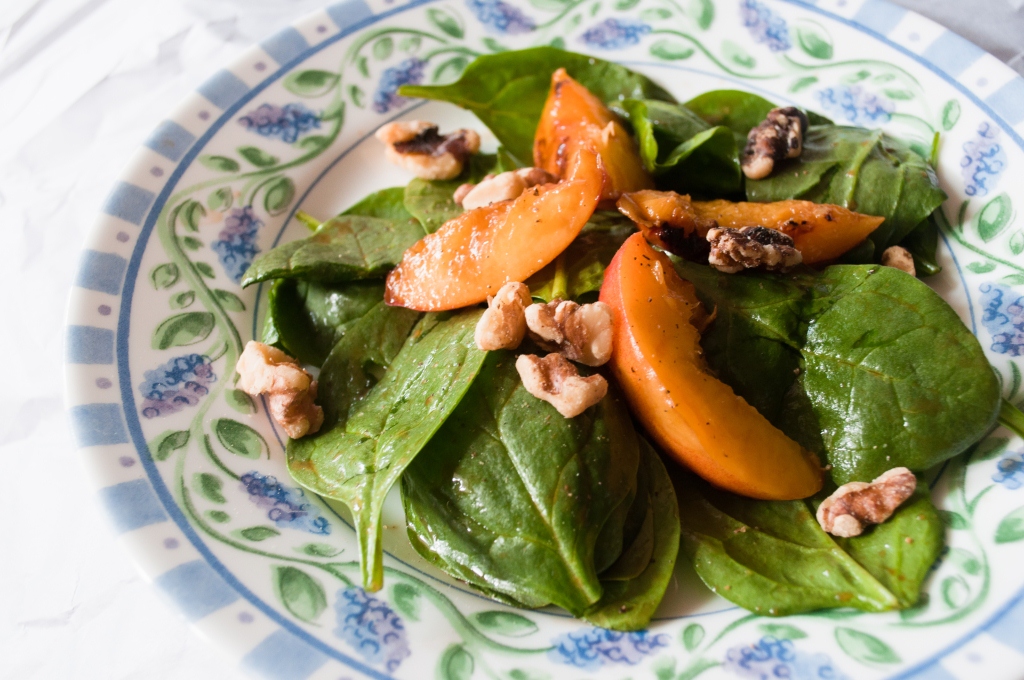 The result was an amazing burst of flavors. Love when ingredients like balsamic imparts sweet, salty and tangy combos that works so well even with grilled peaches. Here's how I made it:

Print This Recipe
Balsamic Massaged Spinach with Grilled Peach salad
Ingredients:
Salad base:
2 handfuls spinach or any choice of mix greens
1 peach
Some toasted walnuts
Dressing:
2 tbsp Balsamic Vinegar
1 tbsp extra virgin olive oil
salt & pepper to taste
Directions:
Mix dressing ingredients in a bowl.
Halve peach and remove pits. Place peach cut-side down on medium high heat and oiled grill.
Cook until desired grill marks appears. Turn over peach and baste the cut sides with some vinaigrette.
Add spinach and massage with remainder dressing for at least 2 minutes.
Assemble by plating spinach topped with sliced grilled peaches and some toasted walnuts.
Serve room temperature.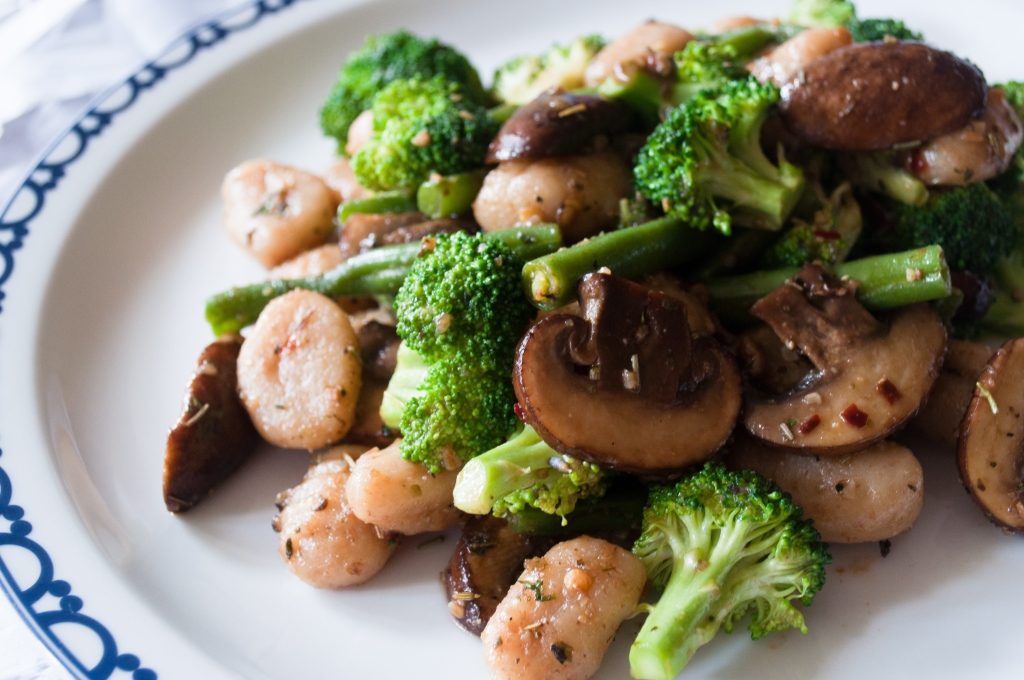 One salad down, one entree to go!
This is another "concocted by yours truly" recipe. I generally dream up these random recipes by ransacking the pantry and refrigerator to see what all I have in hand. I had a pack of whole wheat sweet potato gnocchi in the pantry, a few fresh green beans and broccoli that needed some love. Balsamic was drizzled and thoroughly enjoyed.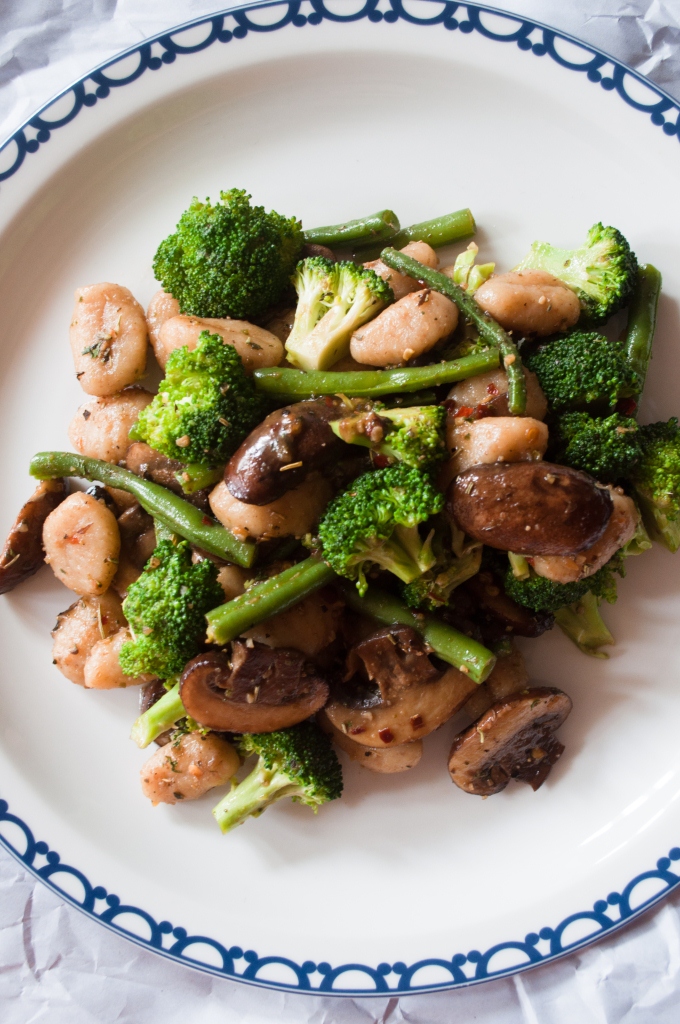 Despite the recent horrendous weather in down south Florida, it has been gloomy for the last two days! Perfect weather for comfort food that is wholesome, delicious and easy to prepare.

Print This Recipe
Whole Wheat Sweet Potato Gnocchi with Bella Mushrooms and Greens
Ingredients:
2 cups of boiling water
1 cup of prepackaged or homemade Gnocchi
3 tbsp extra virgin olive oil
a handful green beans
1 small head of broccoli, chopped into florets
1/2 cup of bella mushrooms, sliced
1 tsp garlic, finely minced
1 tsp red pepper flakes
1 tsp herb de provence
1 tbsp balsamic vinegar
salt & pepper to taste
Directions:
Following the instructions on package – boil water and add gnocchi. Cook for 2-3 minutes till gnocchi floats to the top. Remove gnocchi once done.
In the same water, add some salt, throw in beans and broccoli florets. Blanch for a minute or two. Remove and add to ice cold water to stop the cooking.
In a medium-high heat skillet, spoon in cooking oil to sauté mushrooms with garlic and red pepper flakes till fragrant (about 3 minutes).
Throw in gnocchi, green beans, broccoli and sprinkle some herb de provence, salt & pepper to taste. Sauté for 2 minutes.

Just before plating, drizzle some balsamic vinegar and stir to combine.
Have your fork by your side, ready to dig in!
Have you tried balsamic vinegar? Do you like it? Which ingredients/condiments is on your "taste-test" list?