S
ometimes, a recipe works at the very first try.
Other times, Mother Nature has something planned for you. Its been pouring down rain for days now. And the motivation to just pick up the phone and order-in a pipping hot pizza sounds so right, every single day.
I was tempted in doing so and now, I'm tempting you 😉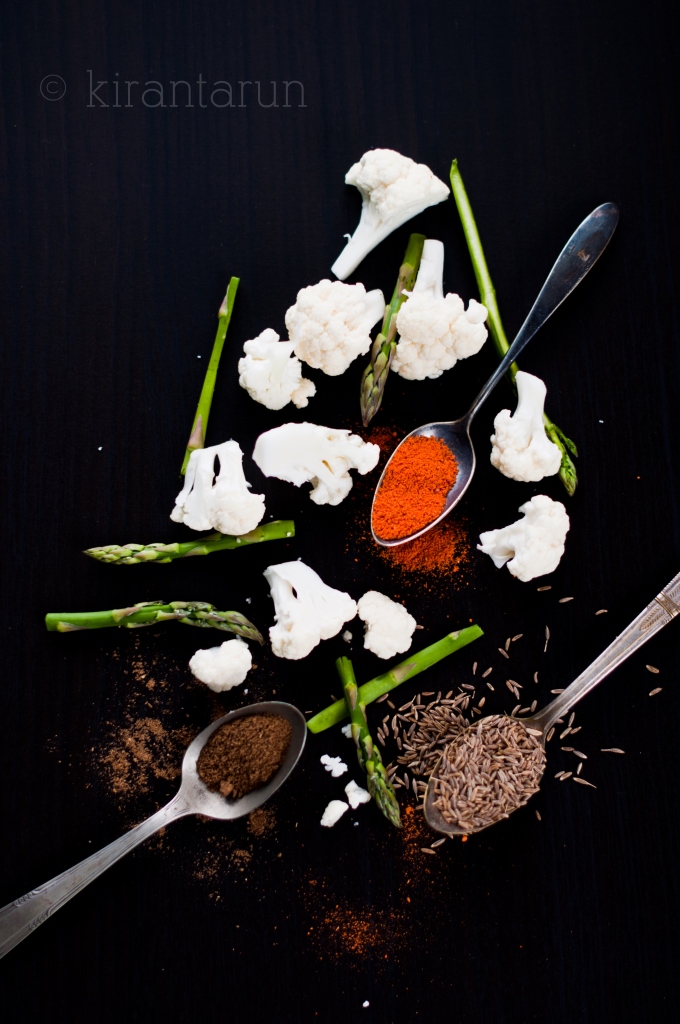 But then again, there's satisfaction of making your very own homemade pizza from scratch. The whole house smells like the pizza place, you'd get to pile on toppings to your hearts content and not to forget, more yummy leftovers for another rainy day.
I'd say, that sounds like one of the best rainy day eats. In fact, let's make it everyday! Why allow weather dictate our palates?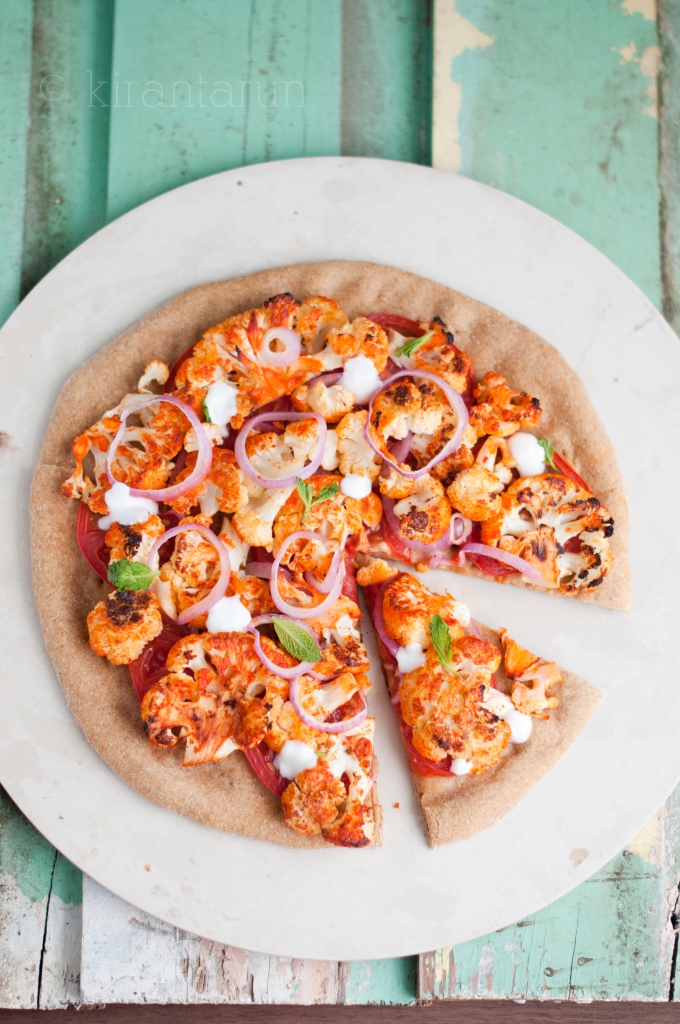 If you have a stand-mixer fitted with a dough hook, it's definitely great for kneading. Otherwise, your trusted tools (hands) would also work the same magic.
Provided you are willing to knead away for at least 10 minutes in order to allow the gluten in the flours to develop.
Ok, I get it. You'd probably want to get to the recipe instead of the scientific mumbo-jumbo. Here it goes: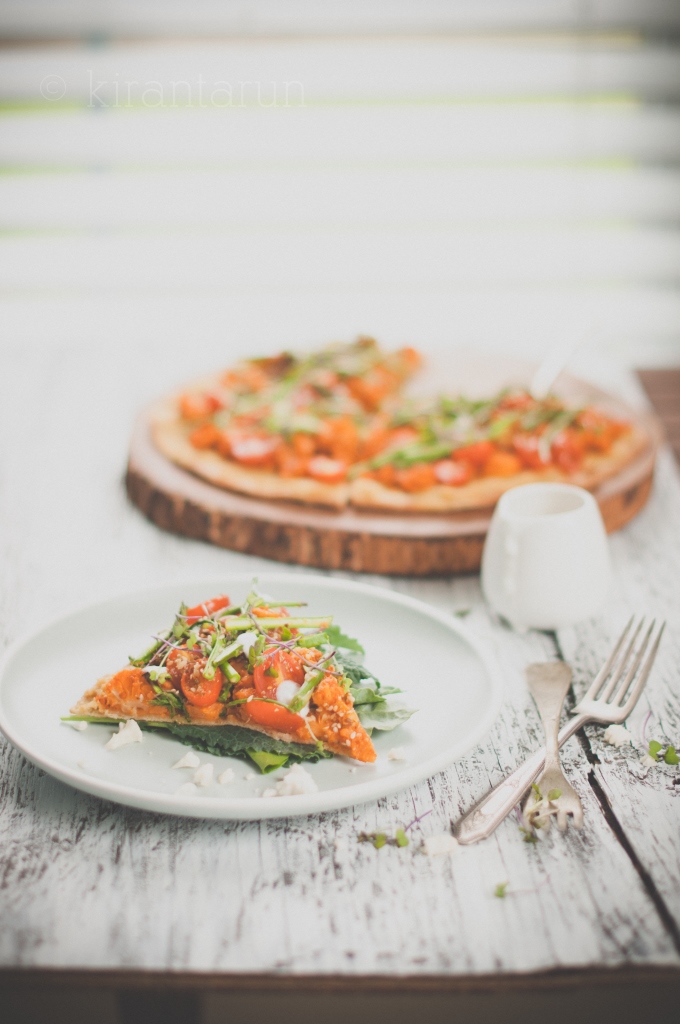 Print This Recipe
Makes 2 individual medium pizzas, or 1 very large
Ingredients:
For pizza crust–
1 tbsp sugar
1 cup warm water
2.5 tsp active dry yeast
2 cups whole wheat flour
1/2 cup all purpose flour
1 tsp salt
For tandoori cauliflower–
1 whole head of cauliflower, sliced
3 tbsp melted ghee
2 tbsp lemon juice
2 tbsp tandoori spice mix, store-bought
1/4 tsp cardamom powder
1/2 tsp red chili powder
salt and black pepper to taste
Suggestions on garnishes– olive oil, slices of tomatoes, hummus, red onion, mint, cilantro, shaved asparagus, yogurt sauce, dukkah spice etc. Use your imagination!
Directions:
Combine active dry yeast, warm water and sugar in the stand mixer bowl. Stir and allow yeast to active (bubble) for at least 5 minutes.
Meantime, combine whole wheat flour, all purpose flour and salt into another bowl.
Attach a dough hook onto the stand mixer. Once wet ingredients (yeast) is nice and bubbly, add in flours and salt. Knead dough for 5 to 8 minutes or until dough is comes together into a smooth ball.
Lightly oil a huge bowl and transfer pizza dough into the bowl. Cover bowl with a damp paper towel, place the bowl in a humid area of the kitchen and allow pizza dough to rise (double in size) for at least an hour.
In the meantime, prepare tandoori cauliflower by preheating the oven to 415F. Line 2 baking sheets with parchment papers.
In a huge bowl, add thinly sliced cauliflower wedges. Toss the cauliflower wedges with all of its tandoori ingredients mentioned above. Allow everything to marinate while waiting for the oven to preheat.
Transfer marinated tandoori cauliflower wedges onto baking sheets, leaving enough room between each wedge to allow proper roasting and not steaming.
Roast cauliflower for 10 minutes. Flip cauliflower wedges and add another 10 minutes to the roasting time.
Remove roasted cauliflower to cool to room temperature.
Once pizza dough is doubled in size, preheat oven to 500F and insert pizza stone into the oven to preheat as well.
Flour the board and rolling pin to roll out (divided) pizza dough to desired thickness.
Remove hot pizza stone from the oven and carefully place rolled out pizza dough onto the hot surface.
Brush on some olive oil, sprinkle a little salt, pepper and begin building your pizza toppings. Add sliced tomatoes, roasted & cooled tandoori cauliflower florets, sliced red onions & shaved asparagus. Use your imagination here 🙂
Bake pizza for 10 to 12 minutes or until lightly blistered on the edges.
Once baked, transfer hot pizza onto a cutting board to slightly cool before garnishing it further with fresh herbs and yogurt sauce. Slice and serve immediately, with a side of salad.
Now that I've covered the basis of making homemade pizza on a rainy day — what would you bring to the table?
Have a great day friends! Looks like it's going to pour out there, and I have the perfect solution for lunch today 😉