… which directly translates to tempered lentils, a must-have side dish almost a few times a week in our household. It's so easy to make, there's no excuse not to make it.
Still not convinced? Make it with pressure cooker and old school. Taste the results and let me know!
Serves 4
Ingredients:
1/3 cup arhar/toor dal (split pigeon pea lentils)
1/4 cup masoor dal (split red lentils)
1/8 tsp of hing (asafoetida)
1 tsp salt
3/4 tsp turmeric powder
1 medium tomato, chopped
2.5 cups water
For tadka (tempering)
2 tbsp ghee
3 heaping tbsp red onions, finely chopped
1 tsp cumin seeds
8 to 10 curry leaves
2 large garlic cloves, finely minced
1 heaping tsp ginger, finely minced
2 green chilies, slitted lengthwise
some fresh coriander for garnish
Directions:
*Pre-soak lentils for a minimum of 15 minutes.
Wash lentils until water runs clear. Add lentils into pressure cooker with water, chopped tomato, turmeric powder, salt and asafoetida.
**Pressure cook lentils until 3 whistles or follow the pressure cooker manufacturer instructions. After 3 whistles, remove pressure cooker from heat and set it aside.
For tempering, heat a small nonstick skillet on medium. Once hot, add ghee.
Sprinkle in cumin seeds and allow to sputter for a few seconds before adding finely chopped onions. Fry till translucent and fragrant.
Add curry leaves, minced garlic+ginger and green chilies. Stir to combine and cook until everything softens and onions are lightly browned.
Add tempered ingredients into cooked lentils. Garnish with fresh coriander leaves.
Best serve hot with chapatis or rice.
* Cooking time would vary if not using pressure cooker. Suggest pre-soaking lentils longer to help reduce cooking time.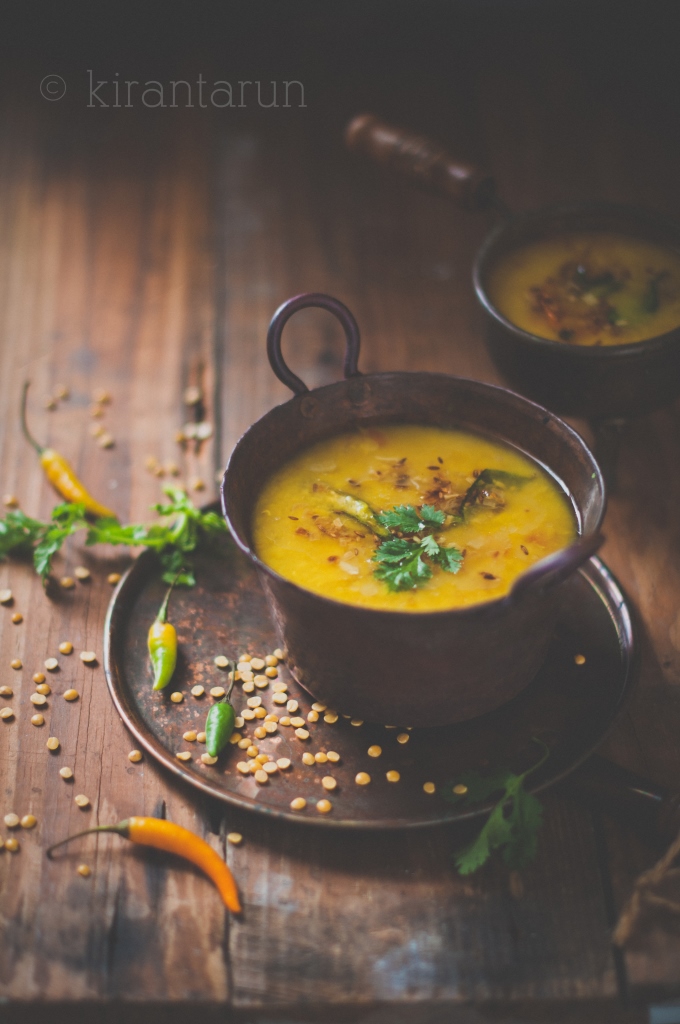 Off to (you've guessed it right!) make some tadka dal. Or at least let the pressure cooker do the most of it 😉 Have a great week!
Do you cook with pressure cooker? Or slave over hot pots?