Hi friends!!
I
just realized this would be my 2nd post in 2014!! Oh my. Only two posts and January is already escaping. Time flies. Though, this can't be said about the weather.
Its ridiculous to complain about Florida weather now when we are so blessed in comparison to other places where it is still snowing. I'll try my best to keep the complains to a minimal 😉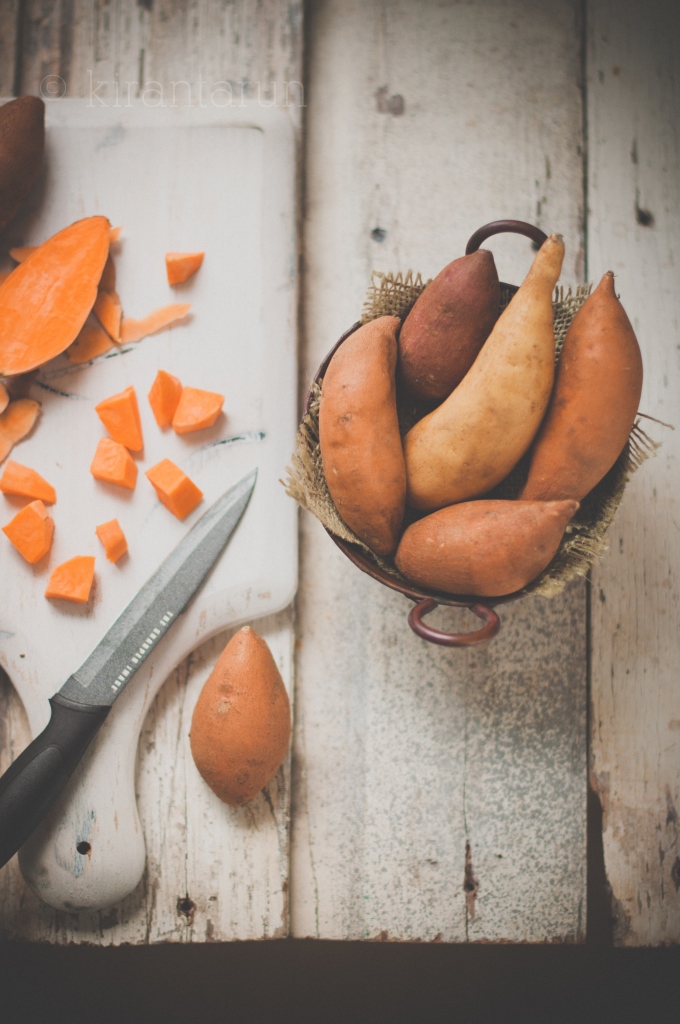 Returning from Malaysia to Florida this time proved to be a huge challenge. Never have I ever thought I would utter this sentence — It was a nightmare touching down in Miami without a winter jacket.
Dipping temperature + coupled with strong winds — winter jacket = unhappy traveler.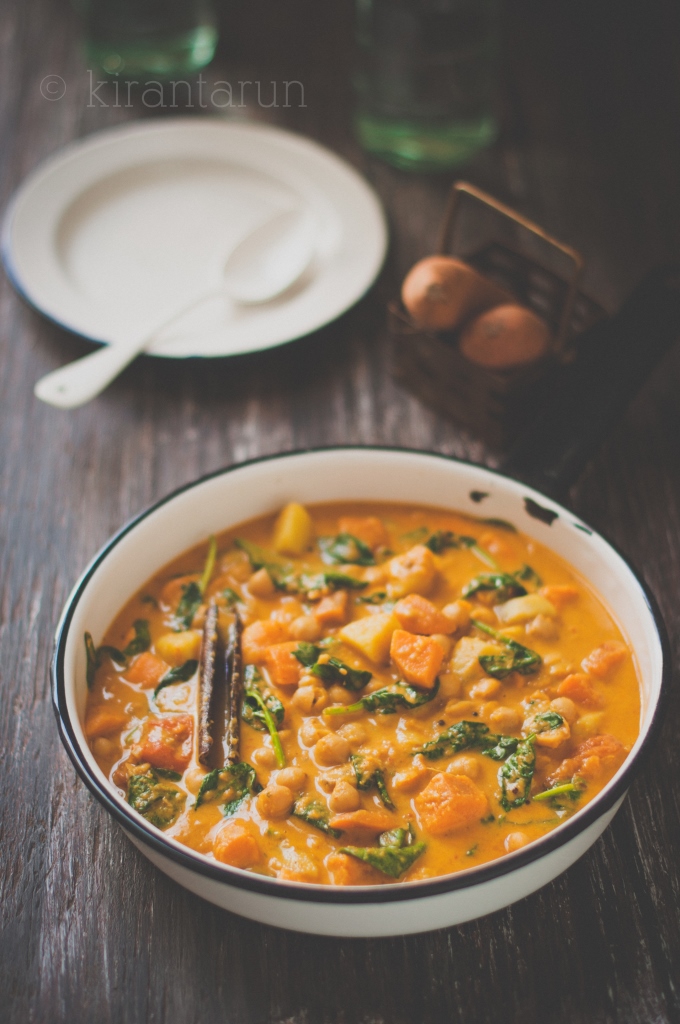 So friends, always be prepared when it comes to weather. Always. Even while traveling from the tropics. You have to, since the chill doesn't end till you reach home.
Home that was left so cold. For 2 months. Brrr…..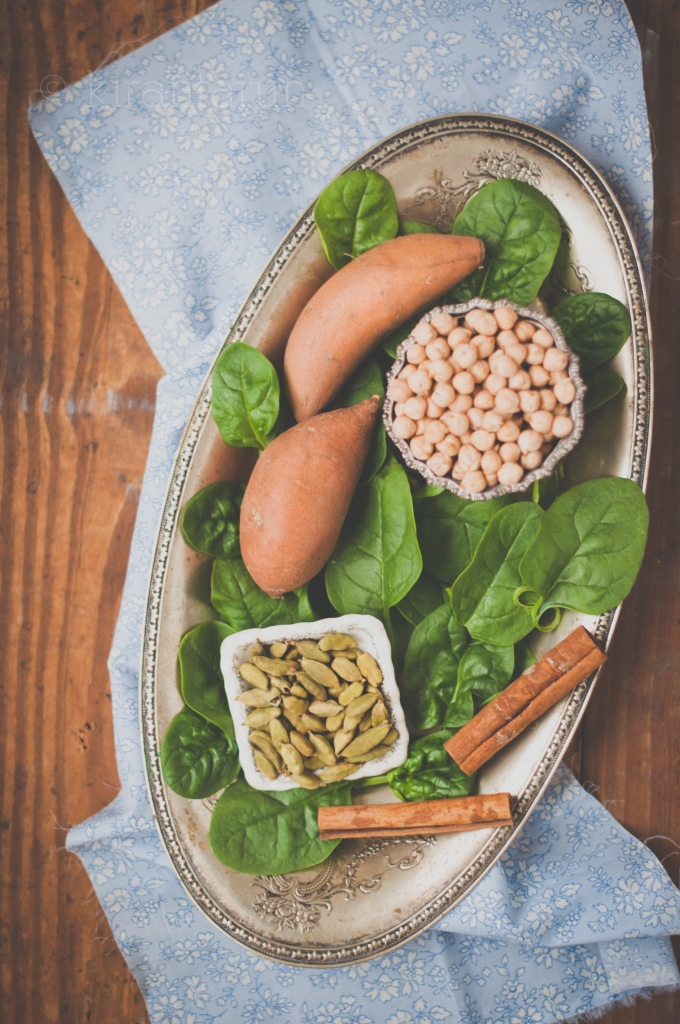 Its simply time to make some curry. Especially when you can't seem to find enough warmth in those boots, scarves, jackets and layers.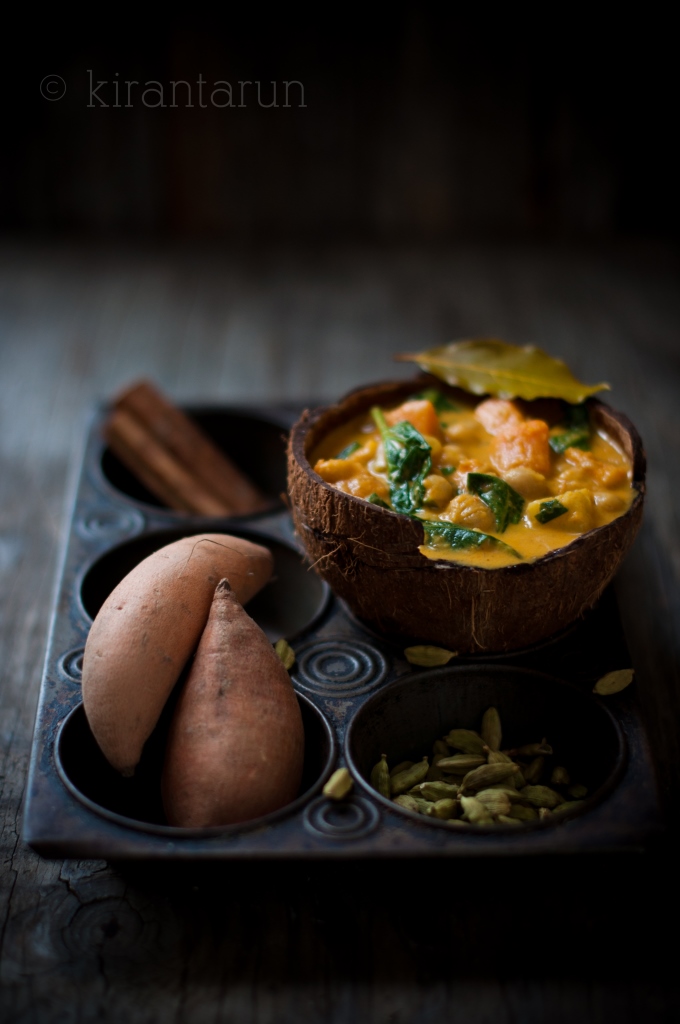 Print This Recipe
Ingredients:
1 medium onion, chopped
1 tsp garlic paste
1 tsp ginger paste
3 tbsp coconut oil
1.5 tbsp harissa
2 tsp curry powder
6 small sweet potatoes, peeled and diced
1/2 cup thick coconut milk
1 tsp salt
2 cups of hot water
1 very ripe tomato, cut into wedges
1 cup of cooked chickpeas
2 handfuls of baby spinach leaves
Whole spices:
1/2 tsp mustard seeds
1/2 tsp cumin seeds
1 cinnamon stick
3 whole green cardamom
1/4 tsp ground turmeric
2 bay leaves
2 green chilies, slitted
Directions:
In a small blender, add chopped onion, ginger and garlic paste. Blend into a paste. Add very little water (if needed) to aid in blending.
Heat a deep vessel on medium-high. Add coconut oil and wait until it heats before adding all of the whole spices. Stir and cook for 1 minute or until fragrant.
Add blended onion paste and cook for 5 to 7 minutes, stirring occasionally. Cook until paste is lightly colored, fragrant, thickens and oil separates on the sides.
Stir in harrisa and curry powder. Cook for 1 minute before adding diced sweet potatoes, coconut milk and salt.
Once curry thickens, add hot water, tomato wedges and cooked chickpeas. Bring the curry to a simmer, lower the heat to medium-low and put on the lid. Cook curry for 15 minutes or until oil separates on the sides.
Remove curry from heat. Throw in 2 handfuls of baby spinach leaves, stir and serve hot with rice and chapati.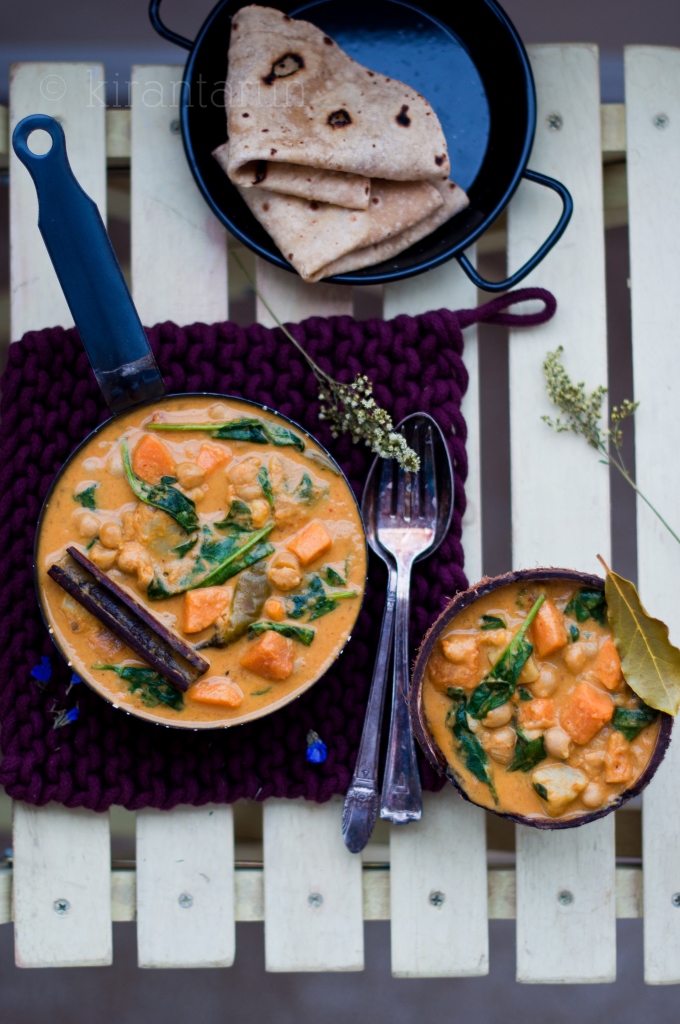 On a pleasant note, it's great to be able to slip on winter clothing's and boots. Have a pleasant and warm week ahead, friends. We are still in the defrosting mode 🙂
Where are you? Is it freakishly chilly or warm?