H
appy Friday!!!
The Husband wants to personally convey "thank you" to each and every one of you for the birthday wishes !!! The idea of saying thanks over blog isn't ideal in his opinion.
But we can only make-do over the blog. If we ever meet in real life, a hug is due 🙂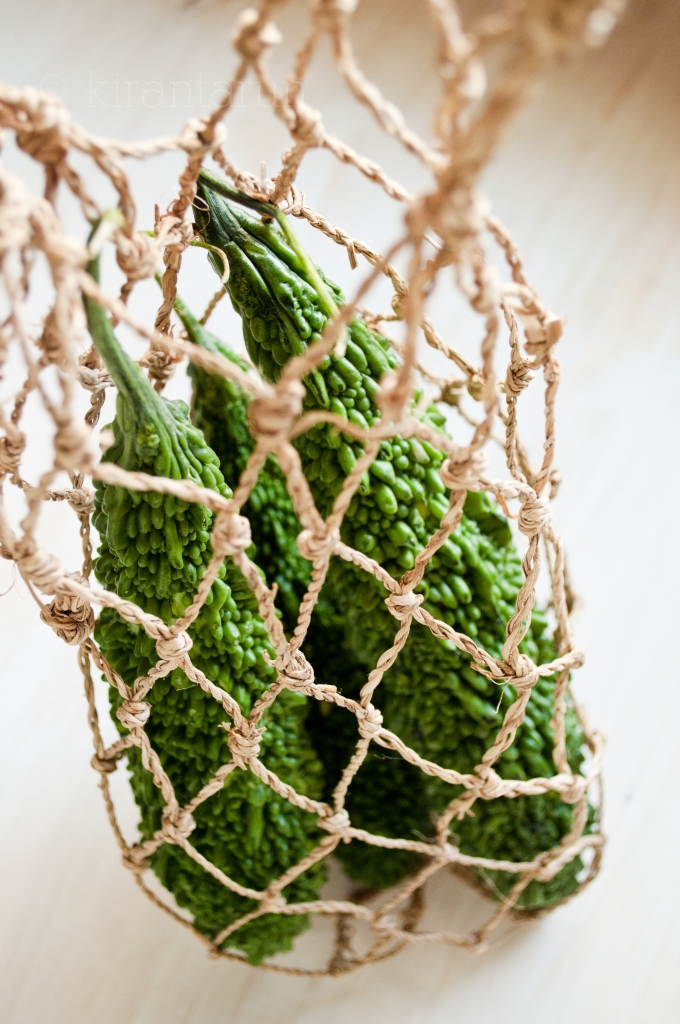 Enough of sweet talk and let's talk bitter for a change.
Many grew up ingesting home-remedies to cure common cough, flu, stomachaches, headaches etc. I grew up occasionally ingesting bitter gourd's raw bittery juice. Yuck!
"But's its good for me", that's how my mom worked her magic. I doubt that mommies these days can get away with such sentences.
Sweet, bitter, sour, salty, spicy & umami. There are 6 sense of taste-buds, but often bitter is ignored.
"Umami" is originally the Japanese word for "meaty" or "savory". Not surprisingly, it is characteristic of many oriental dishes. The MSG amino acidproduces a strong umami taste. — Wikipedia
And to top it off, the title of this post definitely didn't had the spunk in flavorville, no? Let me show you how easy it is to introduce delicious "bitterness" into your flavor profile.
And there you have it. Easy, yummy stuffed bitter gourds or some refer to it as bitter melon 🙂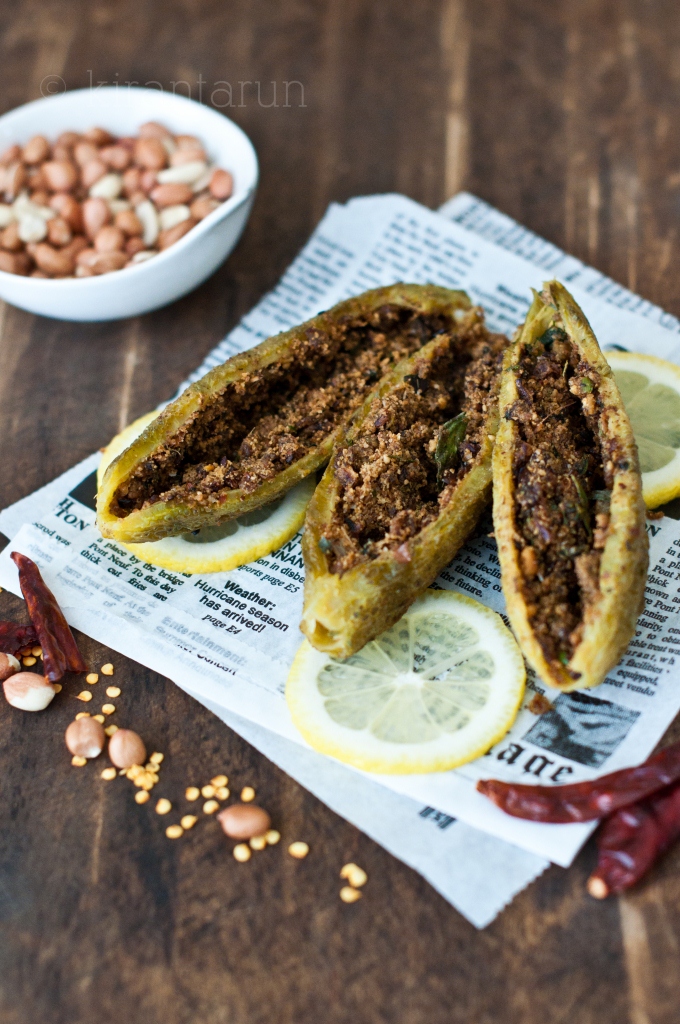 Print This Recipe
Ingredients:
6 medium bitter gourds (karela)
Juice from quarter of lemon
salt for boiling water
water enough to cover gourds
2 heaping tbsp mustard oil – for frying
Dry-roasted spices:
1/2 cup raw peanuts
1 tsp coriander seeds
1 tsp cumin seeds
3 dry red chilis
2 tsp kasori methi
Tempering:
2 tbsp mustard oil
1 cup onion, finely chopped
1 tsp grated ginger
1/2 tsp grated garlic
1 tsp salt
8 to 10 curry leaves
1/2 tsp garam masala
2 heaping tbsp fresh cilantro, finely chopped
Directions:
Using a peeler, peel away the hard skin of bitter gourds. Wash and pat dry.
Make a slit on each gourd for stuffing, ensuring it's not slited all the way.
In a large pot, add cleaned and slited bitter gourds. Cover it with enough water, salt, lemon juice and boil over medium to high heat for 20 minutes.
Meanwhile, use a dry non-stick skillet, heat on low-medium to dry-roast raw peanuts.
Stir peanuts often to avoid burn. Roast peanuts until browned and edible, between 5 to 7 minutes.
Once peanuts are almost done roasting, add dry-roasting spices (coriander, cumin seeds, red chili & kasori methi) and roast for 2 more minutes.
Remove dry-roasted spices to cool before grounding it in a spice blender.
Once the bitter gourds are boiled, strain it over a colander to cool.
While bitter gourd cools, prepare tempering ingredients.
In a small non-stick skillet on medium heat, add 2 tbsp mustard oil. Wait for the oil to heat before adding finely chopped onions.
Fry onions until translucent before adding grated ginger + garlic and salt. Cook till fragrant.
Once onions are slightly browned, stir in curry leaves and garam masala.
Remove tempered ingredients from heat, add finely chopped fresh cilantro.
Combine

dry-roasted grounded spices

with

tempered ingredients

to form stuffing.
Using a small spoon, carefully remove seeds from cooled bitter gourds.
Pat dry, add stuffing and be careful not to over-stuff to avoid tearing the shells.
In a small non-stick skillet, add 2 tbsp mustard oil. Once heated, shallow fry each shells until golden on the sides.
Remove bitter gourds onto paper towels to drain access oil.
Serve hot with fresh naan, steamy basmati rice and daal (lentils).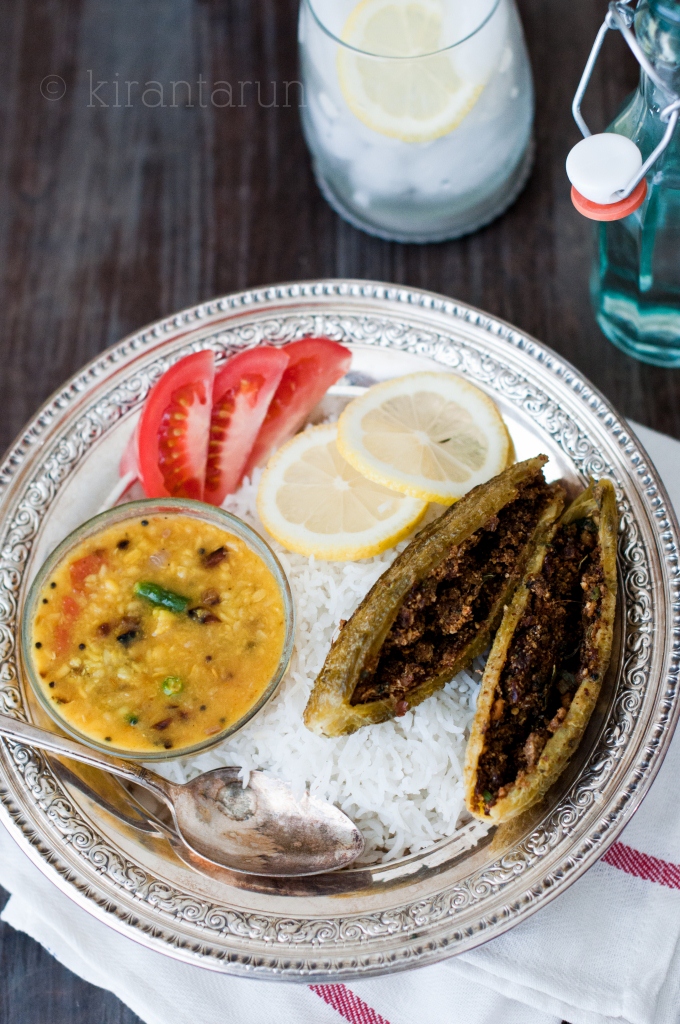 If the bitter gourds shells do tear while stuffing, forgive yourself and move on. It'll still taste delicious, not a biggie 😉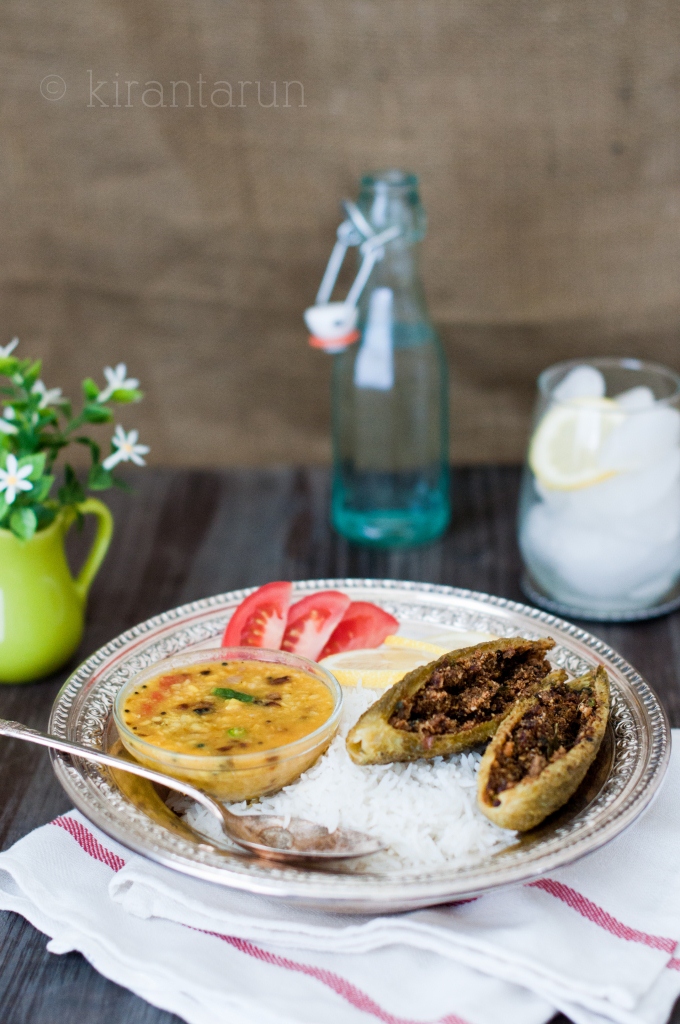 I'm excited to participate in a month long event aptly named Indian Food Palooza, brought to you by the blogging community to celebrate Indian food and cooks like you + me.
Have a great weekend friends and don't forget to shower some "bitter" love onto your taste palate 🙂
What's your favorite sense out of all the 6ers? Sweet? Bitter? Sour? Salty? Spicy? Umami?