I
ts Spring!! Its Spring!!
Hurrah…
But it's been a very chilly Spring. Which doesn't dampen my enthusiasm for strawberries one bit, especially when there's a huge sale on strawberries right now — three 1 lbs punnet for $5!!!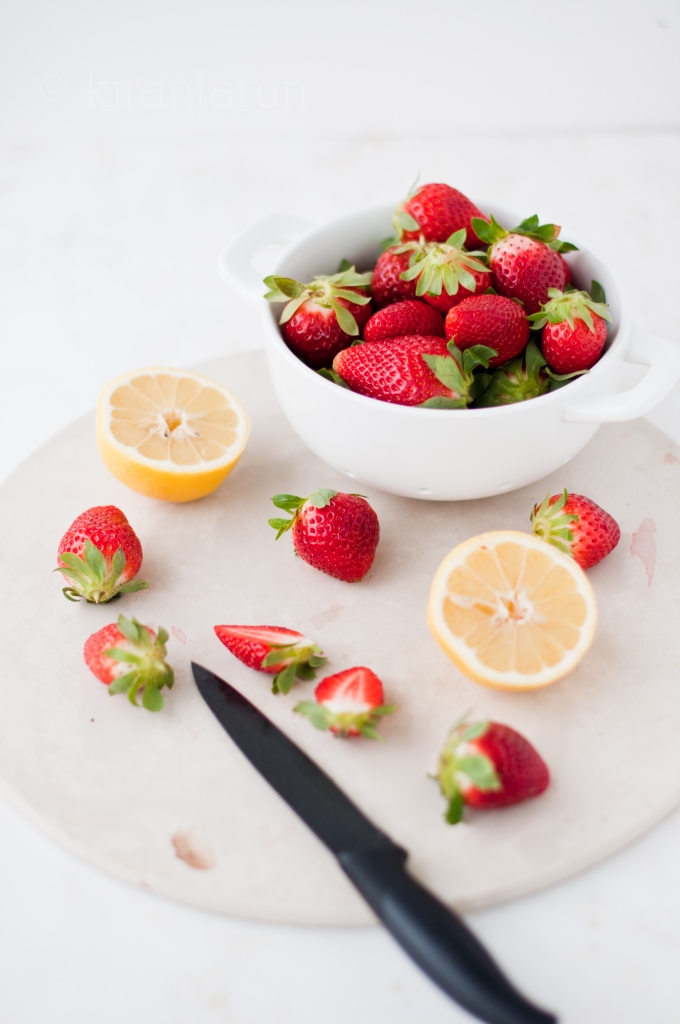 We have been topping everything with strawberries. Well, me, to be exact. The Husband still has it on the side. After much coaxing, he admits that having fruits as a topping is conditional for him. Especially when there's a hint of sourness in any fruit. Just a hint and side they go.
Oh well. I'd better give up with a teensy-bit of sanity left.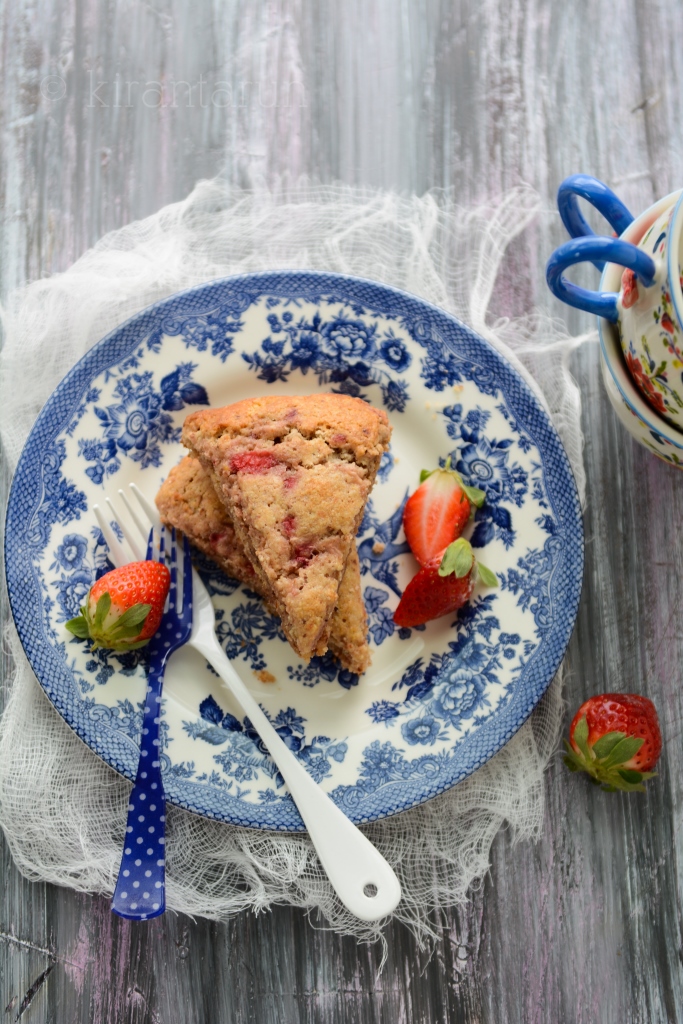 Happily baked some strawberry scones and relish the fact that I need to restock on strawberries, while the sale last! Off I go.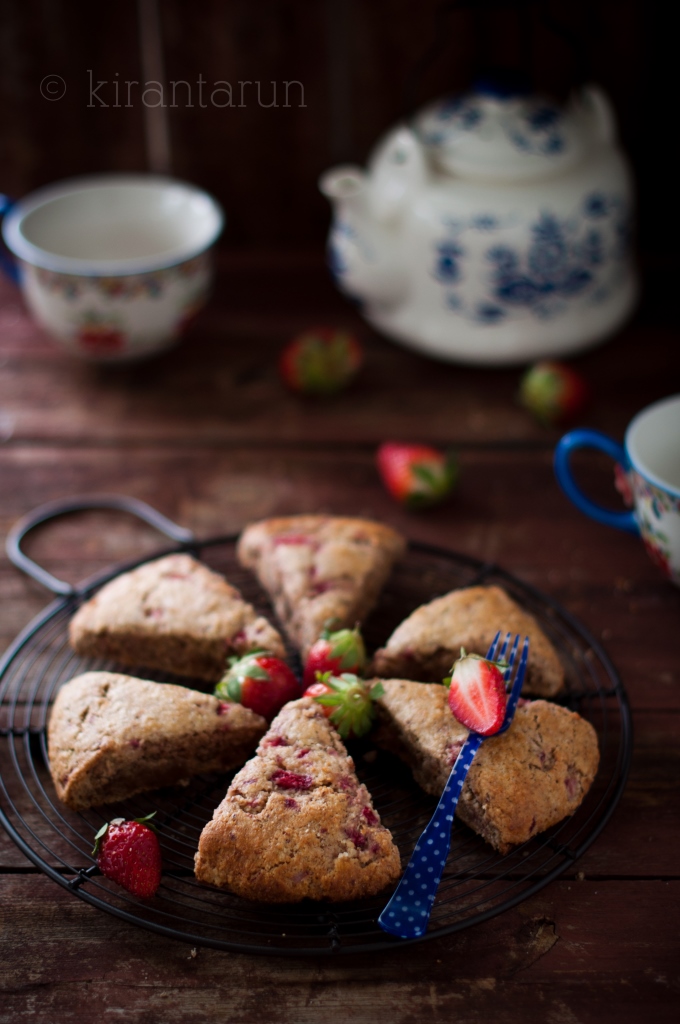 Print This Recipe
Ingredients:
1 cup whole wheat pastry flour
1 cup almond flour
1 tbsp baking powder
1/2 tsp salt
1/3 cup sugar
6 tbsp cold unsalted butter, diced
2 tsp lemon zest
1 cup strawberries, hulled and finely diced
1 tbsp cornstarch
1 tsp vanilla extract
optional garnish: egg wash & granulated sugar.
Directions:
Preheat oven to 400F. Line a large baking sheet with parchment paper.
Add hulled and finely diced strawberries in a bowl. Toss it with cornstarch. Set aside.
Sift flours, baking powder, salt and sugar in a large bowl. Add cold diced butter and lemon zest. With a pastry cutter, work through the flour to resemble coarse crumbs.
Transfer coarse crumbs into a stand mixer, fitted with a paddle.
With the stand mixer on low speed, throw in diced strawberries and vanilla extract. Mix only until it forms a loose dough. Do not over mix.
Lightly dust hands and parchment paper with some flour. Scoop up wet dough onto baking surface, forming it into a 3/4 thick circled disk.
With a sharp knife, divide scones into 8 wedges. Lightly brush on some egg wash and a generous sprinkling of granulated sugar.
Bake scones for 15 to 20 minutes or until the center is cooked all the way through.
Remove from oven and allow to cool for 10 minutes on the baking sheet, before cooling off completely on a cooling rack.
Serve it (pinky-up!) with your favorite afternoon tea.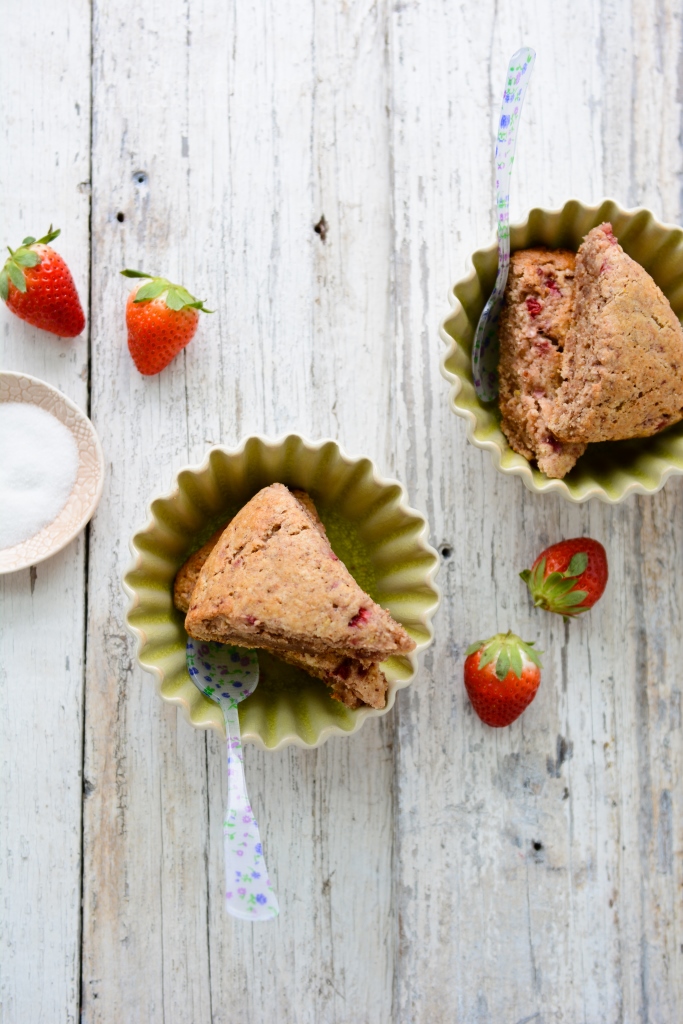 For the curious souls out there, the Husband had a taste of these scones and loved it. Gasp!
Shocker, I know 😀
What Spring staples are you enjoying currently, aside from the obvious weather?