Makes 2 large servings
Ingredients:
1/3 cup chia seeds
1.5 cups of soy milk
1/2 tsp orange zest
2 banans, very ripe, peeled & sliced
6 large strawberries, hulled & sliced
2 blood oranges, peeled & sliced
Honeyed yogurt:
1 cup low-fat yogurt
1/2 tsp vanilla extract
2 tbsp raw honey
Directions:
Combine chia seeds and soy milk into a very large mason jar or bowl. Using a spoon, stir and screw on the lid. Refrigerate overnight.
In the morning, remove chia pudding from refrigerator. Add orange zest and stir thoroughly.
Throw bananas, strawberries and peeled blood oranges into a blender. Blend until smooth.
Combine the smooth fruity mixture into chia pudding. Stir until mixed through.
In another bowl, add all ingredients for honeyed yogurt. Stir to combine.
Layer strawberry chia pudding with honeyed yogurt. Garnish with fruits and nuts. Anything, really 🙂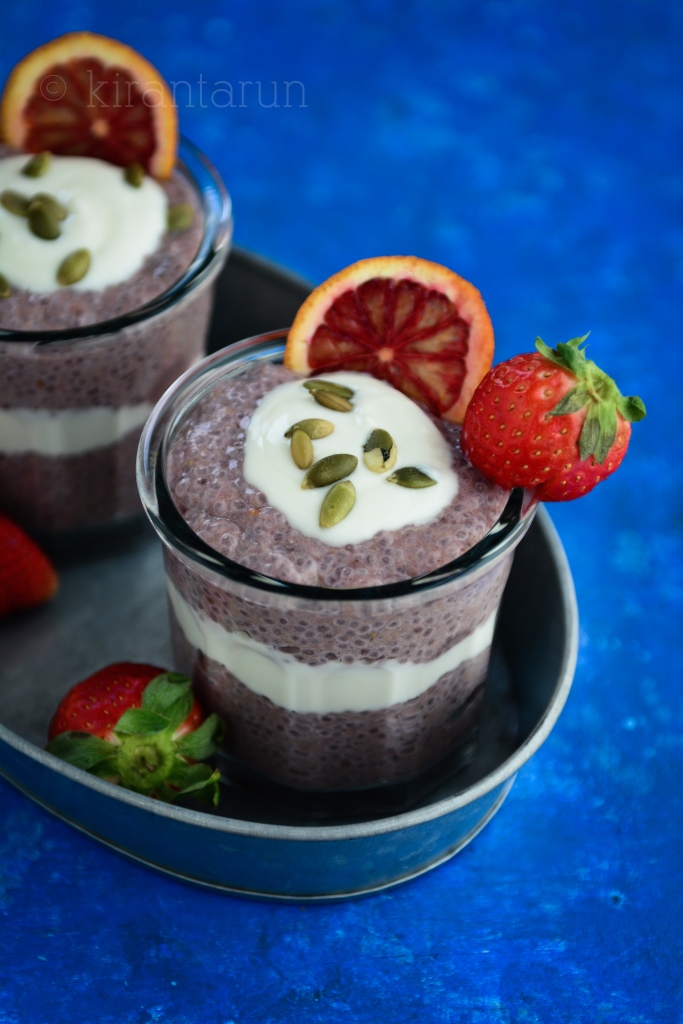 Off to dig into the refrigerator for a bite or two of that sinful gulab jamun. Sshhhh….just don't tell the Husband about it 😉
Happy Valentines Day, friends!
Who was your first Valentine?