M
any of you would know by now that I am a foodie and a photographer by hobby. I frequently love to feature photos of food prepared by yours truly.  I consider this hobby as a learning curve. I am no way a professional photographer. Neither am I a great cook. I featured a photo of my recipe titled
"stir-fry tilapia with asparagus" on my photo-blog
last year. A commenter by the name of
Sadaf
requested for the recipe and I thought to share it here with him and every one else. So here it goes!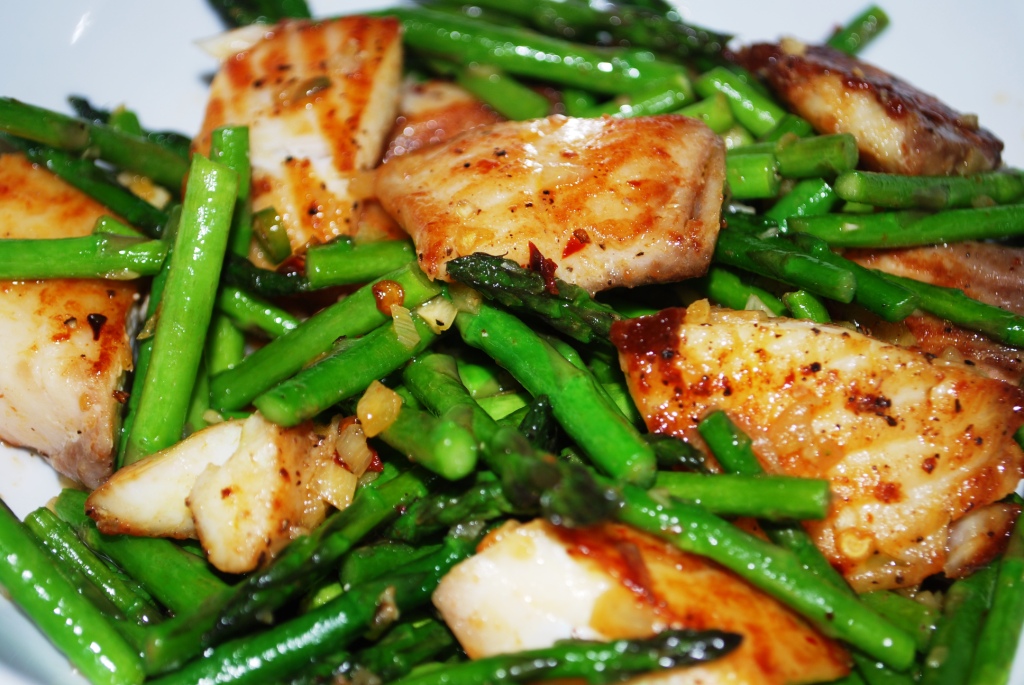 *
This recipe was sitting in my blog before I created Recipebox. It's a simple yet flavorful recipe. Give it a try and let me know 🙂
Ingredients:
1/2 lbs fillet of tilapia or any firm fish
1/2 lbs asparagus
1 shallot
2 cloves of garlic
1 tsp crushed red pepper
3 tbsp olive oil
salt and pepper to taste
Directions:
Salt & pepper fish slices to taste.
Heat skillet to medium-high, add 3 tbsp olive oil.
Fry fish till golden brown and remove from heat.
In the same oil, add shallots and fry till tender.
Add crushed red pepper.
Add chopped garlic and fry till fragrant.
Throw in the asparagus, salt and pepper to taste.
After 1 minute, add the fish and serve immediately with rice. Awesomeness!
Serving suggestions: Served hot over rice, rice stick noodles or just as a main course.
After adding asparagus, do not overcook it. A little al dente, retains the color and taste. Bon appetite!

Print This Recipe