H
i friends!
The ever changing of social media these days is so overwhelming. Blogging world is changing at the speed of light! First Facebook and now Snapchat? Will it ever end?
I get emails from readers requesting to be on Snapchat. 24 hours seems so little in a day. How do others do it? Do you have a genie?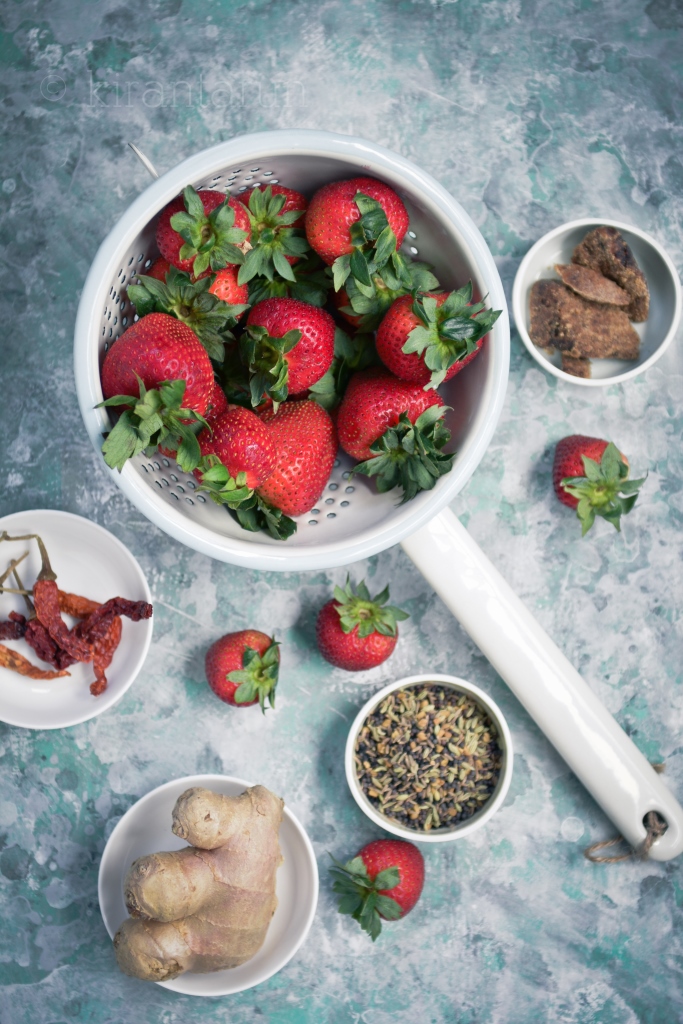 There's barely enough time in the week to keep my social media accounts all up to date. Not to mention emails and replying to comments on social media. Work is piling on and I don't seem to mind not being on Snapchat at the moment.
I'll succumb to it soon, but not now. I'm still enjoying Instagram and let's not push my luck all over the place. Peer pressure will eventually wear me thin and let's not go there.
Let's pick fresh strawberries, some spices and grab a wooden spoon to make strawberry chutney instead. I could definitely go for this, pronto — with fresh samosa's! Just the mere thought of it makes me drool 😀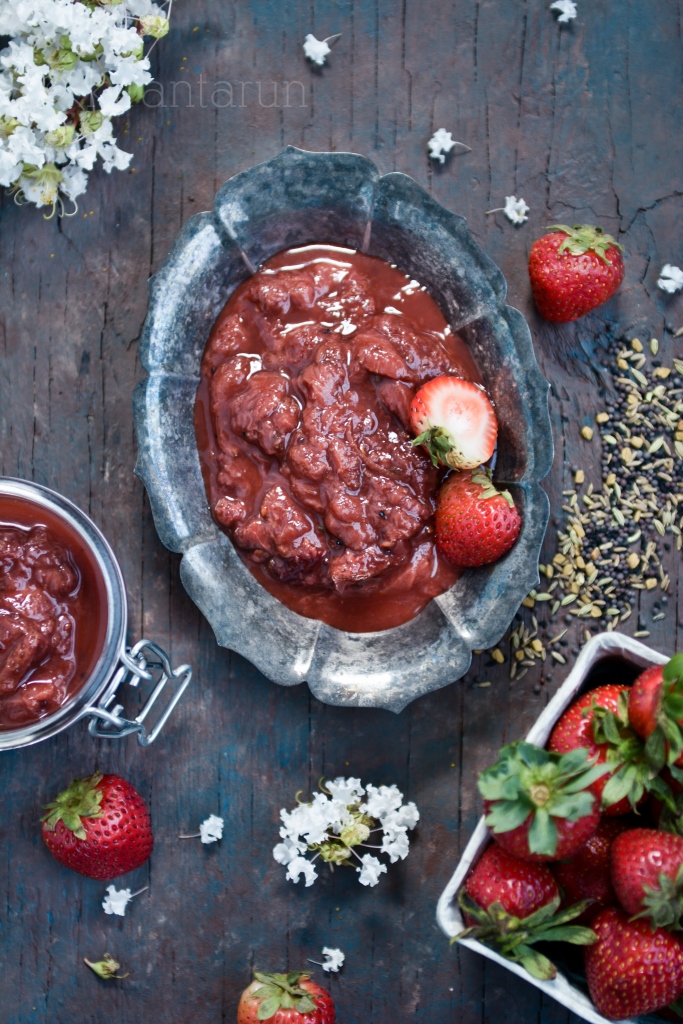 Smear it on a sandwich, dig in with grilled meats or any finger food for that matter — this strawberry chutney will shine brighter than the usual chutney's that we have grown loving.
Change is love, friends. Embrace it, and your belly will be thanking you. On the other hand, I can't say the same for social media.
Priorities 😉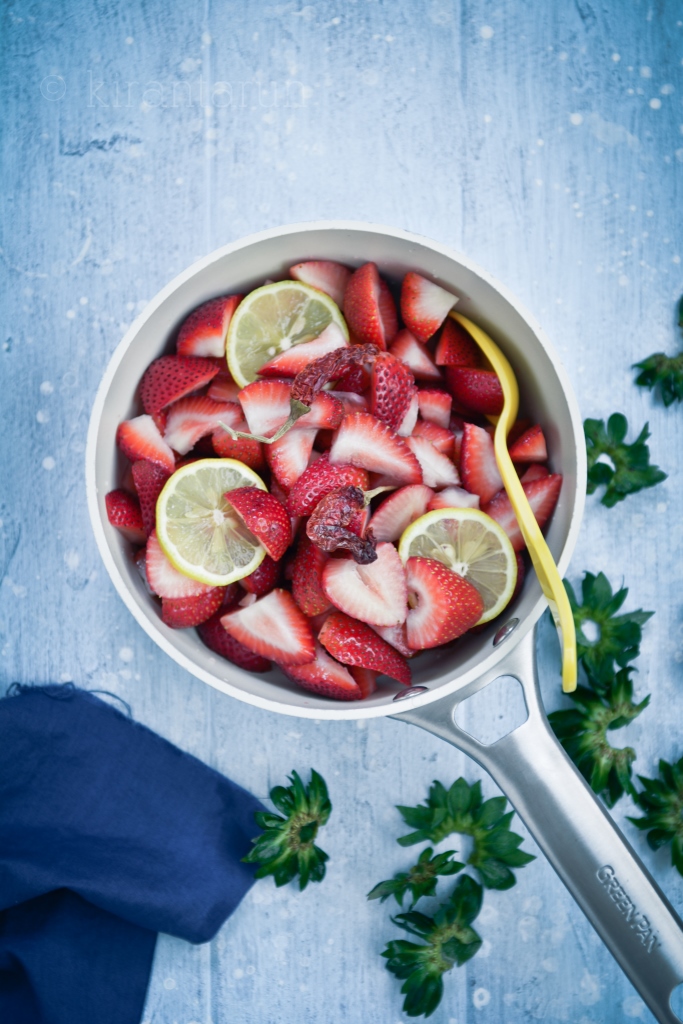 Print This Recipe
Yields about 3/4 of cup
Ingredients:
1.5 lbs of fresh strawberries, hulled and sliced
1 tsp oil (flavorless)
1 tsp panch phoran (indian five spice)*
2 dried red chilies, slitted
1/3 cup of raw sugar
3 tbsp jaggery (gud)
1/2 lemon, zested and juiced
1/2 tsp grated ginger
Directions:
Heat a saucepan on medium. Add cooking oil and wait for it to heat before adding panch phoran and dried chilies. Allow to sizzle for a few seconds and make sure the spices don't burn. Burnt spices are horrid!
Throw in fresh sliced strawberries and cook for 5 minutes until strawberries begin to break down. Add raw sugar, jaggery, lemon zest, lemon juice and ginger.
Bring it to a boil, lower heat and simmer for a good 20 minutes or until chutney thickens and looks glossy.
Turn off the heat and allow chutney to cool down completely before bottling it up.
Keeps well for a week in the refrigerator. If more, let me know 😉
*Panch Phoran is Indian five spice, which is made of equal parts of fenugreek seeds, nigella seeds, black mustard seeds, cumin seeds and fennel seeds.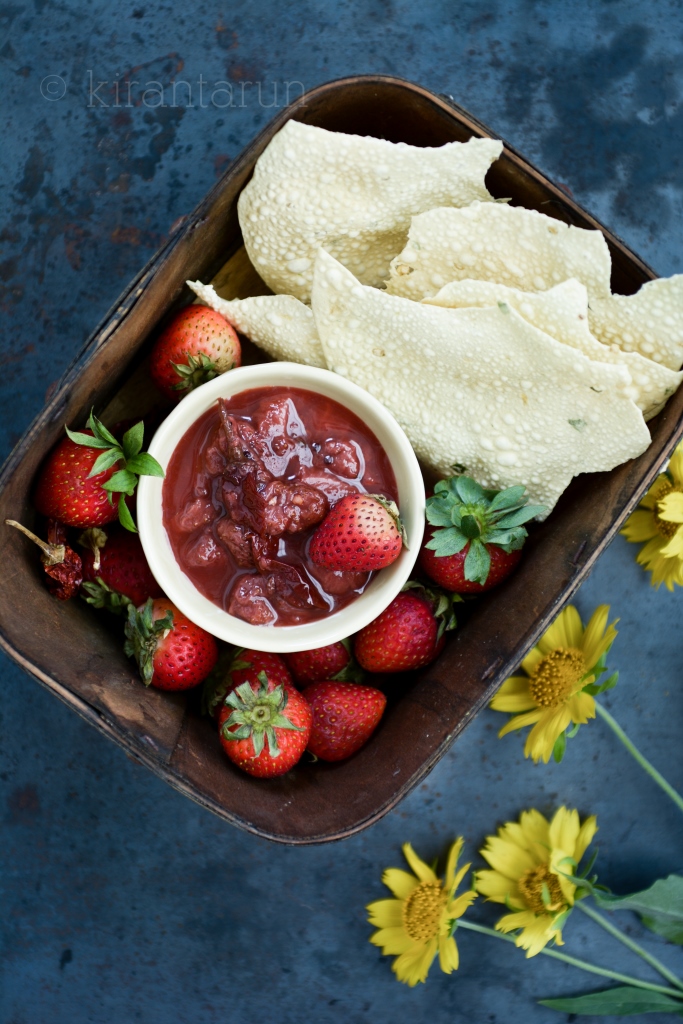 So friends, if you have any tips at all on how to juggle it all, please let me know. I do not want to feel burned out again by another social media frenzy that is, SnapChat or whatever is in the works.
What is your favorite way of enjoying chutney's? Any fun recipe?