B
efore we move onto the recipe, the
Husband
wants to convey to each and every one of you who wished him well.
THANK YOU VERY MUCH 🙂
He is doing so much more better than a few days ago — apart from a slightly scratchy throat, he is solid.
"I meant that in a good way, honey".
***
I bet you are busy brining a turkey and prepping for Thanksgiving side dishes. Just the thought of delicious gravy has my stomach growling.
Ok, so most of the recipes here are often featured as spiced. I admit, guilty as charged. I just can't part with spices for long. It's as though as I am born with spices ingrained into my DNA.
Literally.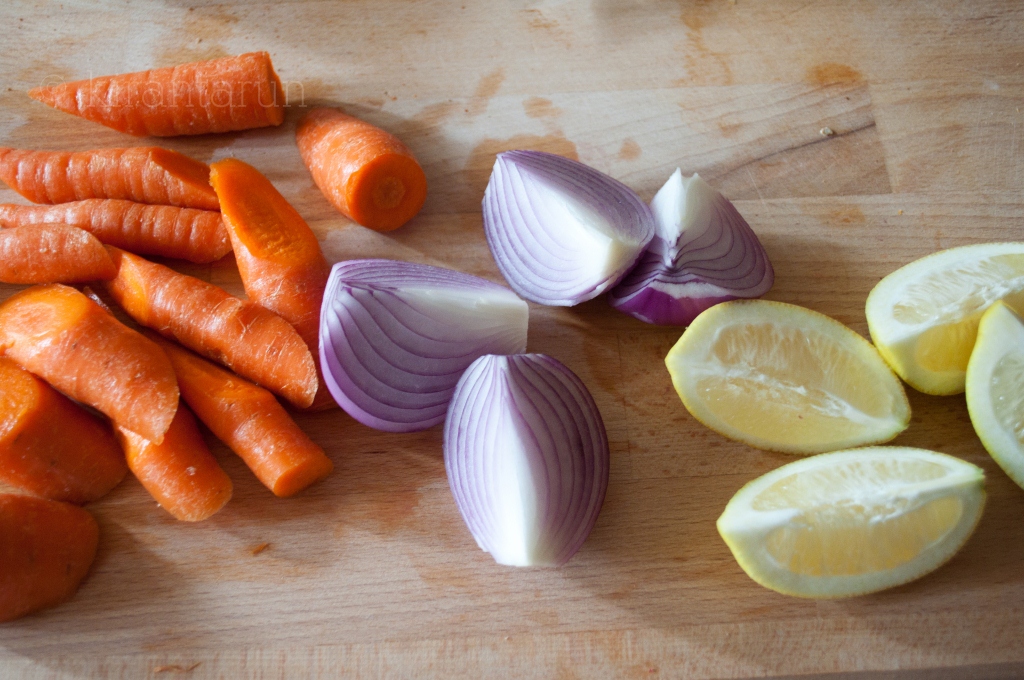 I am not only crazy for spices, but a total opposite when it comes to turkey. I can't even picture myself slaughtering a beautiful turkey.
Or any meat for that matter.
Me? Slaughtering? Ugh!!!
On the other hand, chicken is way easier for me and my palpitation. I am not being biased with chicken or anything – it's seems so much more easier.
Don't cha think?
Enough of me blabbering. Let's get back to roasting.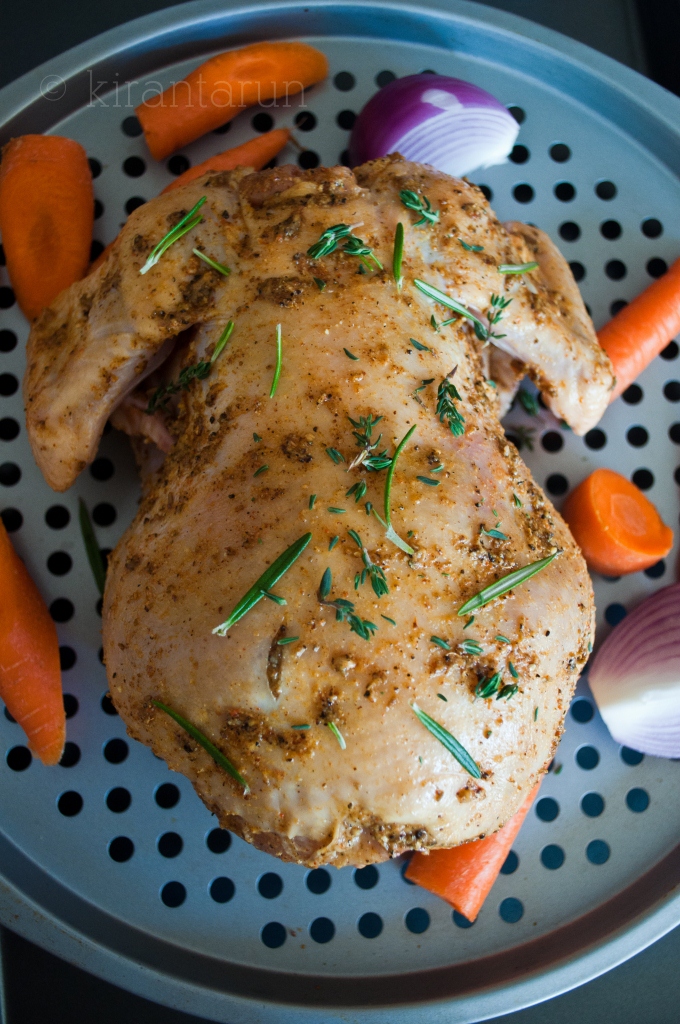 So, in lieu of our efforts to blend in with the society Thanksgiving celebrations, I present to you my very first attempt at roasting a whole cornish hen.
Read it correctly.
Not hand.
But, HEN.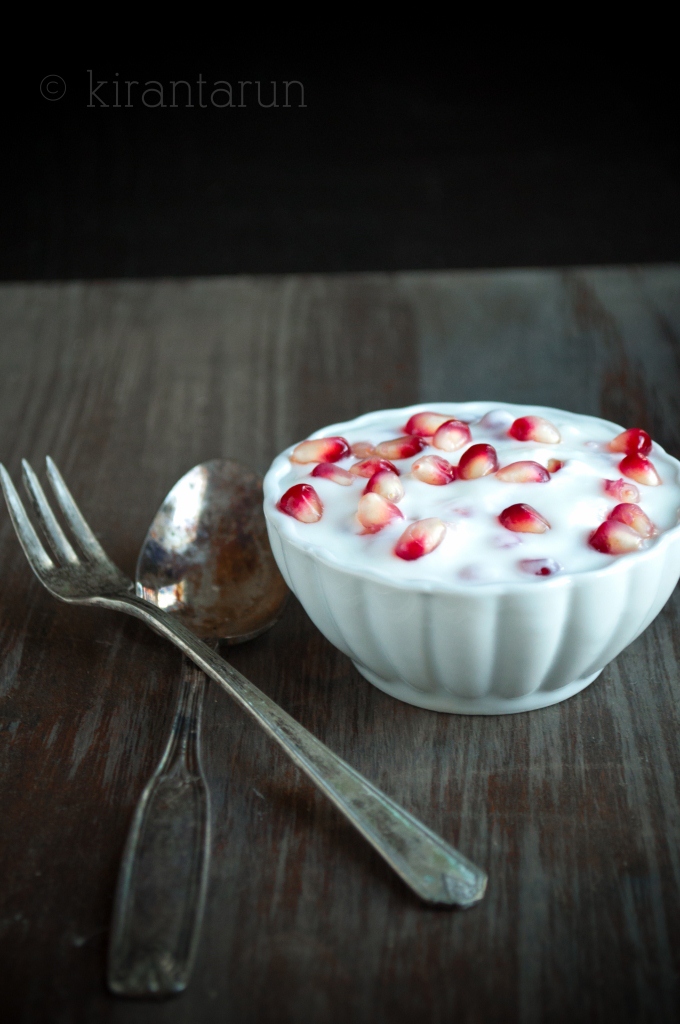 Try balancing spices with a nice bowl of fresh cool yogurt, topped with pomegranate arils.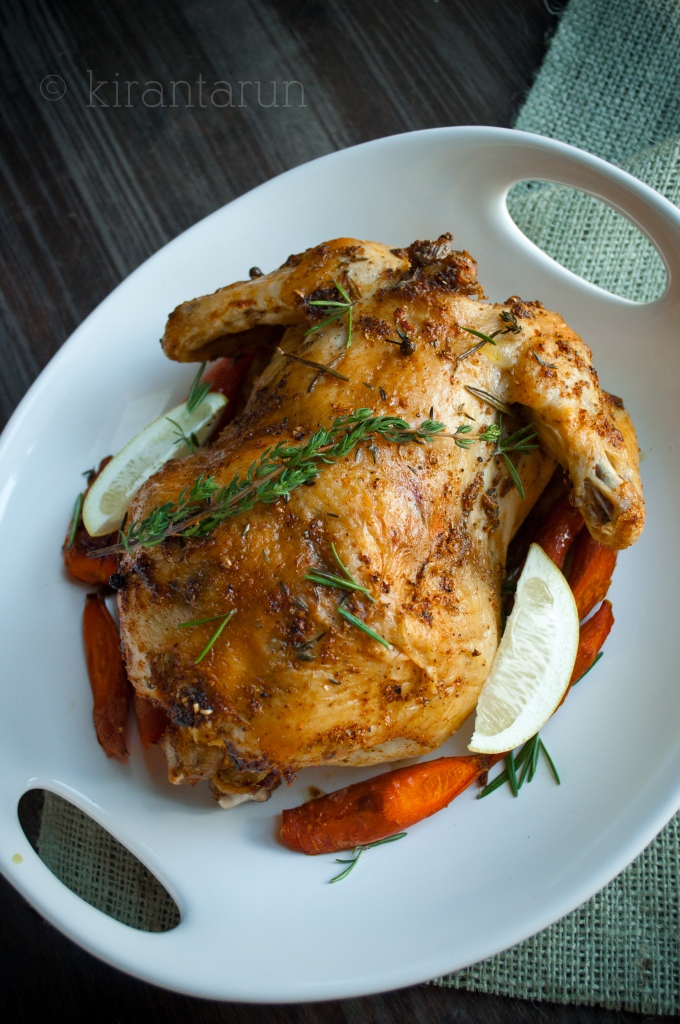 Print This Recipe
Spiced Roasted Cornish Hen
Ingredients:
1 whole cornish hen, skin on!
3 tbsp ghee
1 lemon, quartered
1 medium red onion, quartered
1 sprig fresh thyme
1 sprig fresh rosemary
2 carrots, chopped at angle
Spice mix
1 tbsp ginger paste
1.5 tbsp salt
1/2 tbsp black pepper
1/2 tbsp red chili powder (reduce if prefer less spicy)
1/2 tbsp coriander powder
1/2 tbsp cumin powder
1/2 tbsp black cardamom powder
1/2 tbsp star anise, crushed/powdered
1/2 tbsp cinnamon powder
1/2 tbsp turmeric powder
Garnish
1 sprig thyme
a few pieces of rosemary
a few pieces of whole black pepper
Wash and thoroughly pat dry the cornish hen. Empty the insides and place it on a baking tray.
In a bowl, add spice mix ingredients and mix to incorporate.
Salt and pepper hen under its skin (carefully not to tear it apart) to impart seasonings. This is crucial to ensure the meat doesn't end up tasting bland.
Using a pastry brush, spread ghee all over the hen and it's crevices including the cavity.
Rub spice mix blend generously on every nook and cranny of the hen, that includes the cavity.
Shove 2 lemon wedges, 2 red onion wedges, a sprig of thyme and fresh rosemary into the cavity.
Tuck each wing underneath hen to allow even roasting and avoid burning.
Using a kitchen twine, cross drumsticks together and tie a knot to secure its cavity as close as possible.
Place hen over a rack in a roasting pan. Allow to marinade for a minimum of 1 hour.
Set oven on 375F, surround hen with carrots, remaining onion wedges & sprinkle on some fresh thyme and rosemary buds.
Bake hen for 1 hour and 15 minutes or until the internal temperature reads 165F.
Drizzle pan juices (not grease!) over hen and allow meat to rest before carving. Garnish with a sprig of thyme, a few rosemary buds, some whole black pepper & lemon wedges.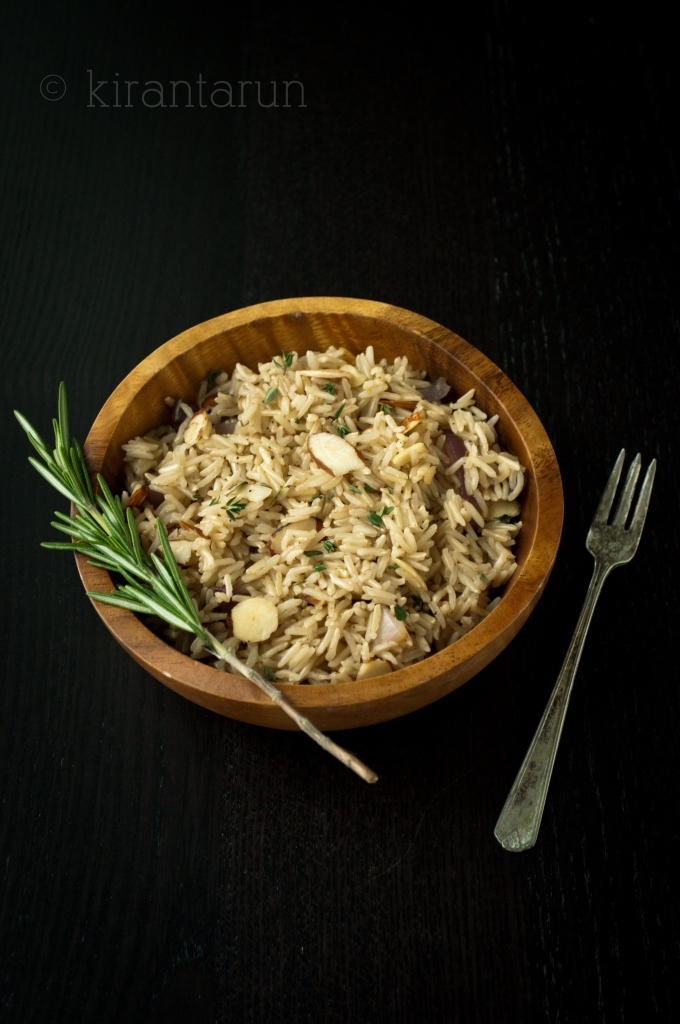 Who dare says you can never make a rice pilaf using brown rice. Who???


Print This Recipe
Brown Rice Pilaf
Ingredients:
1 cup of cooked brown rice
1/2 cup toasted slivered almonds
1 tsp toasted cumin powder
2 roasted red onion wedges, chopped
1 tbsp lemon juice
salt + pepper to taste
fresh thyme for garnish
Using 2 roasted red onions from cornish hen roasting pan, chop and mix all brown rice pilaf ingredients in a bowl.
Serve room temperature garnish with fresh thyme.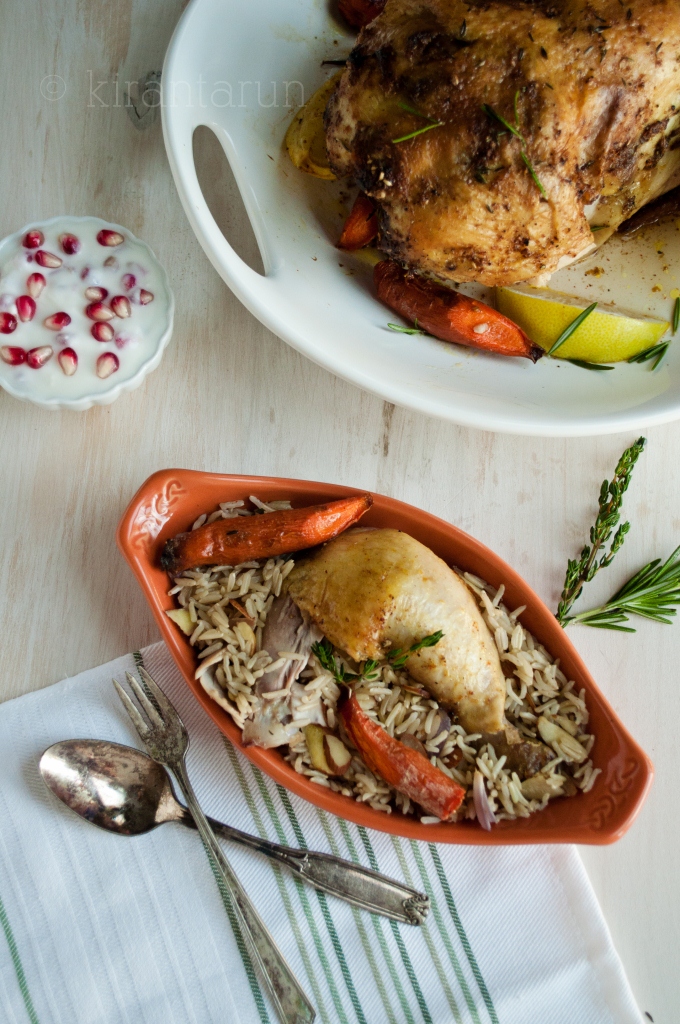 HAPPY THANKSGIVING!!! BE SAFE & ENJOY STUFFING 🙂

What do you enjoy sinking your teeth into? Turkey or chicken? Or both?