H
appy Monday!
If you are following us on Twitter, chances are you would've known of our little road-trip past weekend to Atlanta. Road trip that included many rest room stops, Malaysian food encounters and taking in scenic Atlanta views.
Let's face it – roadtrips can be expensive. Not only you end up eating unhealthy food and sipping copious amount of decaf Star$, if you know what I mean 😉 Obviously we didn't skim on fast food. There's something very nostalgic about drive-thru's during road-trips.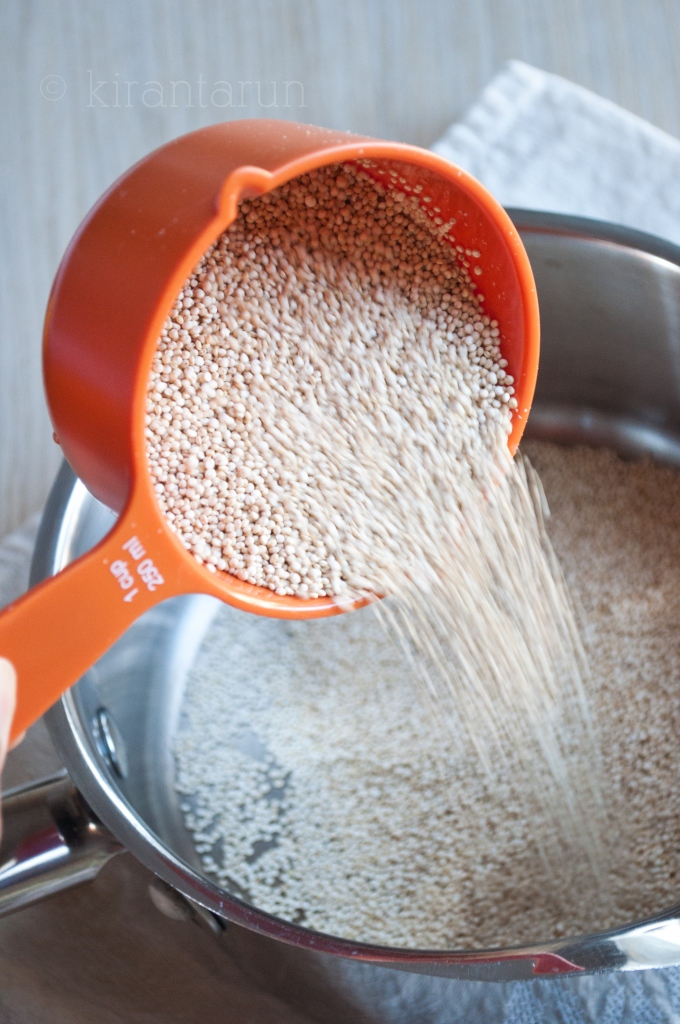 Knowing Atlanta would be chilly cold, I packed a delicious vegetarian supper in order to save some mullah on 1 dinner. Better save on 1 meal, rather than nothing.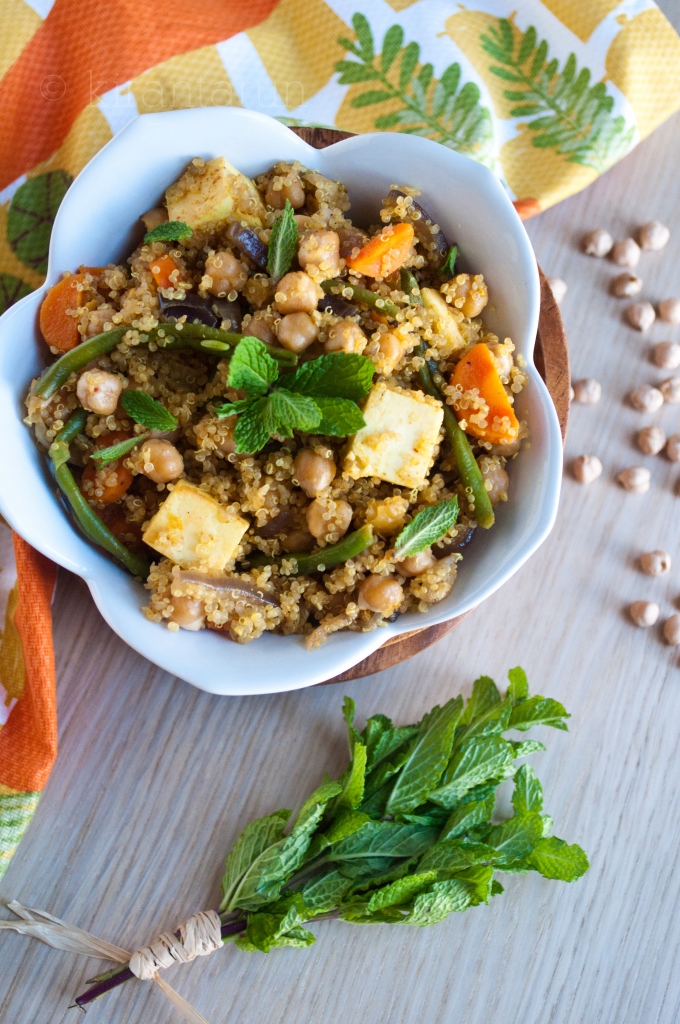 I peered into my refrigerator to use up some produce instead, fearing a tossing situation upon our return. Gotta save money where we can. And you should too!
Since we are on the topic of money-saving, I wanted to highlight the importance of using dried beans. It is so easy to prepare and darn cheap. I don't like using the canned version. It somehow tastes very off and salty, even after rinsing. The after taste of sitting in a pool of liquid can, just isn't appealing.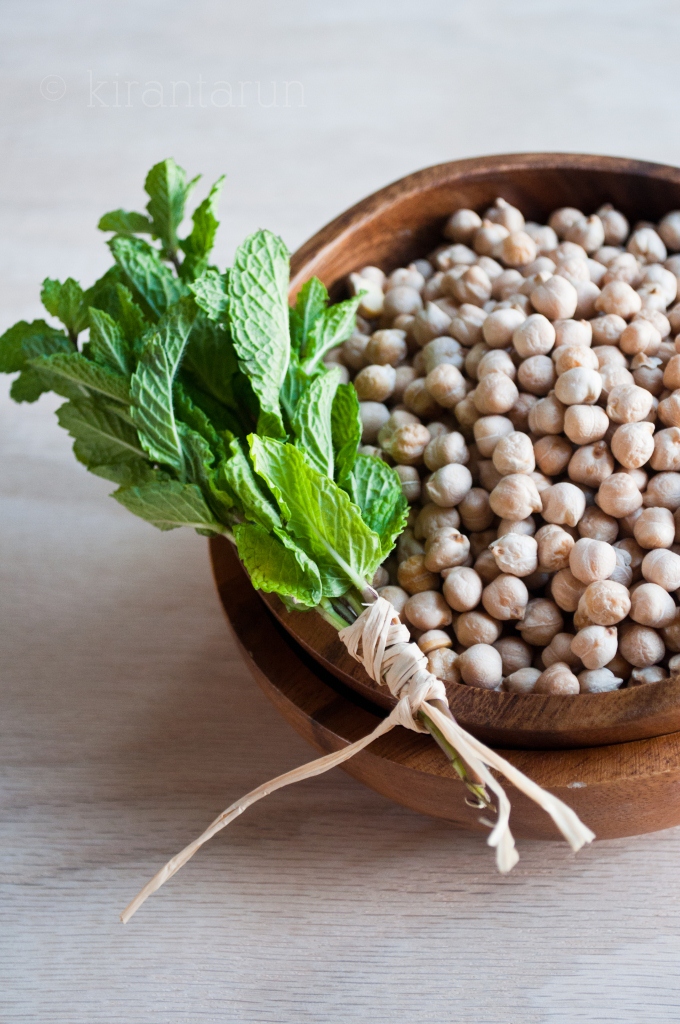 We are huge rice eaters. That doesn't sound good, right? So I thought to change this recipe up by incorporating some healthier option instead – gotta love quinoa!
This salad turned out so delicious & definitely warmed our hearts and bellies. A perfect autumn comforting salad. Good eaten warm and a great to-go meal. The Husband definitely approved this recipe – I packed the same for his lunch box the other day.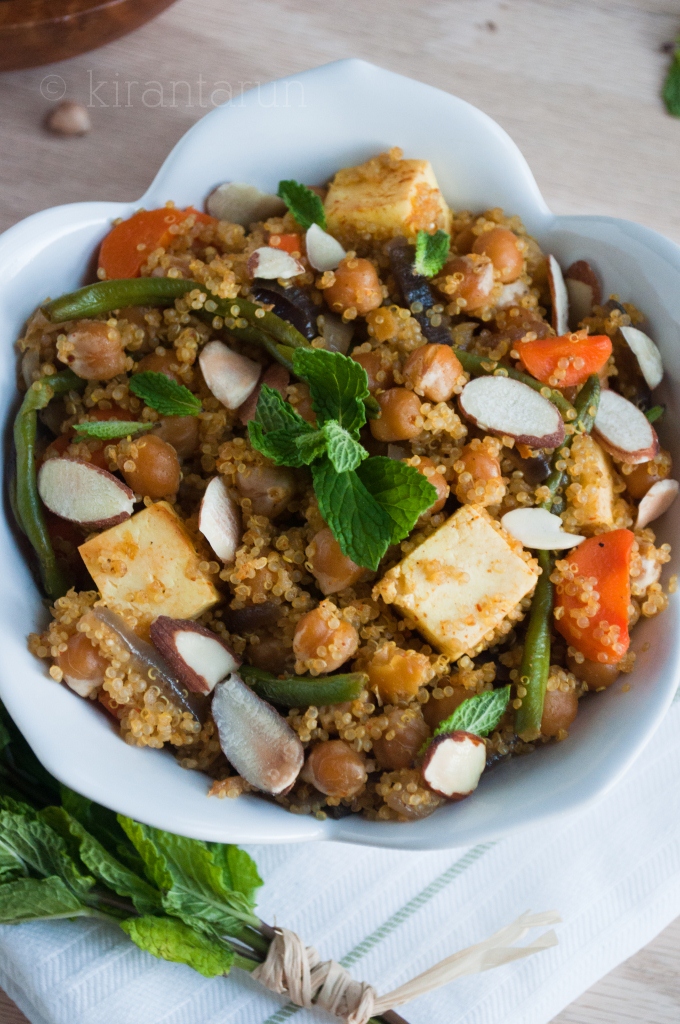 Print This Recipe
Ingredients:
1 cup cooked quinoa
2 cups water
1 cup chickpeas
3 tbsp coconut or any cooking oil
6 oz paneer, cubed
1 medium red onion, sliced
2 carrots, peeled and chopped
1 cup haricot verts or french beans, chopped
1/2 tsp ginger paste
1/2 tsp turmeric powder
1/2 tsp cinammon powder
1/2 tsp red chili powder (skip this if you want to avoid spiciness)
1/2 tsp nutmeg powder
1/2 tsp garam masala
1 tsp lemon juice
2 mint sprigs (reserve a few leaves for garnish)
salt & pepper to taste
a nice handful of sliced toasted almonds for crunch
Pressure cook dried chickpeas until tender. If you are using canned, I won't judge 😉
Bring a pot of water to boil. Water should be enough to cover quinoa. Throw in quinoa and cook on medium heat between 7-8 minutes. Remove access water (if any), fluff quinoa with a fork, put on a lid and turn off heat to cook off remaining moisture.
Heat a non-stick skillet on medium, add cooking oil and lightly brown paneer cubes on each side. Drained on a paper towel.
Using the same skillet, add red onions and fry till translucent.
Throw in chopped carrots, green beans and stir fry till tender.
Once the vegetables are tender, add ginger paste, turmeric, cinnamon, red chili and nutmeg powder.
Stir to combine. Cook for a few more minutes before adding cooked quinoa, chickpeas & paneer.
Sprinkle in some garam masala, lemon juice, salt & pepper. Stir to combine.
Remove from heat. Sprinkle in some chopped fresh mint.
Serve warm, garnished with sliced toasted almonds and a few mint leaves.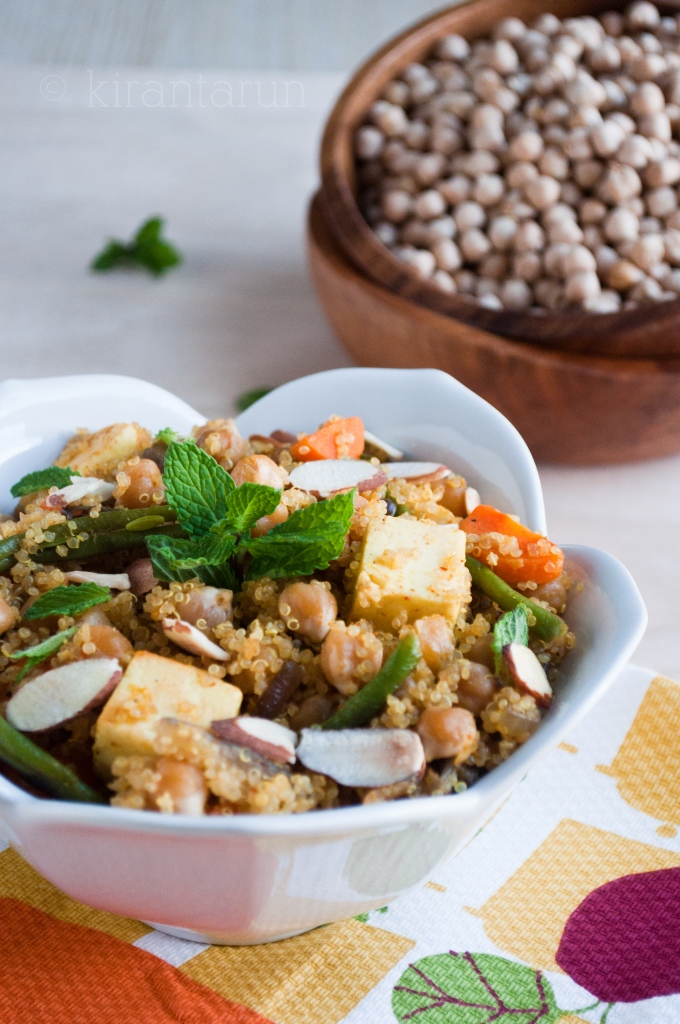 I bet this salad would be a great Thanksgiving side – switching up from the traditional green bean casserole 😉
Are you a money-saver while road-tripping? What is your favorite to-go meal?