I
t's a BLAH Friday. So gloomy out here, which certainly explains my laziness to do anything at all. Even cooking. That's when Maa's easy and delicious recipes comes in handy.
This spiced ivy gourd takes literally minutes to cook! With the exception of making rotis and dal.
Anyways.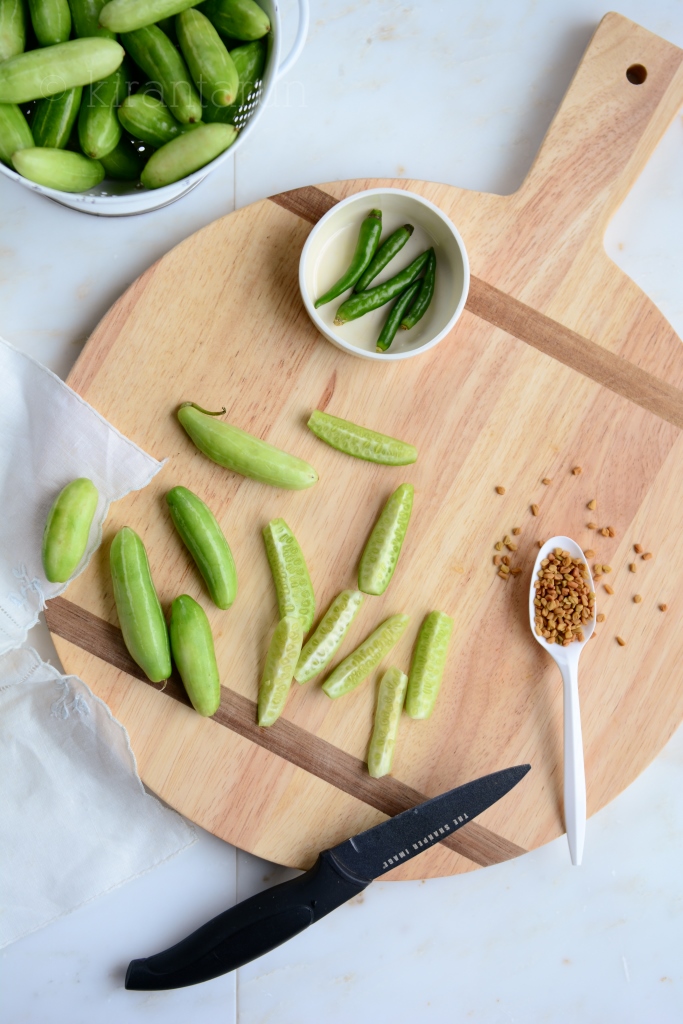 Oriental or Chinese cooking is famous for "stir-frys". Same can be said with some Indian recipes, mainly the side dishes. The slight crunch and bite from fenugreek seeds lends this stir-fry a little bitterness that's absolutely delicious.
FYI — You can easily find ivy gourds or "kundru/tindora" and the rest of ingredients from your local Indian grocer.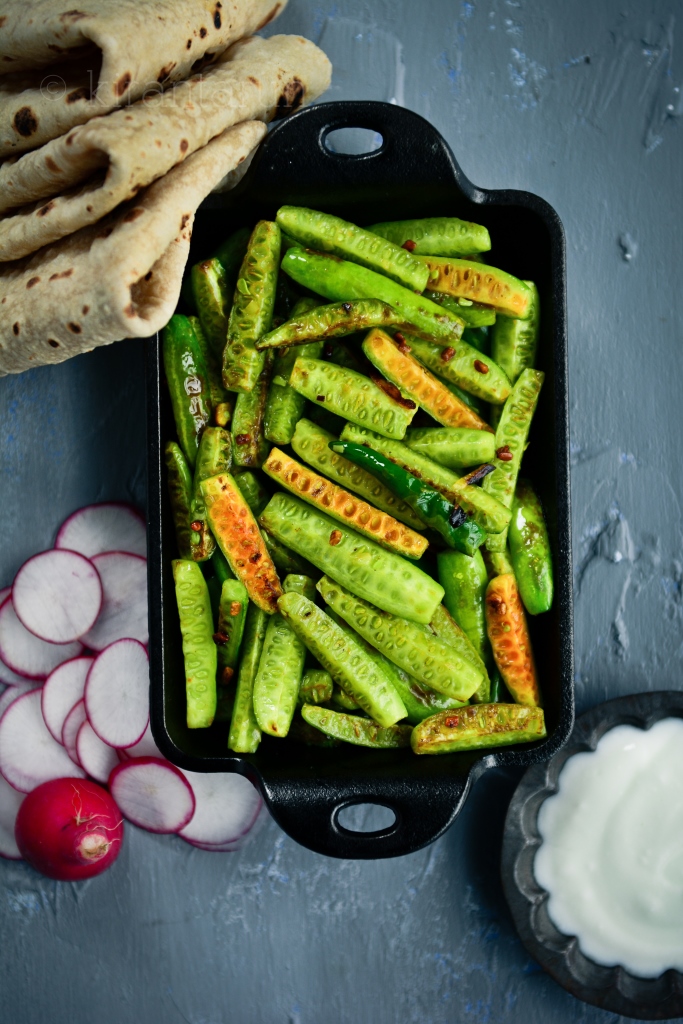 I pretty much blabber about the "weather" and "deliciousness" way too often over here, but it's apparent that this dish is an absolute favorite.
Though, the same can't be said about the weather.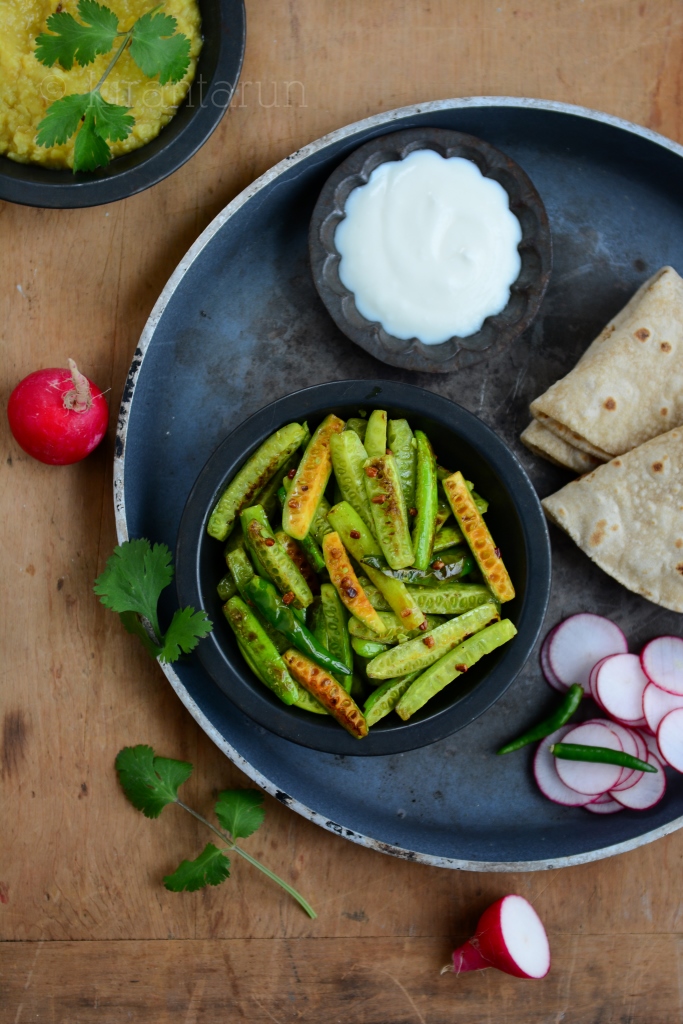 Print This Recipe
Serves 4 as a side dish
Ingredients:
12 oz ivy gourd, tips discarded & sliced lengthwise
1.5 tbsp mustard oil
3/4 tsp fenugreek seeds
2 green chilies, slitted
1/4 tsp turmeric powder
1 large garlic, minced
1/4 tsp salt
Directions:
Heat a medium large kadhai/wok on high. Add mustard oil and allow to smoke a little before turning down the heat to medium.
Add fenugreek seeds, green chilies and turmeric powder. Stir and cook for 30 seconds before adding sliced ivy gourd.
Turn the heat up to medium high and stir fry the gourds until it begins to blister. This should take a few minutes.
Add salt and minced garlic, give it a stir, lower the heat and cover to soften the gourd. Stir in between as well.
After a few minutes, check whether the gourds have soften or fully cooked.
Serve immediately with a serving of dal, pickles, yogurt and salad.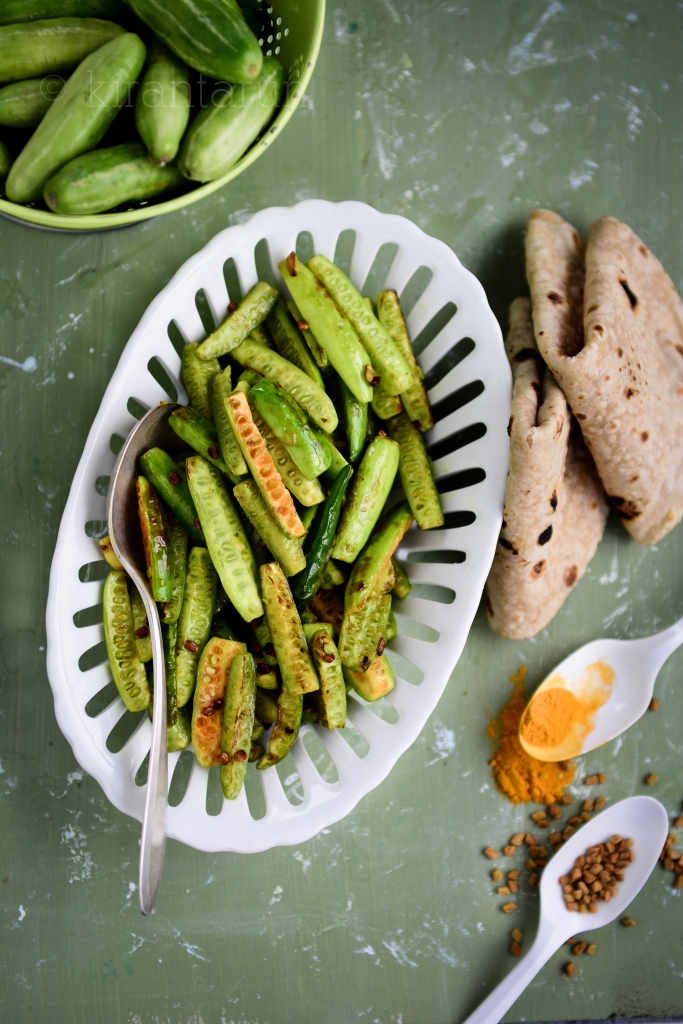 There's a ton of benefits eating ivy gourds, fenugreek seeds, mustard oil and turmeric. A simple google search yields a lot more information.
Ciao and see you next week!
Have you tried ivy gourds before? Or fenugreek seeds for that matter?