I
love Mexican foods.
Why? Simple. Because it is deliciously spicy, full of vibrant colors and flavors.
I am sure many of you are doubtful. Why fish tacos and pico de gallo recipe when we are hitting fall season? Believe it or not, Florida is no where close to fall just yet. Weather is so hot, humid and yucky! It just refuses to budge below 90! With abundance of fresh tilapia, avocados and grape tomatoes, we are still enjoying the summer labor of love.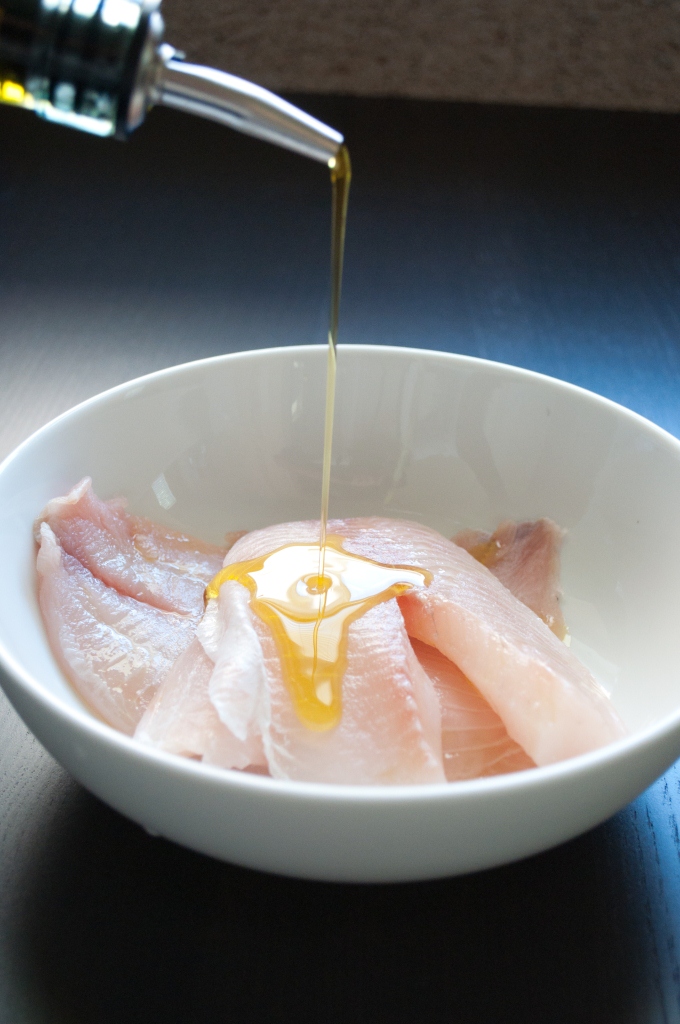 Nothing beats the taste of fresh fish. If you can't get tilapia, any firm white fish can be used as well. Keep it simple, people. Start of by washing, pat drying and oiling the fish. Just enough to coat each pieces for the spices to adhere. If you haven't guessed already, we are HUGE fan of fresh and whole spices. I hardly have any store-bought ground spices around here. Firstly, it's expensive and the shelf life is not something to be proud about. I'd rather buy a huge pack of whole spices that would stretch my buck.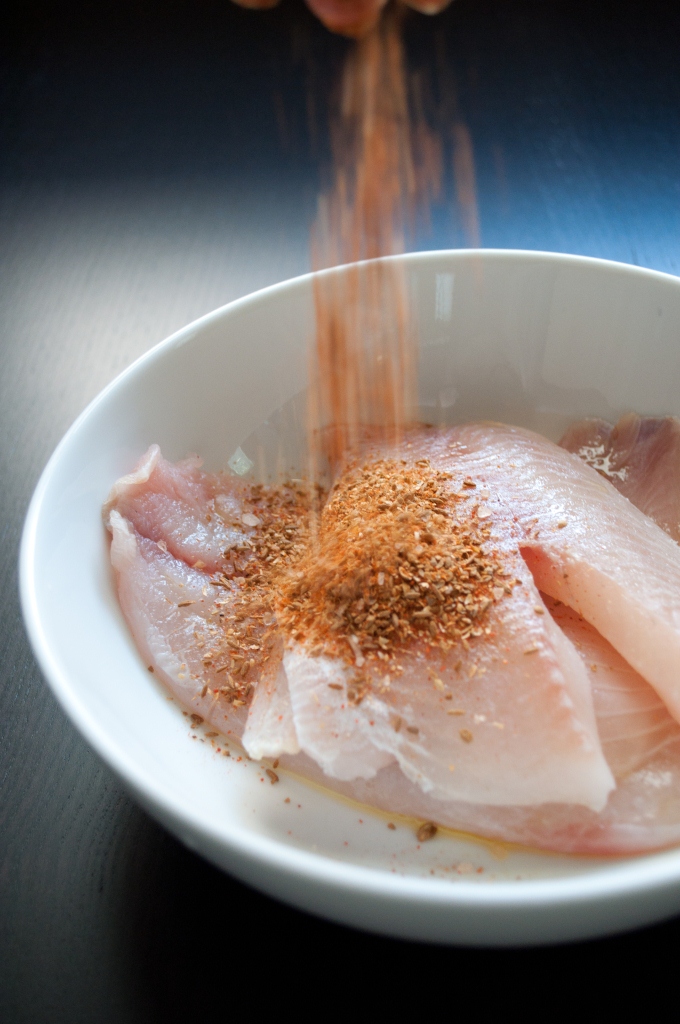 To prep the fish, begin by dry-roasting whole cumin and coriander in a dry skillet over low heat for a few minutes. It shouldn't take you more than 5-8 minutes. As soon as the aroma of freshly roasted spices fills your kitchen, plate it out to cool. Once cool, use a spice blender or mortar and pestle, and let out your aggression. Whirl it till coarsely ground. Add some chili powder, salt and pepper to the mix. Coat the fish with this spice mixture and set it aside to marinade for at least 30 minutes.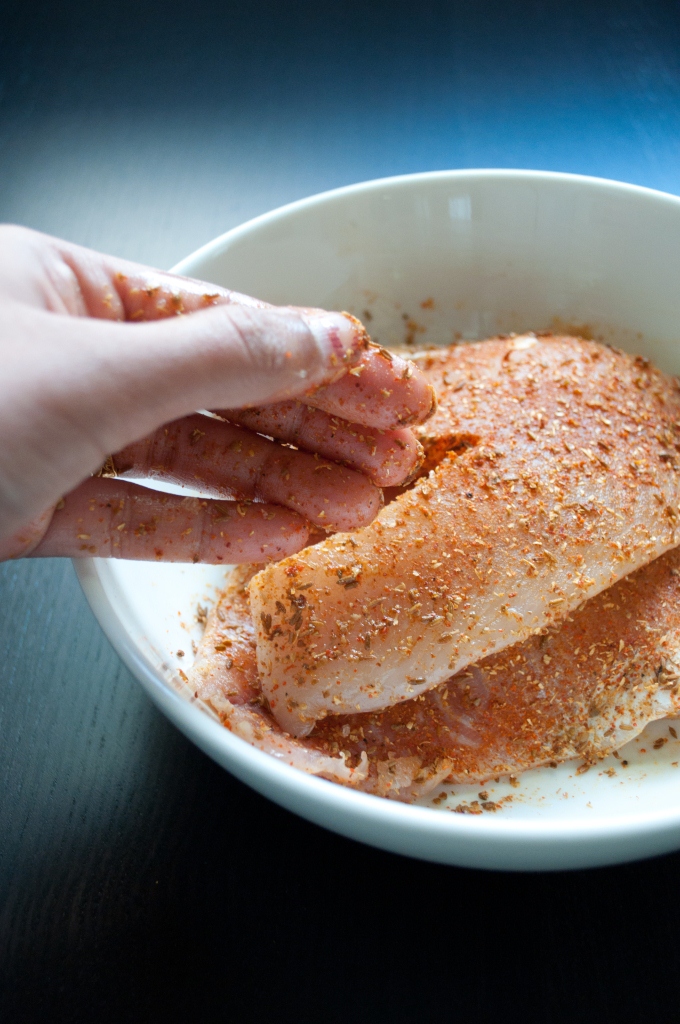 No tacos are complete without pico de gallo.
What is Pico de Gallo?
also called salsa fresca, is a fresh, uncooked condiment made from chopped tomato, white onion, and chilis (typically jalapeños or serranos). Other ingredients may also be added, such as lime juice and/or apple cider vinegar, fresh cilantro (coriander leaf), cucumber, radish or firm fruit, such as mango – Source.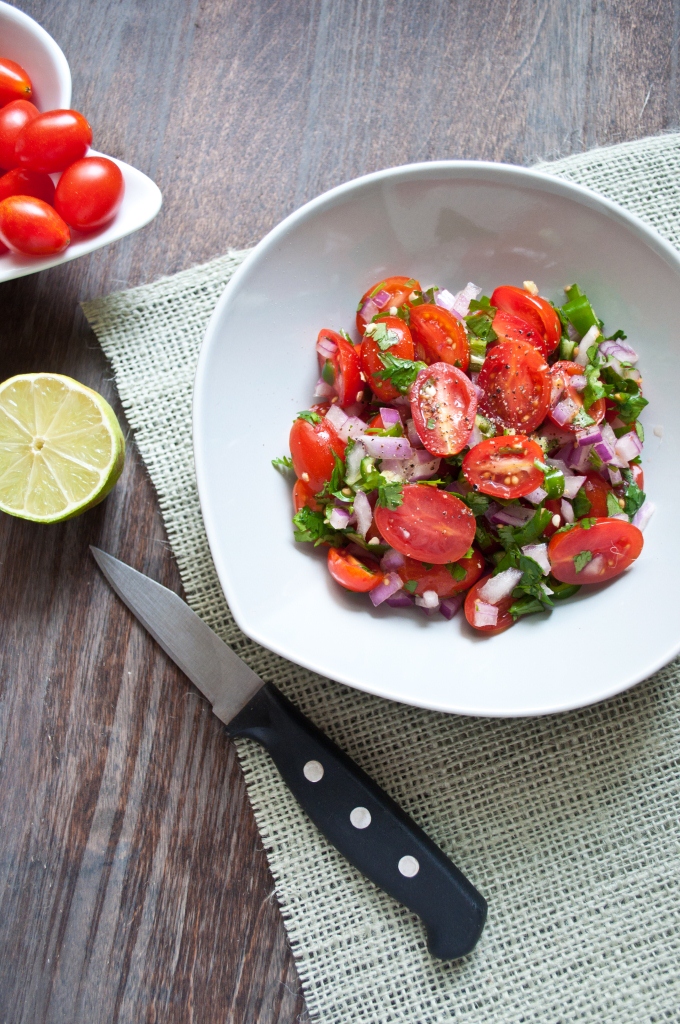 Fish is seared, pico de gallo & avocados are prepped, corn tortilla is heated through – now raise your sleeves and get your hands dirty to begin building these tacos.
This is where I went wrong – no lettuce. Oooppss.. I would have loved adding lettuce as a bed while building these tacos. I just forgot about it. I did warned you I am a scatter-brained. That's what food blogging does to me.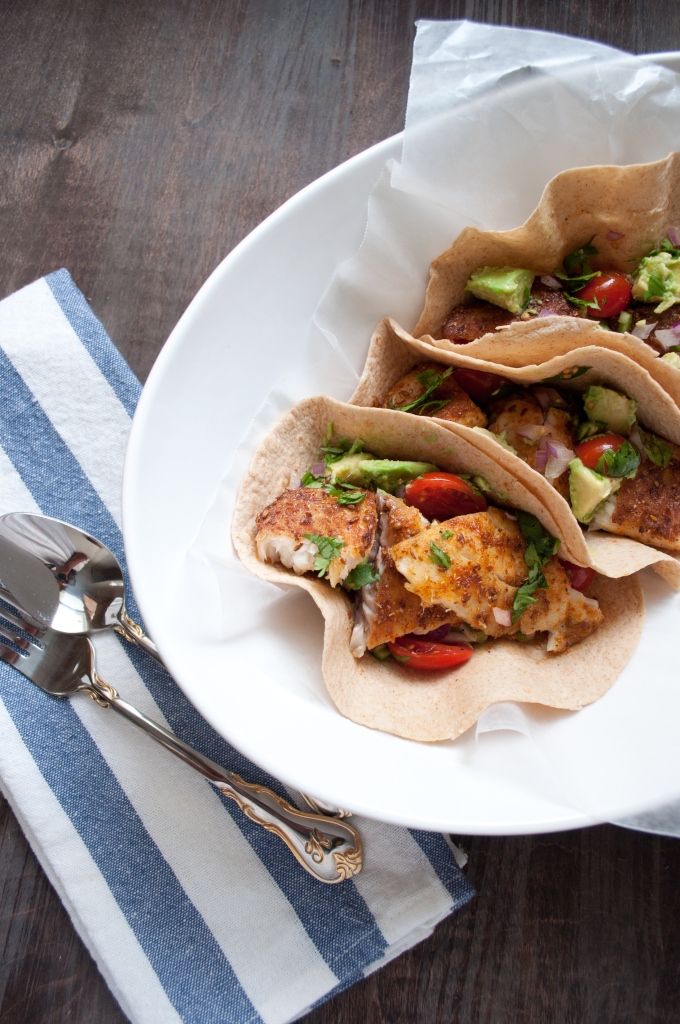 Have I spilled the beans about how much The Husband loves honey mustard. Well, I am spilling the beans today with photo evidence. He loves it with too much drizzle.
I bet mint coriander mayo or chutney would go well. For me, not for the Husband. He irks with just the thought of mayo.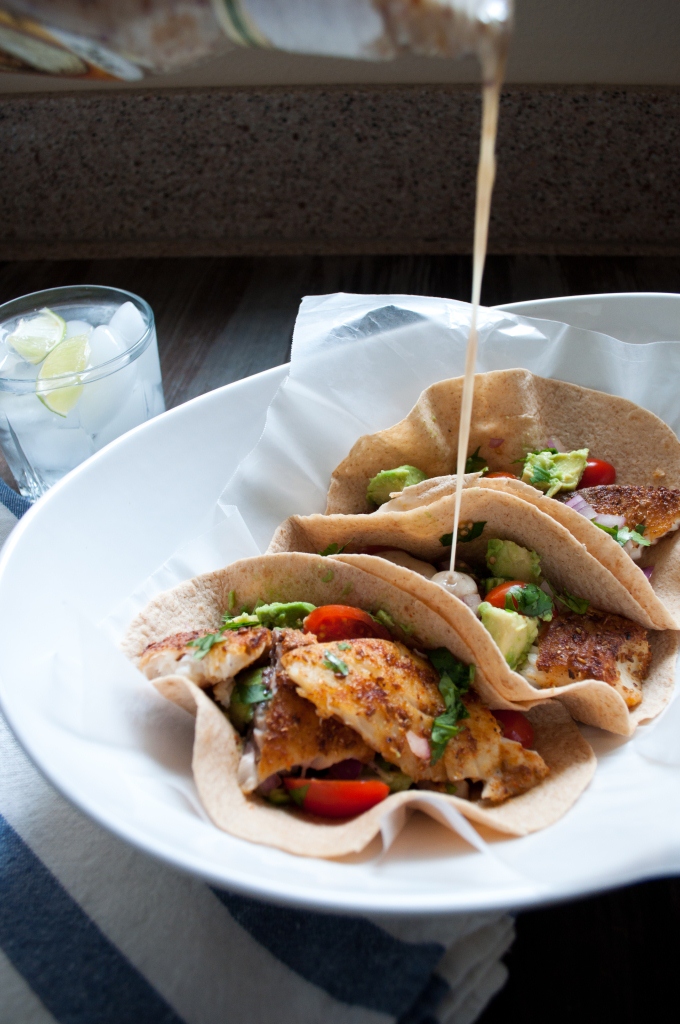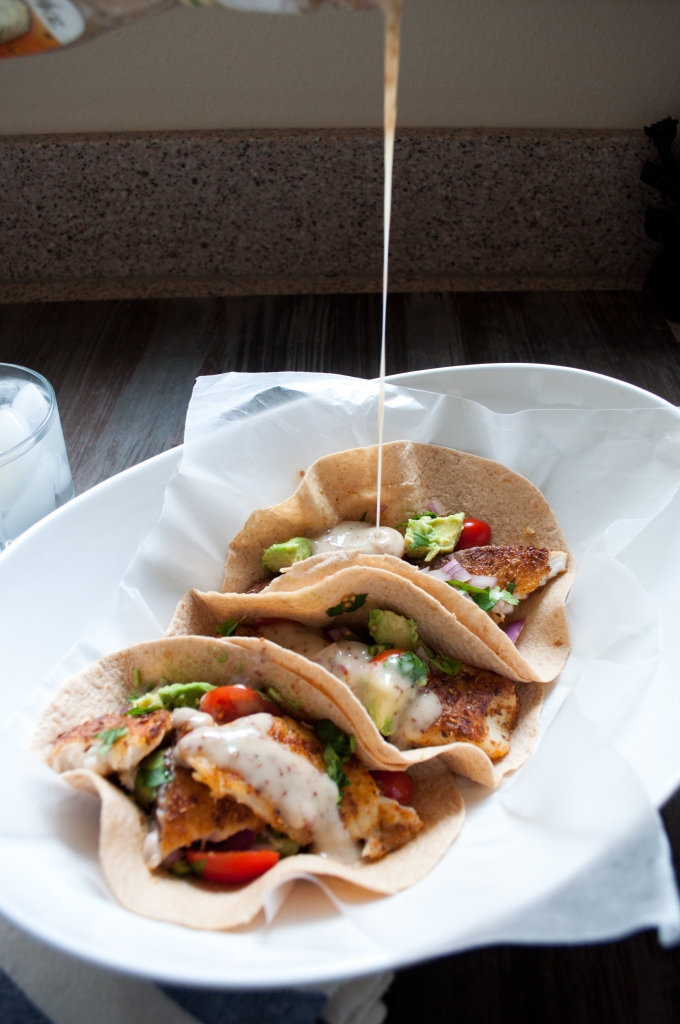 Is it autumn already, where you are located? Or are you still enjoying summer delights?

Print This Recipe
Ingredients:
Fish Marinate
 3-4 huge tilapia fillets (any firm white fish would work as well)
1 tbsp olive oil
1 tbsp whole coriander seeds
1 tbsp whole cumin seeds
1 tsp chili powder
1 tsp salt
1/2 tsp black pepper
Pico de Gallo
1/2 pint grape tomatoes, halved
1/2 medium red onions, chopped
1/2 jalapeno, seeded and finely chopped
2 tbsp fresh lime juice
a handful of chopped cilantro, reserve some for garnish
pinch of salt and black pepper
Others
3 tbsp cooking oil
1 avocado, sliced
1 tbsp fresh lime juice
6 whole wheat tortilla or any flatbread
Dressing: 3 tbsp store-bought honey mustard
Directions:
To marinate fish, read the post as above.
Heat a non-stick skillet at medium high. Once hot, add cooking oil and sear fish fillets till golden brown on both sides. This should take about 5 minutes on one side, and 3 minutes on the other.
While fish is searing, prepare pico de gallo by adding all its ingredients in a bowl and stirring to combine. Set aside to merry flavors.
Cut avocado lengthwise to separate it into two pieces. Discard pit. Using a paring knife, make diagonal slits.
Use a spoon to scoop out avocado pieces in a bowl. Add lime juice to prevent browning. Set aside.
Once fish is browned and cooked all the way through, serve it out on a plate. Allow to cool for a minute before slicing it to bite size pieces.
Make an assembly line that contains a bowl of chopped avocados, fresh pico de gallo, delicious seared fish, warmed whole wheat tortilla bread and sauces. That way, you get to have fun building tacos using your preference of condiments. Enjoy!