H
ey friends, Happy National Peanut Butter Day!!!
I forgot about this day today, but I have an equally (or more) delicious recipe 🙂
There's something about handling raw meat which is so unappealing. It's slimy, often bloody, bones and fats running all over — ewww!!! I know, a food blogger having doubts and ick! factor about food.
Hey, I am just human. A terribly-afraid-to-touch-raw-meat kinda human.
Not really afraid. More ICKY than afraid.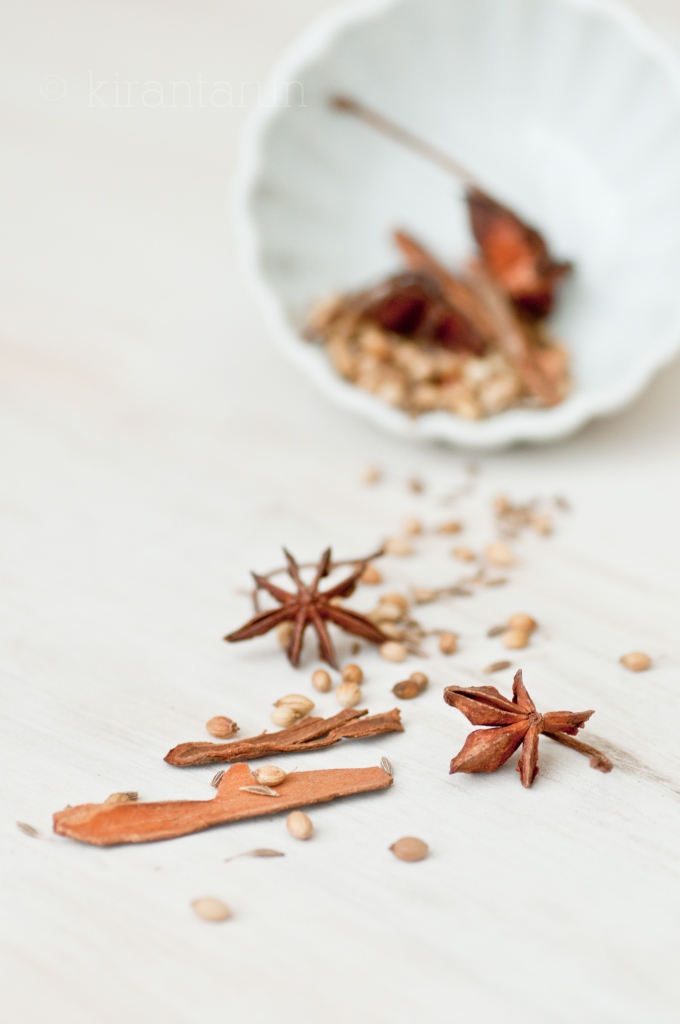 On the other hand, I can literally bathe myself with spices. Love the aroma, taste and versatility. Absolutely love star anise. It's such an underused spice. It is usually used in meat recipes. One small star anise goes a looooooonnggg way, so be subtle in usage.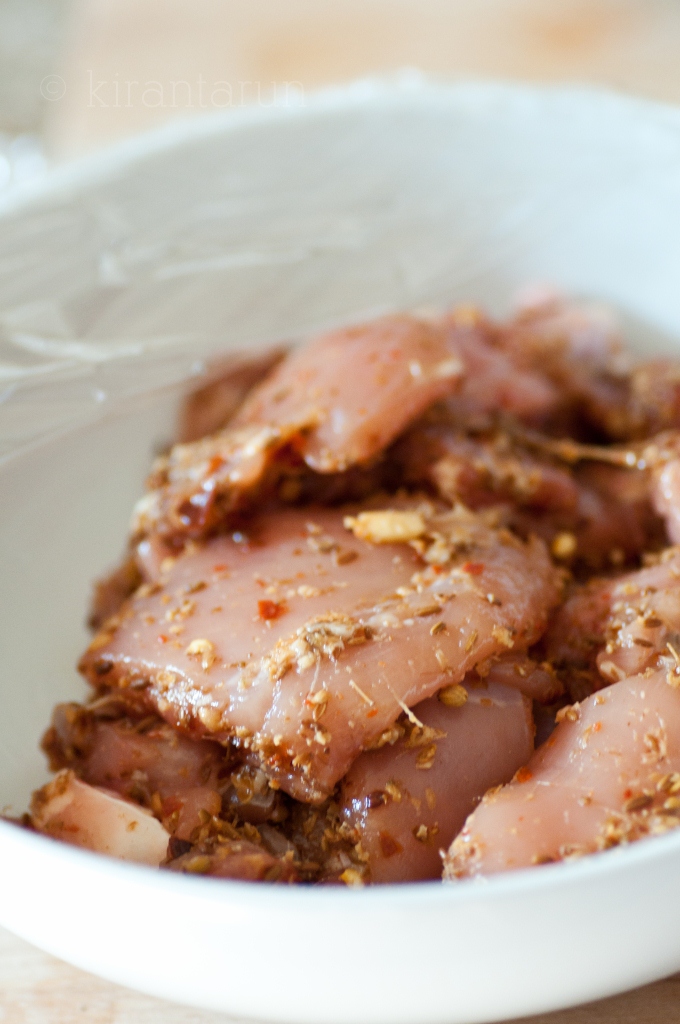 Opened the refrigerator one day and saw a sad tub of pomegranate arils, waiting to be consumed. I made this recipe and had leftovers for sangria.
Yeah, spiced chicken and sangria goes hand in hand. I dare you to try it 😀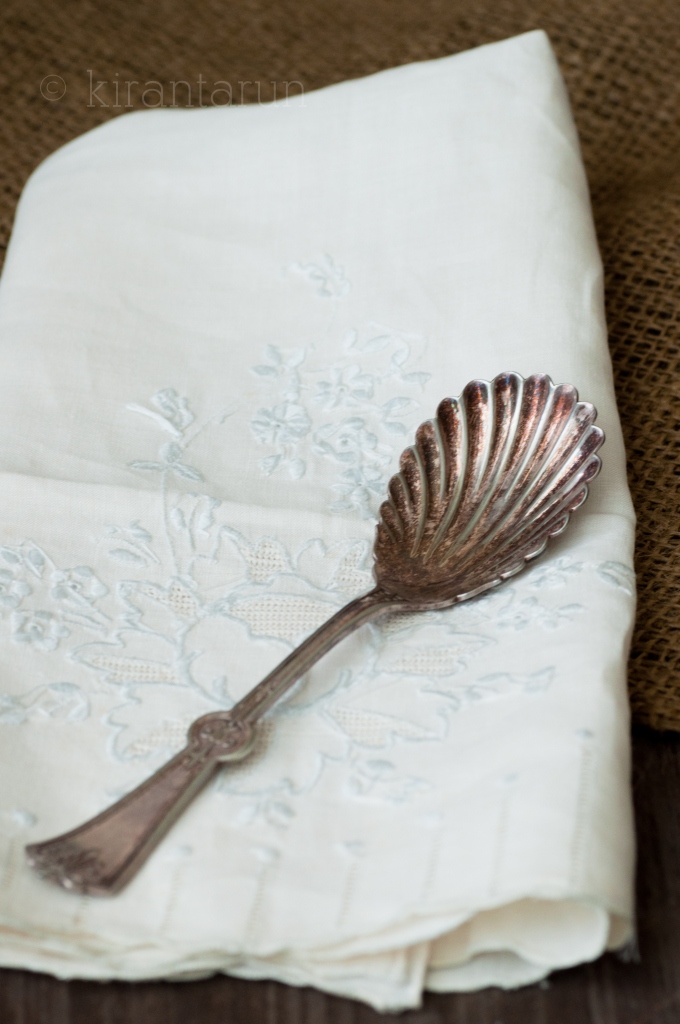 We made this spiced chicken, had sangrias and woke up with an urge to go for antique prop shopping. Weird right? Well, it worked out great for my prop collection, but doing that definitely burnt a huge hole in my pocket. That's what sangria does to you. It goes to your head and you end up shopping, frivolously. Heh.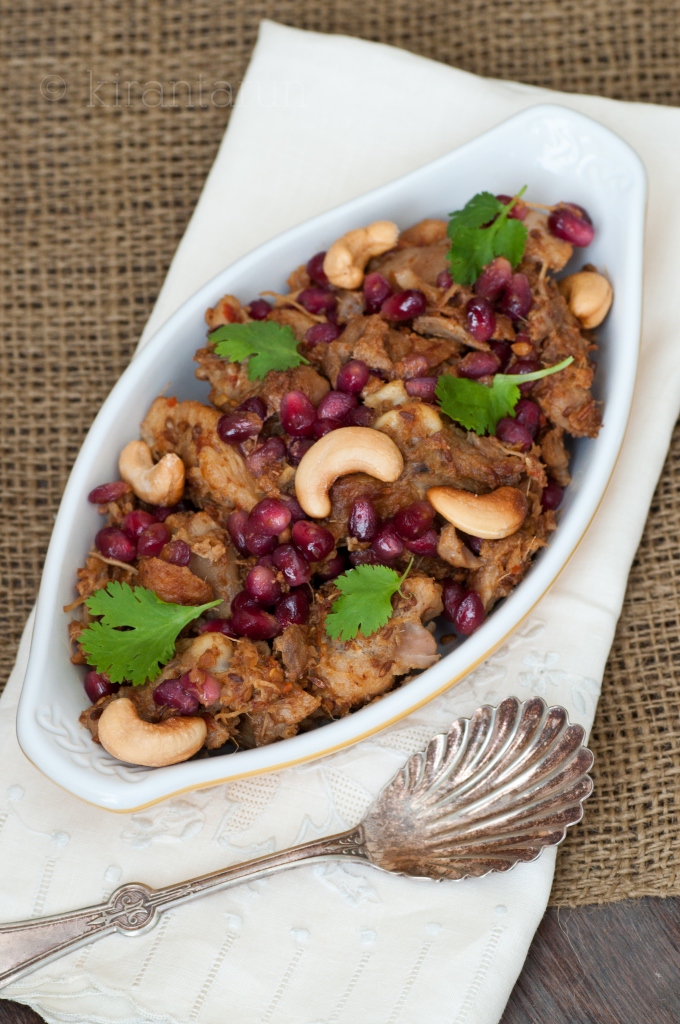 Print This Recipe
Ingredients:
2 tbsp cooking oil
1 small star anise, whole
1 small cinnamon stick
1/3 cup red onions, thinly sliced
1/3 cup fresh yogurt
1/2 cup pomegranate arils
1/2 tsp salt
cilantro & toasted cashew nuts for garnish
Marinade
1 lb skinless chicken, chopped bite size (i used thighs and breast)
4 – 5 red chilies
2 tsp coriander seeds
2 tsp cumin seeds
2 tbsp fresh ginger
1 tsp salt
Directions:
Wash and pat dry chicken pieces. Place it in a bowl.
In a spice grinder, blend red chilies, coriander + cumin seeds with fresh ginger.
Evenly distribute spice blend all over the chicken pieces. Sprinkle in 1 tsp salt.
Marinade chicken in the refrigerator for 4-6 hours, or overnight.
Remove marinated chicken from refrigerator to get the chill off at least an hour before cooking.
Heat a skillet on medium. Add cooking oil.
Once hot, add whole star anise, cinnamon stick and sliced onions. Fry till onions are lightly browned and translucent.
Sear in marinated chicken on medium-high heat. Once lightly seared, add fresh yogurt and stir to combine.
Cover to cook on low-medium for 30 minutes.*
Open lid to stir chicken pieces every now and then to avoid burn.
Once chicken is fully cooked-through and gravy thickened into paste, add pomegranate arils and salt. Mix to combine.
Serve hot with rotis/chappatis/rice, garnished with cilantro and cashew nuts.
*Note: cooking time may vary depending on the size of chicken pieces.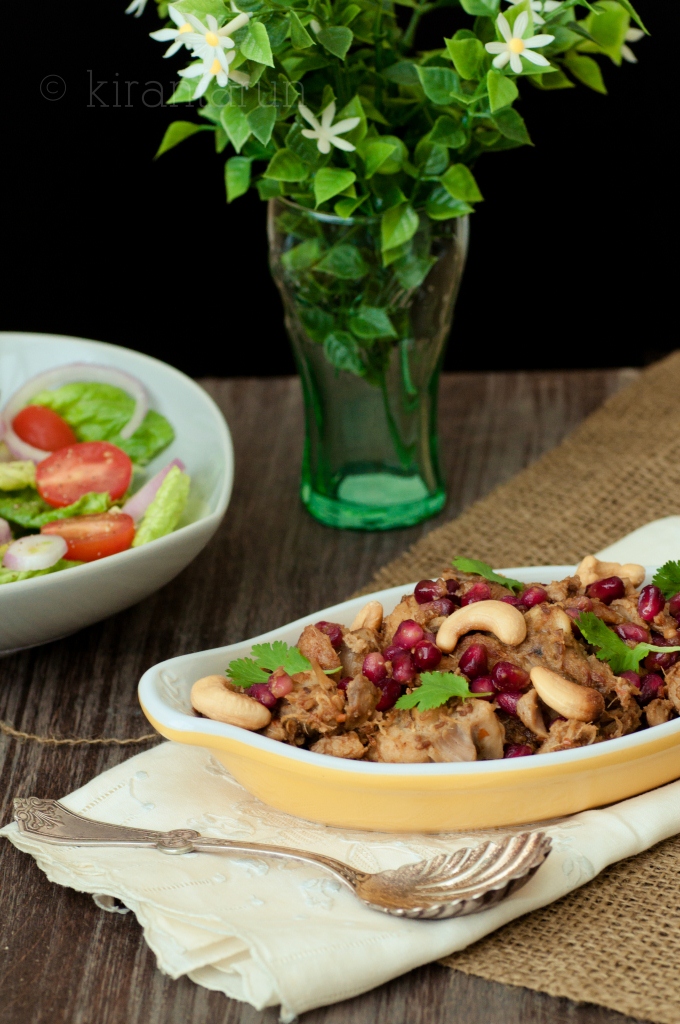 Off to redeem National Peanut Butter Day with a jar & a spoonful. If you have sangria's on your mind, recipe is coming up on Friday! You won't want to miss it 🙂
Are you comfortable prepping raw meat? I just can't stand it. Ewww!!!