H
i friends! How are you guys doing? We are currently in Bangalore, eating our hearts out and spending much needed quality time, being pampered by the family.
There's nothing like home. And of course, much needed break from routined life.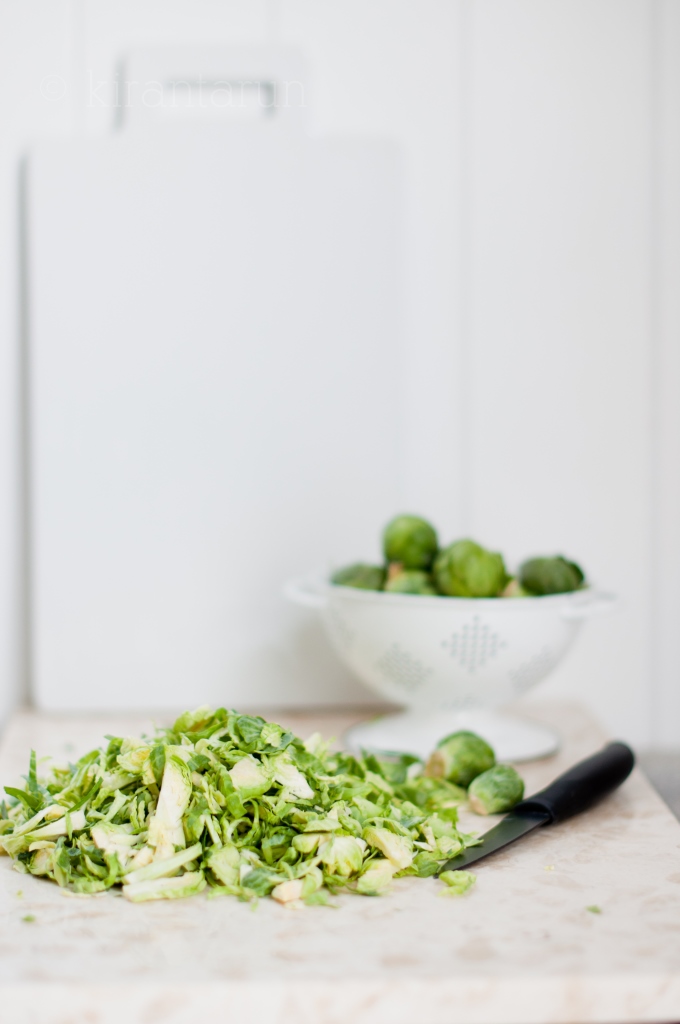 I'm keeping this post short, sweet and savory because frankly speaking I'd rather spend time cuddling with my sweet 18 month old niece. Time flies and we need to soak up every ounce of this family reunion.
Before you know it, she'll be 18 years old and I'll be praying for a stopwatch on ticking time. Time never waits for anyone, so better savor it now.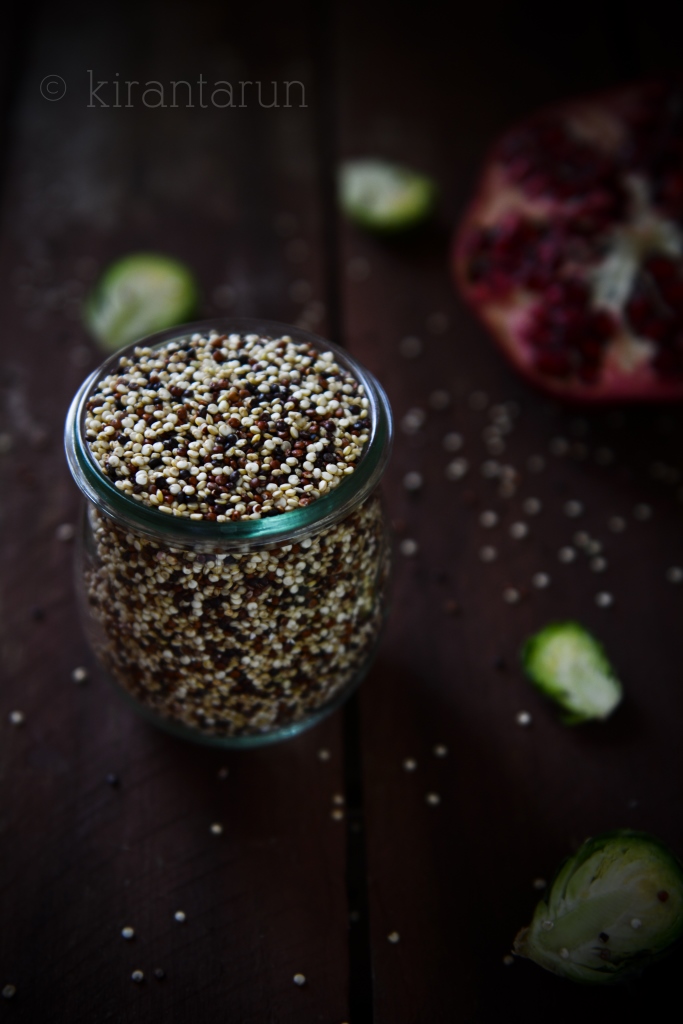 Same thing can be said about this time of the year. Christmas and New Years is just around the corner. Why oh why is time zooming by?
Oh well 😀
From my family to yours, have a wonderful, blessed and Happy Thanksgiving with your loved ones. Cherish every moment you can, give each other plenty of hugs and kisses, step away from routined life which includes slouching over the computer or smartphones.
Carve the turkey and serve it with sumptuous sides. Make this salad which brings so much joy while you feasts!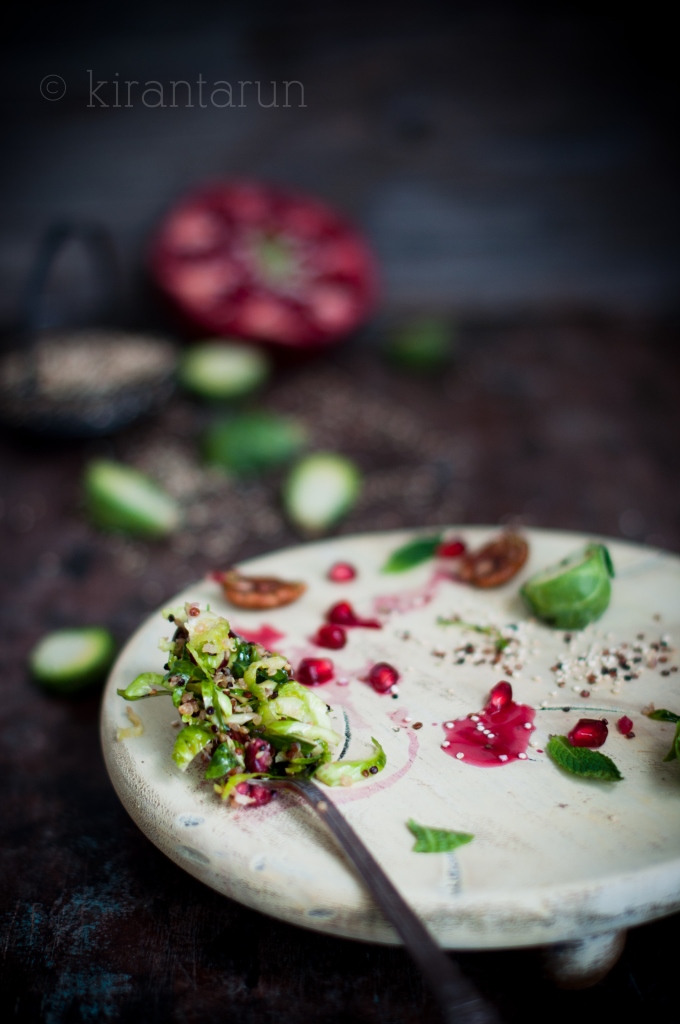 Print This Recipe
Ingredients:
1 cup of cooked quinoa, patted dry.
2 tsp extra virgin olive oil
3 heaping cups of shaved brussels sprouts
1/2 cup pomegranate arils
2 tbsp chopped fresh mint
Candied Pecans:
1/3 cup pecans
1 tbsp maple syrup
1/4 tsp salt
1/4 tsp black pepper
1/4 tsp cayenne pepper or chili powder
1/4 tsp ground cinnamon
Balsamic maple dressing:
2 tbsp reduced balsamic vinegar
1 tbsp maple syrup
2 tbsp apple cider vinegar
3 tbsp extra virgin olive oil
1/2 tsp salt
1/4 tsp black pepper
Directions:
Heat a saute pan on medium. Add 2 tsp olive oil. Once oil is heated, reduce heat to low and add cooked quinoa. Stir fry quinoa until lightly crisped. Remove from heat to cool.
Heat the same sauté pan on low. Add pecans and toast for 1 minute. Add the rest of ingredients for candied pecans and continue stirring to evenly coat.  Toast for 5 minutes and remove from pan to cool.
Add all the ingredients for balsamic maple dressing into a small mason jar. Screw on the lid and shake vigorously to emulsify.
To assemble salad: In a huge salad bowl, toss raw shaved brussels sprouts, pomegranate arils and fresh mint with crisped quinoa and candied pecans. Drizzle with balsamic maple dressing and toss to coat. Serve it alongside with your Thanksgiving turkey 🙂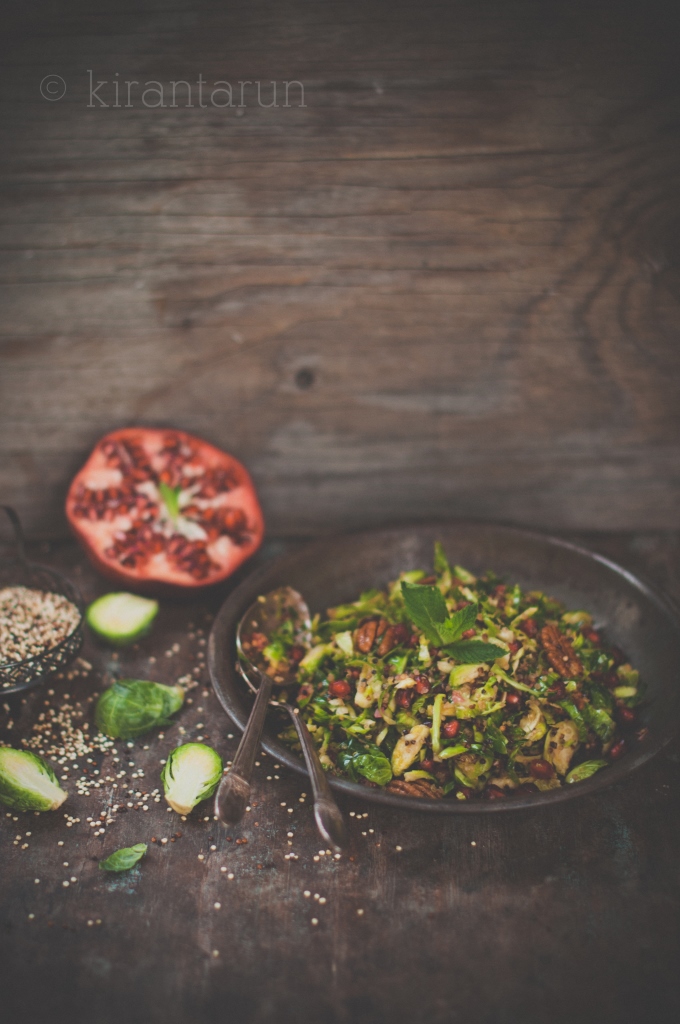 Off for more hugs and kisses from the niece!
Living a content and fulfilled life has to be a great accomplishment. What is your philosophy or advice on work-life-balance?