H
appy Friday!! Did you know it's Random Act of Kindness Day today in the US? I am off to share this bowl of deliciousness with my neighbors.
Don't worry, I have more than enough to share it with everyone — I just need to give up mine and the Hubby's portion *insert sad face*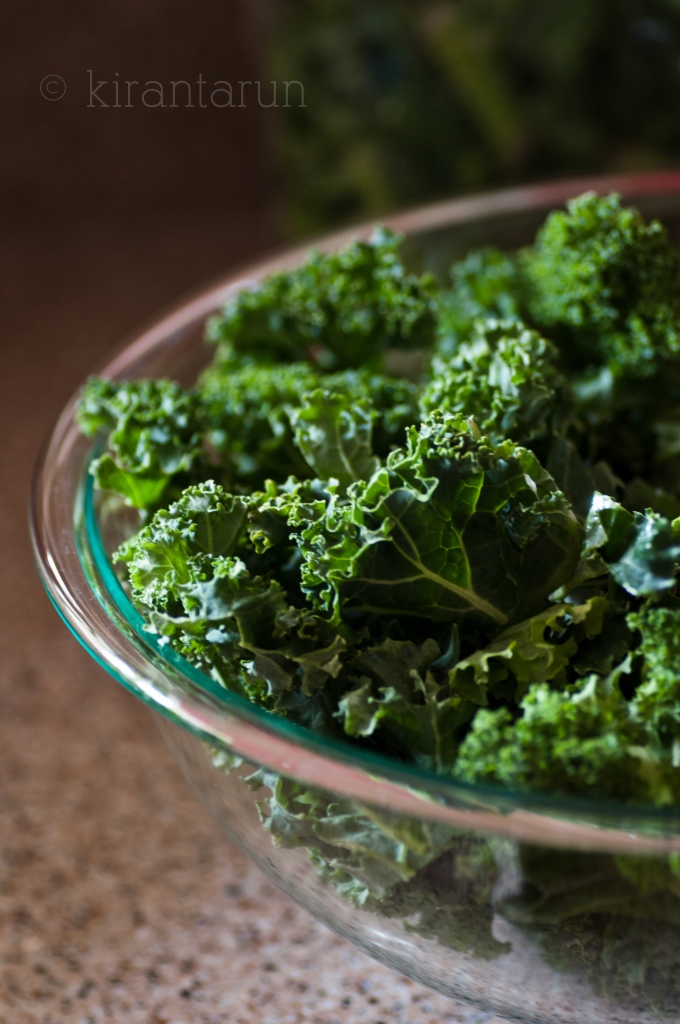 I've been reading and seeing a lot about kale chips making rounds in the blogosphere, and I was too intrigued about it. I mean, how crisp can a leafy vegetable be?
It's easier to fathom apples, root vegetables to be crisp. But leafy kale? I had a huge share of doubt.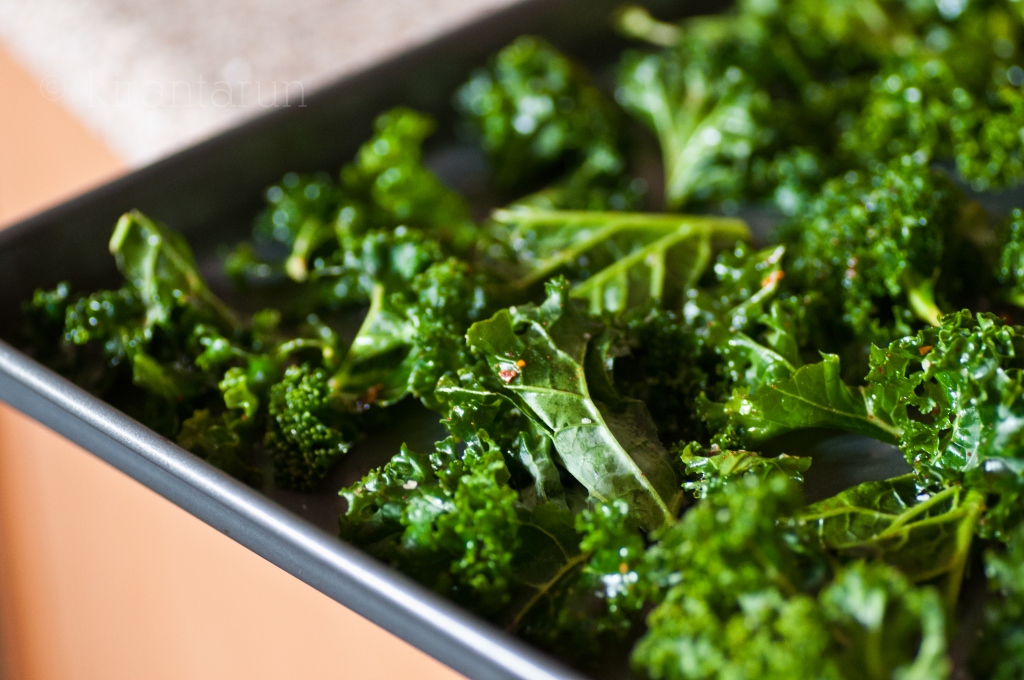 And a huge share of shocker too! These were fabulously crisp!!! With so many exclamation point, it's serious people.
The key to achieve crispness is simple:
right amount of oil, remove as much moisture as you can from the leaves and loads of space on baking sheets.
Do not  overcrowd the sheets with boat-load of kale leaves. You want to give it room to crisp not soggy. Soggy kale is a huge NO-NO!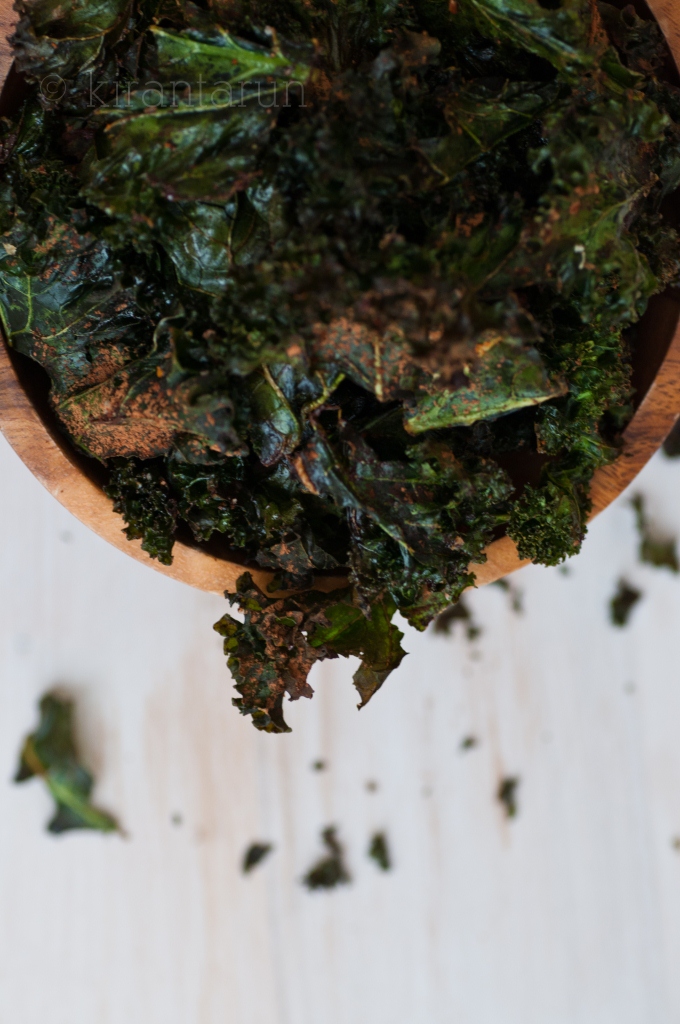 The other important aspect to kale chips is that it has to be eaten right away. Do not store it, unless you are dehydrating it using a dehydrator. There's enough moisture left in the kale to soggify.
Did I just invent another word? Sogify?!
Yeah, I hate when my food goes soggy on me. I am a soggy hater. Not ashamed at the fact.

Print This Recipe
Ingredients:
4-5 handfuls of fresh kale leaves, stems removed
2 tbsp extra virgin olive oil
1/2 tsp salt
1/2 tsp black pepper
1/2 tsp chili powder
1 tsp sweetened cocoa powder
Directions:
Preheat oven to 300F.
Wash & thorougly dry kale leaves. Add it in a bowl.
Add olive oil, salt & black pepper. Massage kale until evenly coated.
Spread individual kale leaves on baking sheets. Do not overcrowd.
Bake kale for 20 minutes.
Combine chili powder and sweetened cocoa powder in a mesh strainer.
Remove baking sheets to cool on counter. Sprinkle chili powder and cocoa powder evenly over hot crisp kale chips.
Serve immediately and do not store.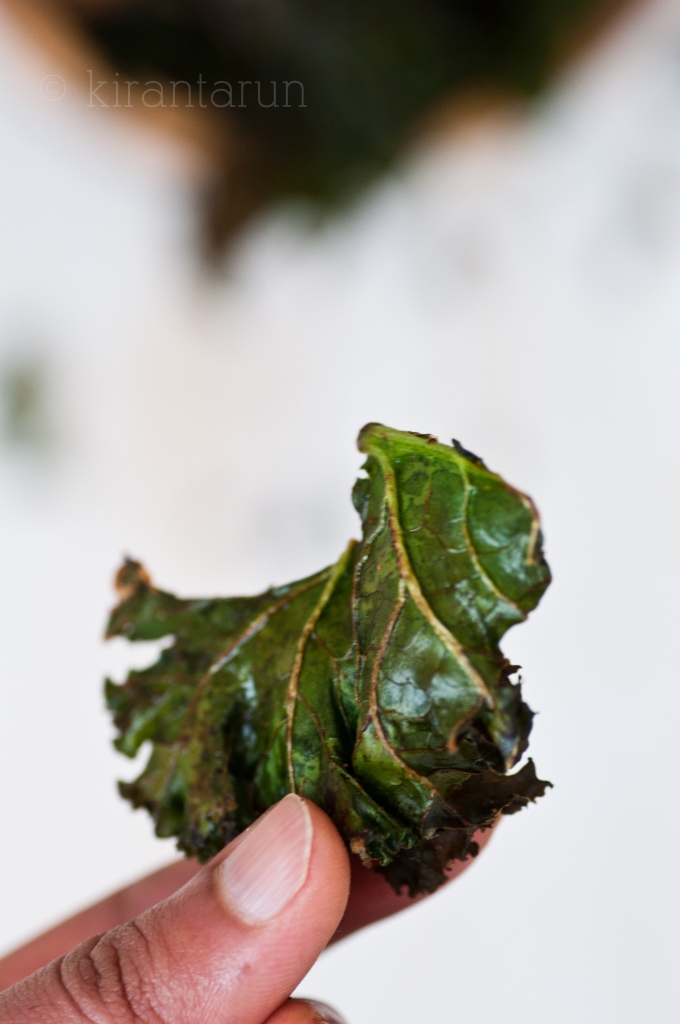 I am off to the bank. Hate it but someone has to do it. Send some chocolates my way, please?
Have a very happy weekend! What were your recent random act of kindness?