S
ometimes, all I want to do is just kick up my feet, enjoy a cup of masala chai and watch reruns of FRIENDS.
All day long.
It might sound "over the top", but can you imagine if someone magically appears and works on your daily to-do lists and chores?
My heart did a little flip just at the mere thought of this 😉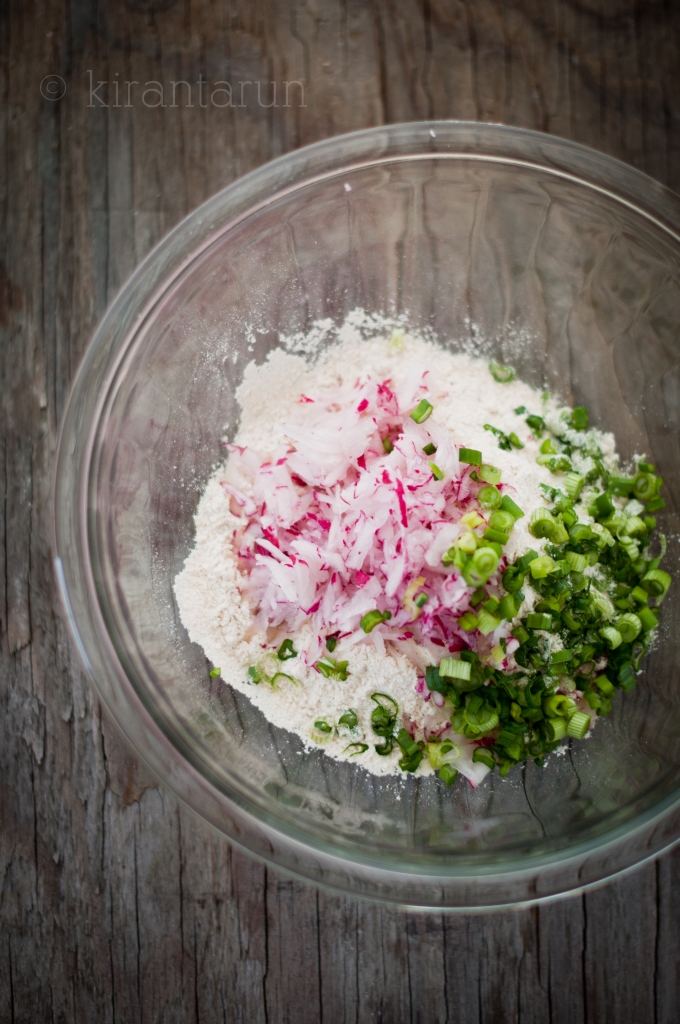 OK fine, admittedly I should thank my lucky stars for the devoted services of my humble dishwasher, but just the idea of loading and unloading…
well… it's so loathing.
Who hates chores, raise your hands?
CAN I ALSO ADD THAT NOT ONLY I LOATHE UNLOADING DISHES FROM THE DISHWASHER, BUT FOLDING LAUNDRY MAKES ME CRINGE.
I just don't like the idea of doing the same chore twice. It's so time consuming and I'd rather use the time to do recipe testing. Which is how this recipe came about in the first place. My aunt makes the best scallion pancakes and this is a spiced version of that recipe, jazzed up with some springy radishes and five spice powder.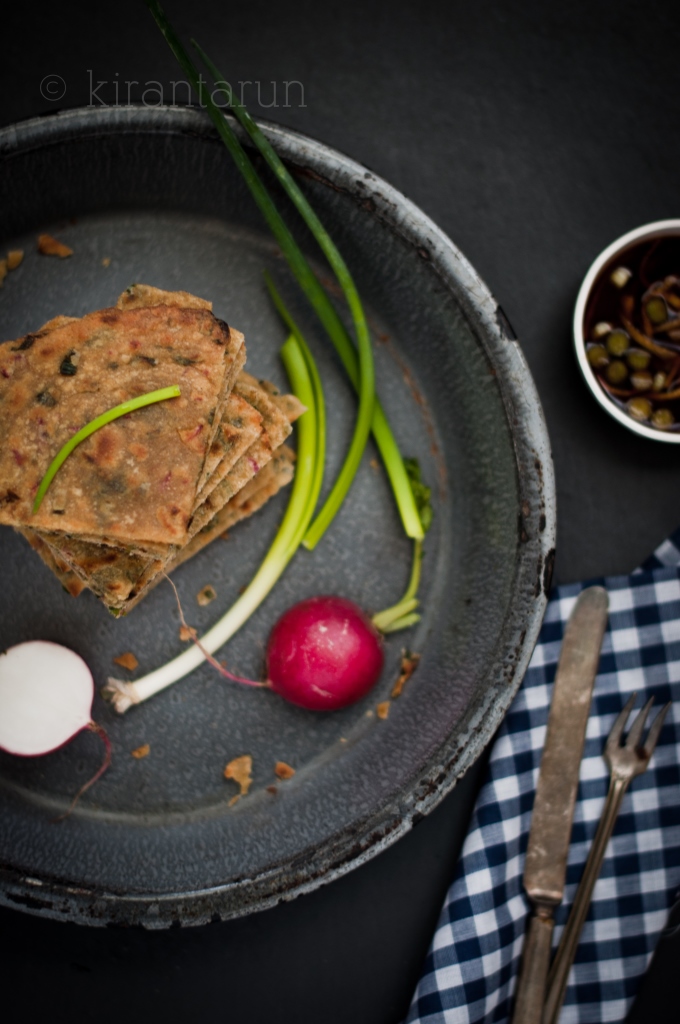 Print This Recipe
Inspired by my aunt's Chinese scallion pancake recipe.
Ingredients:
1 cup all purpose flour
1 cup whole wheat pastry flour
1.5 cup scallions, thinly sliced
4 whole radishes, grated
1 heaping tsp of salt
1 tsp of Chinese five spice powder
1/4 cup warm water
some almond/vegetable oil & flour to use during prep
Directions:
In a large non-reactive bowl, add all purpose, whole wheat flour, scallions, radishes, salt & five spice powder. Mix to combine.

Drizzle in some warm water. Knead until it combines into a semi-soft dough. Make sure the dough is not too dry or too soft. Cover the dough with a slightly damp kitchen towel and keep it aside to rest for a few minutes.
Heat a non-stick skillet on medium.
Divide dough into small equal portions, roughly the size of a ping pong ball. Roll between palms and apply gentle pressure till the dough balls are smoothly rounded. Make as many to keep ready before rolling out.
Flour surface and rolling pin.
Flour the dough ball and roll into 6 inch circles or as thin as possible without tearing. If the dough begins sticking on surface and rolling pin, lightly dust with some whole wheat flour on both sides.
Place rolled out pancakes on hot skillet for a few seconds before flipping over. At this point, some brown spots would begin appearing. Brush on some almond oil and flip it over again. Repeat with smearing some almond oil onto the other side. Using a spatula, lightly apply pressure to the puffed areas all around.
Flip again and lightly apply pressure making sure rolled out pancakes are golden brown and lightly crisped on both sides.
Serve on room temperature with some soy sauce or any oriental dipping sauce.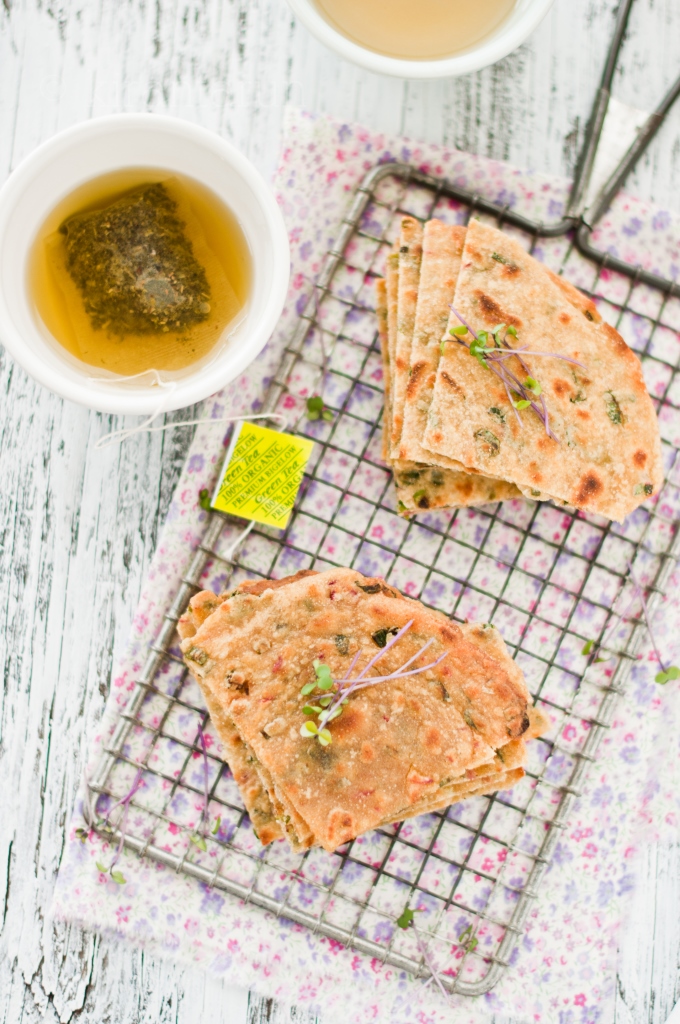 On the flip side, we had a friend over for lunch today to a table-full of Indian feasts. He's vegan and we feasts on chickpeas & edamame coconut curry, oven crisped bitter gourd, mushroom in spiced cashew cream sauce, vegan spiced eggplant, salad, steamed rice and chapati.
Phew! That was a lot of fun cooking. But I can't say the same about the photos from this archived recipes — which were too difficult to look at.
Really 😀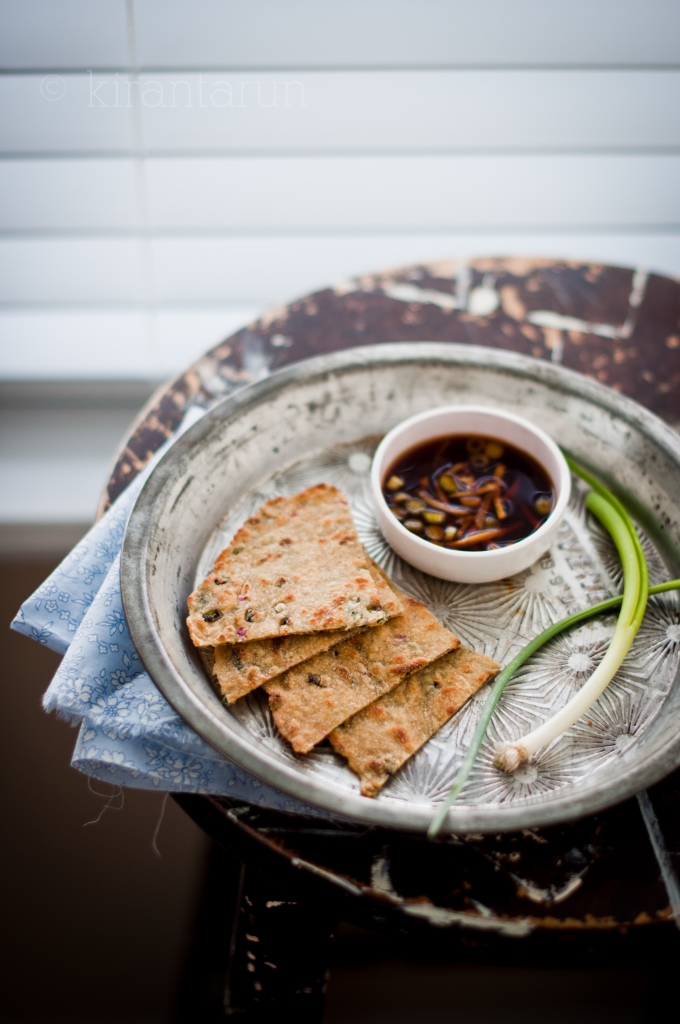 Just the thought of dealing with a kitchen sink filled with piled-high dishes makes me want to succumb to my day dreaming, all day long.
Time to wake up 🙂
What do you hate the most from your household chores?