L
eftovers.
Somehow tastes better the next day or convert it into a whole different meal. Either way, leftovers can be a delicious magic potion.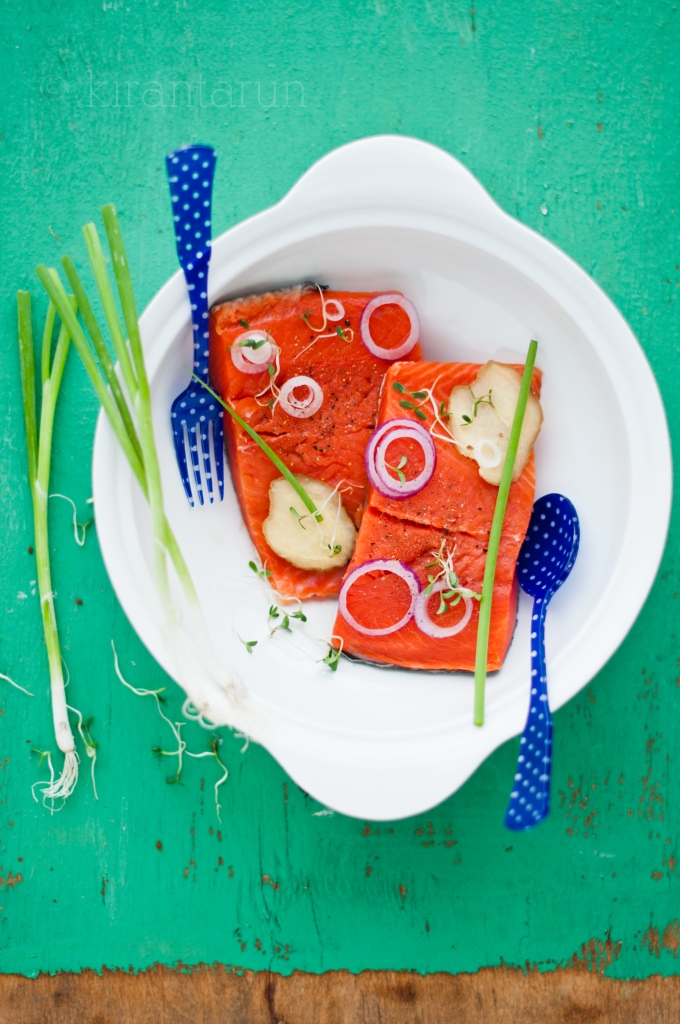 Rice has to be one of my favorite "left-over" just because the idea of fried rice thrills me immensely. And it should have similar effect on you too, after all, what's not to like about fried rice?
Its so comforting and there's a gazillion combo that can be made with whatever that is left in the refrigerator.
Some days calls for lazy cooking. Other days? Well…. you just cook from scratch all over again. Fun, eh?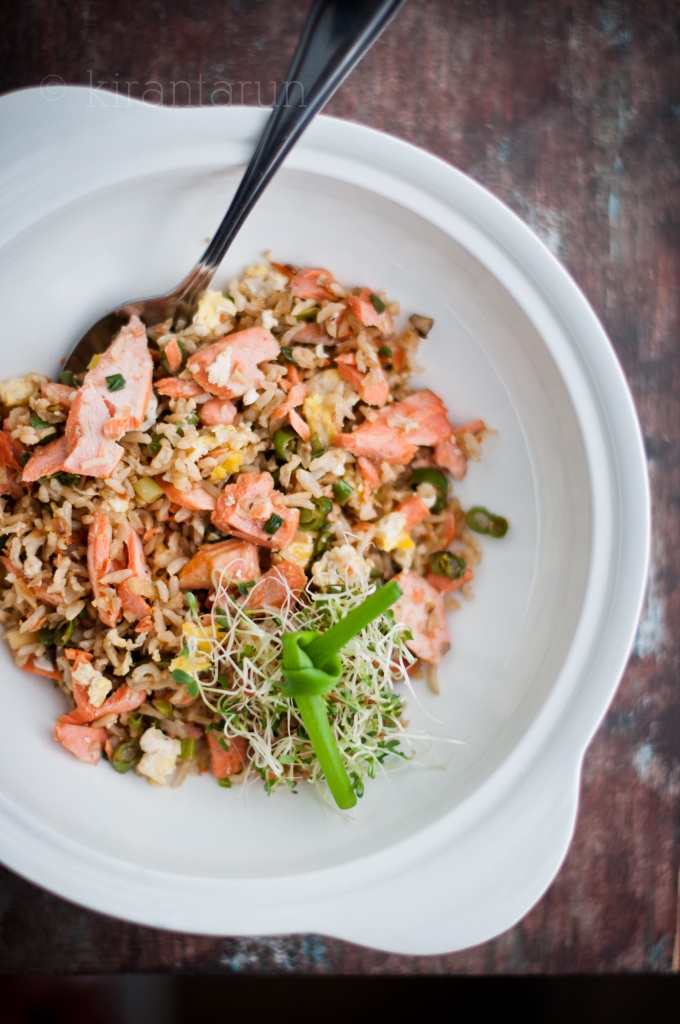 These days, lazy cooking is definitely ruling. Throw in this-and-that, and voila! Nothing beats a huge plate of fried rice. NOT A THING. Especially when it's made with leftover salmon.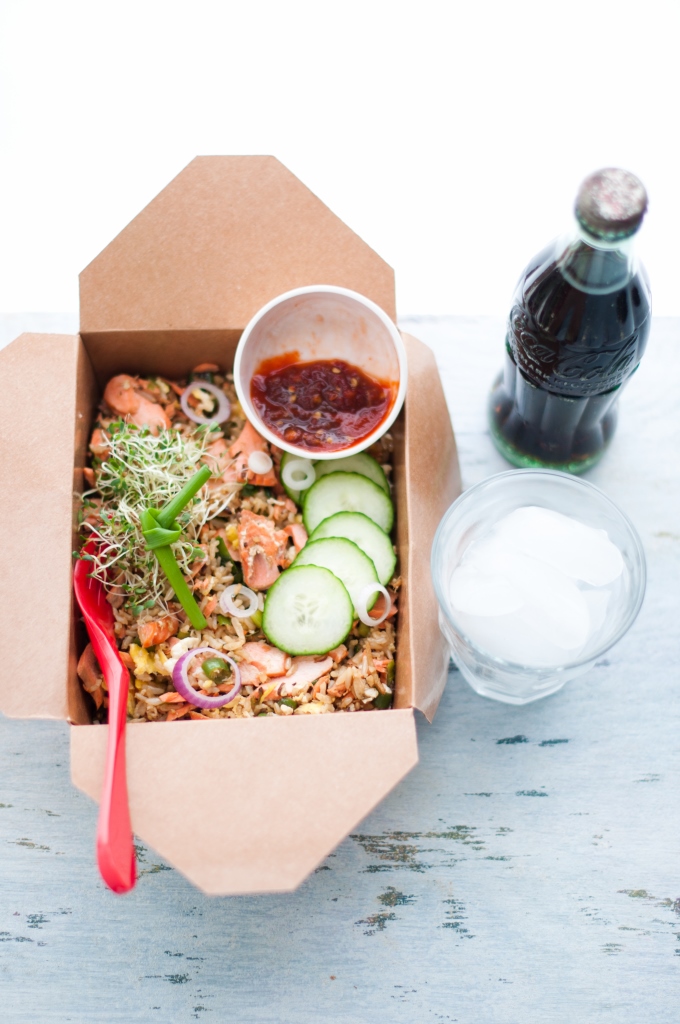 Print This Recipe
Makes 2 large servings
Ingredients:
2 cups of cooked day-old brown rice, cold
2 fillets of fresh salmon, partially cooked & flaked*
3 tbsp cooking oil
2 eggs
pinch of salt + black pepper
1/2 heaping cup green beans, finely diced
1 small shallot, chopped
2 inch of fresh ginger, minced
2 cloves of garlic, minced
1/2 heaping cup scallion (green onion), finely sliced
2 tbsp light soy sauce
1/2 tbsp fish sauce
1/2 tbsp rice vinegar
pinch of sugar
1/2 tbsp roasted sesame oil
salt + black pepper to taste
Directions:
Heat a huge wok on high. In a small bowl, crack 2 eggs. Add a pinch of salt and black pepper. Whisk lightly.
Once the wok is hot, drizzle in 1 tbsp of cooking oil, swirl it around and add whisked eggs. Scramble eggs for a few seconds and remove from wok. Set aside.
In the same wok, add remainder 2 tbsp cooking oil. Once oil is hot, add chopped shallot, minced ginger+garlic and finely diced green beans. Stir and cook for 2 minutes. Put a lid on and cook for one more minute or until beans are slightly charred.
In a bowl, stir light soy sauce, fish sauce, rice vinegar, pinch of sugar and roasted sesame oil.
Remove lid from wok and to add cold brown rice. Drizzle in prepared sauce and stir fry on high for a minute before adding scrambled eggs and partially cooked flaked salmon.
Adjust seasonings with salt & black pepper to taste. Stir and remove to serve immediately.
*marinate salmon fillets with a little soy sauce to impart more flavors.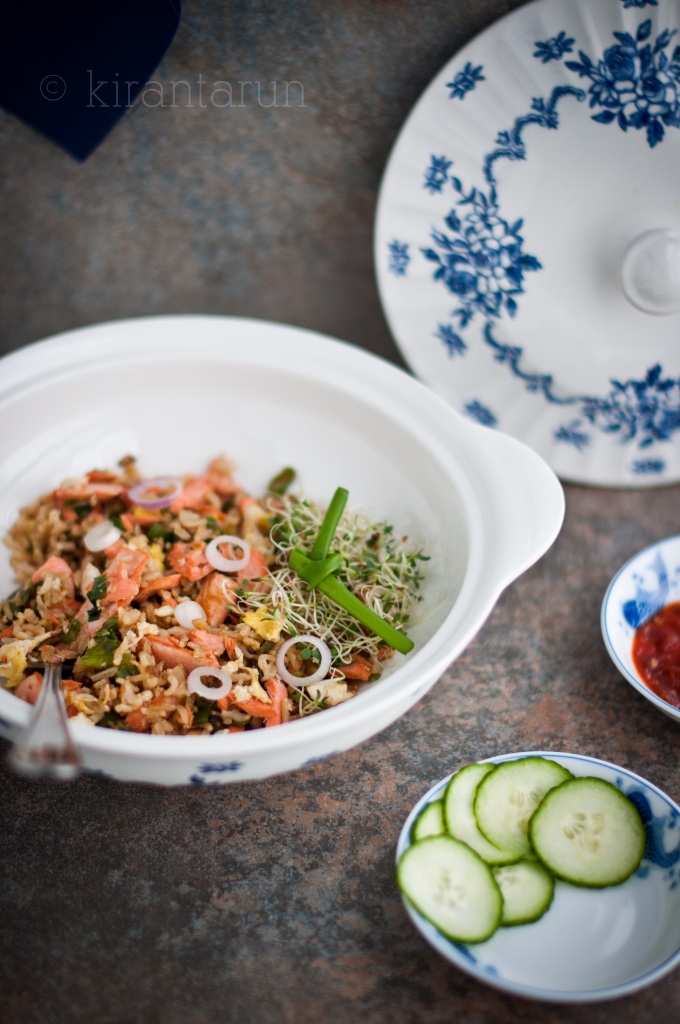 Have a great weekend, friends! Off to scour the refrigerator, in hopes for more left-over inspirations 😉
What's your favorite "left-over" meal? Or fried rice combo?