H
elp!
I'm experiencing writer's block. A huge rut that is sinking my creativity with it. For the past few days, there has been almost zero interest in cooking, styling or instagramming.
Sporadic eats throughout the day. Very few interactions over social media. And I'm OK with the break. But I'm also beating myself up for not doing anything to eliminate this rut.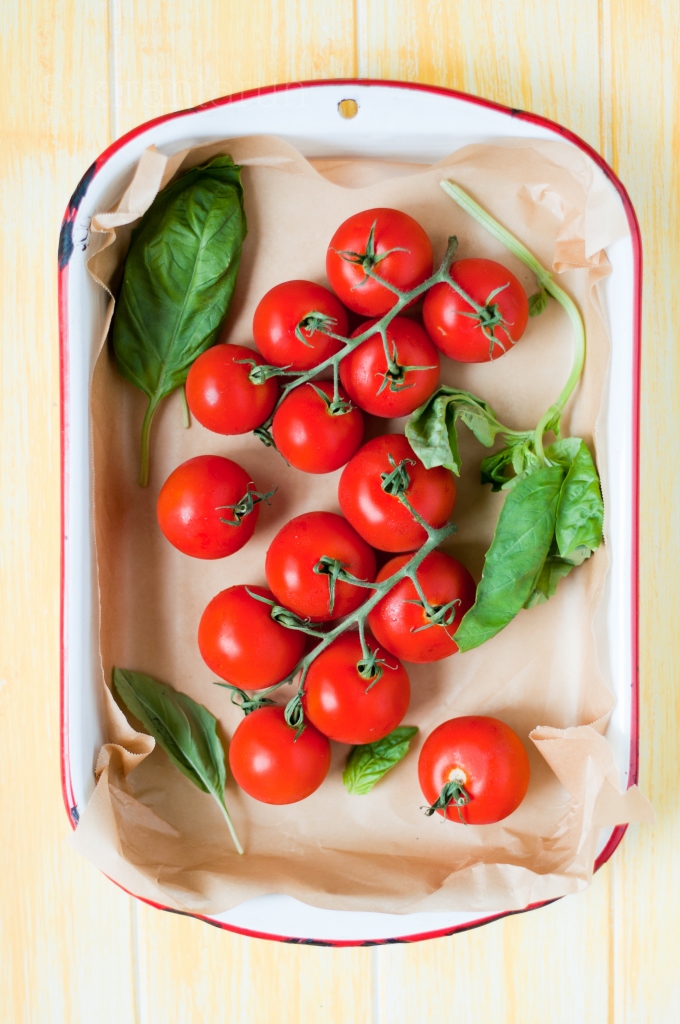 I love cooking/baking. And I get way too excited when it comes to plating and styling. But it's not the same now. I've learn to accept that its OK to do something different.
Which is doing nothing at all 😉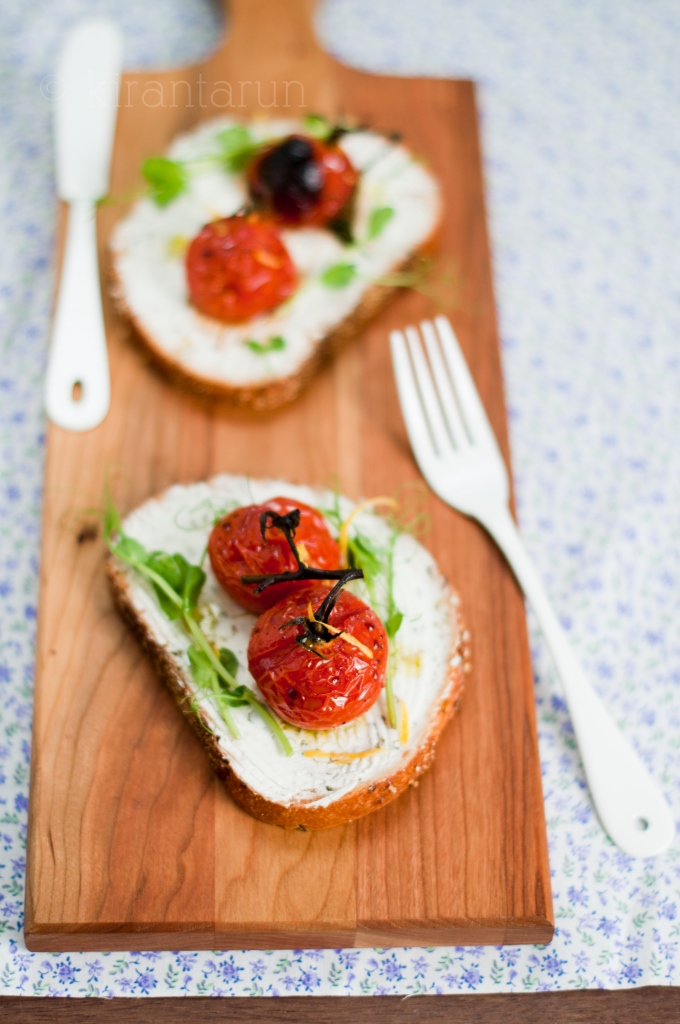 It's ok to not instagram every meal I'm consuming. It's all about enjoying precious moments of life without technology. I think we all go through some sort of blocks in our lives. And it's great to break out of a routined daily tasks.
That's when simple and fresh food comes in. I find comfort in foods that won't require slaving over hot stove in the kitchen. Simple and hearty tartines or sandwiches, salads, smoothies and freshly squeezed juices comes in handy too.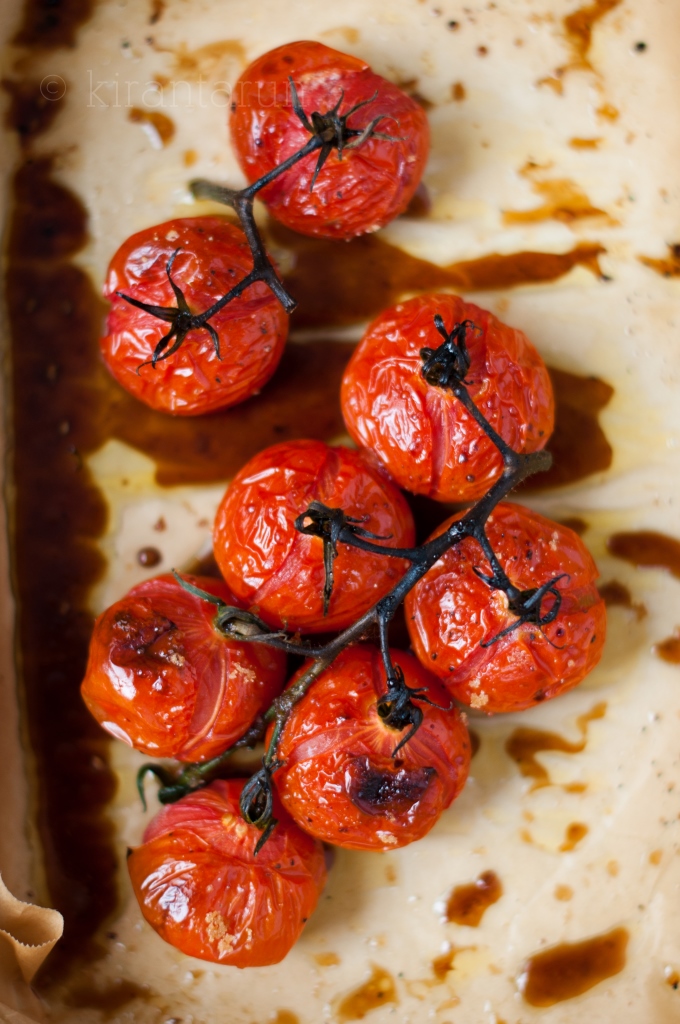 Print This Recipe
Makes 6 tartines
Ingredients:
1 lbs tomatoes on the vine
pinch of salt & pepper
2 tbsp extra virgin olive oil
1 tbsp balsamic vinegar
1 tbsp brown sugar
6 slices of bread
4 oz herbed goat cheese, softened
Basil oil
1 small bunch of fresh basil leaves
hot water
icy cold water
1/4 tsp salt
pinch of black pepper
zest of 1 lemon
3/4 cup of extra virgin olive oil
Directions:
Preheat oven to "broil".
Add tomatoes, pinch of salt + pepper, 2 tbsp olive oil, balsamic vinegar and brown sugar. Gently toss.
Broil tomatoes on low between 20 to 25 minutes or until tomatoes are blistered.
Blanch fresh basil leaves in some hot water for 15 seconds. Shock blanched basil leaves into cold water. Gently squeeze out liquid from basil leaves and add it into a food processor with salt, black pepper and lemon zest. Pulse to combine and gently stream in extra virgin olive oil to emulsify.
Once tomatoes are broiled, allow it to come to room temperature.
To assemble: Lightly toast bread slices. Slather on some goat cheese, cooled roasted tomatoes, a drizzle of basil oil, pinch of salt and pepper.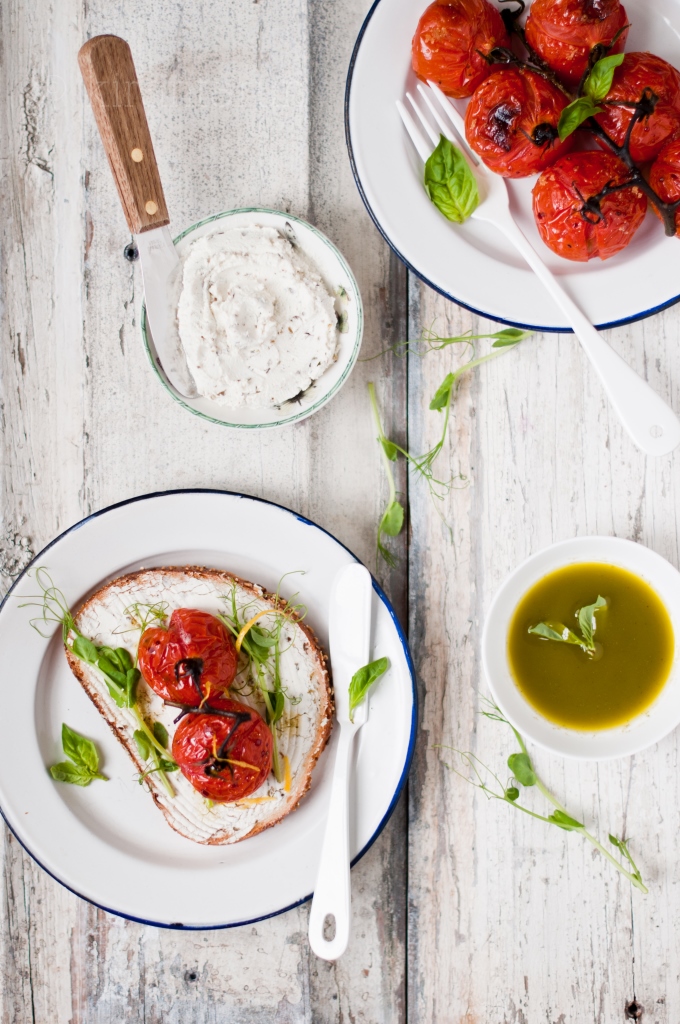 Off to make another tartine, read a gossip magazine and call it a day.
How do you get out of a rut?