P
romise, I was truly tempted to post more pumpkin recipes. Alas, I can't believe what I'm about to say…
Unbelievably, we needed a break.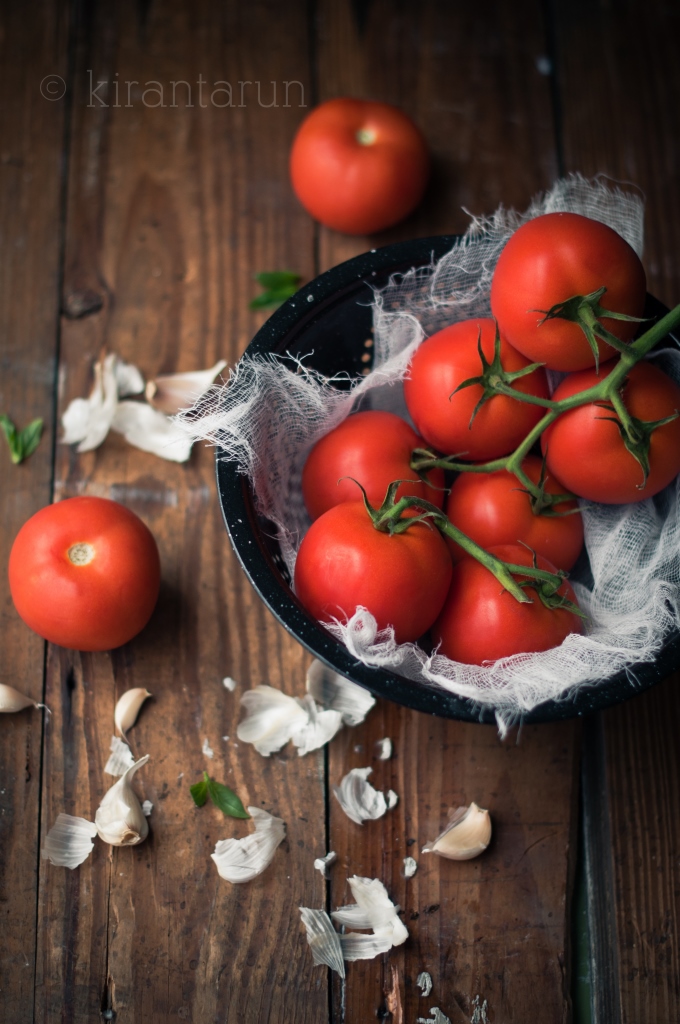 A break from pumpkin because I want to avoid getting sick of consuming it. I'm very close to the borderline. So we did what any sane person would do and opted for spiced tomato soup.
Because life without spice is, well, not worth living 😀
Tomatoes are still making final appearances in the market. Temps are cooling down and the best use of this not-so-seasonal tomatoes are in the oven, roasted. If you can't find fresh tomatoes, canned ones are awesome too.
Just don't tell anyone about it.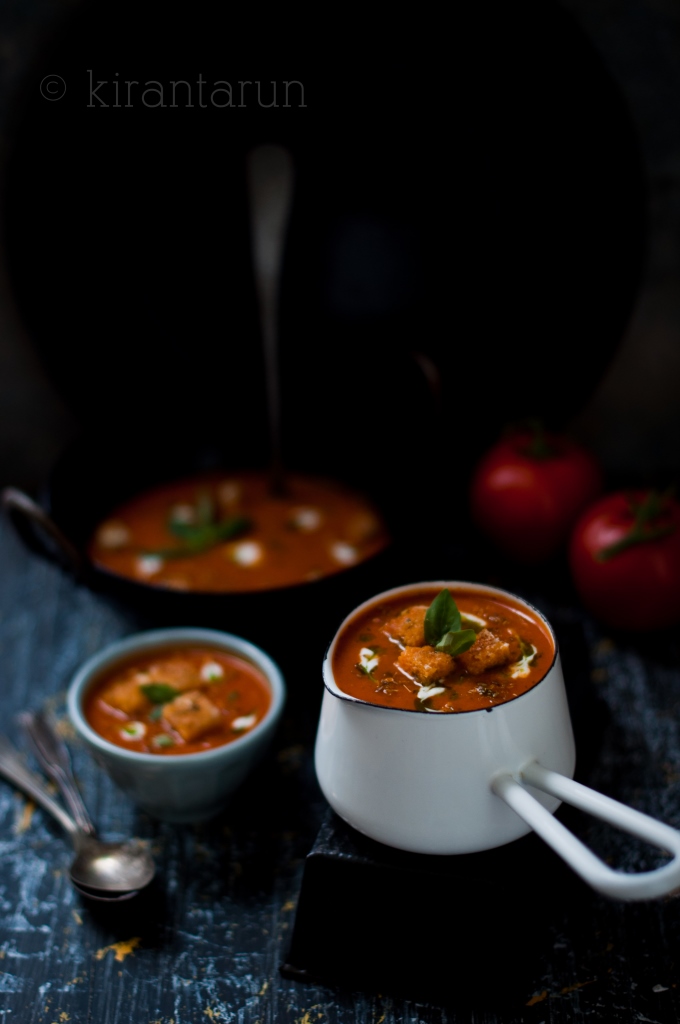 If you are still able to scour some juicy tomatoes and fresh basil (lucky you!), we STRONGLY suggest that you put the pumpkin down for a sec and make this.
Thank us later.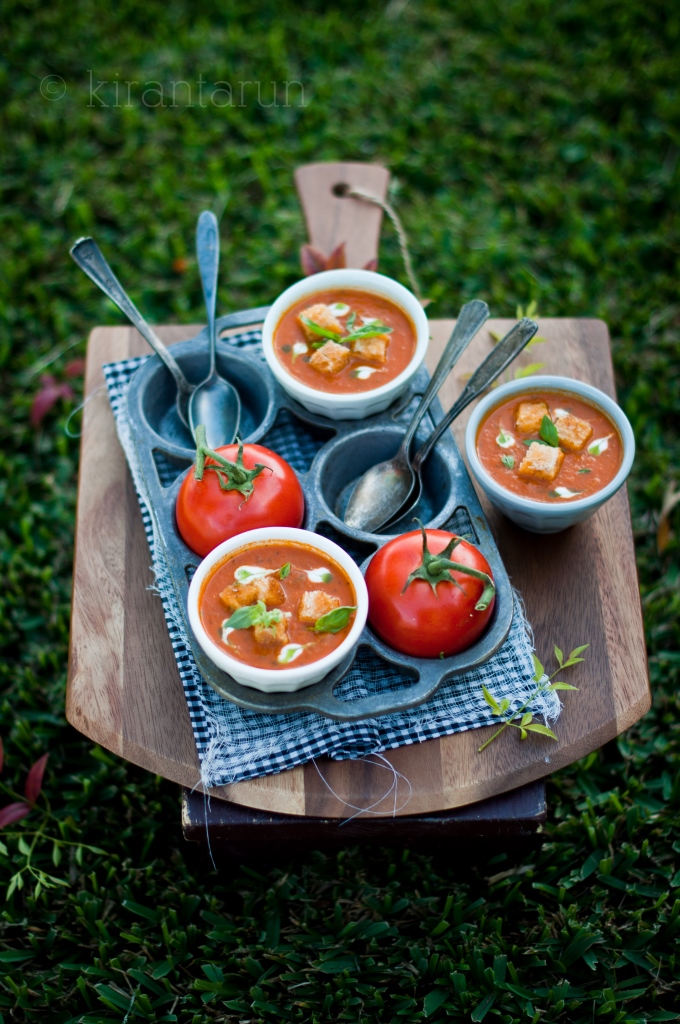 Print This Recipe
Ingredients:
For roasting:
10 large tomatoes on vine, cut into wedges
1 tbsp extra virgin olive oil
pinch of salt and black pepper
1 whole head of garlic, halved
For soup:
2 tbsp cooking oil
2 shallots, minced
1 heaping tbsp harissa or any chili paste
1/4 tsp turmeric powder
1 tsp coriander powder
1 tsp cumin powder
1 tsp honey
1 heaping tbsp roasted mashed garlic
2 cups vegetable broth
3/4 tsp salt
1/4 tsp black pepper
10 fresh basil leaves
Directions:
Preheat oven to 325F.
Place tomato wedges into a roasting pan, drizzle some olive oil and a sprinkling of salt and black pepper. Toss to coat. Place halved garlic head onto a medium sized foil, drizzle some oil and wrap it up into a parcel. Place foil in the same roasting pan for tomatoes. Roast for 50 minutes.
Meantime, heat a large soup pot on medium and add 2 tbsp of cooking oil. Once oil sizzles, add minced shallots and cook for a few minutes or until translucent.
Add the spices (harissa, turmeric, coriander and cumin powder). Cook for 1 minute before adding honey and vegetable broth. Allow the liquid to come to simmer.
Throw in roasted tomatoes and garlic. Season with salt and black pepper. Allow the soup to thicken and simmer for 10 more minutes before adding fresh basil leaves.
Turn the heat to low. Using an immersion blender, puree soup until smooth.
Ladle hot soup into bowls and enjoy, topped with cubed day old bread, basil oil, cream and a dash of cumin powder!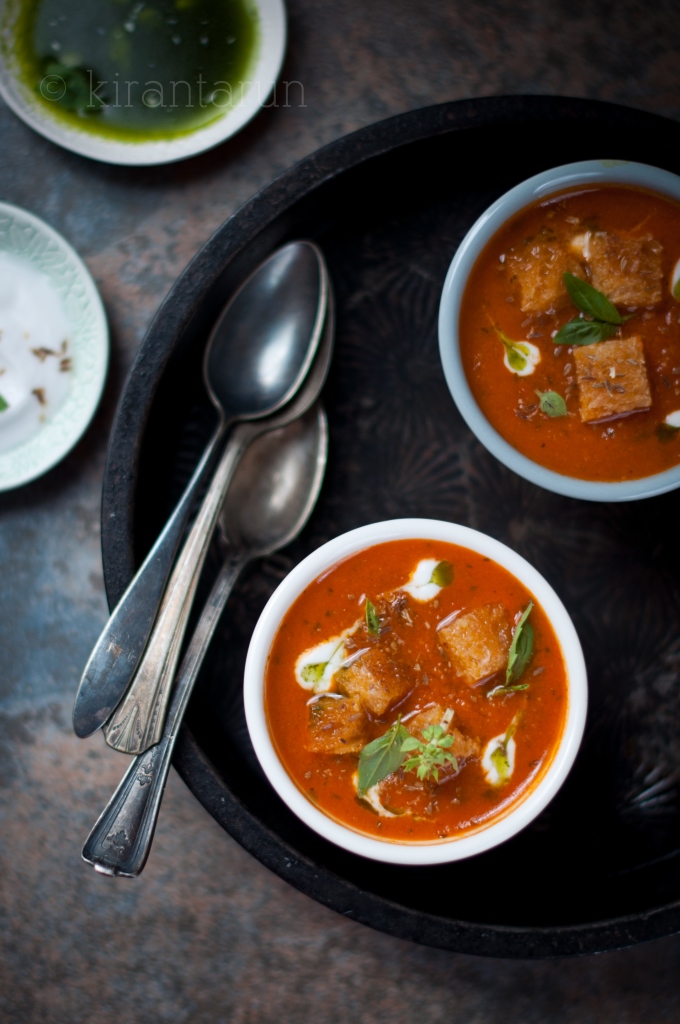 Christmas decorations are up in the shopping centers around here! What is happening to Thanksgiving? Hardly given any spotlight. Nevertheless, try to have a great week, friends 🙂
What's your all-time favorite soup? Are you looking forward to Christmas already?