C
limate is topsy-turvy these days. Bundle up with layers and sip on hot drinks all day long — its pretty much inadequate with dropping temperatures.
Especially when I arrived back to the States last night, without a winter jacket.
Duh.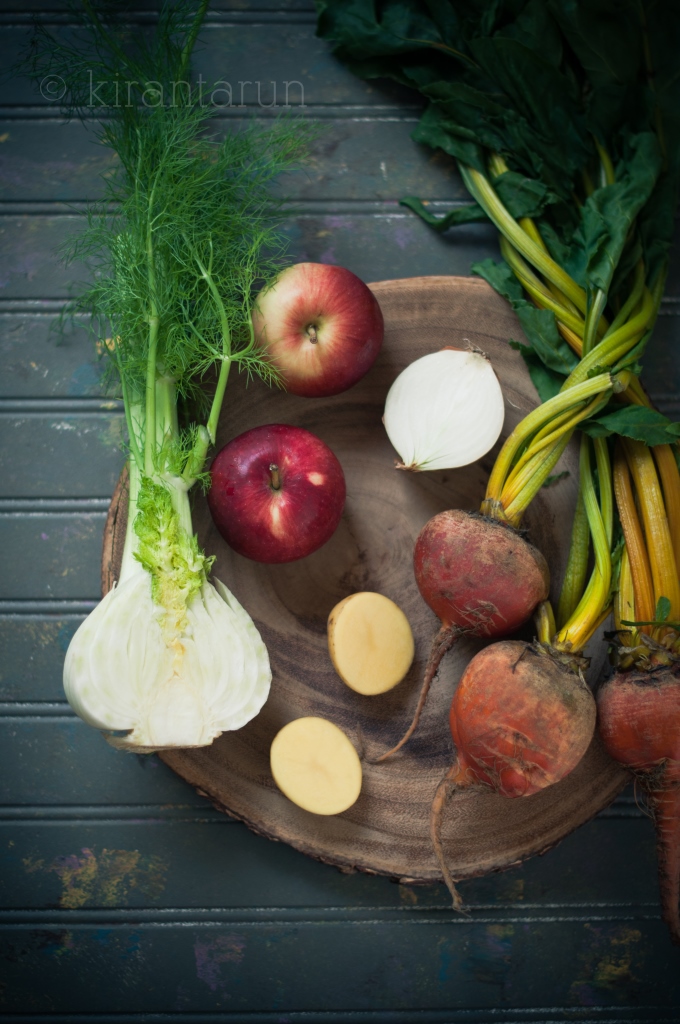 After almost two months of whirlwind travels visiting families and friends between India and Malaysia — I'm missing it all too much already. But its time to pull up the socks (no pun intended) because lets face it, there's a lot of catching up to do here. Beginning with freezing temperatures!!
Bbbrrrrrr!!!
And of course, the inevitable pile of mails. Mostly junk. After 30 hours of travel to return home to chilly weather, I have zero motivation to leave my cozy and warm comforter.
Except if I'm magically handed bowls of hot soups. Like this.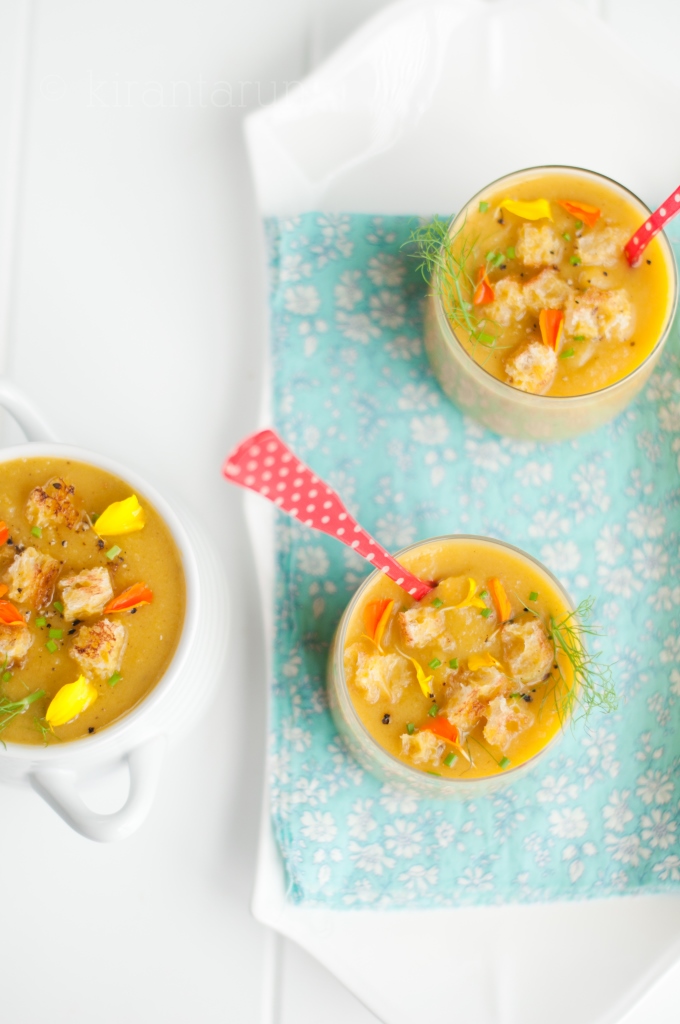 Can't wait to get back into my kitchen, turning on the oven and roasting away in the hopes that the warmth from oven would keep me warm and toasty.
Killing two birds with one stone is my lifelong motto. No pun intended.
Truly.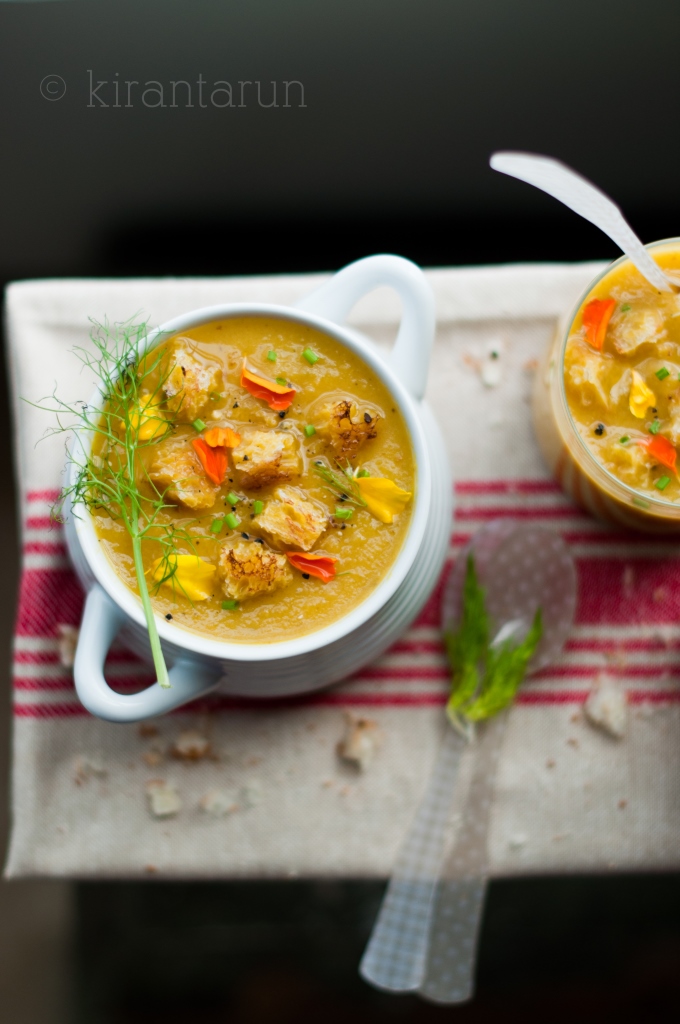 Off to sneak back under my warm comforter. Hoping to find some solace from missing the fun filled two months spent with family and friends back home.
Hungry but content 🙂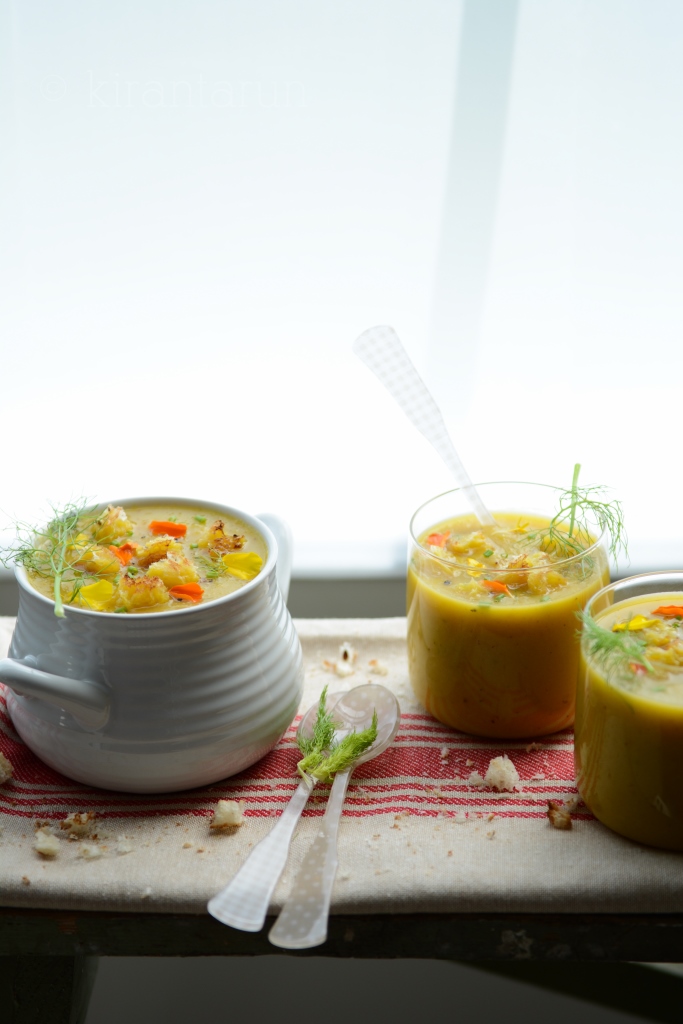 Print This Recipe
Ingredients:
3 large golden beets, quartered
1 medium fennel bulb, quartered
1 tbsp extra virgin olive oil
1/4 tsp salt
1/4 tsp black pepper
1/2 medium onion, chopped
1 tbsp olive oil
2 apples, cored, peeled and diced
4 small potatoes, peeled and diced
1 tsp minced garlic
1 small cinnamon stick
1 star anise
1 bay leaf
1/2 tsp coriander seeds
1/2 tsp whole cloves
4 cups vegetable broth
1 tbsp apple cider vinegar
Directions:
Preheat oven to 400F. Line a baking sheet with parchment paper.
In a bowl, toss quartered golden beets & fennel bulb with 1 tbsp olive oil, 1/4 tsp salt and black pepper. Spread it on parchment lined baking sheet and roast for 30 minutes.
Meantime, heat a large saucepan on medium. Add 1 tbsp of olive oil. Once oil heats through, add chopped onion. Cook until fragrant and translucent.
Add diced apples and potatoes. Stir and cook for 10 minutes. Prepare a bouquet garni by adding cinnamon stick, star anise, bay leaf, coriander seeds and whole cloves onto a small cheese cloth. Gather the ends and secure it into a parcel with a kitchen twine.
Once apples and potatoes begins to soften, add minced garlic and bouquet garni. Stir and toss in roasted veggies.
Drizzle vegetable broth and apple cider vinegar. Check for seasonings, cover pot with a lid and bring broth to a gentle simmer. Lower heat and cook soup for 15 minutes.
Remove bouquet garni from the soup. Gently puree soup with an immersion blender or food processor.
Garnish soup with croutons, black pepper, olive oil, edible flowers etc.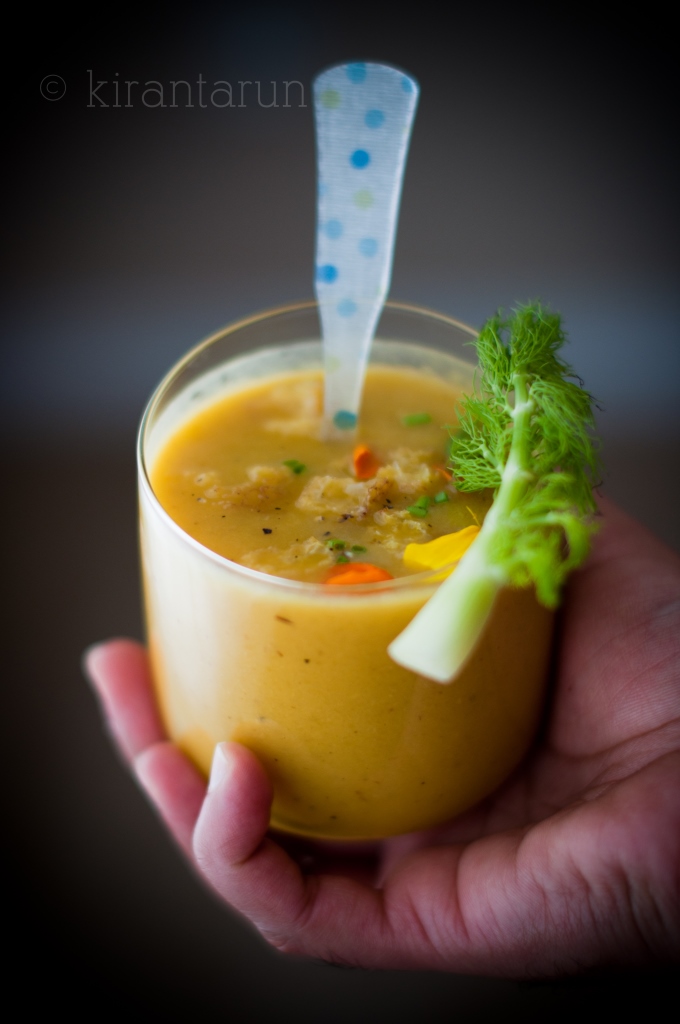 And can someone please make a grocery run for me?!! Desperately need to get out and eat something at least.
So glad to be home 🙂
What's your winter comfort meal? How do you overcome travel woes?