L
atest news: the in-laws are here for a visit! There's so much food and fun-filled dining table talks and we are soaking it all. Reminiscing on the family traditions and tales of childhood.
It doesn't matter if blogging is sporadic. As long as I'm getting earfuls of Tarun's childhood mischiefs 😉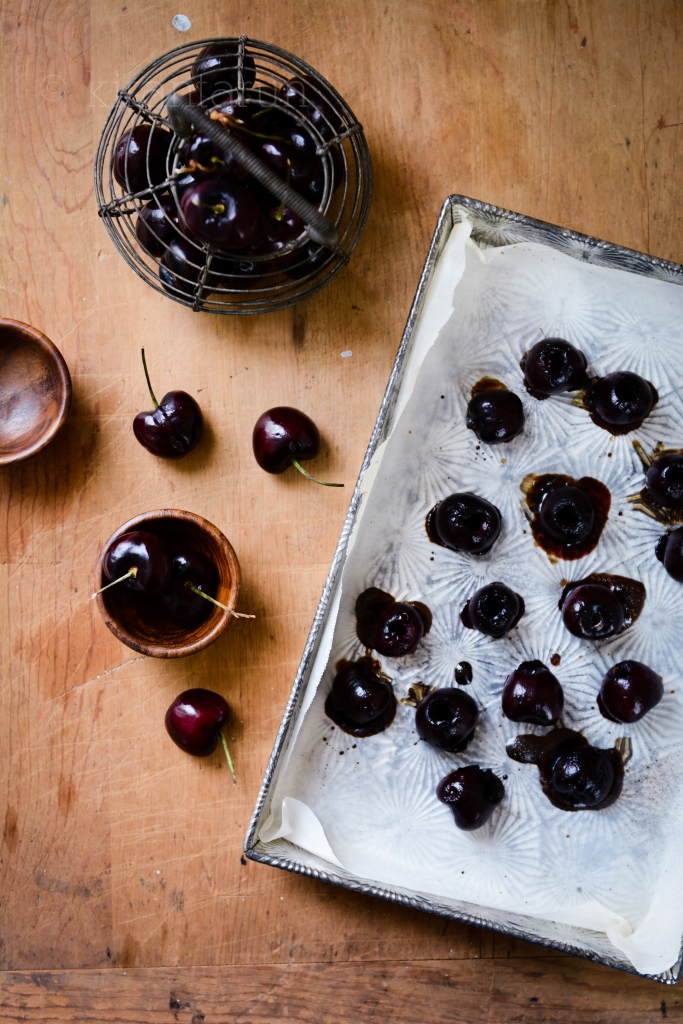 A little background on the in-laws and the troubles they are getting themselves into.
Mummy will always lend a few pair of hands in the kitchen. Whether it's wee hours in the morning, or till dawn. Literally. She hardly ever tires when it comes to preparing meals for us.
She's constantly a huge inspiration. If only she allows herself to nap often.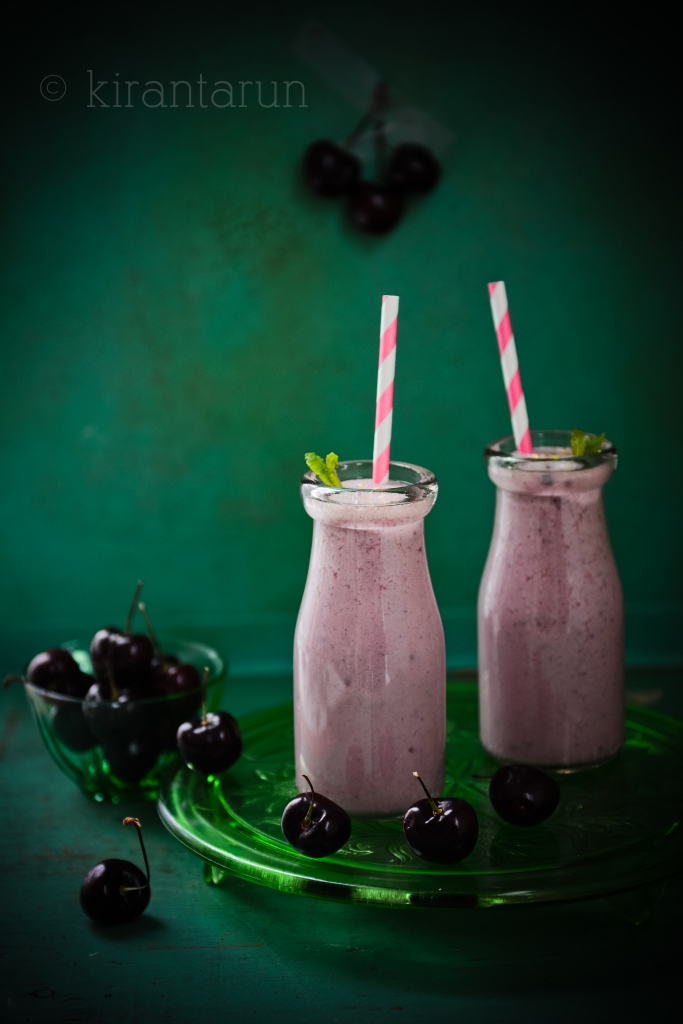 Papa has been a great help in the photography department. He's my hero whenever I needed an extra pair of hands for help in styling or hand-modelling. Grateful for every guidance they've bestowed ever since arriving. That includes the nudging of watching Indian cinema.
A ton of it.
For them, this is their way of vacationing — being in the moment with us, while sipping on something they are not used to other than the traditional mango lassi.
With that being said, roasted cherry-balsamic lassi has the in-law's approval written all over it. And now you have no reason not to make it 😉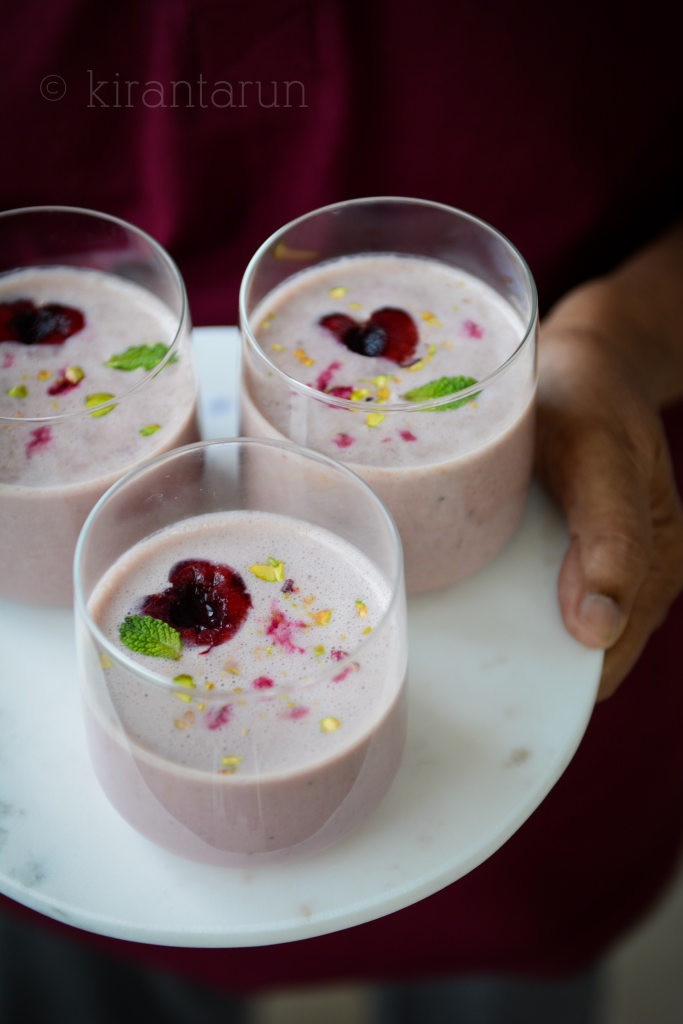 Print This Recipe
Makes 2 large servings
Ingredients:
1.5 cup of pitted fresh cherries
2 tsp aged balsamic vinegar
1 cup of fat free yogurt
1 cup of nut or regular milk
1 very ripe banana, chopped
2 tbsp honey
tiny pinch of salt
4 ice cubes
garnish: chopped pistachios, mint leaves & sliced cherries
Directions:
Preheat oven to 400F. Line a small baking sheet with parchment paper.
Tumble pitted cherries onto lined baking sheet and drizzle with balsamic vinegar. Roast cherries for 20 minutes.
Remove cherries to cool to room temperature.
Add all ingredients (sans garnish) into a blender. Blend until smooth.
Serve immediately, topped with garnish!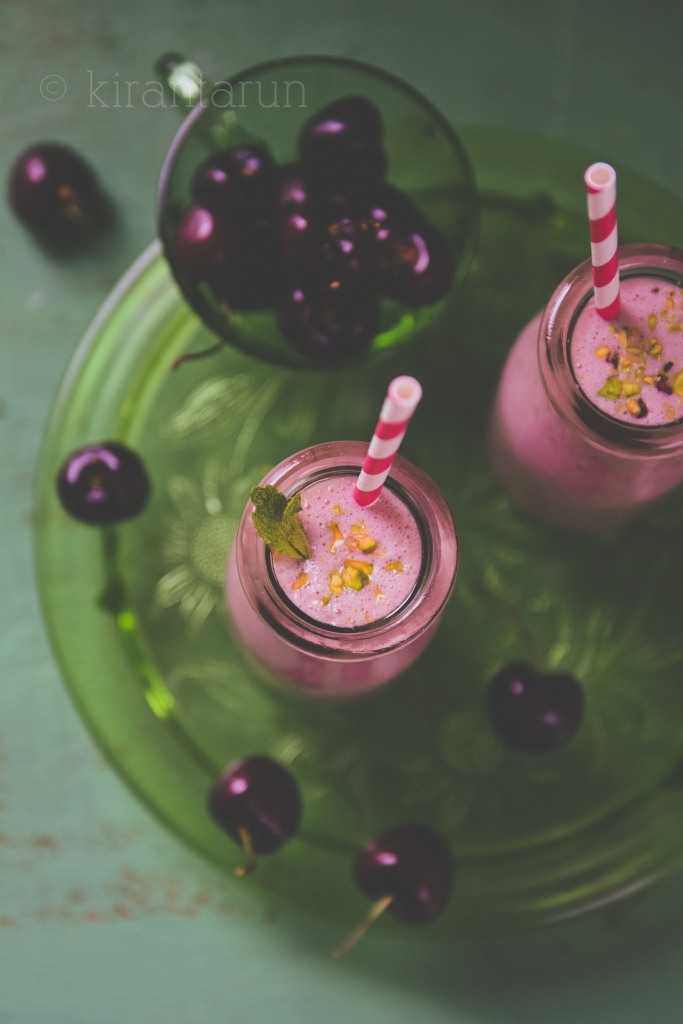 Hope this summer is filled with fun and laughter of your loved ones. Have a great week, my friends. Off to roast more cherries. Its the only right way 🙂
What's in your summer bucket list? Family, vacation etc?