Serves 4
Ingredients:
1 small head of cauliflower (about 4.5 cups of florets)
4 tbps coconut oil, melted
1 tsp salt
1/2 tsp black pepper
1/2 tsp turmeric powder
1/2 tsp toasted cumin powder
1/2 tsp smoked paprika
1/2 tsp red chili flakes
1/2 tsp garam masala
1 cup cooked split yellow lentils
2 tsp lemon juice
1 + 1/4 cup light coconut milk
2 cups vegetable broth, organic & low sodium
salt to taste
garnish: crispy spiced cauliflower florets, watercress, sliced radish & coconut cream.
Directions:
Preheat oven to 375F. Line two baking sheets with foil. Set aside.
In a huge bowl, add all ingredients up to garam masala. Toss to combine. Evenly spread spiced cauliflower florets between two baking sheet. Roast in the preheated oven for 20 minutes.
Add the rest of ingredients (except garnish) into a blender. Throw in cooled roasted cauliflower into the blender and blend soup until smooth. Check for seasonings and add salt, if necessary.
Return soup into a large saucepan and bring to a gentle simmer before serving, topped with garnish.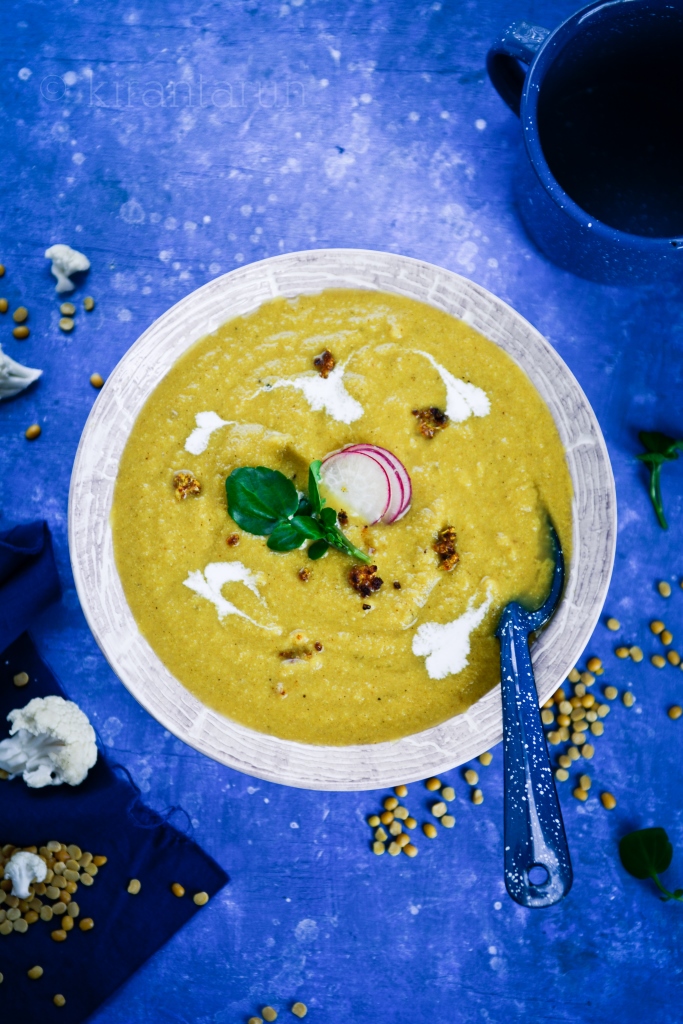 Have a great weekend, my friends! I can't wait to read your suggestions in my quest to try and share everything I know about food styling. Trust me, I'm still learning myself 🙂
What's your take on food styling workshop?