H
i friends!
I've been struggling with a dilemma for a very long time now. I know many of you have humbly requested me to do some posts on food photography & styling. And these requests have been read over many years now.
So why have I yet to hit the publish button on these topics?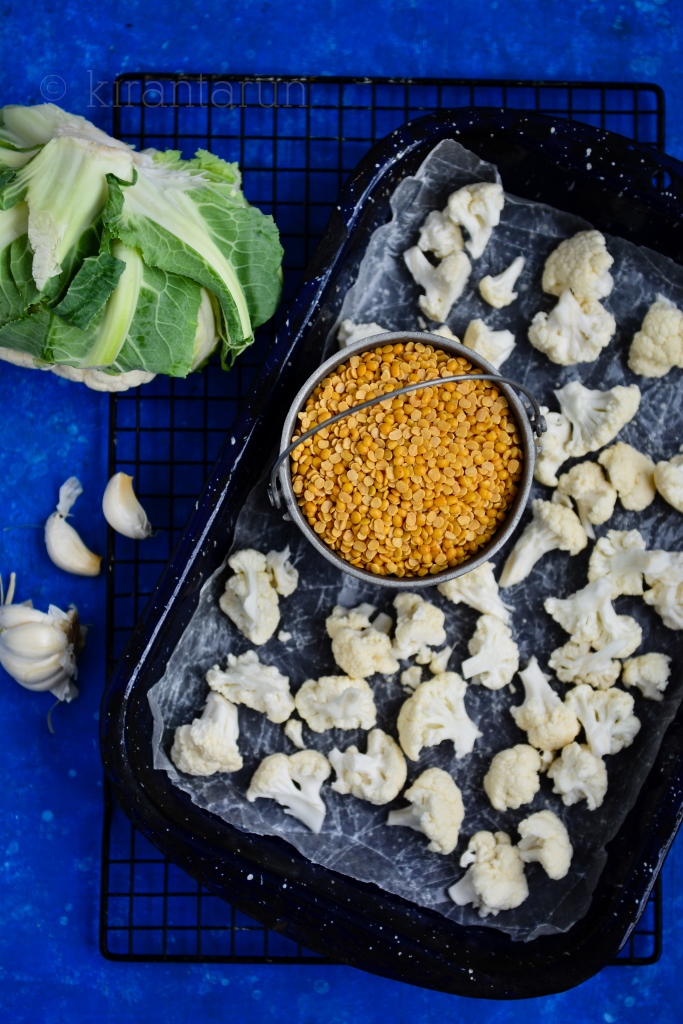 Simple. Because I am finding it difficult to translate what I do and how I do it, in words. Let me assure you that your requests are not being ignored. I'm just having a hard time trying to put it all in words.
I'd much rather do a food styling workshop and share with you all how I do it. In no way I am an expert. But food styling is similar to an art. It's pretty tricky to explain a whole artistic process in words.
Just to clarify, I'm no artist either.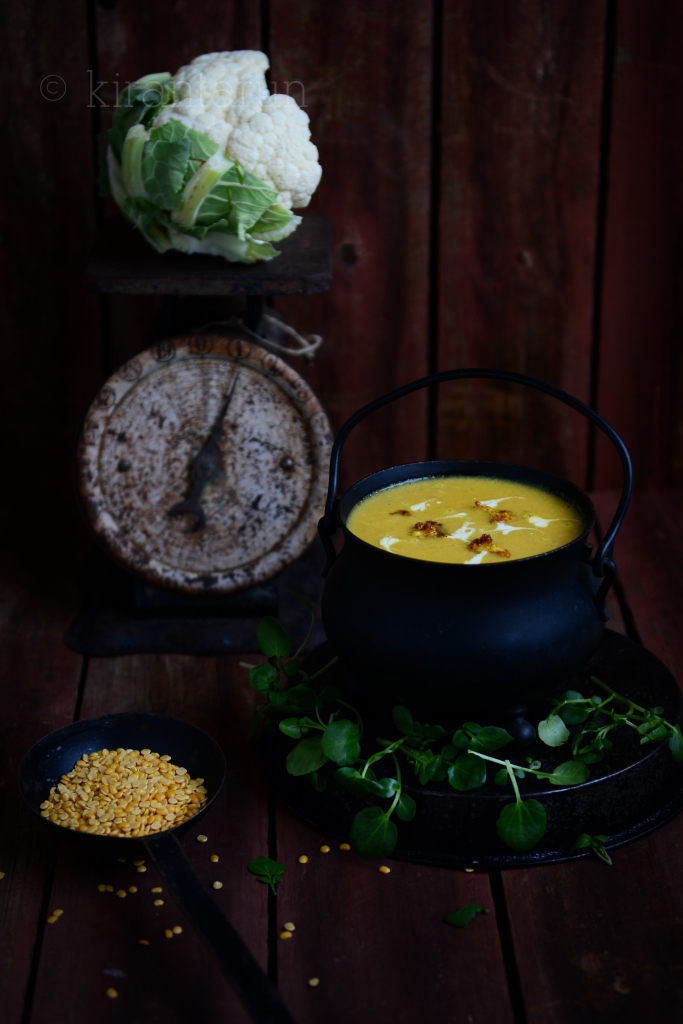 So what am I proposing? A food styling workshop! I'm just throwing some ideas around and would love your input for this workshop. Such as, what type of workshop would you prefer (online, on location etc..?) As I am still trying to iron out the details, logistics etc, I'd appreciate it if you can hold my hands and guide me.
Because it's freaking me out 😀 In the midst of all these "freaking out" episodes, I made soup and so far, it has soothe me.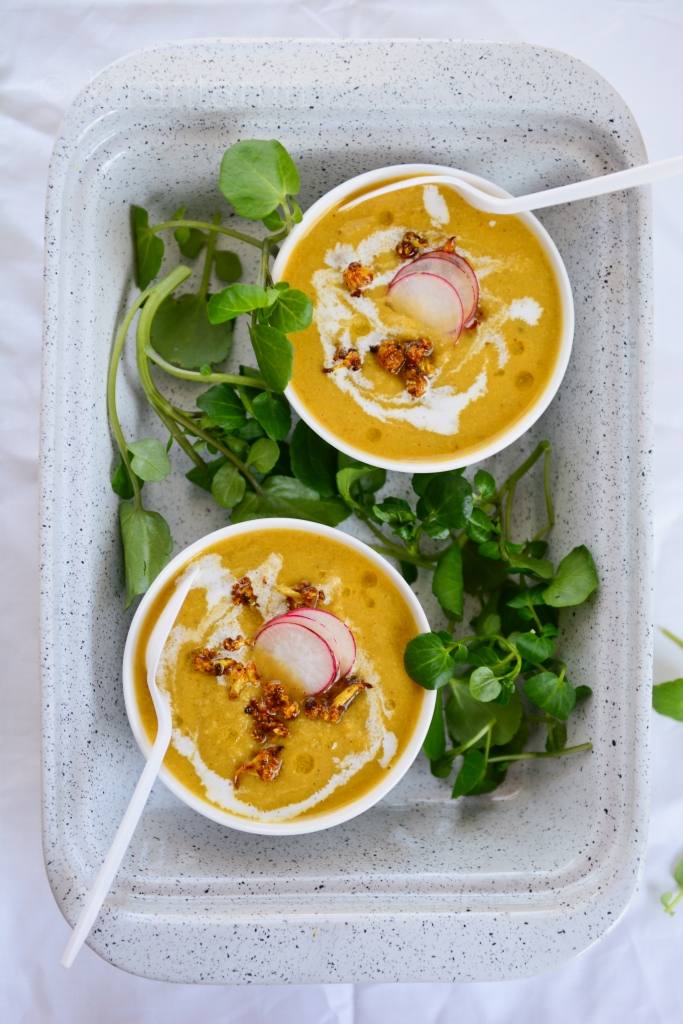 Print This Recipe
Serves 4
Ingredients:
1 small head of cauliflower (about 4.5 cups of florets)
4 tbps coconut oil, melted
1 tsp salt
1/2 tsp black pepper
1/2 tsp turmeric powder
1/2 tsp toasted cumin powder
1/2 tsp smoked paprika
1/2 tsp red chili flakes
1/2 tsp garam masala
1 cup cooked split yellow lentils
2 tsp lemon juice
1 + 1/4 cup light coconut milk
2 cups vegetable broth, organic & low sodium
salt to taste
garnish: crispy spiced cauliflower florets, watercress, sliced radish & coconut cream.
Directions:
Preheat oven to 375F. Line two baking sheets with foil. Set aside.
In a huge bowl, add all ingredients up to garam masala. Toss to combine. Evenly spread spiced cauliflower florets between two baking sheet. Roast in the preheated oven for 20 minutes.
Add the rest of ingredients (except garnish) into a blender. Throw in cooled roasted cauliflower into the blender and blend soup until smooth. Check for seasonings and add salt, if necessary.
Return soup into a large saucepan and bring to a gentle simmer before serving, topped with garnish.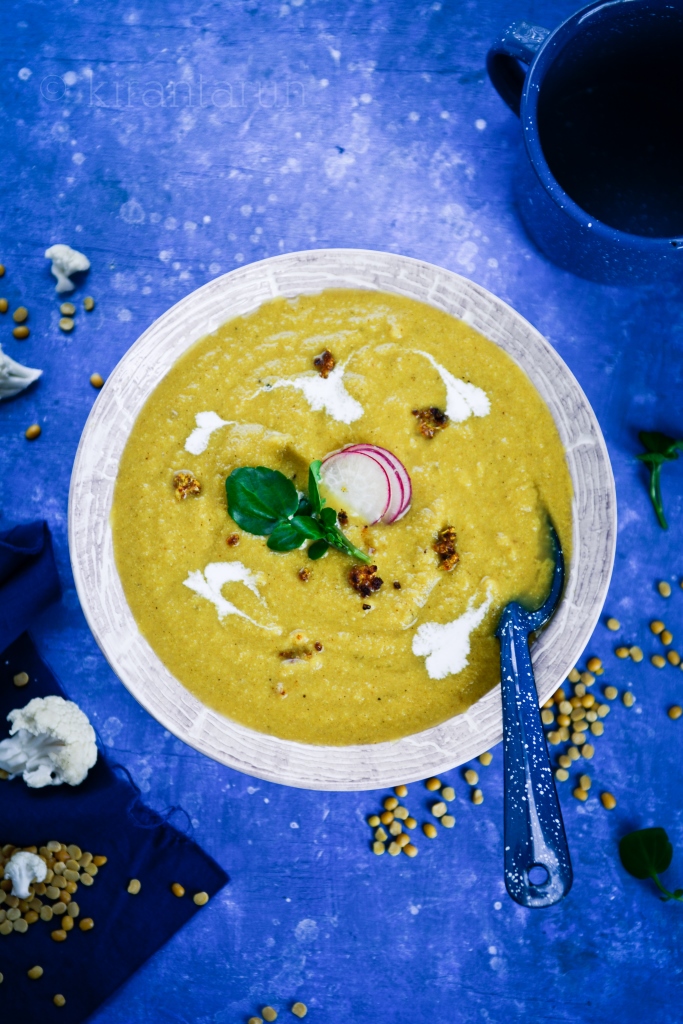 Have a great weekend, my friends! I can't wait to read your suggestions in my quest to try and share everything I know about food styling. Trust me, I'm still learning myself 🙂
What's your take on food styling workshop?