H
ello!!!
Who's excited for Halloween?!? Me…me…me!!
Not for the costumes or foods, just handing out treats to the neighborhood kids that comes ringing the doorbell endlessly all night long on Halloween.
And oh, we haven't gone to the make-shift pumpkin patch yet.
And I can't wait to carve a pumpkin this year. Weeeeeee!!! Can you sense my excitement?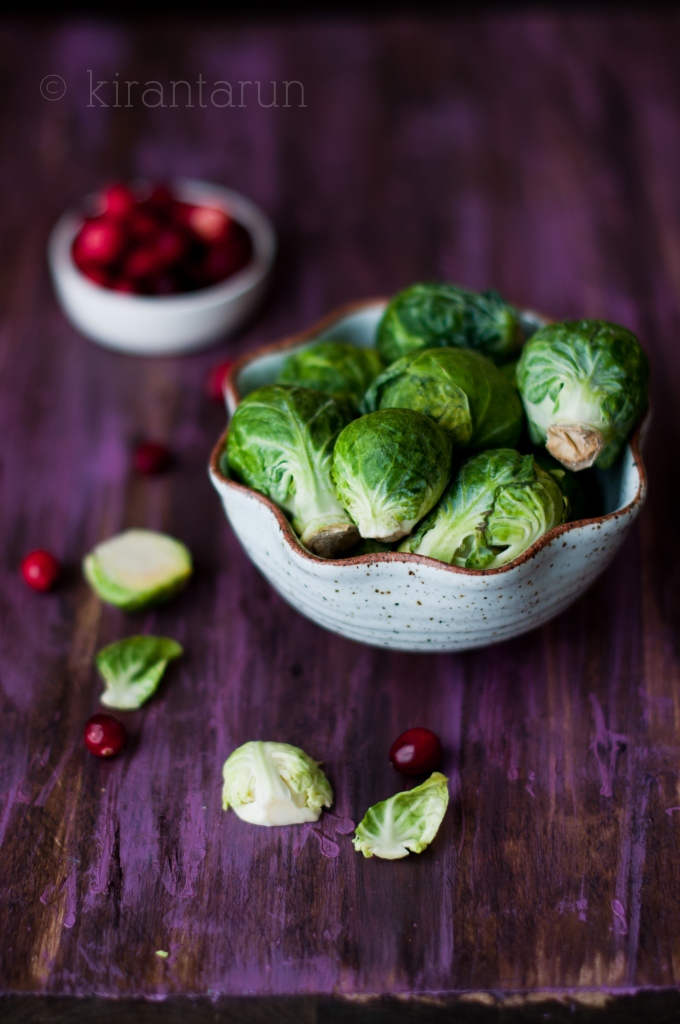 Before we  know it, Diwali is also just around the corner. My head would explode from all of this excitement!!! Here's how we celebrated Diwali a few years ago.
Don't laugh, but we forgot to take photos of then main course. My bad.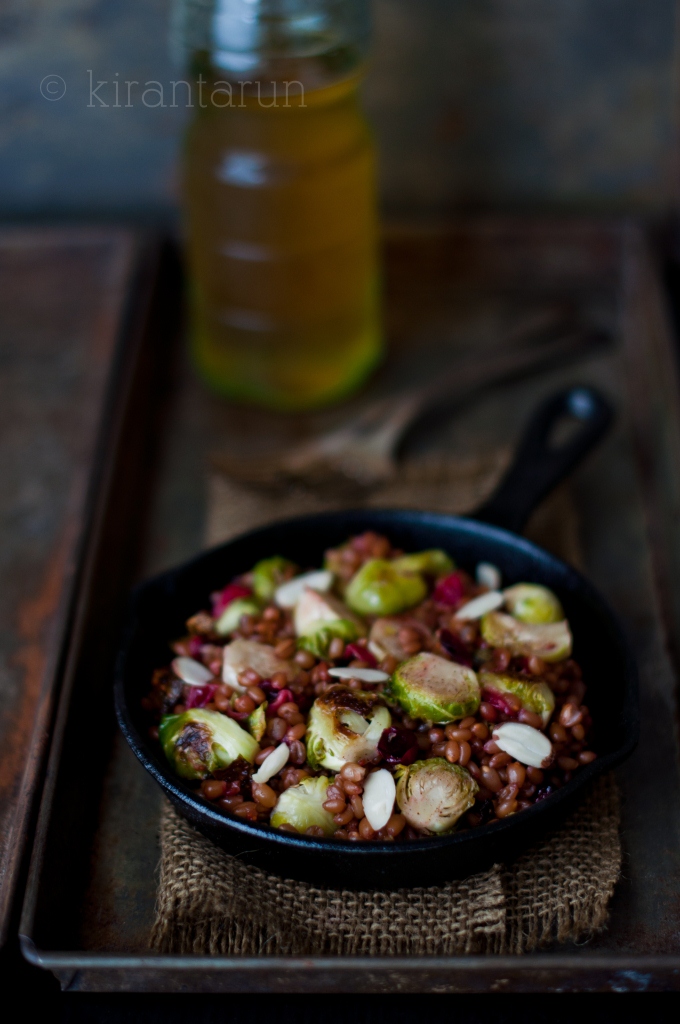 I'll be up in the sky making my way to Chicago by the time this post is published. If you want to know what I'm up to, follow me on Twitter, Facebook & most importantly — Instagram.
Promise to share every bit of the shenanigans. Including mine. For now, I am leaving you with brussels sprout.
Hey, its tasty too.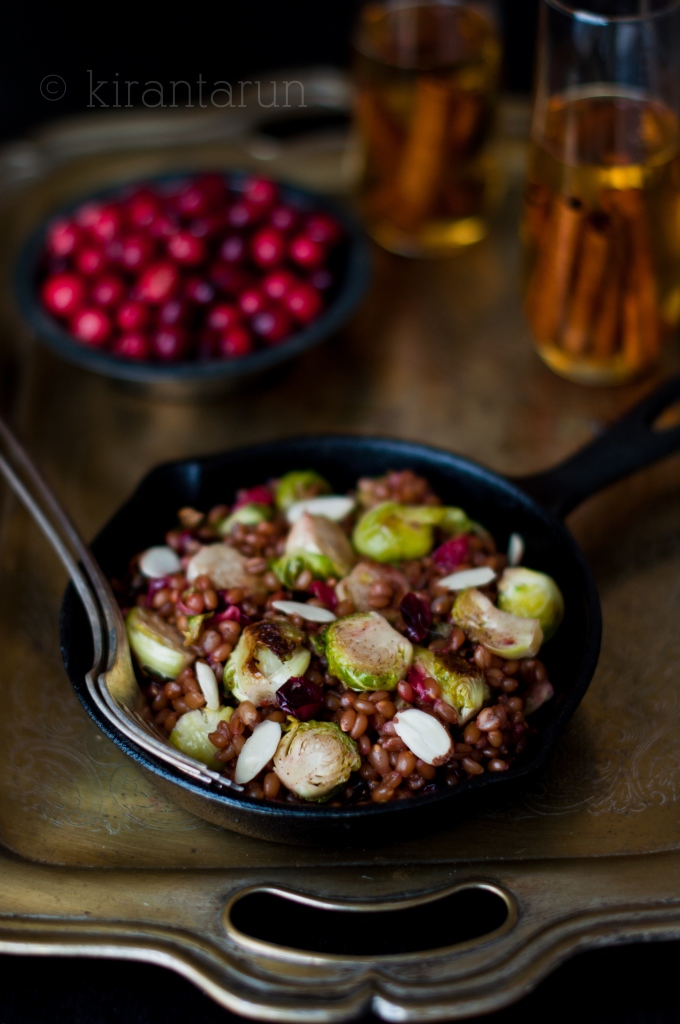 Print This Recipe
Ingredients:
1 cup wheatberry, soaked overnight with some hotwater
2 cups apple cider
1 pound of brussels sprout, halved
1/3 cup cranberries
1/4 tsp cinnamon powder
pinch of nutmeg powder
2 tbsp coconut oil
1/2 tsp salt
Garnish: Sliced raw almonds
Directions:
Add soaked wheatberries in a saucepan with 2 cups of apple cider. Cook on medium heat until wheatberries are tender (about 20 minutes). Drain and keep aside.
Preheat oven to 350F.
Add the rest of ingredients on a baking sheet, toss to coat and roast for 15 to 20 minutes until sprouts are nice and tender/lightly browned.
Remove from oven and toss it with wheatberries. Serve it room temperature, topped with sliced raw almonds.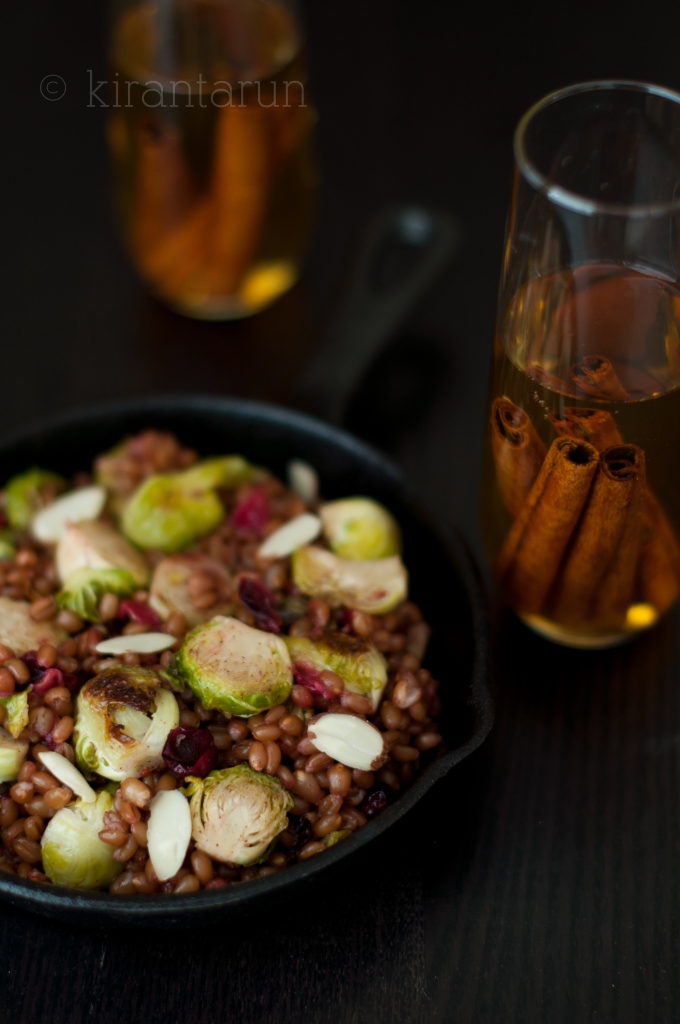 Have a very Happy Friday, weekend and everything in between!
What are you more excited about the upcoming Halloween/Diwali celebrations? Please share. I don't want to be just the only one with all of this excitement!!