I
n other words, "
kheer
".. which by the way, its the Husband's obsession. He loves his doses of rice pudding. But I can't seem to find enough patience, making it.
Frankly speaking, I've ran out of excuses not to make it.
So I decided a short hiatus from blogging would be able to give me enough time to put on my wifey hat and make this pudding. It takes a little more time and patience, but its so worth it if you do it right 🙂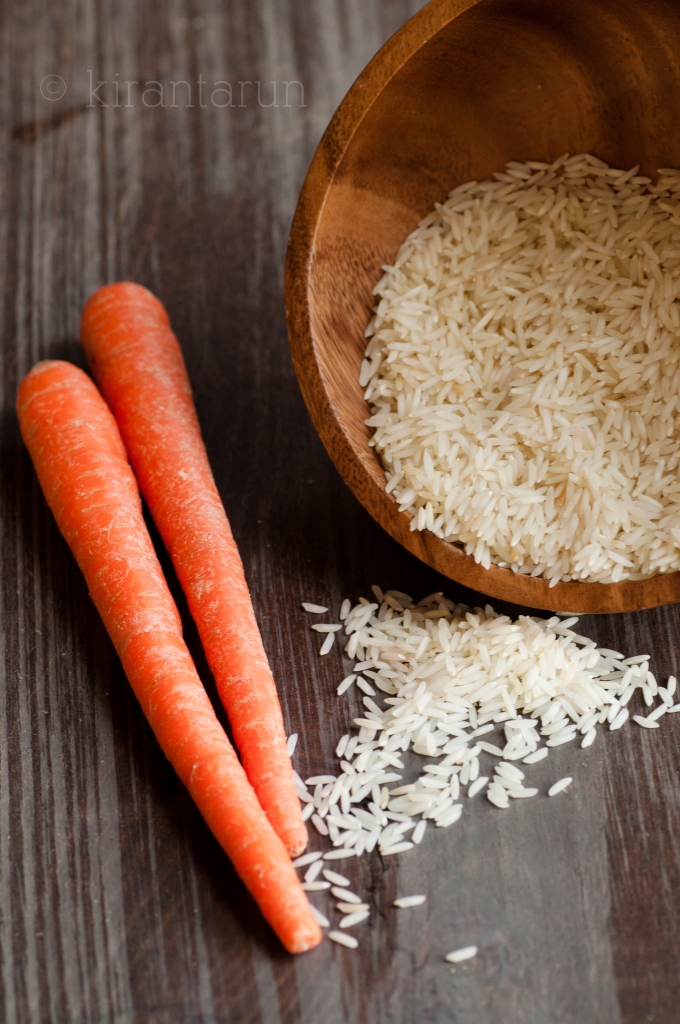 On the other hand, since I love carrots, adding it in this recipe just makes sense. It heightens the flavors and adds natural sweetness to the pudding.
It's all about managing time and its a win-win for us both. One-pot recipes always have a special place in my heart.
And lets face it, vegetables in desserts makes it easier to indulge more 😉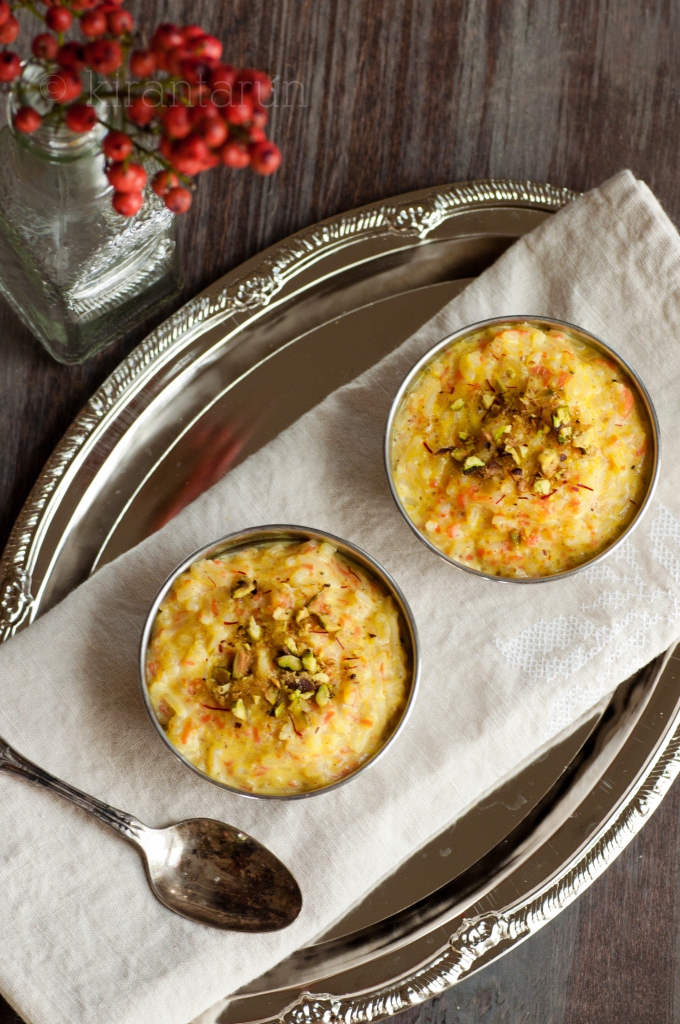 Rice pudding are generally served during festivals or special occasions. Garnered there weren't any family visit, gift exchange or colorful lights this year — the rice pudding made up for everything that was missing in our holiday 🙂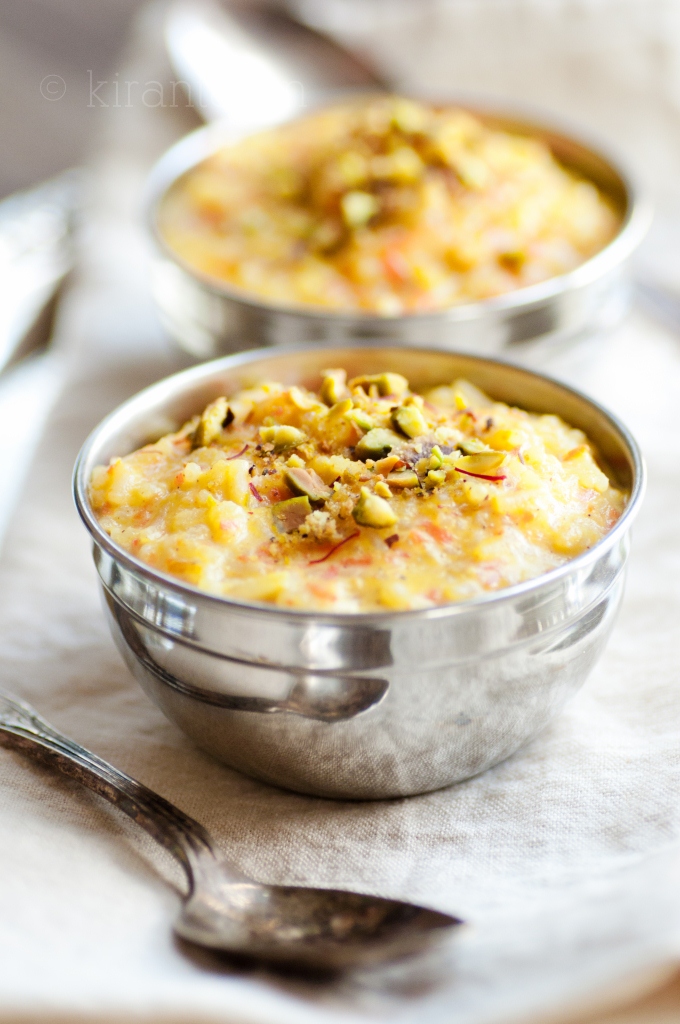 Print This Recipe
Ingredients:
1/2 cup white rice
2 carrots, finely shredded
2 tbsp ghee (clarified butter)
1/2 cup hot water
2.5 cups of whole milk
1/3 cup sugar
1/2 tsp ground cardamom
1/2 tsp ground cinnamon
a pinch of saffron threads
a pinch of salt
pistachios for garnish
Directions:
Heat ghee in a saucepan on medium.
Add rice and shredded carrots. Cook for a few minutes till fragrant.
Stream in water, reduce heat to medium-low and simmer till rice fully absorbs water.
Add in milk and sugar. Stir and simmer for at least an hour or until pudding thickens. Stir every now and then to avoid burn.
Sprinkle in some ground cardamom, cinnamon, saffron & salt.
Serve hot or room temperature with a healthy dose of pistachios for garnish.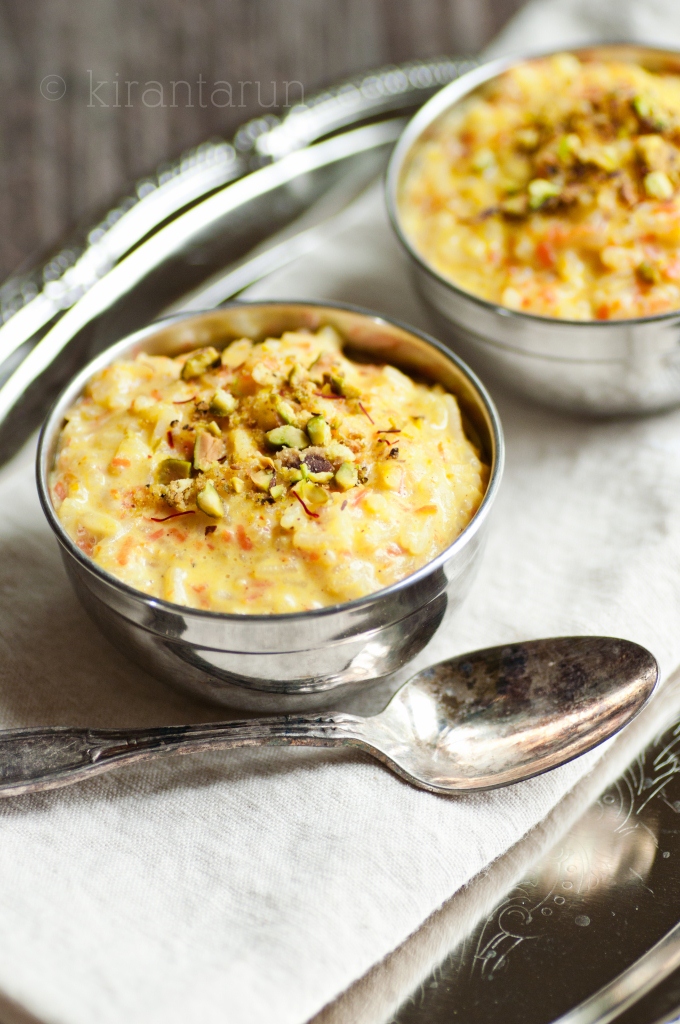 While we indulged in rice pudding for the Holidays, we hope you had a very Merry Christmas and enjoyed an array of deliciousness 🙂
And now I am off to brainstorm for New Year Eve. What are your plans to ring in 2012?